How to start cycling your kids to school
Cost of living crisis, climate change, childhood obesity, air pollution, traffic jams.
Are you one of the many parents starting to wonder why on earth you're driving your child to school every day?
Are you wondering if there's a cheaper, quicker and more fun way to do it?
If you are, you're certainly not alone.
Times are changing, and more and more people are looking for ways to cheap and easy ways switch away from driving local journeys.
And if you want to ditch the car on the school run, and swap to cycling instead, Cycle Sprog is here to help.
We're parents who have made the switch ourselves, so we realise that it's not always that easy.
Going from what you know, to something new, is always a bit difficult, but we're here to make the change as stress-free as possible.
This article will cover the basics of what you need to get started.
Once you've read this, we recommend you read our FREE STARTING TO CYCLE TO SCHOOL GUIDE which will take you through in a lot of detail how to plan your route, get ready for the first morning and have a successful ride there and back.
Thinking of swapping to a bike for the school run?
There are three main things you need in order to start cycling your child to school:
A bike for you to ride
A way of transporting your child – either on your bike or their own
A safe route to/from school
Do you need to cycle the school run with your child?
Before we get into the detail, the first decision is whether you intend to cycle the school run yourself with your children .
You may have assumed you would need to pedal, but there are a couple of scenarios where this isn't necessary:
For very young children - you walk alongside them as they use a balance bike or small pedal bike.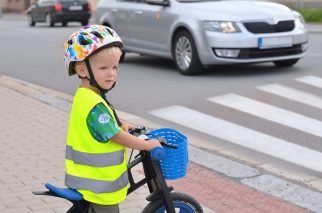 If this is you, I suggest you take a look at our articles on balance bikes  and small pedal bikes and download our FREE GUIDE TO CYCLING THE SCHOOL RUN for a few hints and tips.  You may then want to come back to the rest of this article when your kids are a bit older - enjoy this stage while you can still keep up with them!
For older children - you let them cycle themselves, and you don't ride with them.
For this to be a safe option your child needs to be a competent and capable cyclist and have a safe route to school.  You will want to check out their bike is really road worthly, and go through all the steps in our FREE GUIDE TO CYCLING THE SCHOOL RUN with them.
Generally an average 12 year old should be capable of cycling to school themselves, and this is the age cycling infrastructure should be designed for.  However, we all know this isn't the case.
For every other scenario you're likely to need a bike yourself.
What's the best bike for cycling the kids to school?
This is going to depend on a few things
Whether you already have bikes
How many children you're transporting
What ages they are
What your budget is
Whether you need e-assist to help you pedal (helps if you've got a hilly route or a heavy load)
To start with, the best bike for the school run might be the one you've already got. You do need to make sure it's roadworthy, so a trip to your local bike mechanic may be required, where you can ask about what family cycling options are compatible with your bike.
If you're looking to buy yourself a bike for the first time, then some good adult bike brands are mentioned in our article on bikes for teens, with second-hand options readily available to keep costs down.
Alternatively you may be wanting to get a cargo bike, which we'll cover in the next section.
Remember you do get what you pay for, so you need a reliable steed that can be easily maintained.  Try and avoid bargain basement offers online from non-specialist bike retailers as these rarely end well.
Different ways of cycling your child to school
For smaller children you're going to need a way to transport them on your bike.
The best options for this are:
Front Bike seats – good for young children and parents with longer arms.
Rear bike seats – good for toddlers and slightly older kids, so long as you don't want to wear a rucksack.
Trailers – cheapest way of carrying up to two kids or lots of "stuff".  Offers passengers protection from the elements
Cargo Bikes – can carry larger families or more "stuff", with options for e-assist and weather protection for the passengers.
The size of your child and your budget will determine which option you choose.
It's not unusual for families to start out with one option and then upgrade when they realise how much money and time they're saving, plus sorted out what works for their particular usage needs.
Further reading: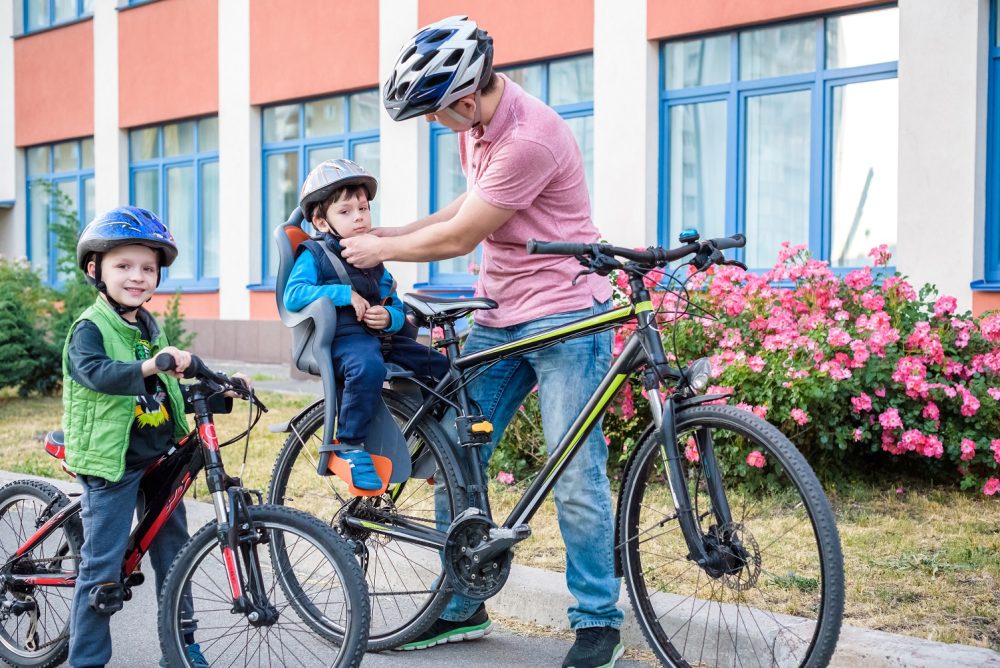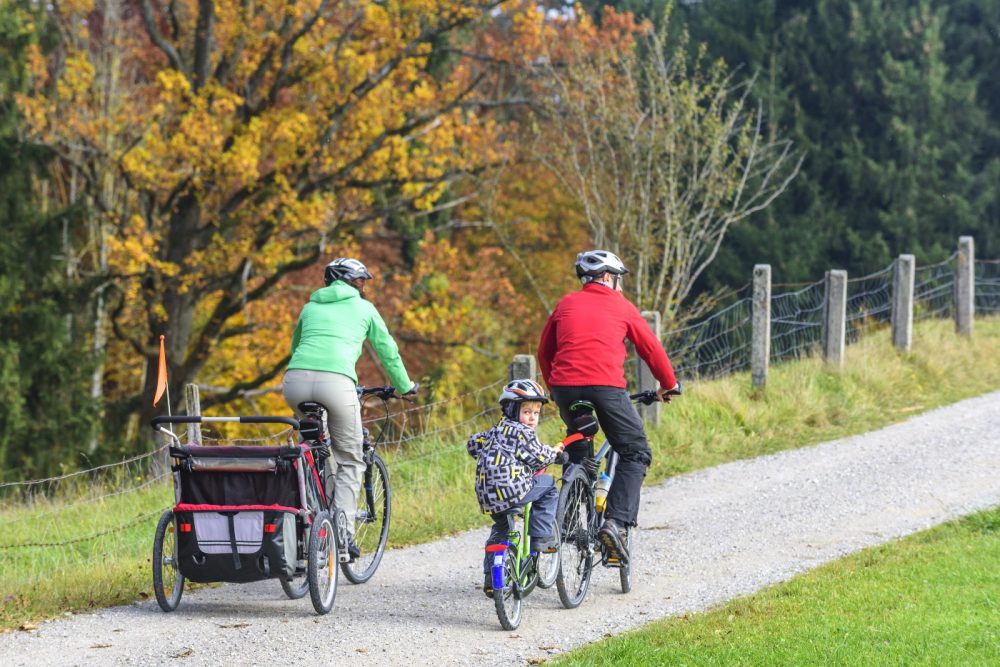 For older children who can pedal you need to consider whether they're old enough to ride on the roads.
It's useful to remember that good cycling infrastructure should be designed for a competent 12-year-old cyclist to cycle alone.
Also, in Holland (where cycling rules!) most lower and middle primary age children are ridden to school, rather than riding alone.
This means you should set your expectations about how much carrying / pulling you'll be doing, and how much your child should be able to do themselves.
A big factor will be the route, which we'll come to in a moment.
Options for slightly older children who are not able to pedal themselves on the roads yet include:
Tagalong – a single wheel and saddle that attaches behind your bike.
Trailgater or FollowMe Tandem – which pulls your child's bike along behind you.
Cargo Bike -  a long-tail cargo bike might be better than a box cargo bike for older kids, and allows you to carry two at a time.
Tandem – quite niche, but there are a couple of different types of adult/child tandems available.
Further reading:  How to I pull a bike behind my bike?
If you child is using their own bike you need to check that the bike is the correct size and in good working condition.
Further reading: Is my child's bike the right size?
Finding a safe route to cycle to school
Sadly, it's a post-code lottery as to whether you have a safe route to school. Some places have wonderful cycling infrastructures, others don't.
It's worth remembering that you may not need to cycle the route you currently drive, there could be other options by bike.
Take a look at Google Maps, speak to people you know who cycle in your area, and actually get out exploring. Are there side roads or cut throughs that you never see because you're in the car all the time?
In our free guide to cycling the school run we go through in a lot of detail how to plan your route and practice riding it before your first school run.
If you really don't have a safe route our guide also tells you how to notify the most appropriate local official or an elected representative.
It's important they know that you're trying to cycle to school, but can't. Encourage others at your school or in your neighbourhood to do the same and things may change.
Make cycling to school fun
It's much easier said than done, but if you can keep a positive attitude whilst you're preparing for this change in the school run, it will be MUCH easier.
You may be feeling apprehensive, but if you download our FREE "Cycle to School Guide" we'll take you through how to prepare fully, including test riding your route, getting ready the night before, and acing it on the first morning.
Remember you're turning what is usually a dreary morning ritual into something really exciting for your family, so be prepared for a lot of excitement!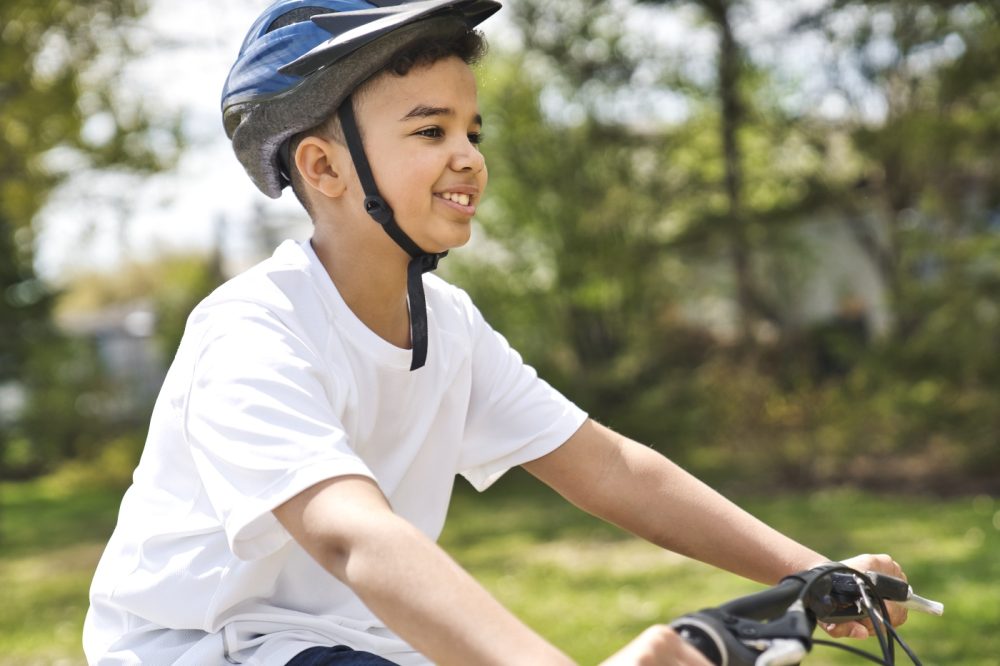 How do I prepare for cycling my kids to school?
Now you know the basics, you need to go away and think about what suits your family best.
Then comes the fun bit!   You need to start to design your perfect school run set up!
Read up on all the links in this article, and browse Cycle Sprog to understand more about the various options.
Speak to other parents who already cycle - they may even let you have a go on their particular set up.
We also recommend joining the Family Cycling UK Facebook Group to get loads of inspiration from other parents who have already made the switch.
Only you can decide what will work for you, practically and budget wise.
When you're sorted with the hardware you need to make sure you're ready mentally and emotionally, which is where our free guide to cycling the school run comes in.
Then you're ready to cycle the school run for the very first time!
I'd love to hear how you get on cycling to school. Do drop a comment in the box below, or else tag @CycleSprog on Instagram.
Keep up to date with the latest Cycle Sprog articles
Sign up to receive our newsletter straight to your inbox.
Everything you need to know to keep cycling through winter