Islabikes make some of the best quality kids bikes around (if you've not heard about them, then check out this post that explains all about them).  However, with quality comes the obvious cost – which can put a new Islabike out of reach for many families.  In this article, we take a look at the ways in which you can get a cheap Islabikes if your budget doesn't stretch to buying a brand new one.
Take a moment to GRAB YOUR FREE KIDS BIKE BUYING CHECKLIST which will help you record all the information you need to find the perfect bike for your child. 
AFFILIATE DISCLOSURE:   When you buy through links on our page we may get a small commission if the retailer has an affiliate scheme. You can find out how this works in our affiliate policy. Thanks for supporting us in this way!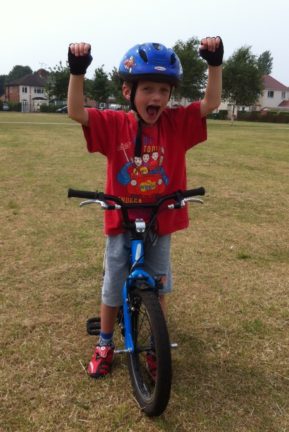 Discounts on brand new Islabikes
Let's get things straight to begin with. Firstly, brand new Islabikes are only available via the Islabikes website or their Ludlow showroom.  You can't buy them in the shops, so there's no point in trawling round stores or the retailer's websites looking for one.
Secondly, Islabikes don't ever discount their new bikes in mass sale events. They don't take part in Black Friday, Cyber Monday, Boxing Day Sales, New Year Sales, etc, etc.   If you want a brand new Islabike, you (usually) have to pay the going rate.
The reason Islabikes don't do big discounts is that, like many small businesses with a quality product, they don't need to!  They also want their customers to know that they're always getting the best price for a new bike, and need to avoid the surge in demand discounting creates several times a year, which is unsustainable for a small business.
Islabikes do very occasionally discount bikes that are being discontinued, or if a new model is due out, so it's worth keeping an eye on their website. However this is very rare, so don't count on this as a way of getting a cheaper bike.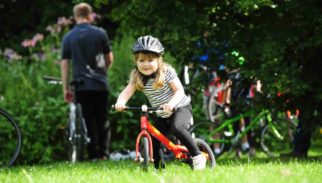 A limited number of Islabikes are now available via The Bike Club.    If you've not heard of The Bike Club they are changing the way parents all over the UK are buying their children bikes.
Instead of buying a new bike upfront, you pay a monthly subscription in return for the use of one of their bikes. When your child has outgrown their current bike you simply send it back and upgrade to the next size.  Not only does this save you the upfront cost of a new bike, but it also removes the hassle of having to sort out buying new bikes, and is much more environmentally friendly.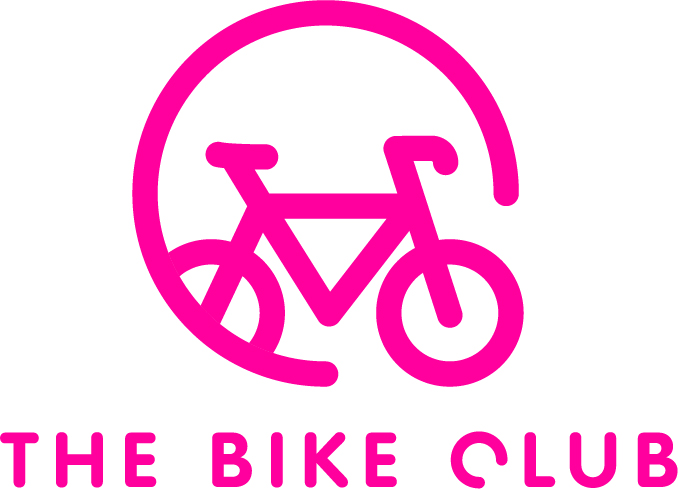 Prices vary depending on the model of the bike.  A Cnoc 16 is £9.70 a month and a Cnoc 20 Large is £14.80 a month.
All the Islabikes in their fleet are pre-owned but go through their rigorous maintenance schedule before being sent onto their next home.
LEASE NOW: Islabikes at The Bike Club
Sponsored content start:
Do you have an old Islabike that's been outgrown?  The Bike Club will also buy any old Islabikes you currently have to add to their fleet.  
You can get an immediate online quotation and they'll arrange collection from your home (even sending a bike box with the courier).  It's a really hassle free way of selling in your old Islabike so why not get your valuation now? 

End of sponsored content
Where to buy cheap Islabikes
Given you can't usually get a discount on a brand new Islabike, the best way to get a cheap Islabike is to buy a secondhand one.    The great thing about Islabikes is that they are so well made that a used bike can often be in such good condition you barely realise it's second hand.   Obviously, this depends on how much the bike has been ridden and how well maintained the owners have kept it, so you do need to shop around and I suggest you read our article on buying a second hand kids bike so you know what you're looking for.   There are a number of places to search when you're looking for your cheap Islabike, which we detail below. However, if you want a new bike, but don't want to fork out for an Islabike, then check out our post on Cheaper alternatives to Islabikes for inspiration.
Second Hand Islabikes on eBay
eBay is a great place to look for cheap Islabikes, because you can usually find something quite local, meaning you can pick up in person, avoiding postage costs and allowing you to check the bike out before you actually take it home.
It's also good for finding hard to get hold of sizes or colours (occasionally Islabikes have done limited edition paint schemes, which can command higher used prices).
These are the links to the various models on eBay:
Islabikes Rothan (balance bikes)
Islabikes Cnoc  (the small, single speed bikes for new riders)
Islabikes Beinn (their geared bikes in 20″ to 27.5″ wheel sizes)
Islabikes Luath (cyclo-cross / road dropped handlebar bikes – 24″, 26″ and 700c wheels)
Islabikes Creig (mountain bikes – 24″ and 26″ wheels)
Islabikes Pro Series (their now discontinued premium race focused range)
Islabikes adult bikes (quite rare, but they do come up from time to time)
It's also worth checking out Preloved just in case there's anything close to you.
Clearance Islabikes 
Islabikes do sometimes have clearance bikes they need to sell on. These can be ex-demo bikes, shop soiled bikes, or traded in bikes.  The bikes will have been through the Islabikes workshop so should be in tip-top condition, and will be discounted between 10% and 30%.   More details on this scheme are available here. Also, when you get in touch with Islabikes, please mention you saw the scheme via the Cycle Sprog website – thank you 🙂
Second Hand Islabikes Facebook Group
Did you know there's a Facebook Group dedicated solely to the buying and selling of second hand Islabikes?  That's all you need to know really about how in demand and popular the bikes are!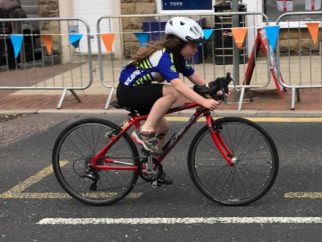 Other places to look for a cheap Islabike
There's a few other places it's worth checking out if you still can't find your perfect, cheap Islabike.  Check out our post The best places to buy a second hand kids bike for inspiration.
Cheaper alternatives to Islabikes
Whilst Islabikes still represent the creme de la creme of kids bikes, there are now a wide range of alternative kids bikes that are well specified and lightweight to choose from.
Check out these posts for inspiration:
I'd love to hear if you manage to find a really great bargain Islabike.  Do let me know in the comments section below, or tag us #cyclesprog on Instagram.
Other posts you may find useful: