Buying your child's very first pedal bike is such a milestone – and you want to make sure you're choosing the best bike for them. There's a bewildering range of kids first pedal bikes available, so in this article, we look at the various 12″ wheel kids bikes suitable for children aged about 2 and a half years and over.
Take a moment to GRAB YOUR FREE KIDS BIKE BUYING CHECKLIST which will help you record all the information you need to find the perfect bike for your child. 
Q: Does your child really need a pedal bike?
Before going any further, ask yourself whether your child is really ready for a pedal bike.
Have they mastered using a balance bike yet?
A balance bike is cheaper and lighter than a pedal bike and they will learn the important skill of balancing and moving, without having to worry about learning to pedal at the same time.   Usually, children who have used a balance bike can move onto a pedal bike without stabilisers when the time is right.
Check out our post on the Best Balance Bikes for inspiration if they're not ready to pedal yet
The great stabiliser vs balance bike debate
The majority of 12″ wheel bikes come supplied with stabilisers because very few 2 year olds are ready to start pedalling unaided.
The issue many parents have with stabilisers is that they don't teach a child how to balance properly, so they struggle to ride without them at a later date. Stabilisers also add weight to the bike, slow the child down and impact their ability to turn, climb etc.
Children with stabilisers on their bike often get left behind by their friends on balance bikes and can find it a frustrating experience.
However, some children appreciate the additional security they feel by having stabilisers, and move happily onto two wheels when the time is right.
Don't buy a heavy "bike shaped object"
There are two types of children's bikes – those that are designed by bike companies and those designed by toy companies. The latter are commonly known as "bike shaped objects".  There is a BIG difference between the two.
I haven't got room to go into why you shouldn't buy a Bike Shaped Object here but click here to read an article which explains the dangers of buying a cheap children's bike. They're poorly made, incredibly heavy and can be unsafe. You're likely to end up with a very frustrated child and wishing you'd spent that little bit more on a proper bike.
Bike Shaped Objects tend to be associated with cartoon characters, pirates and princesses, handlebar streamers and other gimmicks.  They are usually sold in supermarkets, discount stores and large warehouse stores.  They always seem to be a very good price, until you have a broken bike and upset child on your hands!
The best test of whether it's a bike shaped object is to ask your child to pick it up. If they can't move it (and if you think it's heavy) then avoid!
Good quality children's bikes tend to be gender neutral, with child sized components. They are lightweight so can be moved around easily by a young child (including lifting it into a riding position when it's been left lying on the floor).
The best 12″ wheel first pedal bikes
Now you know what to look for when you're buying a first pedal bike, let's take a look at the best bikes available for children aged 2 years and over.
It's worth noting that the majority of quality children's bike manufacturers (such as Frog Bikes, Islabikes, Woom, Squish) don't start making children's bikes until the 14″ wheel size, which is suitable for ages 3 and over. They recommend the use of a balance bike before that.
The majority of 12″ wheel pedal bikes available are therefore Bike Shaped Objects, but we've searched far and wide to bring you a selection of proper kids bikes that are light enough for a 2 year old to handle, have a low standover height for shorter legs, are well made and durable and should give your little Cycle Sproglet loads of fun.
Cycle Sprog is an family run, reader supported, website. We belong to several affiliate schemes so may receive a small commission from sales made from links on our site. We do our best to be impartial and recommend products on their quality not whether they are in a scheme.
Take a moment to GRAB YOUR FREE KIDS BIKE BUYING CHECKLIST which will help you record all the information you need to find the perfect bike for your child. 
Cycle Sprog reviewed and recommended bike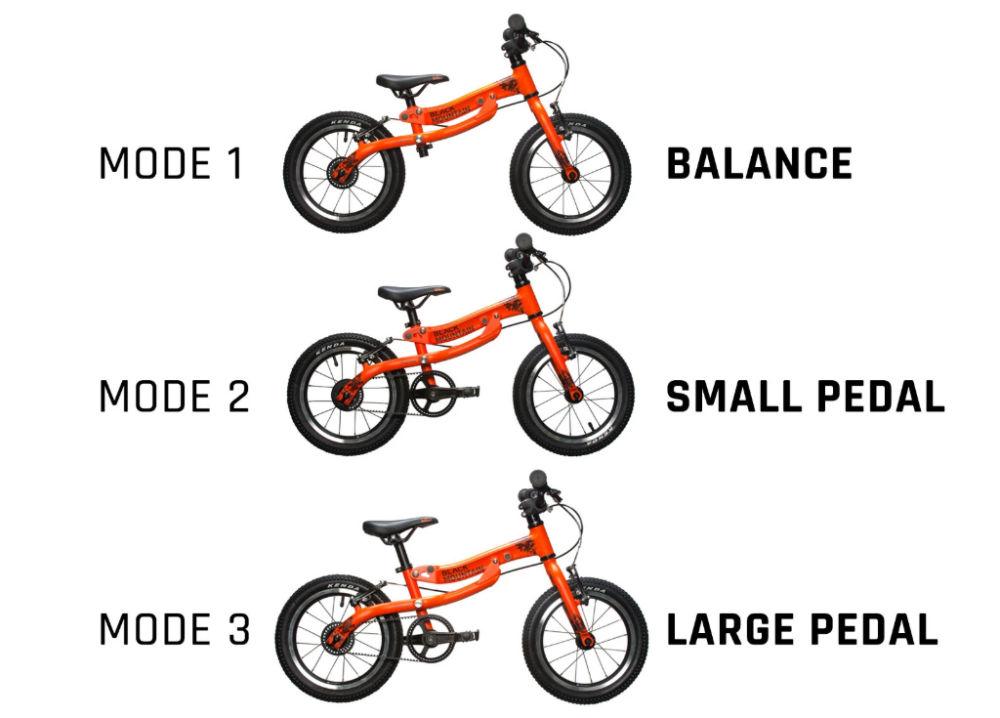 Black Mountain Pinto key data:
Price: £349
Typical age range: 2.5 to 5 years
Height range: 90cm to 109cm
Bike weight: 5.7kg
Brakes: Tektro V-brake (rim)
Components: Adjustable brake levers, Go Lo seatpost; drive belt (not chain); balance bike conversion kit
Frame: Adjustable frame – two sizes
Tyres: Kenda Small Block 8
Available colours: Neon Green, Sky Blue, Orange, Purple
Black Mountain Bike Warranty: bl3-years on frame and forks; 2-years on non-consumable components. Warranty can be passed onto new user if you sell on (must inform Black Mountain of change of ownership)
We've included the Black Mountain Pinto in this post, as whilst it's actually a 14″ wheel bike it's very cleverly designed to replace a 12″ wheel bike.  It starts out as a balance bike, and then when your child is ready you can add pedals. It also has a "growing frame", so the bike actually grows with your child and is very lightweight (just 5.7 kg)
The initial cost of the Pinto is much higher than other starter bikes, but it's designed to replace a balance bike, a first pedal bike (i.e. a 12″ wheel bike) and also a 14″ wheel bike.   When you take this into account, along with the lack of hassle having to shop as your child grows, it becomes an attractive choice for families who can afford the initial outlay.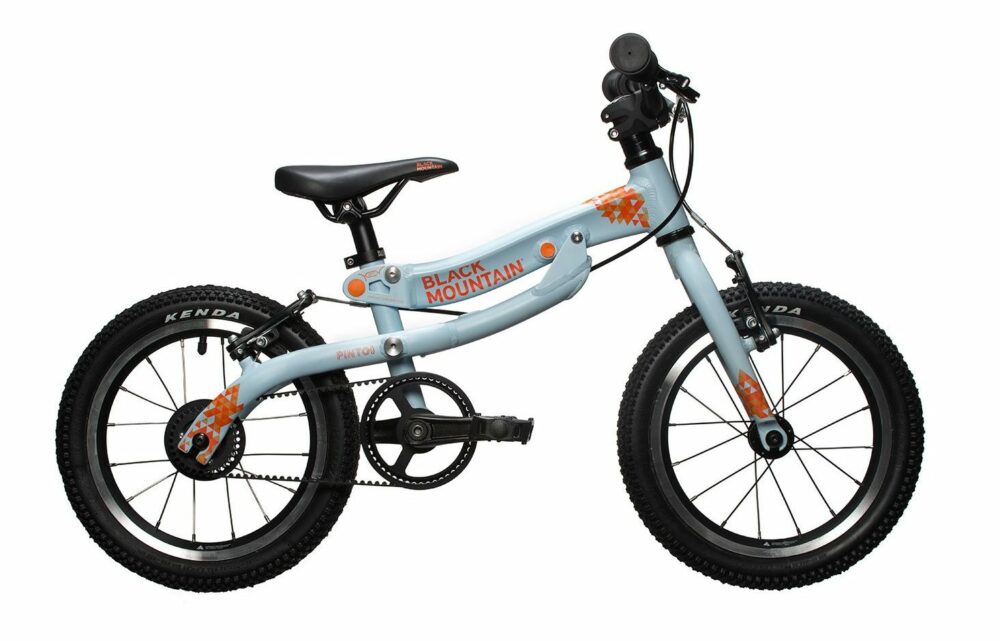 You can read our review of the Black Mountain Pinto here.
BUY NEW:  The Pinto is available exclusively from the Black Mountain website, or you can collect from their showroom in the Welsh Black Mountains. 
BUY USED:  Because the Pinto is a relatively new bike and is designed to last longer than a standard bike there's not many available secondhand just at the moment, but it's worth a check just in case!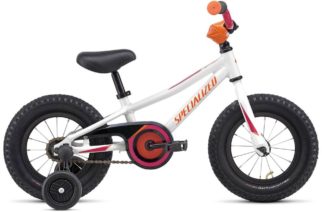 Specialised Riprock key data:
Price: £220
Typical age range:  2-3 years
Bike weight: 7.2kgs
Brakes: Steel coaster brakes
Frame: Specialized A1 Premium Aluminum
Tyres: Rhythm Lite tyres
Available colours: Neon blue or pink, white and orange
Warranty: Lifetime warranty on frame and forks
The Specialised Riprock 12″ is another small pedal bike with a rear coaster brake. Unlike the Cube it doesn't have a front rim brake, so your child only has to worry about learning to pedal backwards to stop (but will have to learn to use brake levers when moving up to a 14″ wheel bike at some point).
The Riprock has an aluminium frame and a steel fork so will be reasonably lightweight but not quite as light as the Cubie due to the steel.  The tyres are nice and wide to give additional stability.
BUY NEW: The Specialised Riprock Coaster 
BUY SECONDHAND: The Specialised Riprock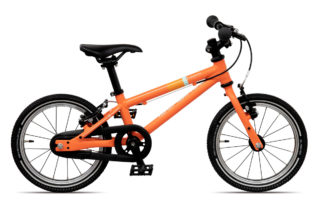 Cnoc 14 key data:
Price: £350
Typical age range:  3+ years
Height range: approx. 92cm
Inside leg: 34 – 42cm
Bike weight: 5.2kg
Brakes: Aluminium mini V-brakes
Components: Islabikes aluminium micro brake levers, Allen key fittings
Frame: Aluminium
Tyres: Islabikes Mixte
Available colours: orange, pink or teal
Warranty: 5 years on frame and forks and a 2 year on parts
Islabikes have realised that younger (or shorter) children are desperate to get on their bikes. As the pioneers of quality kids bikes, it's worth taking note that they have decided to make a small bike with 14″ wheels rather than a 12″ wheel bike.
The Cnoc 14 Small is their tiniest pedal bike, designed for children with an inside leg of just 34cm.  We've included it here as an alternative option if your child is able to fit it – plus it's lighter than most of the 12″ wheel bikes available.
Buy new: The Islabikes Cnoc 14 Small is only available direct from Islabikes
Buy secondhand:  There are always plenty of secondhand Islabikes available on eBay – they are so well made they are outgrown long before they're worn out.  The Cnoc split to become the Small and Large several years ago, so make sure anything that isn't clearly labelled is the smaller bike.  They changed their branding in October 2019, so any second hand will have a different paint job, but is still the same great bike!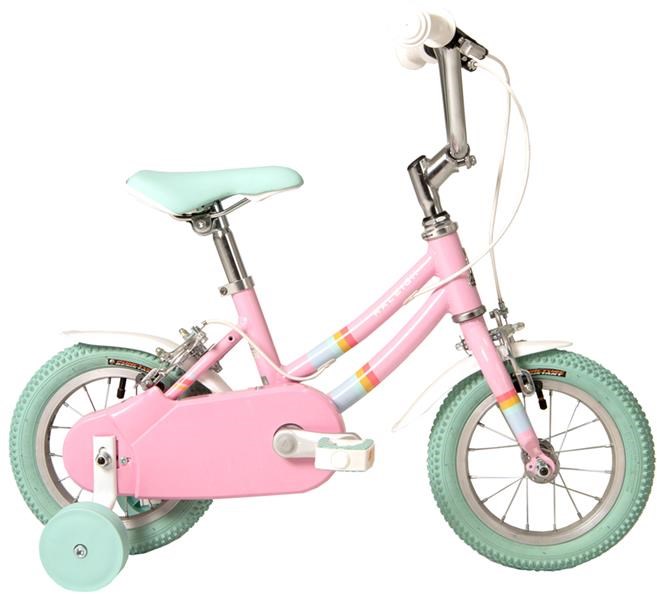 Raleigh Pop 12 Key Data
Price: £175
Typical age range:  3 years plus
Bike weight: 6.4 kgs
Brakes: Alloy V Brake with adjustable brake levers
Frame: Alloy (with steel forks)
Accessories:  Stabilisers, full chain guard, mudguards
Available colours: Black or pink
Warranty: 1 year
The Raleigh Pop 12 gives your child a more upright riding position than some of the other bikes on this page, which some children find comforting when starting to pedal,.  However, some slightly older children may find this a bit frustrating when they start trying to go faster or on more off road terrain – it depends on how confident your child is at physical activity, and whether they are riding around the garden or trying to do tricks at the local pump track!
This bike does come with stabilisers, although we recommend that if your child isn't ready to pedal you buy them a balance bike instead and save your money for a larger pedal bike in a few months time.
Buy secondhand:  The Raleigh Pop was a new release in 2019 so there's not very many available secondhand yet.
Cycle Sprog recommended brand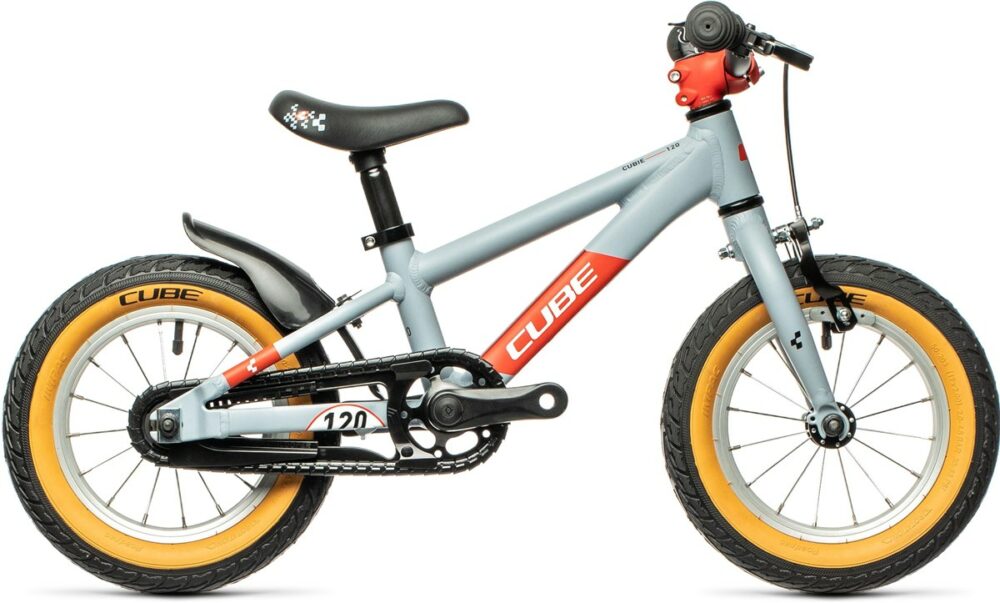 Cubie 120 key data:
Price: £249
Typical age range:  2-4 years
Height range: 90 – 115cm
Standover height: 33.4 cm
Bike weight: 5.9kgs
Brakes: Front: Alloy Cantilever; Rear: Coaster Brake
Components: Rear mudguard, a Hebie chain looper
Frame: Lightweight aluminium (Alu Lite 6061)
Tyres: Cube aluminium
Available colours: cream/rose or grey/red
Warranty:  Frame 6 years; rest of bike 2 years
The Cubie 120 is Cube Bike's latest offering. They've realised that children are wanting to move onto proper pedal bikes at a younger age due to gaining skills on their balance bikes so added a pedal bike to go alongside their 12″ wheel Cubie 120 Walk which is a traditional balance bike.
The Cubie 120 has a lightweight aluminium frame and forks and comes with child sized brake levers, a chain protector and a carry handle on the rear of the saddle for when you end up having to carry it.
It's worth noting that the rear brake on the Cubie 120 is a coaster brake, which is operated by your child pedalling backwards, whilst the front brake is a v-brake on the rim, operated by the brake lever.  Coaster brakes are very popular on the continent but are not really used in the UK.
The benefit of coaster brakes is that your child just needs to learn to pedal – forwards to go and backwards to stop and doesn't have to worry about using brake levers at this point.   However, when your child moves up onto a larger pedal bike they will have to get used to using rim brakes front and rear.
We haven't had a chance to review the Cube Cubie 120 yet, but we've reviewed various of Cube's larger kids bikes and have always been impressed by their quality.
Buy secondhand – click here to see if the Cube Cubie is available in your area
Cycle Sprog reviewed and recommended bike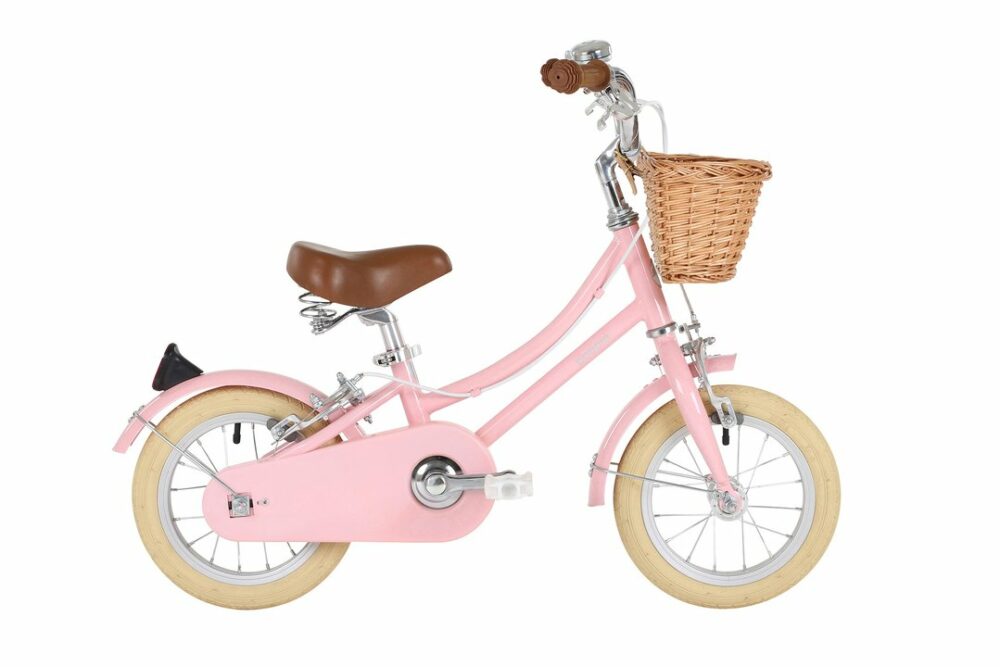 Bobbin Gingersnap key data:
Price: £170
Typical age range: 2-4 years
Inside leg: 33cm- 43cm
Bike weight: 7.5kg (including all components but not stabilisers)
Brakes: Alloy dual-pivot with easy-reach levers
Frame: Steel
Available colours: green, pink, cerise, duck egg, yellow
Warranty:  Frame: 12 months Rest of bike 6 months
Bobbin Moonbug key data:
As above except:
Inside leg: 35cm- 45cm
Available colours: red, blueberry, yellow, pea

The Bobbin make a gorgeous range of city bikes, both for adults and children and you can even colour coordinate your child's bike with yours if you really want some great Instagram moments!
The "leather" saddle and other trimmings are all synthetic, making them suitable for vegans.
Bobbin have two 12″ wheel offerings, which is great to see. The Gingersnap (above) is an upright city style bike with a low standover height. It is available in a range of five colours and is suitable for children with an inside leg measurement of 33 – 43cm.
The Moonbug comes in more vibrant colours and a higher frame design. This means your child has to be slightly taller to ride the Moonbug – the inside leg guide is 35-45cm.
Both bikes come fitted with a wicker basket plus mudguards and a full metal chain guard to keep clothes clean. They also come with stabilisers if you need them.
They're not as light as the Cubie or the Black Mountain. This bike is advertised as being "approximately" 7.5kg. However, as these are designed for more sedate, city style riding rather than pump track action this shouldn't be a problem.
All the components are child friendly and the bikes have lever operated brakes front and rear – rather than the coaster brakes on the Cubie.
Our reviewer loved riding the Gingersnap 12 and found the basket particularly useful.
BUY NEW: Bobbin Bikes are available from Amazon
BUY SECONDHAND: Gingersnap 12 & the Moonbug 12 from eBay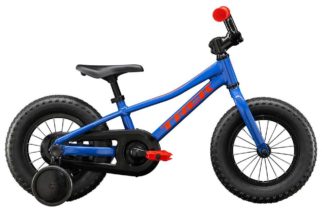 Trek Precaliber key data:
Price: £199
Typical age range:  3-4 years
Height range: 91–102 cm
Bike weight: 7kgs
Brakes: Rear coaster brake
Frame: Alpha Silver Aluminium
Tyres: Bontrager XR1, wire bead, 27 tpi, 12×2.25″
Available colours: Royal blue, pink
Warranty: Frame – lifetime
The Trek Precaliber is suitable for slightly taller children, with a range of 91 – 102cm tall.  It has a useful handle on the rear of the saddle to allow you to guide your child as they ride.
The frame is aluminium and the forks are steel, making this one of the heavier bikes we feature at 6.98kg. However, do remember this is still hugely lighter than the majority of 12″ wheel kids bikes, which often come in well over 10kg in weight.  It has a rear coaster brake, but no front rim brake and comes in two colour choices – blue and pink.
BUY NEW:The Trek Precaliber at Wheelbase
BUY SECONDHAND: The Trek Precaliber from eBay
We do hope you find a great first bike for your little Cycle Sprog. Do drop us a note below and let us know how you got on.
Other posts you may want to read whilst you're here:
Disclosure:  Here at Cycle Sprog we belong to a number of affiliate schemes which mean if you click a link on our page and buy something we may get a small commission. This helps us to feed our Sprogs! Thanks for your support. Karen and Chris
This post was first published in June 2019 and updated in September 2020 to reflect the 12″ wheel bikes currently available.
Support Cycle Sprog!
If you've found this article useful you can buy us a virtual coffee (or two!) to say thanks and help us keep the Cycle Sprog website going.