Are you a parent with a baby or toddler? Have you started to think about riding a bike with your son or daughter in a child seat attached to the back of your bike? If so, you've come to the right place to find out loads more information about getting started. Here at Cycle Sprog we're all about helping parents start cycling with their young children, and for many parents a child bike seat fixed to the back of their bike is a great way to get started. There are a few questions that get asked time and time again.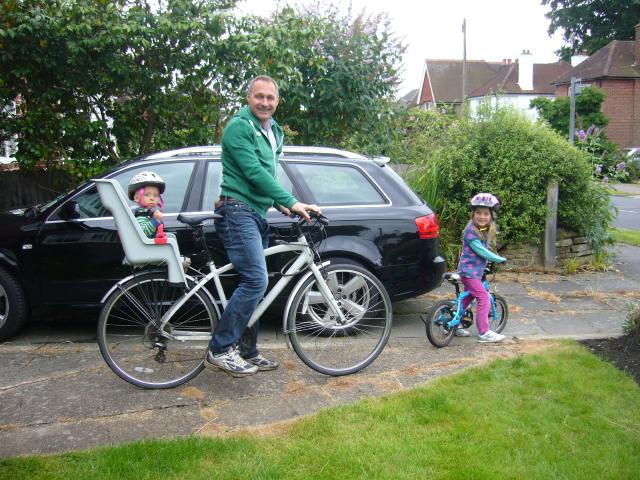 What age does my daughter need to be to ride in a child bike seat on the back of my bike?
To be ready to use a rear bike seat your daughter must be able to hold her head up for long periods of time unaided. For most children this happens sometime between the 9 month and 12 month stage, but each child is different, and if you're in any doubt do consult your health visitor or doctor.
Are rear mounted bike seats safe for my child?
Everyone has a different perception of risk, and presumably the fact your reading this article means you're probably not prone to wrapping your child up in cotton wool. Make sure you're confident riding without your child on board (see our article on being nervous about cycling with a child on board for hints and tips) and always plan your route carefully. Follow the manufacturers instructions for fitting the seat (or get your local bike shop to help) and always make sure your child is securely strapped in.
Does my child need to wear a cycle helmet when they are in a rear bike seat?
In the UK there is no legal obligation for anyone to wear a helmet, but many parents choose to use them.

How much does a child seat for the back of my bike cost?
This varies depending on the quality of the seat, and who it is made by. The cheapest child bike seats cost under £50 and the most expensive cost over £100, with plenty in between. You may be able to pick up a second hand bargain in your local free ads too. We've got lots more details on all the different makes and models of rear bike seat and where to buy them here.
Which child's bike seat will fit on the back of my bike?
Each bike and each seat is different, so it's important to check the child seat will fit your bike. The best thing to do it to visit your local bike shop, and they can advise which child bike seat will fit your bike. Alternatively on-line retailers such as Evans Cycles have a good Q&A facility where you can ask them for advice before buying the product. Just click on the product you're interested in, and then the tab that says "Ask a question" – they seem to respond very helpfully, and may already have answered your question before.
What age will my son grown out of his rear mounted bike seat?
Again, this varies on a child by child basis, and depends on their weight, height and willingness to remain sitting in a seat. Each seat has its own weight limit so always retain the manual.
You've convinced me! Where can I find more information?
If this has whet your appetite, and you're raring to get going, check out our section on Bike Seats, as we've got lots of other articles to help get you rolling! Enjoy the ride, and do drop back and let us know how you got on.