Road cycling is becoming more and more popular, especially thanks to the success of British riders in the Tour de France, Giro and World Championships in recent years.  Is your child desperate to have their own, kids sized road bike, to emulate their favourite riders and get out training in the hope of one day follow in their footsteps? (Perhaps by then it'll be our sons AND daughters stepping up onto the podium). 
If you're wondering which kids road bikes are out there, we've picked the best children's road bikes that will appeal to inspired young riders – there's something for all budgets and experience levels.
Please note though, that in order to get the best out of a road bike, your child does need to be a competent and confident cyclist, as they need to be able to ride safely using drop handlebars and skinny tyres. 
If they're not quite ready, then a hybrid bike will give them much more fun.
Take a moment to GRAB YOUR FREE KIDS BIKE BUYING CHECKLIST which will help you record all the information you need to find the perfect bike for your child. 
Cycle Sprog is an family run, reader supported, website. We belong to several affiliate schemes so may receive a small commission from sales made from links on our site. We do our best to be impartial and recommend products on their quality not whether they are in a scheme.
The Best Kids Road Bikes 2021
All these bikes will inspire all budding road cyclists – some are suitable just for road riding, and others can also be fitted with cyclocross tyres. If you're definitely looking for a more all-round drop handlebar bike that can also be used for cx, then check out our post on the best cyclocross bikes.
Cycle Sprog reviewed and recommended bikes Frog Bikes are renowned for having taken the market by storm with their colourful yet top quality range of kids bikes.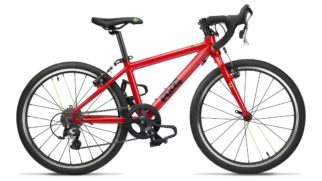 Frog 58 key data (smallest of the Frog road bikes):
Price: £485
Typical age range: 6-7 years
Minimum inside Leg: 58cm
Bike weight: 8.2kg
Brakes: Tektro Oryx (992AG) Aluminium Alloy Cantilever
Frame: Aluminium Alloy 6061
Tyres: Kenda K-1018 rubber 20*1 1/8 Black ETRTO:451MM
Available colours: Red, White, Black, Team Sky Blue, Team Sky Black
Warranty:  2 years - extended to 5 years for frame if you register the bike within 28 days of purchase
Frog are one the UK's leading kids bike manufacturers, with bikes in all shapes and sizes.  
Frog has three sized road bikes – the Frog Road 58, 67 and 70 which have 20″, 24″ and 26″ wheels respectively. The 58, 67 and 70 refer to the minimum inside leg your child needs to ride the bike.
Their smallest road bike is the 20″ wheel Frog 58  – it's the smallest drop handlebar bike available, and we only recommend this for those younger children with great bike handling skills. Most other manufacturers don't introduce a road bike until 24″ wheels when the majority of kids tend to have better control.
There's a wide range of colours available and they can fit road and cyclocross tyres, so should be a bike to suit all younger riders, although those approaching teenage years and needing a 700c wheel will be disappointed as the range currently stops at 26″ wheel.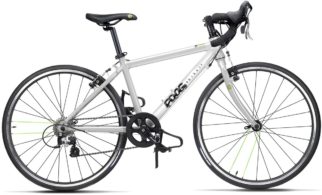 We've reviewed a couple of the Frog road bikes and have been impressed with the build quality and specification of the bikes.
If you've got an old Frog Bike that's been outgrown and needs selling get your Used Frog Bike quotation here. 
Islabikes Luath (from £799)
Cycle Sprog reviewed and recommended bike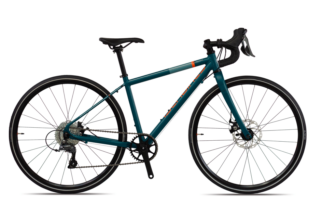 Islabikes Luath (24″) key data:
Price:  £799.99
Typical age range: 8+ years
Minimum Height: 130cm
Inside Leg: 59-69cm
Bike weight: kg
Brakes: Tektro, flatmount cable disc
Frame: Aluminium, flat-mount dropouts
Tyres: Islabikes Road, 24″ x 1.0 (26-507) folding, 120TPI, reflective sidewall
Available colours: Charcoal / Dark Teal
Warranty: 5 years on frame and forks and 2 years on parts
The Islabikes Luath is a multi-purpose kids drop handlebar bike that can be ridden both on the road or for cyclocross with just a change of tyre. Designed by many times cyclocross champion Isla Rowntree, these bikes have a great racing pedigree.
One of the brilliant things about Islabikes is their longevity – both our Sprogs have ridden a Luath 26 and it still looked as good as new.  You can read our review of the Luath 26 here.
 Islabikes regularly refresh their range, with lighter weight bikes, improvements to the specification, and fresh new branding. 
Available in wheel sizes 24″, 26″ and 700c (small and large) the Islabikes Luath provides a good option for slightly older kids looking for a bigger wheel size than the Frog and Hoy bikes offer.
Advert:  If you've got an outgrown Islabike that you haven't got round to selling on, why not get a quotation today from The Bike Club? They'll even send a courier with a bike box to come and collect it from you. 
Cycle Sprog Reviewed and Recommended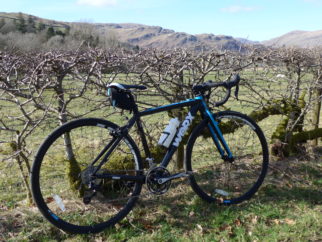 Worx (the JA-24) key data:
Price: £595
Bike weight: 8.5kg
Brakes: Tektro Oryx Canti
Frame: Hydroformed profiled aluminium 6061 triple butted
Tyres: Kenda Road Tyre (Maxxis CX 5 also available as an optional extra £50 /pair)
Available colours: Gloss black and blue
Warranty: tbc
Our own Cycle Sprog spent all last summer test riding the Worx JA-700 junior road bike, which also comes in smaller sizes with 24″ and 26″ wheels. It's designed to go VERY fast, so is only for serious and confident riders. It certainly gave 12 year old N a love of road riding at speed!
You can read our review of the Worx JA-700 here, and how he got on riding it in his first sportive ride. 
The bike can be specified for either road or cyclocross riding.
BUY NEW: The Worx Junior bikes are available exclusively via the Worx website.
BUY SECONDHAND: We're now seeing Worx bikes on eBay, click here to see if they have one in your size
Discontinued kids road bikes
Sadly there's been a previously really popular bikes are no longer available to buy brand new.  However, we've kept them in this article as they do often come up secondhand and have often been well maintained by cycling enthusiasts so can make a really great purchase.   For more advice on buying a second hand kids bike read our article Buying a second hand kids bike
Cycle Sprog reviewed and recommended brand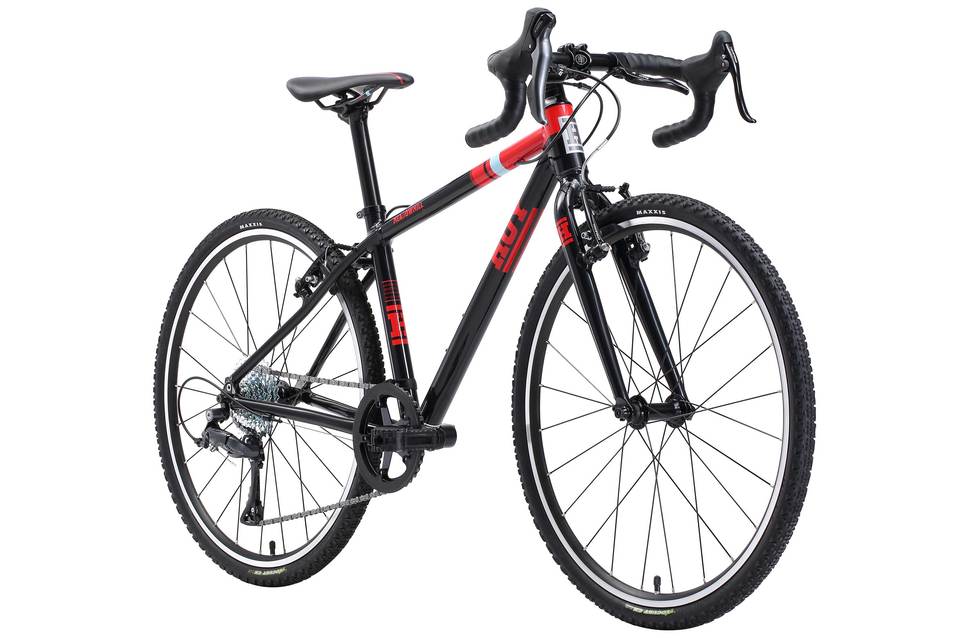 Hoy Meadowmill (24″) key data:
Price:  from £530
Typical age range: 7-11 years;
Minimum height: 127cm;
Minimum inside leg: 63cm;
Bike weight: 8.69kg;
Brakeset: Tektro 930AL alloy V;
Frame: 6066-T6 heat treated alloy;
Tyres: Maxxis Locust 24 x 1.25, 32-520;
Available colours:Black/red;
Warranty: Evans Cycles website says "All products ordered from Evans Cycles come with a full warranty which covers manufacturing faults and defects in workmanship."
The Hoy Bikes range used to include a multi-purpose drop handlebar bike which was ideal for riding on road but also be used for cyclo-cross or gentle off road riding and cames in 24″ and 26″ wheel sizes.
It was a great all round bike, and had all the attention to detail you'd expect from a bike with Sir Chris Hoy's name on it. 
They weren't around for all that many years as they replaced the Hoy Cammo, which was a road only bike.  Don't get the Meadowmill (all purpose drop handle bar bike) confused with the Hoy Meadowbank (track bike) or you'll have problems! 
Buy Used
Sponsored content:  
If you've got an old Hoy Bike that's been outgrown but you've not got round to selling on, then The Bike Club are here to help.  Click here for a valuation and then sit back whilst they send a courier (and a bike box!) to come and collect it from your home - freeing up space and giving you cash for the next bike.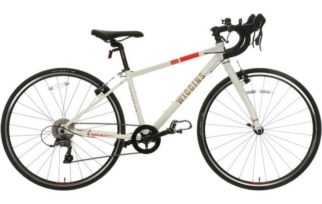 Wiggins Rouen key data:
(ADV Junior Road Bike – 26″ Wheel)
Price: £360
Typical age range: 9-12 years
Minimum Height: 138-154cm
Bike weight: 9.3kg
Brakes: V-Brakes
Frame: Lightweight butted aluminium frame
Tyres: Superlight Air Filled Vee Tyre
Available colours: White
Warranty: Frame and Forks – lifetime guarantee – all other parts 1 year
Bradley Wiggins 2012 Tour de France victory marked a turning point in British success in the event. It's hard to comprehend that there have been six British winners in the past seven years, but before Sir Bradley, no Briton had ever worn the yellow jersey on the final Sunday of the race!
In 2016 Wiggins launched his own brand of kids bikes which was available exclusively at Halfords, to inspire the next generation of cyclists. Sadly the Wiggins range of kids bikes was discontinued early in 2021. 
Thankfully so many were sold that they'll be coming up secondhand for quite some time, because the Rouen range are the best kids road bikes if you don't have a big budget to spend. When new they were significantly cheaper than the other lightweight, quality kids road bikes out there, and that's reflected in the second market too. (Although you do have to factor in that at that price they're not going to be built to the same standard and longevity as the more expensive models). 
That said, they're well specified road bikes, (it's worth noting they can't be fitted with wider tyres, so are purely a road bike and cannot be used for cyclocross). There are three bike sizes in the range – the smallest being a 540c bike.
Buy Used
Scatto J-Race 700c Road bike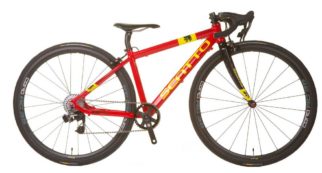 Scatto J-Race key data:
Price new:  from £899
Typical age range: 8+ years
Minimum Inside Leg: 62cm
Frame: double-butted aluminium
For those really serious about getting a podium place, then you need to get onto big wheels as soon a possible. The Scatto J-Race has 700c but a frame sized for a 8 year old, which will give a real advantage during a race. These were the favourite bike of the team at Kids Racing for a while, so a lot were bought by very serious racers as there's not much those guys don't know about bikes that are designed to be ridden fast!  
Many of the bikes will have been bespoke builds for the rider, so it's worth checking out the spec carefully so it meets your requirements. 
Buy Used
Cuda Performance Kids road bikes 
Cycle Sprog reviewed and recommended bike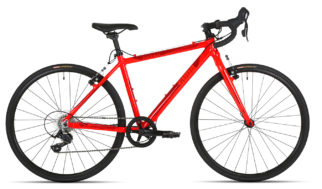 Cuda Performance (CP24) key data:
Price new: £500
Bike weight: 9.3kg
Brakes: Tektro Kanti – Microshift short reach lever
Frame: Alloy Double Butted
Tyres: Kenda Road 24 x 1" & Kenda Cross 24 x 1"1/8
Available colours: Pink, green, orange
Warranty: 12 months.
The Cuda Performance Range was an alternative to the more established names for a couple of years, but the range has now been discontinued.
Cuda has a range of different models of kids bikes, so make sure you're looking for those starting with CP for Cuda Performance range if you're looking for their best specification.   Their drop handlebar road bikes have an "R" after them – so the CP24R is the 24″ wheel road bike whist the CP24 is the flat bar hybrid bike. 
We reviewed a Cuda CP700R when it was first launched and our tester was impressed with it's handling.
Buy Used
`
Other posts you'll find useful:
Affiliate disclosure: This post "Best kids road bikes" uses Affiliate Marketing. This means that if you purchase through these links it doesn't affect the price you pay, but Cycle Sprog gets a small commission. If you can purchase through these links it helps keep the website going. Thanks so much for your support,  Karen and Chris.
Support Cycle Sprog!
If you've found this article useful you can buy us a virtual coffee (or two!) to say thanks and help us keep the Cycle Sprog website going.