The Islabikes Beinn Review  

The Islabikes Beinn is touted as the two-wheeled equivalent of Jessica Ennis-Hill. Able to perform at the highest level across a number of disciplines which, let's face it, is something the average person (or bike for that matter) is unable to do.
We've been asked by Islabikes to review the Beinn 26, so the kids have been briefed that it is to be used for as many different trip types as possible. If we're just heading into town – take the Beinn. A family cycling road trip – take the Beinn. Off to do some trail riding – you guessed it, take the Beinn!
We want to see how the Beinn perform, and most importantly, if they can have fun on it no matter what cycling they're doing.  After all, a child's life should be all about fun, especially when that involves tearing around on a bike.
Islabikes Beinn 26 details:
Price – £399
Age – 8+ years old 
Type – Multi-purpose
Handlebars – Straight
Weight – 9.46kg (inc. pedals)
Gears – 8-speed SRAM twistgrip
Colours – Teal and Red
Accessories – Water bottle & cage, rack & panniers, mudguards 
We like – A bike that has been well thought through, with fine attention to detail and build quality that suggests it will take everything that young ones can throw at it, and more! Excellent!
Buy Now
The Islabikes Beinn Reviewer
For this review we sought the trusty services of N (aged nine years) who's always happy to jump aboard and carry out a test ride or two.
He was particularly keen to review the Islabikes Beinn 26 as he'd previously been reviewing their road bike (see the Islabikes Luath review here), so was eager to get onto some rougher ground (and into the mud!) for a change.  Plus he was rather taken by the colour!
What age is the Islabikes Beinn aimed at?
Well the good news is that the Islabikes Beinn comes in a range of sizes.
There's a model available with 20 inch wheels for children aged five plus, through to a model with ground swallowing '29ers' for taller teenagers and adults. Something for everybody then.
We've been sent the Islabikes Beinn 26 Small to review, which the Islabikes website tells us is suitable for ages 8 and over. Designed for kids with a minimum inside leg of 62cm and maximum of 74cm and overall height of 135cm it should fit N perfectly.
Advert:  If you've got an outgrown Islabike that you haven't got round to selling on, why not get a quotation today from The Bike Club? They'll even send a courier with a bike box to come and collect it from you. 
Islabikes Beinn 26 Small – first impressions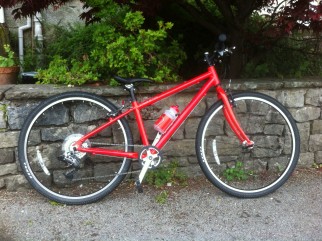 Over the years we've come across numerous Islabikes and visually they never disappoint.
The paint is deep with good shine and in our experience holds up well to the inevitable knocks and scrapes that kids bikes have to endure.
And once again, the new Islabikes Beinn 26 is no exception. It's finished in bright red and with all packaging removed, looks very vibrant. It's got the new Islabikes logo on it, which is a modern new look as the company celebrate their 10th anniversary year.
What about the components on the Islabikes Beinn?
Wheels and gears
Gripshifts are not always the easiest of things to operate on a kids bike, especially for small hands.
Often children find  it very difficult to rotate the gripshift in order to change the gear, which can lead to problems on hills. I'm pleased to report that the SRAM gripshift on the Islabikes Beinn 26 is definitely one of the easiest kids bike gripshifts we have come across. 9 year old N had no difficulty whatsoever  moving up and down the eight cogs.
The cassette at the rear of the Islabikes Beinn has a good wide range so that helps not only when cycling up hills but also when putting the pedal down and picking up some pace on the flat.
The Islabikes Beinn wheels are well finished and come with a box section rim which should be pretty tough, coupled to hubs that spin up lovely. They also come with quick-release spindles so it's easy to pull the front wheel off and pop the bike into the back of the car if needed.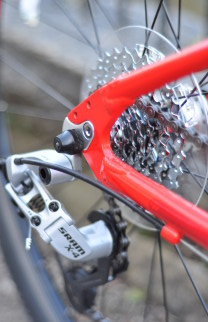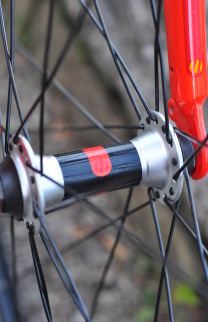 Braking on an Islabikes Beinn
The Beinn is kitted out with v-brakes front and rear that provide a good feel at the lever and give plenty of stopping power to stop surely and safely. The levers themselves are proportioned for little hands, set close enough to the bars for reach and working smoothly in operation.
Weight – how easy is it to lift the Islabikes Beinn?
Islabikes have always been reliable when it comes to the manufacturer of lightweight cycles and the Beinn is no exception with the 26 Small and the 26 Large weighing in at 9.46kg and 9.86kg respectively.
Figures such as these don't just happen by throwing components together, but are the result of an holistic approach to using quality lightweight materials to deliver bikes that are light and fun to ride.
We really appreciated this when we took the Islabikes Beinn 26 on a route that involved a return trip on the Windermere Bike Boat. Up and onto the car roof rack and back down again (twice), onto the bike boat twice and off the bike boat twice.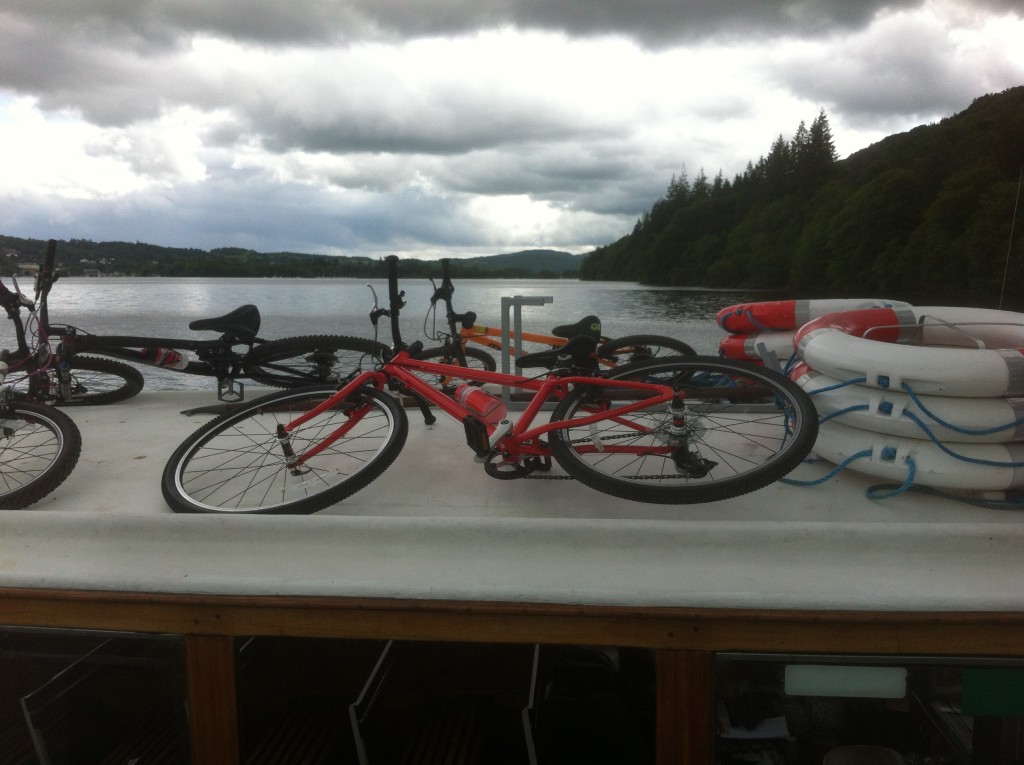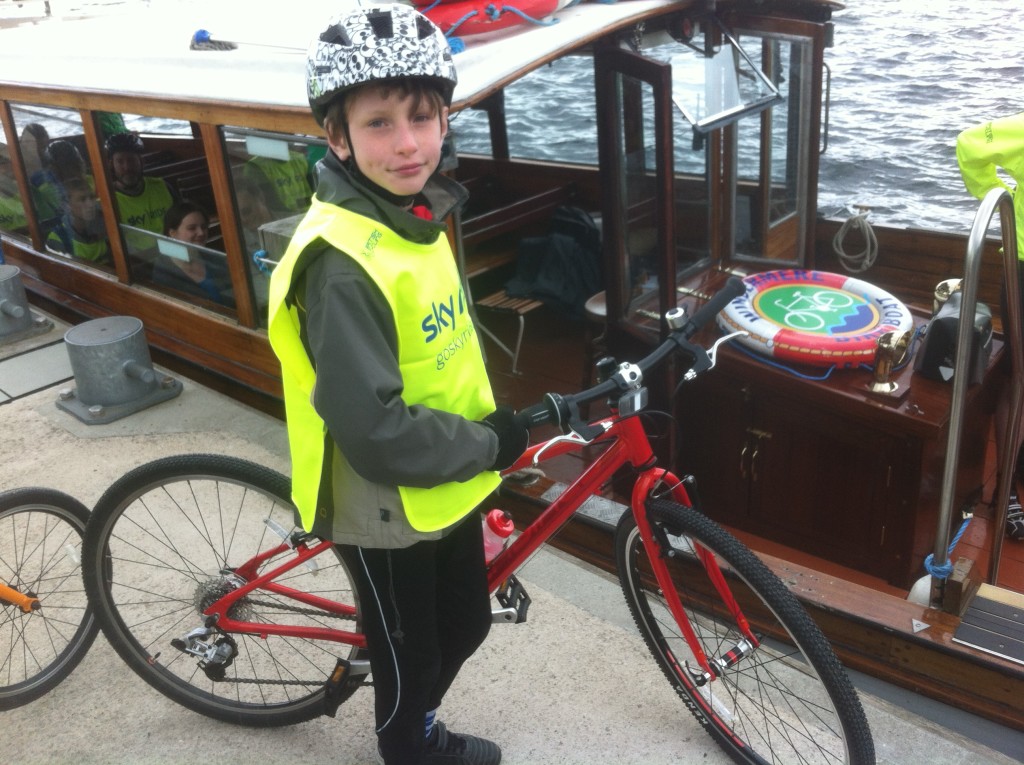 The Islabikes Beinn's low weight will also come into its own when taking your kids bike on a train or plane.
How does the Islabikes Beinn perform?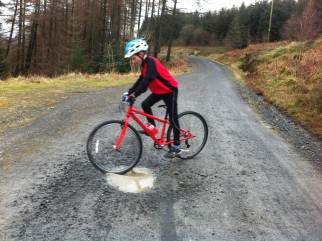 N has ridden the Islabikes Beinn 26 over a variety of terrain, in different weather conditions to get a feel for just what its like to use as an all-round, everyday bicycle.
He's taken it out on muddy trails, up Lake District hills, through numerous puddles, along forest tracks and on smooth tarmac and in all situations it has performed incredibly well.  As the saddle and riding positions are comfortable for him, he's been happy to pedal for hours on end without complaint.
A couple of real indications as to whether a child is having fun on a bike are whether they are willing to climb steep hills, and ride during the winter months.  In both cases, the answer with the Islabikes Beinn 26 was a resounding "yes" (in some instances on both on the same ride!), so it gets a big thumbs up from us as an all year round, all terrain bike.
What accessories are available for the Islabikes Beinn?
Islabikes do a rather extensive 'options' package that enables you to tailor a bike precisely for your kids needs. Tyres for all conditions, water bottles and carriers, mudguards and clipped pedals, – it's all available for purchase from their website.
There is also a rack and some high quality Ortlieb panniers that are compact and waterproof. Ideal for loading up with school kit or for putting into action on touring duty.
Thoughts from the Sprog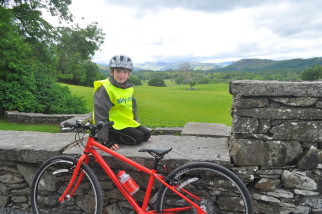 Here's the view of our 9 year old reviewer on the Islabikes Beinn 26 small:
It is lightweight so that means you can pick it up.

The gears make a big difference as you can go up hill easily, and go down hill fast with the lower gears. Everything on it is easy to use. To use the gears all it needs is a short twist and you're either up or down a gear.

It's comfy and easy to ride with an excellent saddle.

In all it is a superb bike.
Cycle Sprog Summary of the Islabikes Beinn Review
Did I mention how light it is? In a world where kids bikes can often weigh as much as an adult bike I am still amazed at how easy it is to pick up and load onto the roof mounted rack. Top marks!
Buy Now
A true lightweight multi-purpose bike

Fit and finish is second to none

Its clever design and geometry mean it's a bike that's capable of road riding, touring and off-roading
CycleSprog were provided with the Islabikes Beinn 26 for review by Islabikes.
The Islabikes Beinn is available to purchase via the Islabikes website, or from the Shropshire showroom.


Want to know more about cycling with your kids?
If you'd like more advice on cycling with your kids, inspiration for family friendly cycle routes, or reviews of the best kids bikes and children's cycling accessories don't forget to sign up for the Cycle Sprog newsletter.
Please follow us on Facebook and Twitter. If you've found this article useful then it would be great if you could share it with your friends. Thanks!
Other articles you might be interested in: