If you're looking for a great family cycling adventure in the Lake District, the Windermere Bike Boat is a brilliant choice. Kids of all ages will love sailing with their bikes across Lake Windermere, followed by a family friendly cycle ride along the lake shore to Wray Castle, and the return boat ride. Total cycling distance is about 9 miles – you can add in more cycling along the shore of Lake Windermere if your kids are up for it.
UPDATE – SUMMER 2020 – Is the Windermere Bike Boat running this summer?
On 3rd July 2020 I contacted Windermere Lake Cruises who run the Windermere Bike Boat and they have provided me with the following information about their plans for the bike boat this summer:
We will not be operating our Bike Boat initially when we open , as we are unable to do this in a COVID secure manner.
Nor will we be able to accept Bikes on board or new sailings , as these will be 1 hour circular non landing cruises.
We hope that as restrictions are lifted we can reintroduce our usual services, however at this time, this is all we can offer.
Please check their website for details before planning your visit.
The Windermere Bike Boat
As the name cunningly suggests, the Windermere Bike Boat is a boat that carries bikes! It departs from the Brockhole Visitor Centre, on the A591 between Windermere and Ambleside, and takes about 10 minutes to cross Lake Windermere to a little jetty called Bark Barn on the western shore.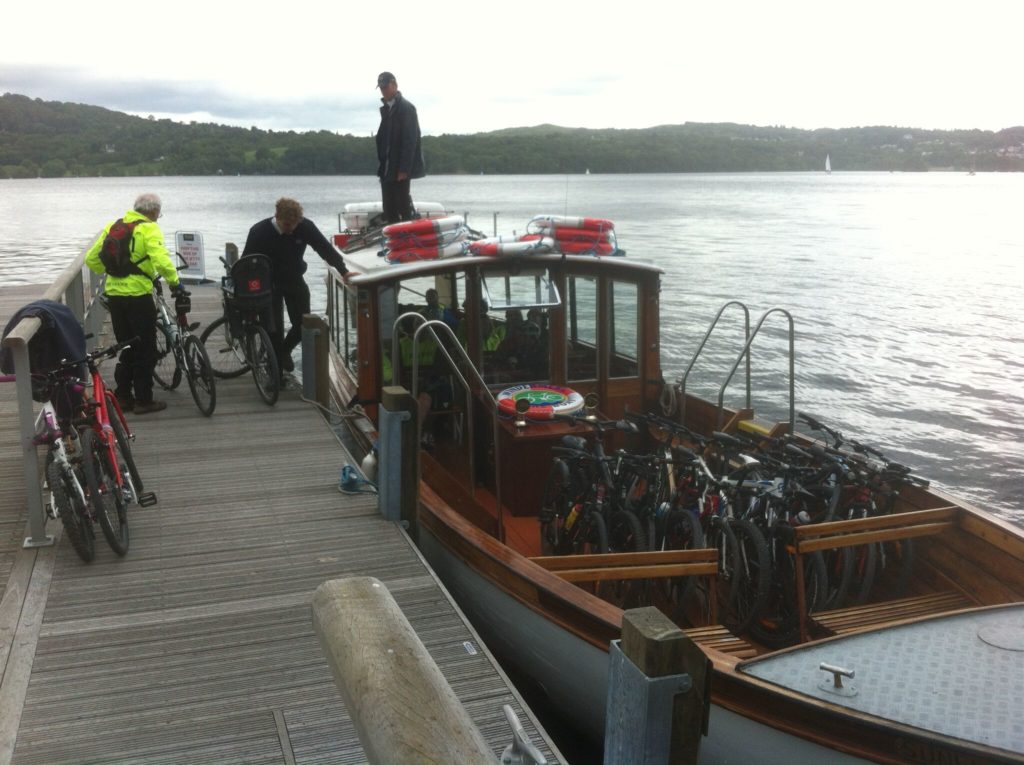 The Windermere Bike Boat runs 8 times a day at weekends from the end of May through to the start of the summer holidays, and then daily through to the start of September. Cyclists take priority on the bike boat, so if you're a pedestrian you'll have to wait to see if there is room, and if you're wanting to take your car, you're in the wrong place! Family tickets (return and single) are available. Under 5's travel free.
The Windermere Bike Boat adventure starts
Once you've made your way, along with the children and the bikes, from the Brockhole Visitor Centre to the shore of Lake Windermere, you queue up on the jetty, and wait for the boat to arrive. Seeing the Bike Boat moor up and then unload the bikes is part of the adventure, so get there in plenty of time! The Captain and his Mate will lift all your bikes onto the boat for you, so no need to worry about having to do this and look after the kids.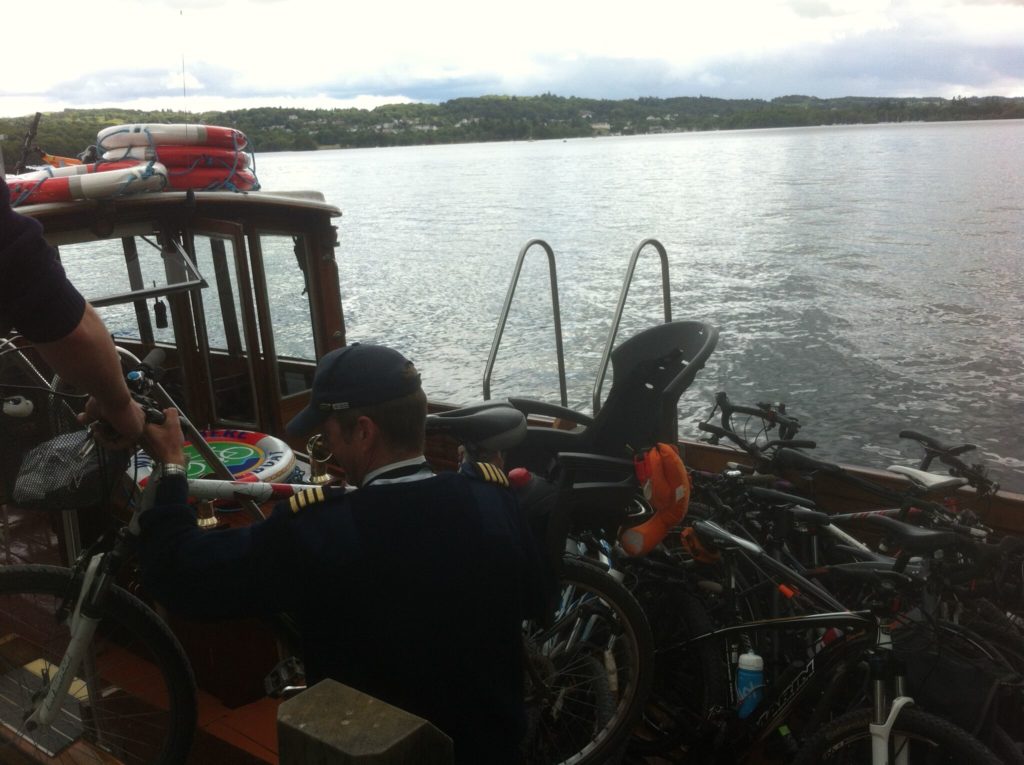 Kids bikes often go onto the roof, as they are lighter (which our boys loved!)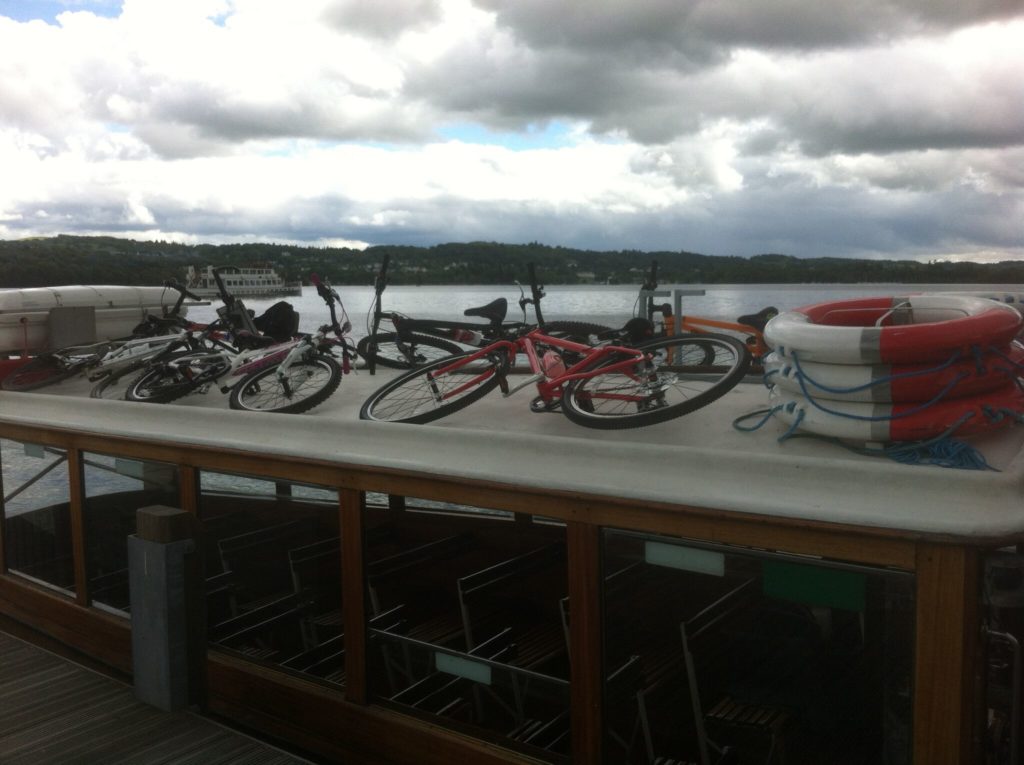 Front and rear seats are no problem for these strong guys, but you may have to detach any trailers or tagalongs prior to your journey. The views during the ride across Lake Windermere are absolutely stunning – if you can get a window seat all the better.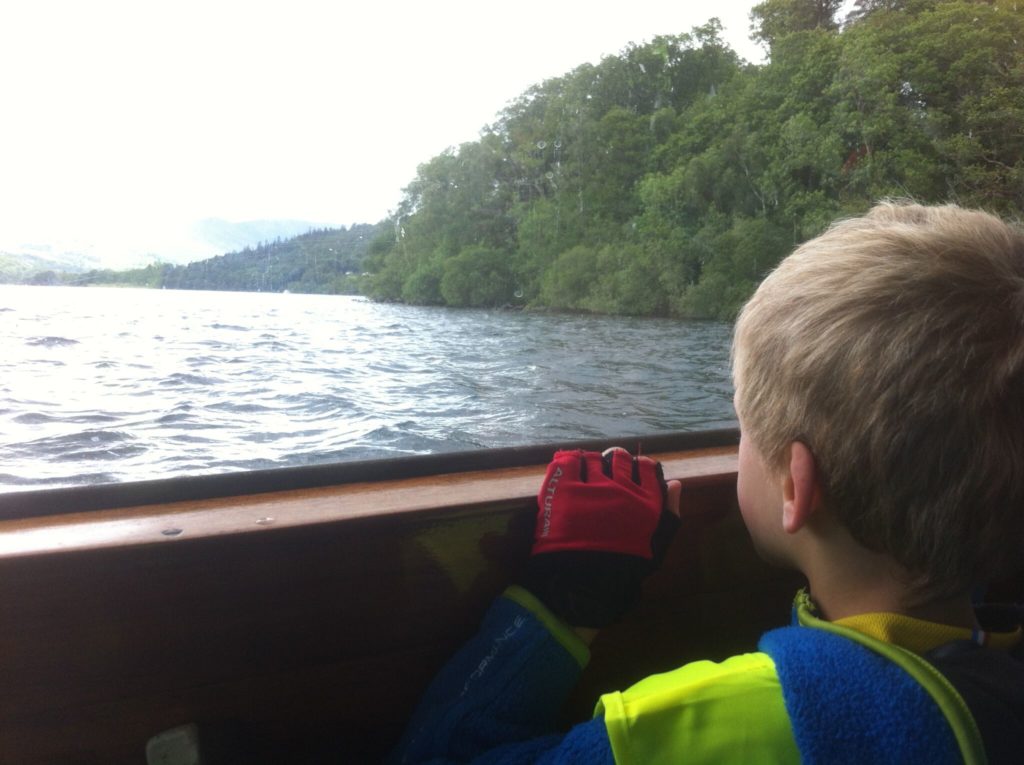 On arrival at the Bark Barn landing point the bikes are unloaded and your Lake District family cycle ride can commence.
Cycling with the kids along Lake Windermere to Wray Castle
The difference between the eastern and western sides of Lake Windermere is remarkable – you leave the busy A591 behind, and enter into a tranquil world of waymarked cycle tracks and very quiet lanes. There has been a lot of investment recently in the western side of Lake Windermere, and it is a brilliant place for families with young children to cycle in the Lake District.
After leaving the landing point and passing Bark Barn, you join a wide track. Turn right to cycle along the shore of Lake Windermere towards Wray Castle. Initially you'll be cycling on narrow country lanes, but these are only used for access, so traffic is virtually non-existent, making this a really family friendly bike ride. Quite quickly even this contact with motorised transport is left behind.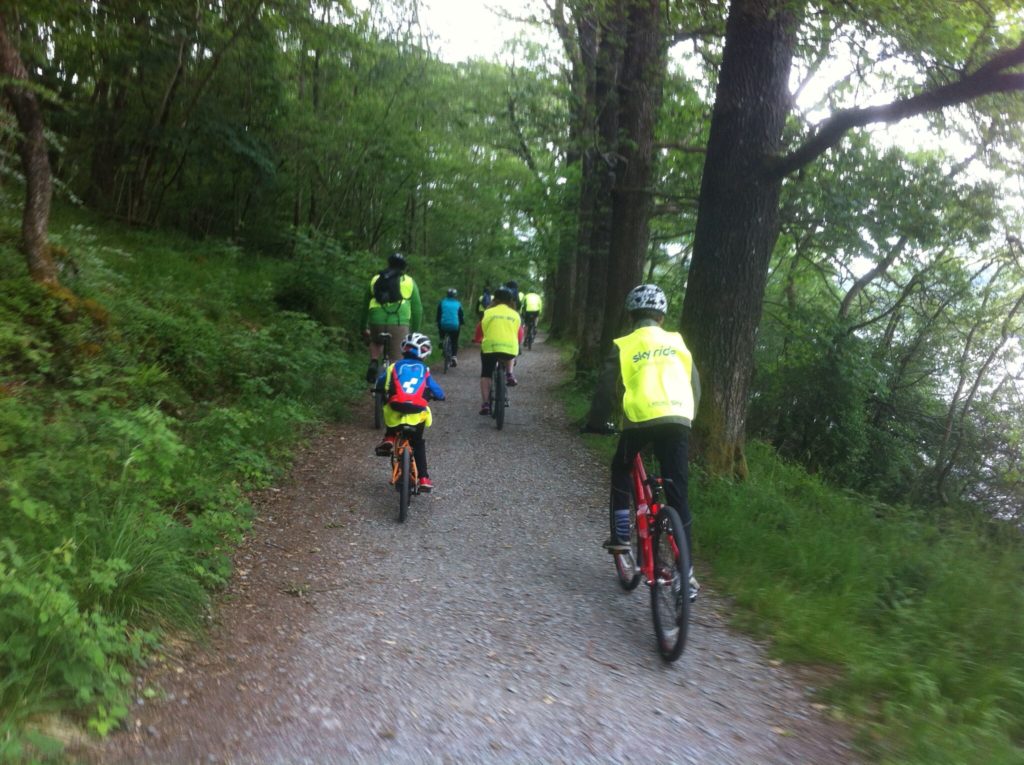 When you get to a signpost at Belle Grange, the Bridleway will continue to the left. You need to take the more straight ahead/right route to High Wray. The cycle route is well maintained as it follows the shore of Lake Windermere for just over a mile.
There are a couple of small descents and climbs (this is the Lake District of course!) to make the ride more fun, but these are very child friendly. Every so often you get a glimpse of the Lake itself.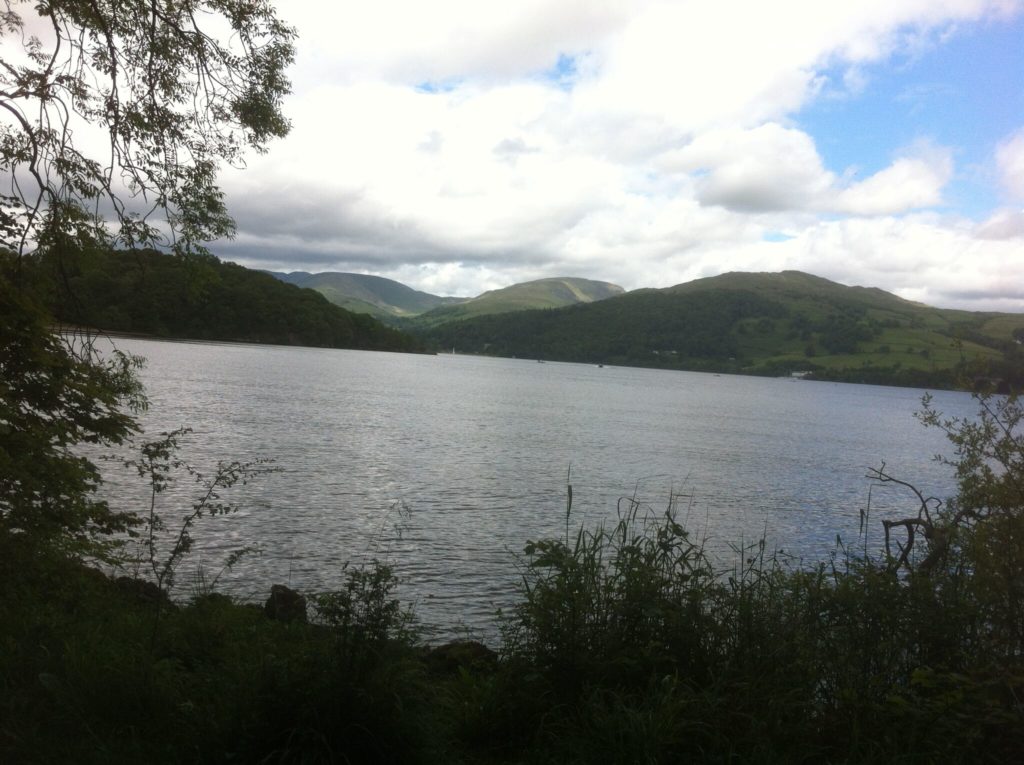 Eventually the cycle route reaches Wray Castle – ignore the footpath to the right, and turn away from the lake on the cycle path (signed Castle Gatehouse). The next 500m is the steepest on the route – this may require some pushing for those not used to hills, but is soon accomplished – emerging onto the road by the entrance to Wray Castle.
If your party is going to struggle up the hill, then you could push your bikes part way along the footpath to the right at this point, signposted Wray Castle, but note there are steep steps up to the Castle, so you're better off locking them somewhere near the fence and proceeding on foot.
Assuming you've taking the bridle way, if it's a busy day you may want to dismount and push the short distance to the castle gates, as you're likely to encounter frustrated motorists trying to find a parking space (try not to smile too smugly at this point – the car park tends to fill by 11am!). The sweeping drive down to Wray Castle is possibly the busiest part of the route traffic wise, so keep kids close.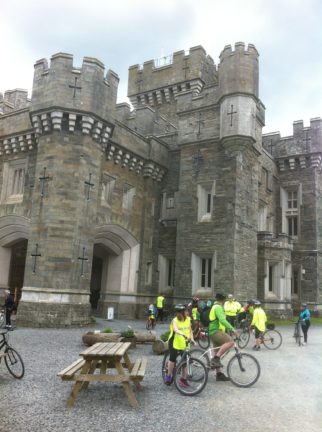 On arrival at Wray Castle there are plentiful bike racks outside the front door.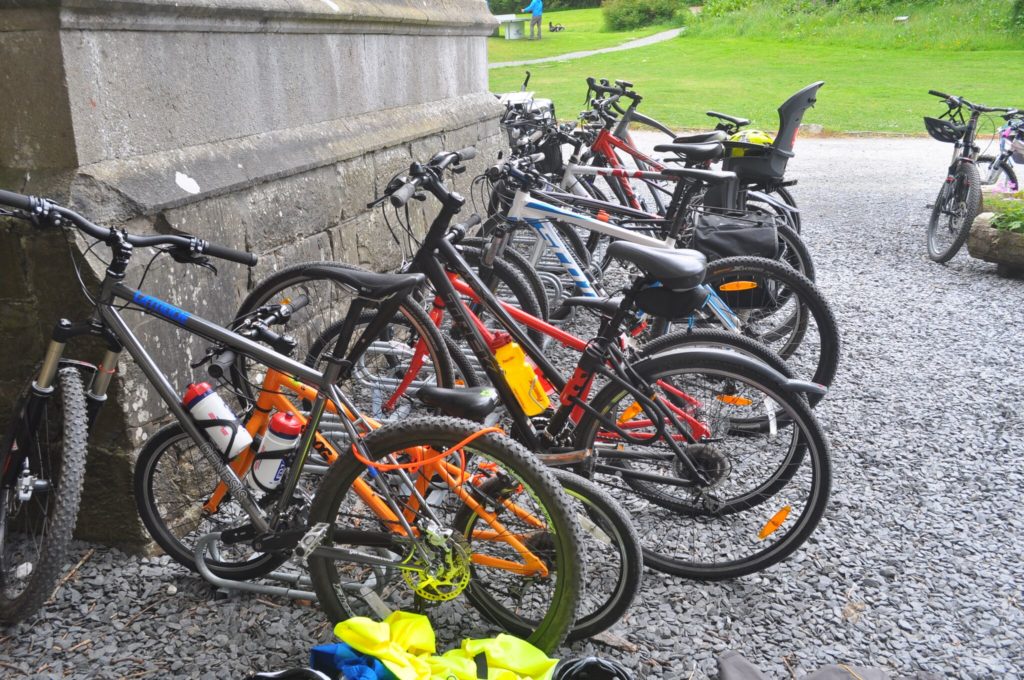 Wray Castle
Whether or not you go into Wray Castle will depend on your timescales and budget. Entry to Wrea Castle is free to National Trust Members, and £21 for a non-member family (up to 3 kids). See the National Trust website for more details.
Despite looking like an old gothic castle, the property was actually built in 1840 by a wealthy Liverpudlian shipbuilder called James Dawson, and has had a chequered history as a family retreat, naval college, mobile telecommunications office and now a place for children to let off steam.
The interior of Wray Castle is functional rather than ornate, which equates to loads of fun. Our boys particularly enjoyed writing their favourite book titles and authors onto the blackboard walls of the library, and building dens and towers with the huge bricks in one of the downstairs rooms.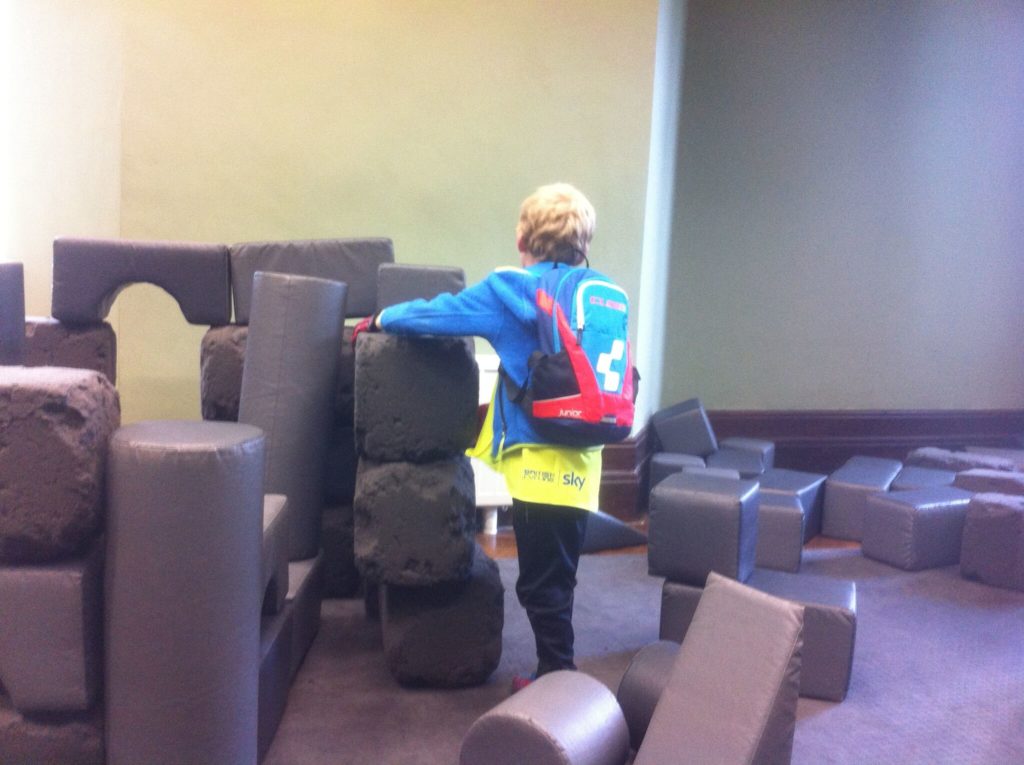 The guided tour is particularly good for getting to explore the entire house, if you're lucky enough to arrive when one is setting off. However, reserve time and energy for the outside adventure playground, or a stroll down to the lakeside, where skimming stones is obligatory.
The café, on the ground floor, is a welcome pit stop to recharge before the ride back – cakes, drinks and other snacks are available, or you could choose to picnic outside if preferred, overlooking the stunning Cumbrian scenery.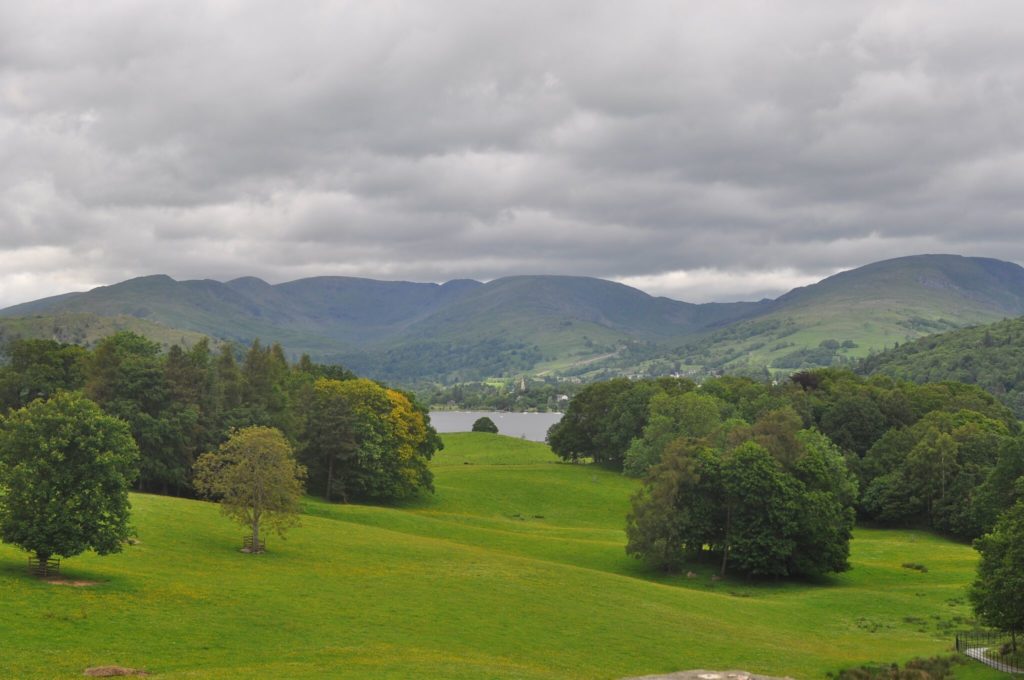 Cycling back from Wray Castle to the Windermere Bike Boat
The Windermere Bike Boat timetable is likely to dictate how much time you get at Wray Castle – don't be surprised if you end up promising to come back another day as there is so much to see and do! (We've been several times – the Grandparents loved it too!)
We gave ourselves plenty of time to cycle back to the jetty. As it is more downhill on the way back, and we avoided all mishaps, we had time to spare, so carried on along the cycle path south of the jetty. This lead to a couple of challenging ascents, before meeting a road. At this point we turned around, having had the opportunity to wear off the cakes eaten at the Castle tearoom!
If you're feeling very adventurous (or are returning to the train at Windermere) you can return back to Windermere via the Cross Lakes Shuttle service from Ferry House to Bowness. The return trip on the Windermere Bike Boat from Bark Barn jetty to Brockhole was just as exciting as the trip out, and we returned home feeling as we'd had a proper Lake District family cycling adventure!
Windermere Bike Boat to Wray Castle family cycling adventure – the final verdict
This was a brilliant adventure! The kids LOVED the boat and the castle, plus getting to cycle on some great paths – the downhill particularly! The terrain was hilly but manageable, and the route is very child friendly – virtually traffic free on well maintained surfaces. And the best bit – you're surrounded by stunning Lake District scenery – highly recommended!
Windermere Bike Boat and family cycle ride to Wray Castle – the logistics
Windermere Bike Boat: For timetables and prices download the Windermere Boat Bike fact sheet. You can't book in advance – just turn up on the day. The bike boat runs weekends only from end of May to the start of the school summer holidays, and then everyday during August. Children under 5 go for free.
For 2019 the Bike Boat service will operate daily between May 25th – June 2nd, weekends from 15th June – 14th July, and daily from 20th July – 1st September.
Bike Hire: Available at Brockhole Visitor Centre – it's always advisable to book hire bikes in advance to avoid disappointment on the day, especially if you have specific sizing requirements for your children
Transport to Brockhole Visitor Centre By Car: Situated on the A591 between Windermere and Ambleside, shoreside from the road. There is large car park, which gets busy in peak season. Pay for car park on departure – electronic payment possible By Public Transport: The nearest train station is Windermere, with frequent links to the West Coast Mainline at Oxenholme. There is a cycle path from Windermere to the Brockhole Visitor centre, although this is partly on the pavement alongside the busy A591. By bus: See the Go Lakes Travel website for details of bus timetables and taking your bikes by bus . There are spaces for bikes on some buses.
Terrain: The cycle route along the western shore of Lake Windermere is suitable for hybrid and off road bikes. Our 6 year old was riding a Frog 55, and our 9 year old an Islabikes Beinn. Most of the route is on firm paths, with a couple of short stretches on quite roads. There is an ascent on the run in to Wray Castle that may require pushing up for those on smaller bikes, or those less experienced at hills, and is of looser material which could present a problem to thin road bike tyres. This is then the descent on the way down, so make sure your child knows how to brake!
Entertainment and refreshments: Tea Shop and children's entertainments (indoor and outdoor) at Wray Castle – free to National Trust Members. See website for non-member prices. Visitor Centre, playground, café and Go Ape at Brockholes Visitor Centre.
Toilets: Toilets and baby changing facilities at Wray Castle and Brockhole Visitor Centre. Plenty of trees along the route.
Have you been on the Windermere Bike Boat? Or do you have another great family cycling day out you'd like to share? Tag #CycleSprog on Instagram, or come over and find us on Facebook.
This article was first published in 2015 and updated in July 2020 to include a Covid-19 update
Other posts you may like to read whilst you're here: