Good news in the balance bike world for all you taller sprogs in need of that little extra room to ride. Islabikes have released a new 14″ wheeled bike; the Rothan 14. Available in Teal or Orange!
Islabikes launch a new 14" wheeled balance bike: Rothan 14
Leading children's bike brand, Islabikes, have added the new Rothan 14 to their already comprehensive range.
The new 14" wheeled balance bike fits children from approximately 3 years old and is perfect for mastering two-wheel balance ready for their first pedal bike.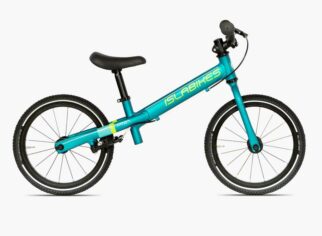 The Rothan 14's narrow stance and low, upright riding position means your child can easily develop their balance and steering skills while scooting from the saddle. 
It shares all the same design details with its smaller, sibling, the Rothan 12. But the 14 is aimed at children with an inside leg of 36cm upwards. The Rothan 14 weighs in at 3.4kg, meaning it is effortless for young children to pick up and ride, and easy for parents to carry.
Islabikes director Dave Bowater says:
"The balance bike is the gateway to cycling for so many children and speaking as a parent of two, one of my proudest moments was watching them scoot off into the distance for the first time. By adding this larger size, we are now offering taller children the opportunity to get the very best introduction to cycling."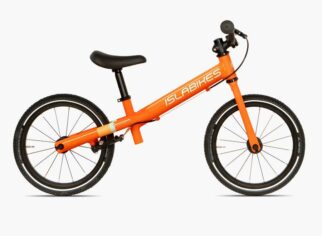 Rothan 14 highlights:
At 3.4kg the Rothan 14 is effortless to ride, manoeuvre and carry.
Rear brake with light-action brake lever that is within easy reach for tiny hands.
14-inch Islabikes wheels and pneumatic tyres are lightweight, roll with ease and give a comfortable "proper bike" feel.
Islabikes' narrow handlebars suit small shoulders.
Downsized handlebar diameter with super slim grips gives small hands a comfortably secure grip.
The exclusive Rothan saddle is specifically shaped for scooting. 
Where to buy: Rothan 14
Buy Now
Advert:  If you've got an outgrown Islabike that you haven't got round to selling on, why not get a quotation today from The Bike Club? They'll even send a courier with a bike box to come and collect it from you. 
Other articles you might be interested in:
If you want to keep up to date with all things Cycle Sprog then sign up to our newsletter and you won't miss a thing!