The lovely people over at Frog Bikes are offering one very lucky child a chance to win a brand new Union Jack Frog Bike, and to be presented with it by Olympic double gold medallist Joanna Rowsell.   To enter you need to do two things – firstly tweet a photo of your favourite cycling moment to @JoRowsellShand and @FrogBikes and then secondly, fill in the form on the Frog Bikes website.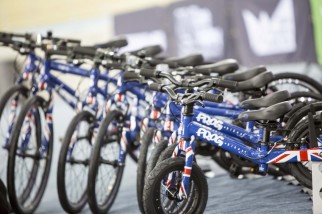 The closing date for the competition is 13th November 2016 and you must be available to be presented with the bike by Joanna during the first week of December.
The Union Jack colour scheme was launched by Frog Bikes earlier this year and has proved a popular addition to the range.  All the Frog Bike balance bikes, first pedal bikes and hybrid bikes are available in the Union Jack design, meaning that it's worth entering the competition if your child is any age up to about 14 years old.
We've previously reviewed a couple of Frog Bikes here on Cycle Sprog, including the Frog 43 first pedal bike, which was in the Union Jack colour scheme.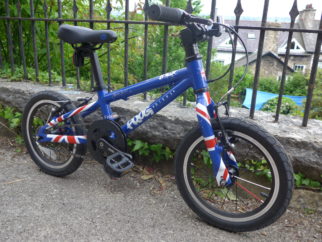 You can also check out our reviews of the Frog 55 hybrid bike which is an all round bike designed for kids aged 6 -7 years, and is available in the Union Jack paint scheme.
We've also reviewed the Frog Road 58 bike – the smallest of the Frog Road bike range (which doesn't come in the Union Jack design so isn't in the scope of this competition).
If you're not lucky enough to win the competition, then you can always purchase a Frog Bike at your local Frog Bike stockist, or online at Tredz Bikes and Rutland Cycling.
If you know anyone who might like to win a Frog Bike, please share this post with them.  Follow Cycle Sprog on Twitter to keep up to date with the world of family cycling.