Last week was the London Bike Show 2017 – a chance for the cycling industry to tempt visitors to part with their hard earned cash on the latest bikes and accessories. I went along to find out what's new in the world of family cycling for 2017.
The main reason I'd gone to the London Bike Show was to see the Islabikes Imagine 20 prototype bike, which was being displayed in public for the first time.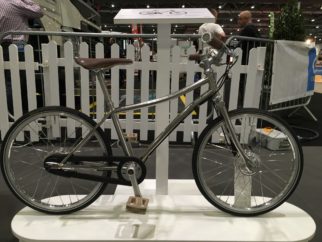 I'd seen it in photos, and even on a BBC article before, but to see it up close was a real treat. It deserves a much more detailed write up, so if you want more details, you can read my post "From Imagination to Reality" about the Islabikes Imagine 20 at the London Bike Show.
Of course the Imagine 20 was only one part of the Islabikes range on display – they had brought along both the original range and the newer Pro-Series bikes, both for display and for testing. I'd previously seen the Pro-Series at the Birmingham Cycle Show last September so it was interesting to hear that they are continuing to work on improving the range, with tweaks to components such as the skewers and tyres.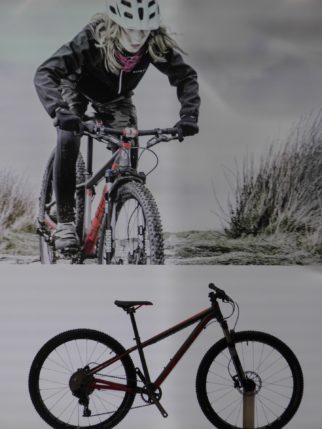 I'm not going to write again about the Pro Series or the Original Islabikes range, as I've done so in detail before, so just follow the links if you want more info.
Next to the Islabikes stand was Fat Lad at the Back, who were showcasing their new range of ladies clothing – "Fat Lass at the Back". Designed to be a flattering fit for people who are not comfortable flaunting every lump and bump, I was immediately interested. Two pregnancies, several years of breastfeeding and an aversion to sit-ups means I hate the tight lycra look associated with road cycling. My eye was immediately caught by this stunning cycling jersey being worn by one of the staff members: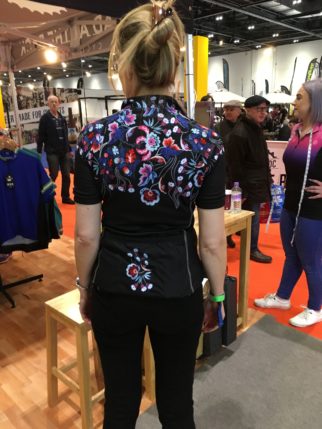 Unfortunately they didn't have any in my size, so I tried on a different design for sizing. It's a long time since I've felt so confident stepping out the changing room in sports wear – it felt comfortable, not clingy and flattering rather than revealing.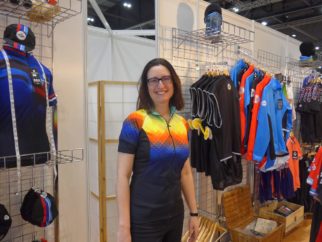 I've no idea how it performs on the bike, but for style and confidence it gets a thumbs up! I'm a tall size 12, and the 10-12 sizing fitted perfectly. I was also interested to see they've got a range of cycling leggings and tights that have an extra high waistband to avoid muffin-tops, as well as some ladies bib-tights. As time was pressing on I unfortunately didn't get a chance to try these on.
Next up I spied something that looked like a cross between a pushchair and a bike trailer. With high hopes of finding a great new way to transport children, I approached the kkdu plum stand.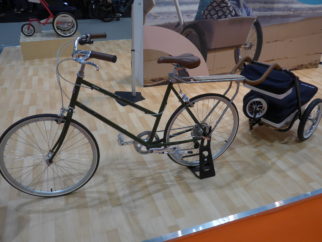 I was slightly out with the age range that this Australian invention would probably be most useful for. It's actually a bike trailer / trolley that allows you to transport goods behind your bike, and when you get off your bike it turns into a push-along to complete the final part of your journey on foot. I could see this being useful in various situations – such as where one adult is pulling / carrying the children and the other pulling the "stuff", or when the kids are older and riding themselves, and you're trying to lug along shopping or general "stuff" for a day out.
I wasn't surprised therefore to learn that the idea for the kkdu plum came when a family in Melbourne had just driven 500 metres from home to the beach, laden with beach paraphernalia. The short trip was followed by a frustratingly familiar battle to find a place to park. They decided there should be an easier and more enjoyable way to get to the beach, and the idea for a trailer was born.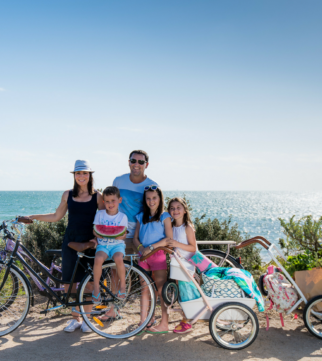 The kkdu plum is very stylish and all the branding looks very young and urbane, although the trailer is designed to handle the rough coastal paths as well as city streets. It can take a 25kg cargo (just no kids or pets!). Price wise the $1,500 AUD converts to about £925 so this really is aimed at regular cyclists who need to transport lots of stuff . kkdu plum are doing a limited release of 50 trailers from 1 May 2017, for 7 days only. If you're interested more details are available from their website.
I knew that Hope Technology were going to be at the London Bike Show, and I'd been hoping (!) that they would have one of their new academy bikes with them. Thankfully I wasn't disappointed: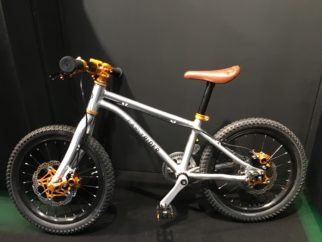 The Hope Academy is a new venture from the Lancashire based company, who are world renowned for their bike components. Aimed at giving more children the chance to ride high end bikes, through a long term rental scheme, Hope Academy are using the visually stunning Early Rider frames for the smaller bikes, and upgrading with their own Hope components.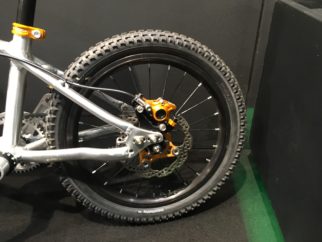 The Hope Academy is still in the initial stages, but early signs are that this venture is going to be very popular, and the challenge will be scaling up to meet demand as the summer months arrive. With prices from £5 per month for a balance bike through to £29 per month for a high end 26″ mountain bike, I'm not surprised parents are interested.
Sometimes it's a strange old world – you wait a lifetime to meet someone setting up a long term rental scheme for quality kids bikes, and then you end up speaking to three people in an hour! Whilst at the London Bike Show I had a chance to catch up with James and Alex from The Bike Club, who launched their London based long term bike rental scheme last year. As they're going from strength to strength they are partnering with Frog Bikes, and plans for 2017 include extending their distribution outside of the South East of England. Here we are being photo bombed by a whale!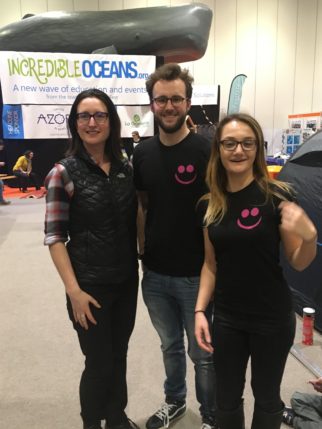 Whilst I had the chance, I also spoke to Dave Bowater, Marketing Director at Islabikes, to check whether they had any plans to change their distribution model to offer long term rentals, but he confirmed that they are currently committed solely to the direct sales model.
It was also great to catch up with Ruth-Anna McQueen at the London Bike Show. Ruth-Anna moderates the Family Cycling Facebook Group. The day we met up the group had just reached the first 500 members – if you're not already signed up, you can request to join the group here.
Regular readers of Cycle Sprog will know that one of my new year resolutions is to go on my first ever bike packing trip with the boys this year, so I was really interested in seeing what they had on display at the Alpkit stand. It was a bike packers heaven, and I picked up some useful tips on how to transport sleeping bags and carry mats. The sheer number of different bags that attach to a bike was staggering, and I'm going to have to spend some time with a tape measure working out what will fit to the boys bikes.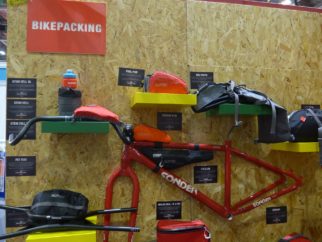 It was great to drop by the London Green Cycles stand and have a good chat about all things Cargo Bikes and family cycling, including how popular it is becoming in both London and Cambridge – mainly due to it being quicker to cycle places with the kids than driving.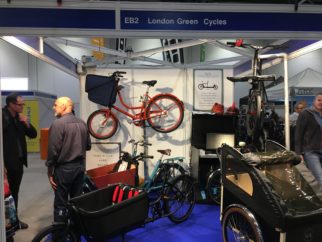 I called in to see Findra, a Scottish based company who make some gorgeous women's cycling clothing from Italian merino wool. I couldn't resist and bought some socks in their smallest size (3.5 to 5.5) for my eldest son, who has been moaning about having cold feet on our recent bike rides. He wore them on our ride today and announced they were "snuggly warm" so a good result!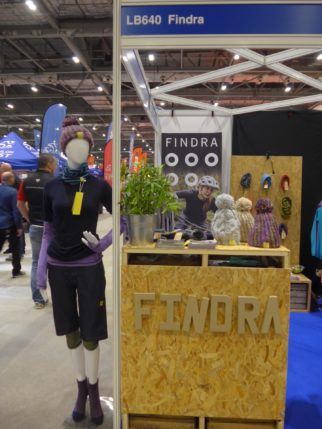 There were LOTS of bikes at the London Bike Show 2017, but very few kids bikes on the main displays. This year was seeming to be a particularly bad year, until I came across the GT stand, who were proudly displaying a wide range of their BMX's from starter bikes through to the top of the range Pro Series. Not entirely for the kids, but better than most exhibitors had brought along.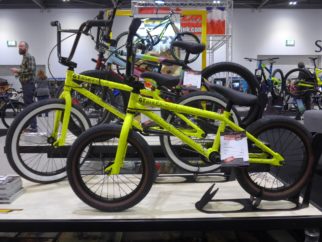 One of the latest additions to their range is the 2017 JPL BMX, designed by Irish BMX star Jason Phelan – it has a very distinctive frame design, and Shamrock on the saddle.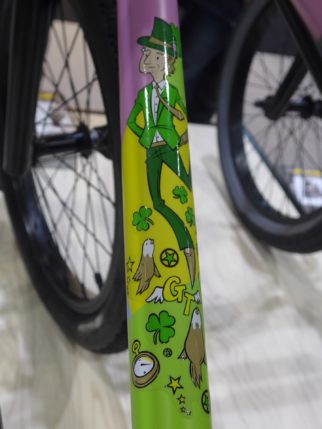 Portuguese bicycle company Orbita also had a couple of their kids bikes on display, including this aluminium framed Galaxy.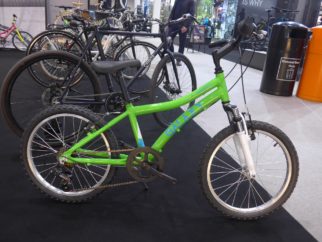 The London Bike Show 2017 – a summary
Overall the London Bike Show 2017 was an interesting day, but I was disappointed that there weren't more kids bikes on the main displays. Compared to last year, when there were lots more cargo bikes, it definitely felt light on the family cycling front.
The ironic thing is that the two more innovative kids bikes – the Islabikes Imagine 20 and the Hope Academy bikes – aren't actually available for purchase! The Imagine is a long way off being ready and the Academy is rental only. This bikes help keep me encouraged that there is still a lot of innovation and excitement to come in the world of family cycling over the next couple of years – it will be interesting to see if the big names keep up with the pace.
Other posts you may like:
Don't forget to Follow Cycle Sprog on Facebook to keep up to date with news, reviews and updates about kids bikes and family cycling.
Cycle Sprog received a trade ticket to the opening day of the London Bike Show 2017.