Happy New Year! As we start a new year, I thought I'd share with you my 2017 New Year Resolutions. They include what family cycling adventures I'd like to go on, a few cycling experiences for myself, plus what I'd like to do to improve Cycle Sprog. So here goes:
My 2017 family cycling resolutions
Here are a few things I'd love to do this year with Chris and our two boys. Now that they're aged 8 and 10, we are starting to do more mountain biking and road riding, and I'd like to explore more widely at the weekends:
Bike Packing
Having seen the film "Mountain Biking – The Untold British Story" last year, I've been desperate to go Bike Packing with the boys.  For those of you not familiar with Bike Packing, it's cycling, carrying all your kit, and camping overnight.  It differs from cycle touring in that it's often just one night, and usually done close to home. Hopefully, in the summer months, we'll be able to pack up and enjoy a night away from home – I can't wait!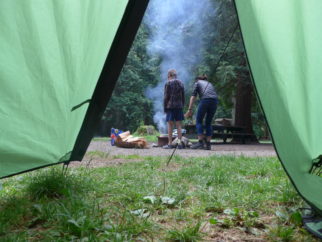 Introduce my youngest to road riding
My 8-year-old is getting to the age where he can start to come on road rides with me. Previously he's ridden a Frog 58 road bike on the pavements and cycle paths, but now he's just about grown into the Frog 67 Road Bike that his older brother has grown out of. I'm looking forward to taking him out for an early morning (i.e. reasonably traffic-free) ride, with a hot chocolate at the midway point.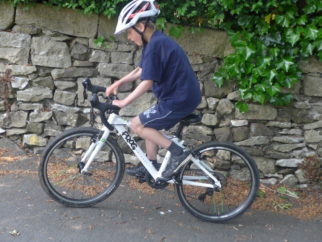 Ride the 6's and 7's
This year we hope to complete our quest to ride all the 7 Stanes trail centres of Scotland and the Super 6 routes in northern England.  So far we've done 2 of the Stanes and 3 of the Supers, so we've still got 8 to go, which is going to keep us busy, and hopefully fit.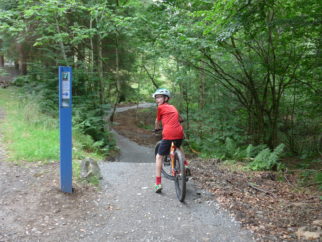 My 2017 New Year resolutions for Cycle Sprog
2016 was the year where the planets aligned and I was able to spend quite a lot of time writing and publishing articles for Cycle Sprog (see our review of 2016 family cycling here to catch up on any you may have missed). 2017 will more challenging as work will require more input and travelling again this year. However, I'm determined to keep up a schedule of frequent posts to encourage more and more families to get on their bikes. Here are my 2017 New Year Resolutions for Cycle Sprog – if you can help me out that would be great.
Inspire more families to cycle
This year I'd like to publish lots of inspirational stories about family cycling that will encourage others to get out on their bikes. From first easy bike rides with young children, through to week-long cycling touring adventures, I'd like to bring the magic of family cycling to a much wider audience. If you've got a family cycling tale you'd be willing to share to inspire others, I'd love to hear from you – as would our readers.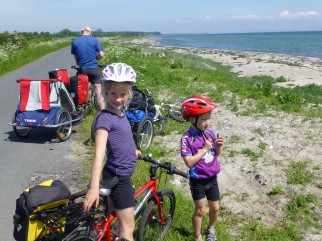 Provide more advice for getting started with family cycling
Some of the most popular articles we've written on Cycle Sprog contain advice on getting started with family cycling. For example, cycling with a baby in a sling, using a bike seat for the first time, what is the best type of balance bike and finding a 26″ wheel mountain bike for a teenage rider.
I'd like to find the time to update those articles we've already got, and write some new ones. Again, if you've got experiences that you'd be willing to share I'd love to hear from you, as it's not possible for Chris and myself to cover all aspects of family cycling.   As our boys grow, it's no longer possible to test out some of the combinations we used to!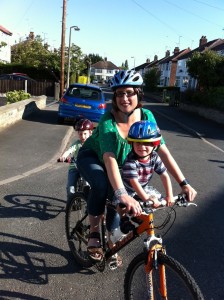 My personal 2017 cycling resolutions
One thing I learnt during 2016 is that it can be fun to get away from the kids occasionally and enjoy my own riding again.  Here's a couple of things I'd like to do in 2017, just because I do. I wonder how I'll get on with achieving these?
Ride the London Superhighway
I have yet to experience riding the new cycling infrastructure in London, so only remember how terrible cycling was when I lived there during the late 1990's.  I'm expecting to be making a lot of work trips to the capital this year, so I'm determined to hire a bike and ride the new SuperCycle Highway at some point.  Having cycled in Amsterdam last year, it would be great to be able to see how far London has come in comparison.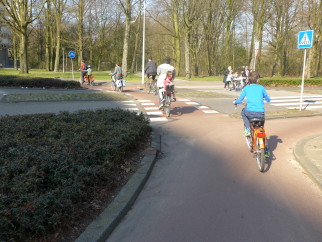 Riding the red routes
This year my boys have discovered mountain biking at trail centres and they're getting increasingly confident and fast. If I'm going to stand any chance of keeping up with them over the coming years, I'm going to have to be able to ride a red graded route without difficulty, so 2017 is the year to work on my technique.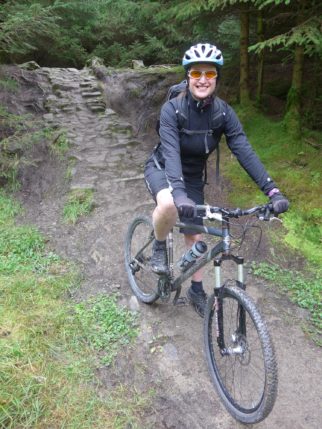 Go on my first club ride
In 2016 I joined a cycle club for the first time, but so far my only involvement has been in the junior section. I also went on my first Breeze ride in 2016 (a mountain bike ride), which was brilliant fun.   However, I have to confess to feeling a bit nervous about going on my first road group ride. I intend to overcome that fear this year, and get up and out for one of their Saturday morning group rides.
So, there you have it, my 2017 New Year Resolutions.  I'll keep you updated on how I get on throughout the year.
What are your 2017 New Year Resolutions?
I'd love to know what your resolutions are for 2017.  Will you start family cycling for the first time?  Visit a trail centre or pump track for the first time?  Plan a family cycling holiday?  Write a post for Cycle Sprog? Learn how to do a wheelie? Do please either leave a comment below, or on our Facebook page – I'd love to hear what 2017 has in store for you.
Wishing you a very happy and healthy 2017, full of family cycling adventures.