Over the autumn half term holiday our boys were lucky enough to attend two days of mountain bike training run by our local British Cycling coaches. This left Chris and I with not one, but two child free days to enjoy some mountain biking- what a luxury!! I've already written about how we got on practicing our mountain bike techniques at Gisburn Forest on the first day. In this post, you can find out how we got on tackling the North Face Mountain Bike Trail at Grizedale Forest in Cumbria.
We were really lucky that we found ourselves in the Lake District on a stunning autumn day. We were all a bit tired from the day before, but once the boys saw everyone else in their group they were raring to go again.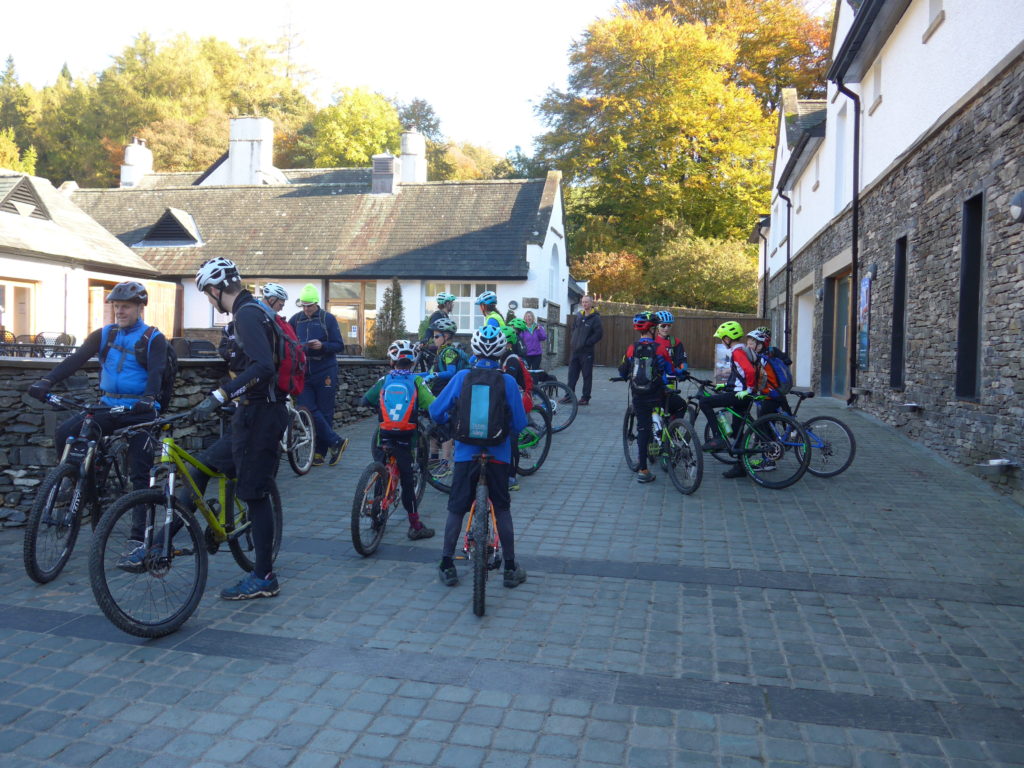 Chris and I got our tired old legs into action, bought a map, did a bit of bike maintenance and headed off to ride the red graded North Face Mountain Bike Trail. Something we'd never attempted before.
Thankfully the practice of the day before had paid dividends. We got to the beginning of the red section and I felt that I was riding smoothly and with greater confidence. The North Face Mountain Bike Trail at Grizedale is very rocky, and reminded me of the bridleways we used to ride in days of old. This was long before we had the boys and before trail centres with their fast and smooth singletrack blue runs existed (which we've been riding a lot of recently since the boys found a love of mountain biking earlier in the year).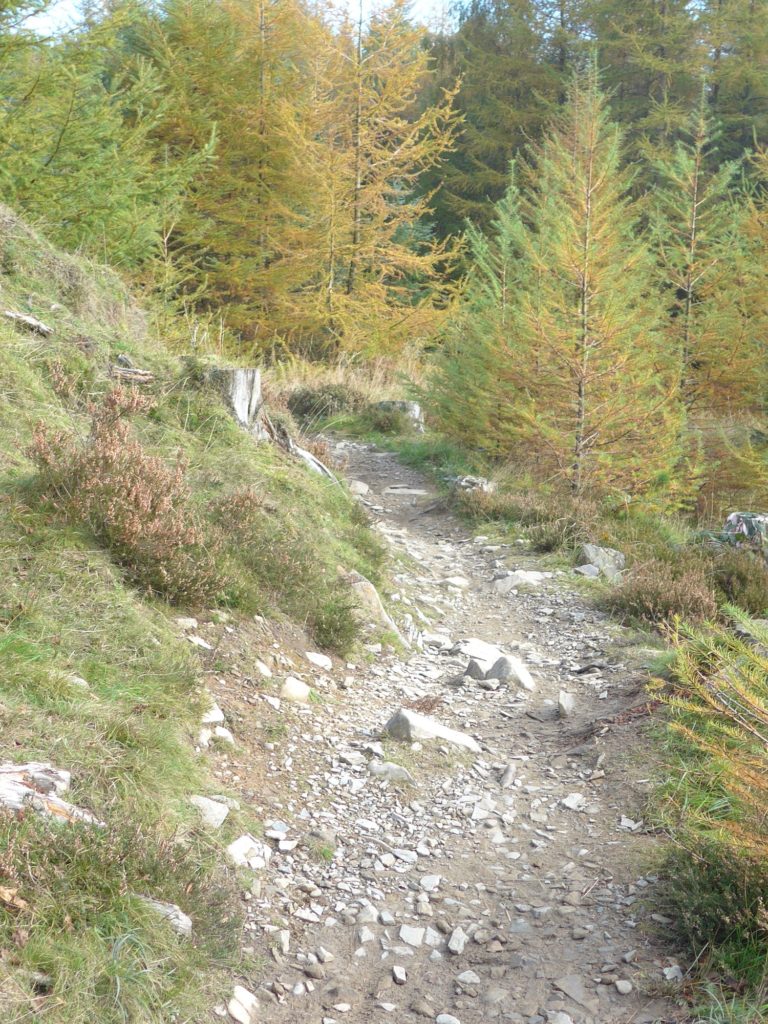 I was making excellent progress when suddenly we got to a tricky bend and there were 12 kids and their instructors watching me and offering marks out of ten!!! Chris and I were like a pair of rabbits in headlights and had to get off and push – it's rather difficult trying to perform with so many critical eyes watching you. Unfortunately, we weren't allowed to stay and find out how to ride it properly, so we headed onwards.
The riding on the North Face Mountain Bike Trail was incredible! I was definitely far more confident and capable than the day before, having had the chance at Gisburn Forest to practice difficult parts of their red trail again and again. I've also discovered that it's much easier to ride when you can keep making progress and pedal at a consistent speed. It's really difficult to tackle a feature on the trail from a standing stop, which is what so often happens when I'm riding with the boys. I even managed to complete two rock gardens, something I'd struggled with up until that point!!
Part of the red section has some great stretches of boardwalk which were a great test of our balance.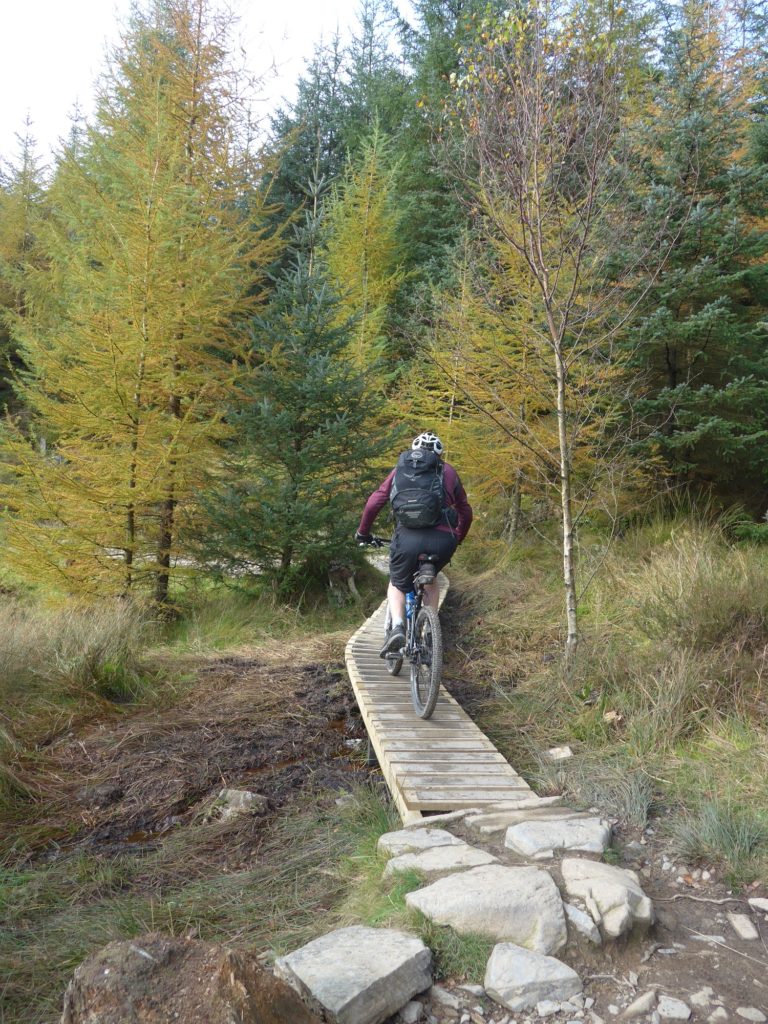 The autumnal Lake District scenery was absolutely breathtaking with the sunlight illuminating the leaves in dazzling shades of yellow, orange and fiery red. Days like this in the Lake District are perfect, and we were so lucky that our day of cycling at Grizedale Forest coincided with such fabulous weather.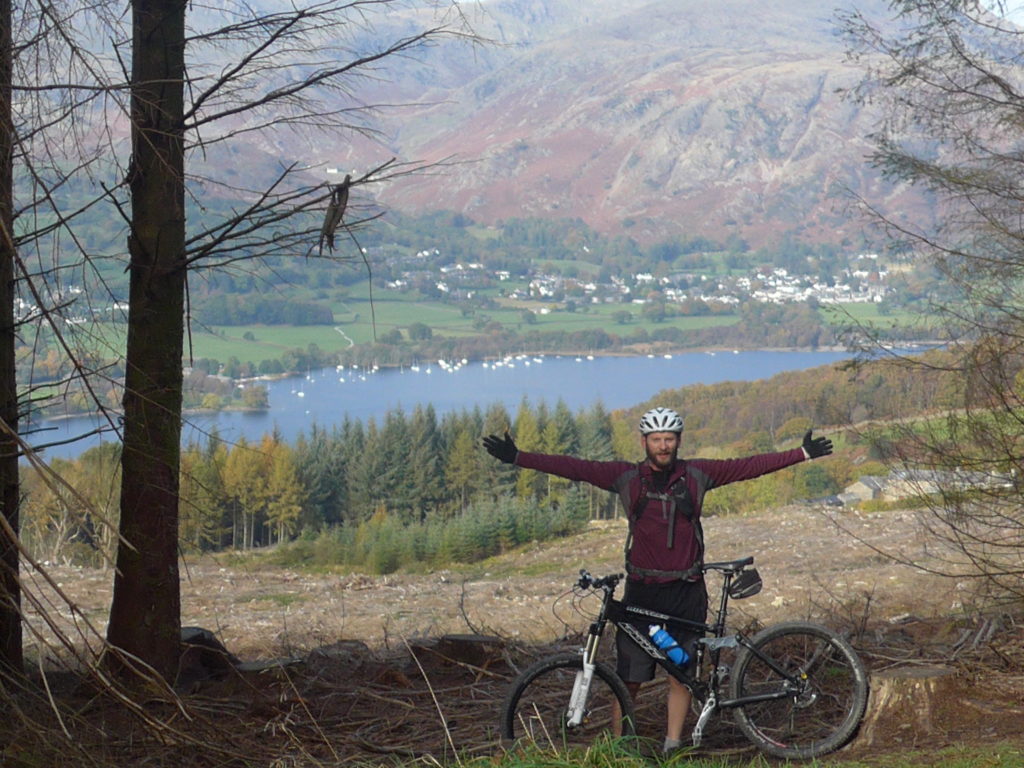 Chris and I would be cycling along and have to suddenly stop just to take in the sheer majesty of the view – another luxury we're rarely afforded when the boys are with us.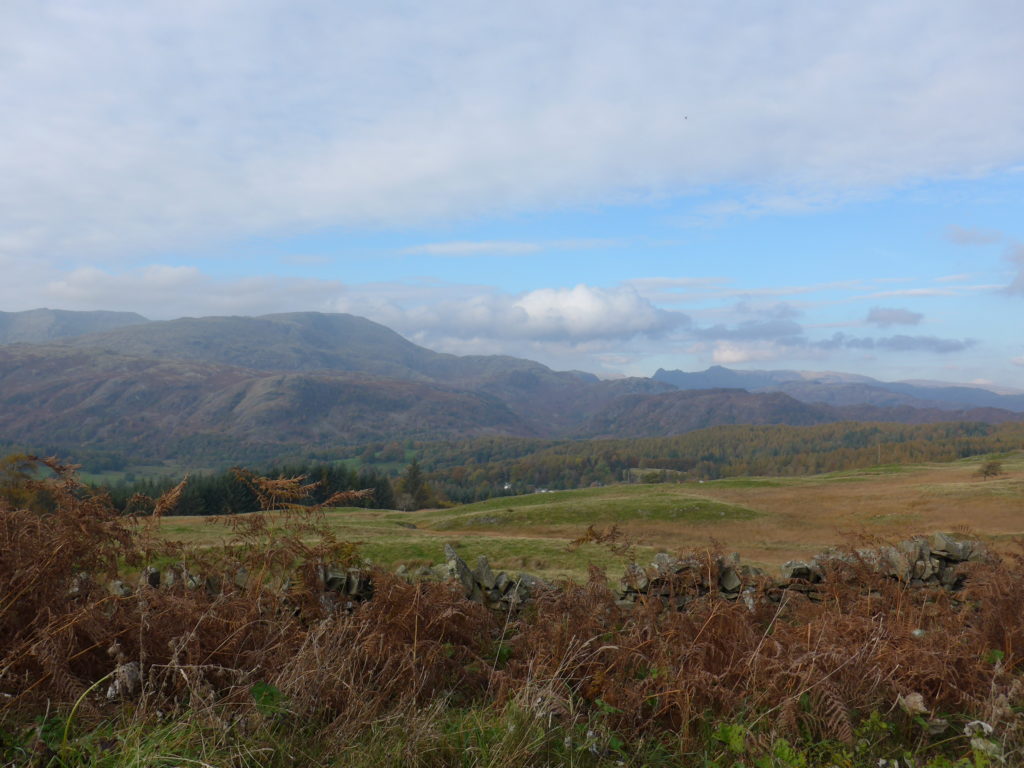 Whilst most of the technical parts of the 10 mile North Face Mountain Bike Trail are very rocky there are also some long stretches of forest track where we were able to pick up speed. As it was half-term and the sun was shining there were lots of families cycling along the forest tracks – many of them on hire bikes. It was very strange seeing so many people enjoying a family bike ride while we were child free.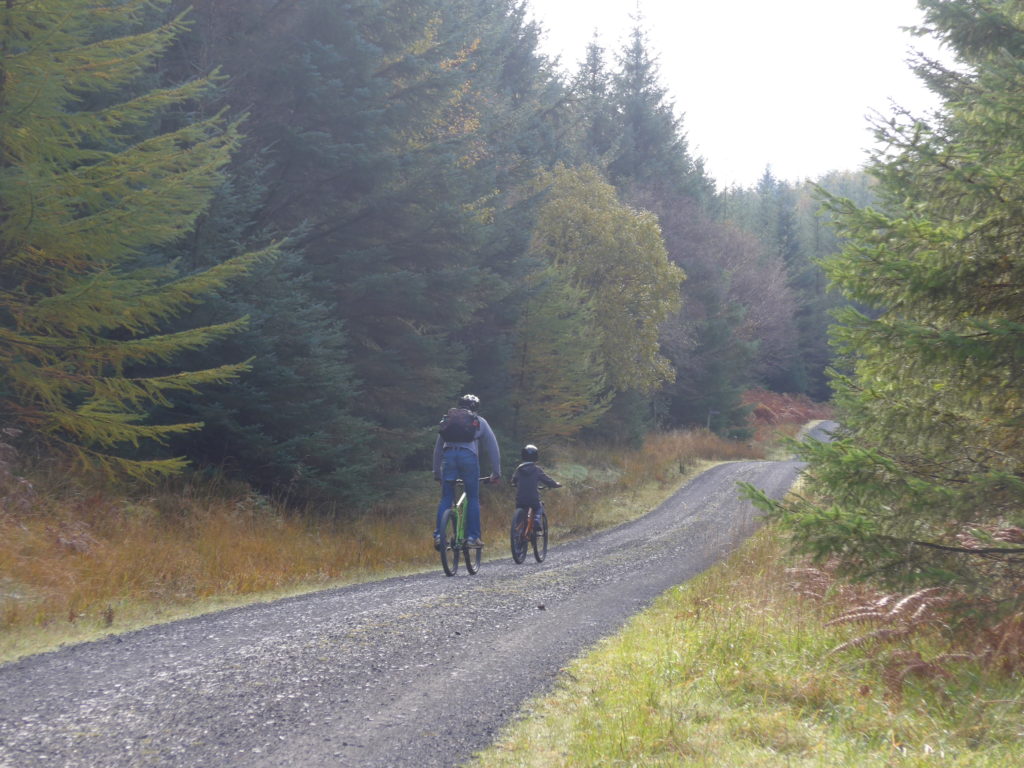 I have to admit to feeling a mixture of pity and blissful relief when we saw one particularly upset young rider having a tantrum at the start of a steep section! Yes,we've been there and worn out the t-shirt and we were reaping the rewards of having kids who were happy to go off and spend the day mountain biking without us.
After about two hours of fabulous riding along the North Face Mountain Bike Trail we came across the British Cycling group again. The kids were doing circuits of a short red section, and my goodness how they were flying down the route!! I waited until I thought they'd all gone and set off, but in no time I was being pursued by two incredibly capable kids. I had to pull over to let them pass and then struggle down the rest of the section feeling old and incompetent. My concentration had gone and knowing I was being watched by the kids at the bottom, I rode the worst I had ridden all day! For the final time we left the kids on the trail and headed onwards for a final descent to the visitors centre. After 15 minutes or so, we were joined by the group containing our boys and all were grinning from ear to ear.
The boys amassed 8 hours of mountain biking tuition from the training sessions and also took inspiration from riding with some experienced and seriously capable teenage riders. They had an amazing time, and keep on talking about all the tricks that the older riders could do, and how they're going to learn them all very soon!
I can tell that the tipping point is about to be reached in our family. After a decade of watching out for them, keeping them safe, encouraging them to carry on pedalling and helping them over difficult parts, I suspect the tables are about to be turned.
During the two days I've learnt an important fact. In order to improve my technique I need to invest time in riding without the boys. It's just too difficult to practise my technique when concentrating on what the child in front is doing.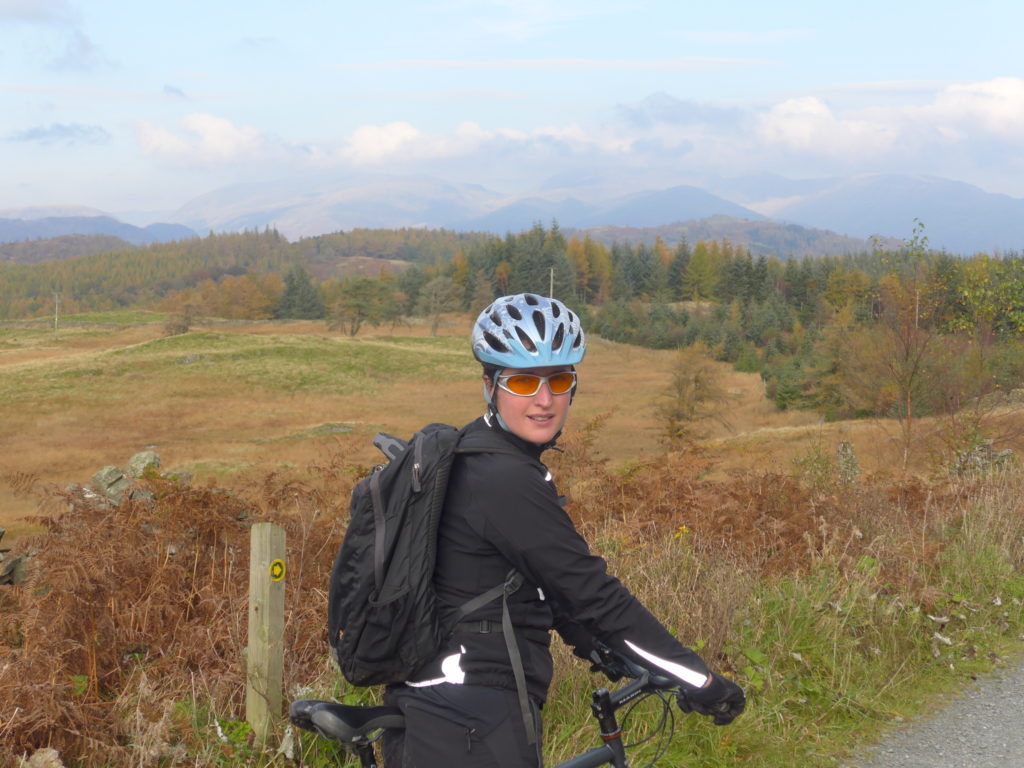 In the meantime, it was bliss to be able to spend two days with Chris and ride some amazing mountain biking trails together. I have to admit we did spend a disproportionate amount of time talking about how the boys would like each section we rode, and I can't wait until we get out and ride as a family again. But it was lovely to travel back in time, even if it was just for two days!
More information on cycling the North Face Mountain Bike Trail at Grizedale Forest
Grizedale Forest is situated in the beautiful Lake District National Park, just south of Hawkshead and only a short drive from Ambleside. The North Face Mountain Bike Trail is one of a number of cycling trails available in the Forest. It is graded red / difficult and is 10 miles long. Further details on cycling in Grizedale Forest can be found on the Foresty Commission website.
If you found this post useful please share it with your friends. If you follow Cycle Sprog on Facebook you'll find lots more similar articles on family cycling, plus news and reviews on kids bikes and cycling accessories.