The 2016 Cycle Show opened to the public today at Birmingham's NEC and anyone looking to buy a mountain bike for their child will have a host of choices. We'll take a closer look at the 2017 junior mountain bikes on display from Whyte, Islabikes, Early Rider, Cube and Genesis and an exciting new kids MTB clothing company called ShredXS.
Whyte Junior mountain bikes
Sometimes when adult bike manufacturers venture into the kids bike market they feel obliged to cater for all age ranges. This can result in quality being compromised as they're not experts in designing for the younger age range. Whyte Bikes have taken the opposite approach.
Their youth offerings are based around 26" wheels and Whyte have taken all of their knowledge and experience in designing adult mountain bikes and downsized it to fit a smaller and lighter rider. It's good to see a manufacturer displaying their range of kids bikes (many don't bother!) and Whyte had both junior models on the stand.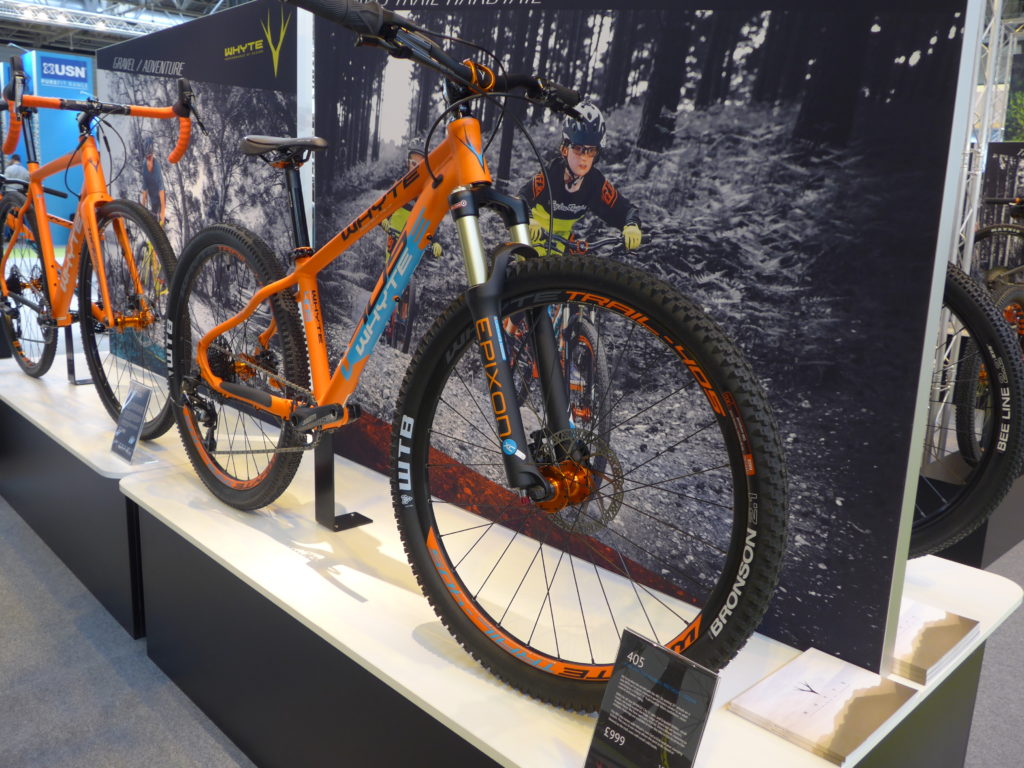 The Whyte 405 is the flagship of the junior range and comes with a seriously high specification.
With a single ring SRAM GX chainset matched to a wide range 11 speed cassette out back, there is no need for a front mech or shifter and this gives benefits both in terms of lightness and simplicity. Gear changes are carried out by a SRAM GX gripshifter, a model that has developed a reputation at all levels for smooth and precise shifting. The key to this is a design that uses three rows of ball bearings inside to remove the friction that often makes twist grips so hard to use.
At the front end we find a Suntour Epixon suspension fork with 100mm travel. This is an air sprung fork, so not only is it lightweight but it can also be set up to match the weight of the rider. Braking duties are performed by Tektro Auriga brakes with 160mm rotors to swiftly bring things to a halt.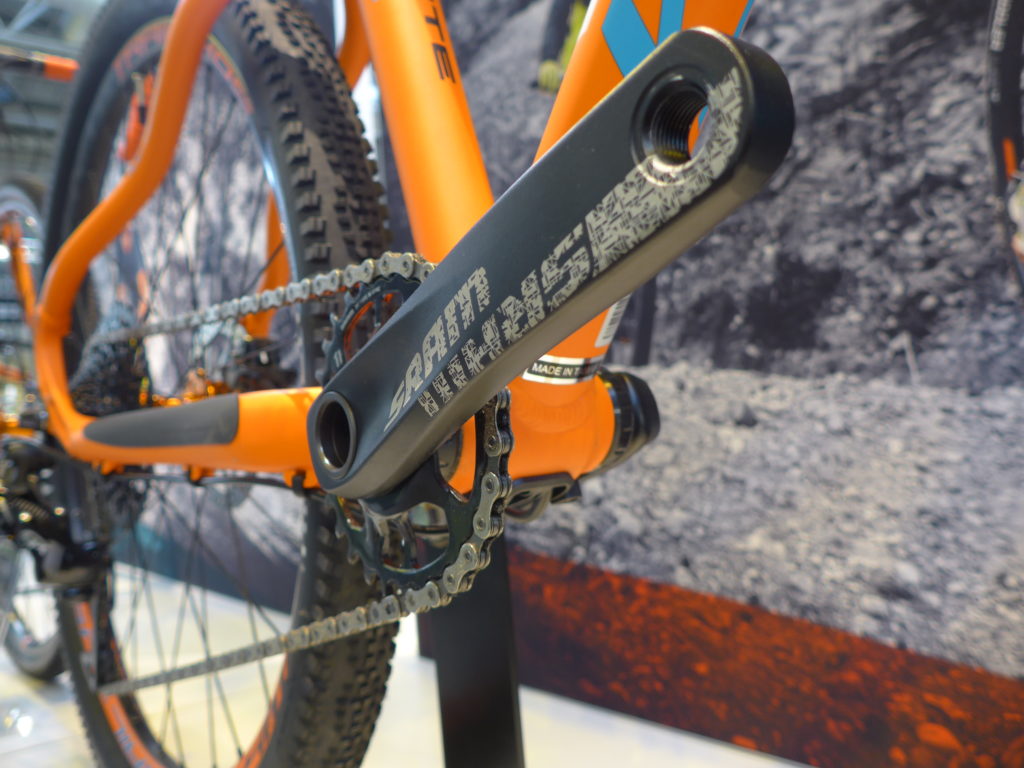 At £999 the Whyte 405 isn't within everyone's price range (although it's the same price as the Kiddimoto Karbon balance bike!), so new for 2017 is the Whyte 403 hardtail junior mountain bike.
Retailing at £625, the Whyte 403 is a more affordable offering from Whyte. However, this is still a top spec machine boasting the same 6061 Hydro Formed T6 aluminium frame as the 405. The savings come by specifying components from groupsets that are slightly lower down in the pecking order, so delivering solid performance but giving good value for money.
For example, the SR Suntour XCR suspension fork is still air sprung and still provides 100mm of travel, but the trade off is that it's heavier than the Epixon used on the 405.
The drivetrain is an Shimano 8 speed system with a Revo gripshifter to make the changes and an Altus rear derailleur, with braking provided by a Promax Solve system of levers, calipers and 160mm rotors.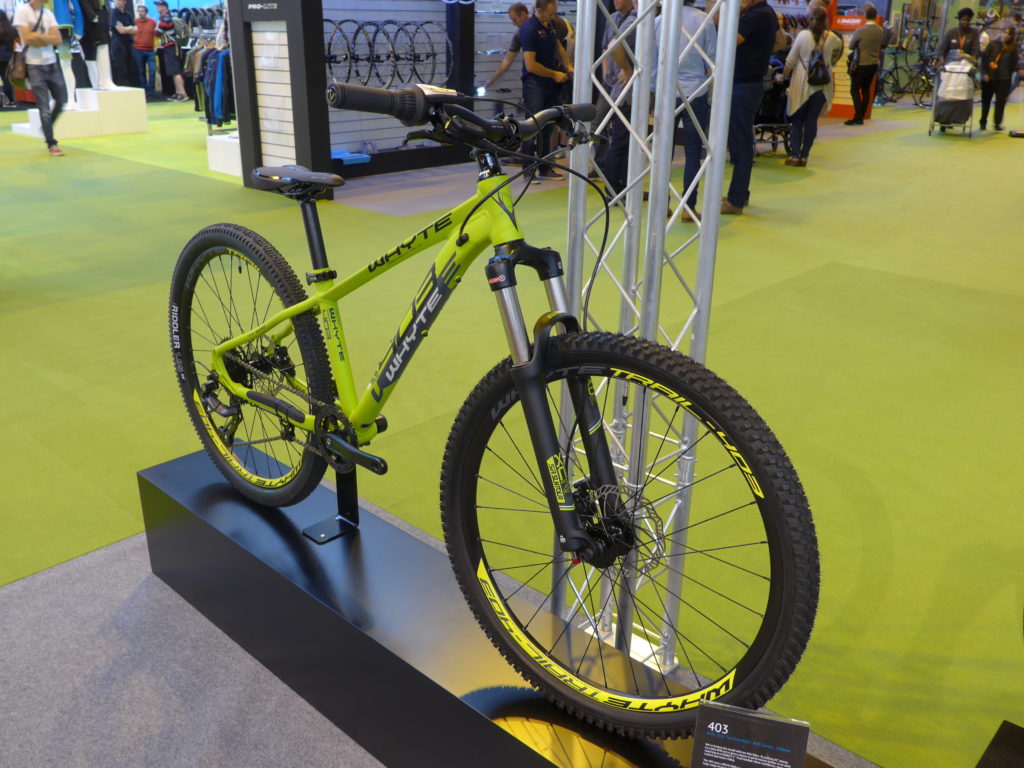 The 2017 Whyte 405 is available to pre-order at Rutland Cycling for £998.99 and the 2017 Whyte 403 for £624.99
Genesis Core 26
Genesis have overhauled the Core 26 junior mountain bike for 2017, with the red and blue paintwork of previous models being replaced with a vibrant, eyecatching and dare say it, tasty orange.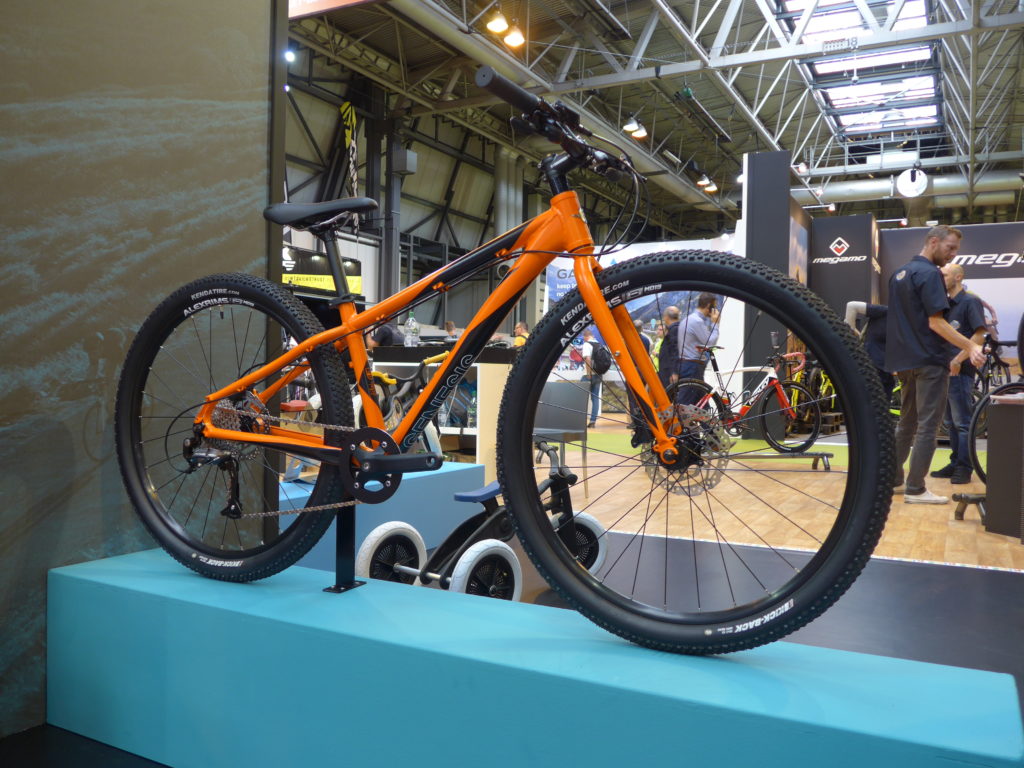 The Core 26 now comes with a simple 1×9 drivetrain using a Shimano Altus shifter and rear derailleur. Shimano M355 brakes with 160mm rotors should help keep you out of trouble.
The Core 26 is a great looking bike, with a clean and uncluttered appearance that is partly due to the simple drivetrain but also to the rigid fork. Genesis have opted for a chromoly fork that should have a compliant feel and be able to take the sting out of bumps so that you can concentrate on the riding. It should handle corners pretty well too!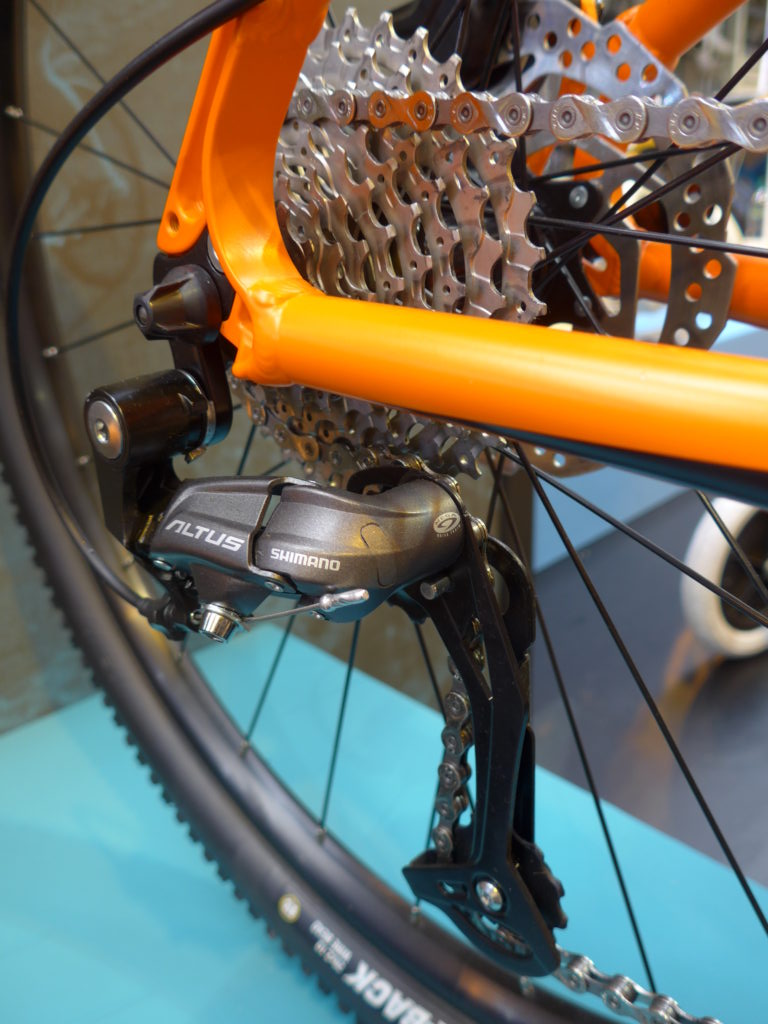 The Genesis Core 26 provides an option for those youngsters who prefer to keep things pure and feel the ground beneath their 26" tyres at a time where other manufacturers are tending towards specifying 27.5" and suspension forks. It should be with bike shops later in the year, at a price of £549.99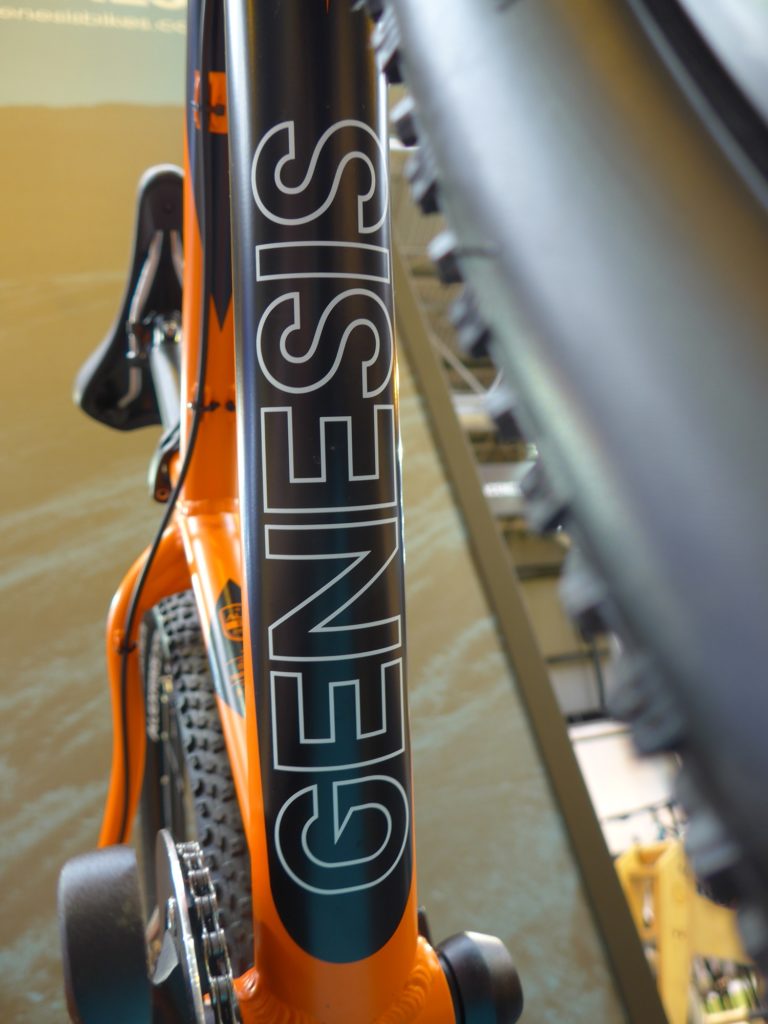 Islabikes Pro Series Creig
Islabikes launched their Pro Series earlier in the year and this was the first major bike show for the range.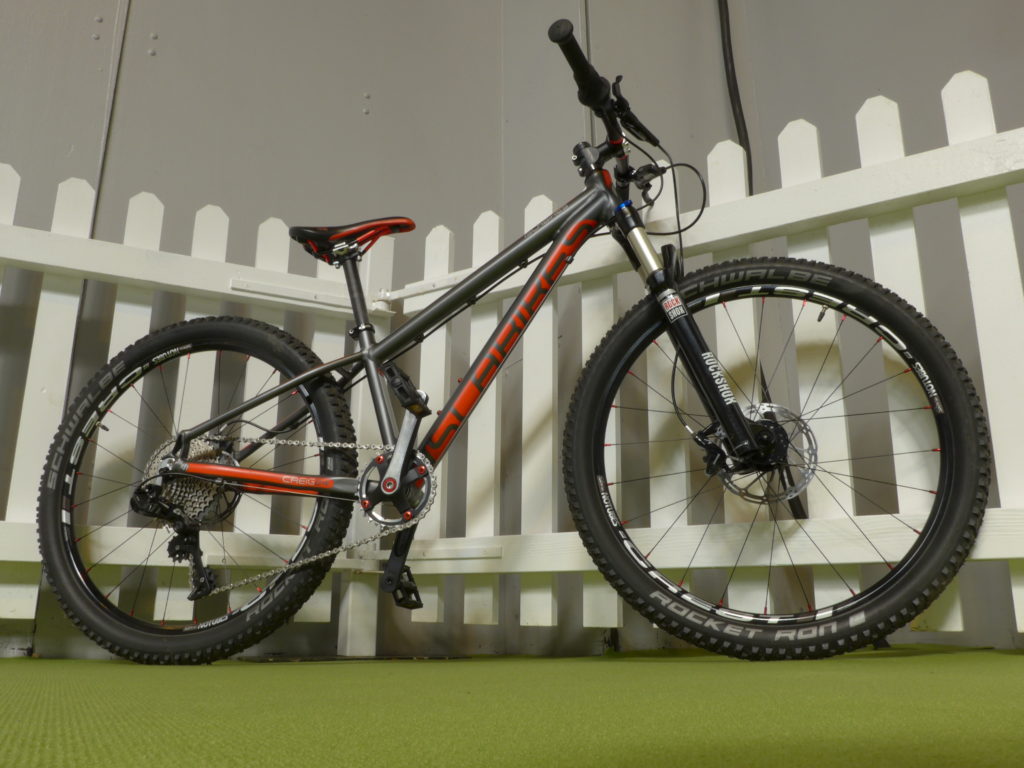 The 24″ and 26″ Creig Pro Series will be available to test ride on Islabikes designated track, giving young riders the opportunity to try out the Rockshox 30 Gold TK forks and 11 speed gearing.
The Pro Series Creig (£1,499.99) also come with Islabikes specially designed low Q-Factor cranks, which is the horizontal width of the crank between the pedals and is an important factor for both comfort and pedalling ergonomics.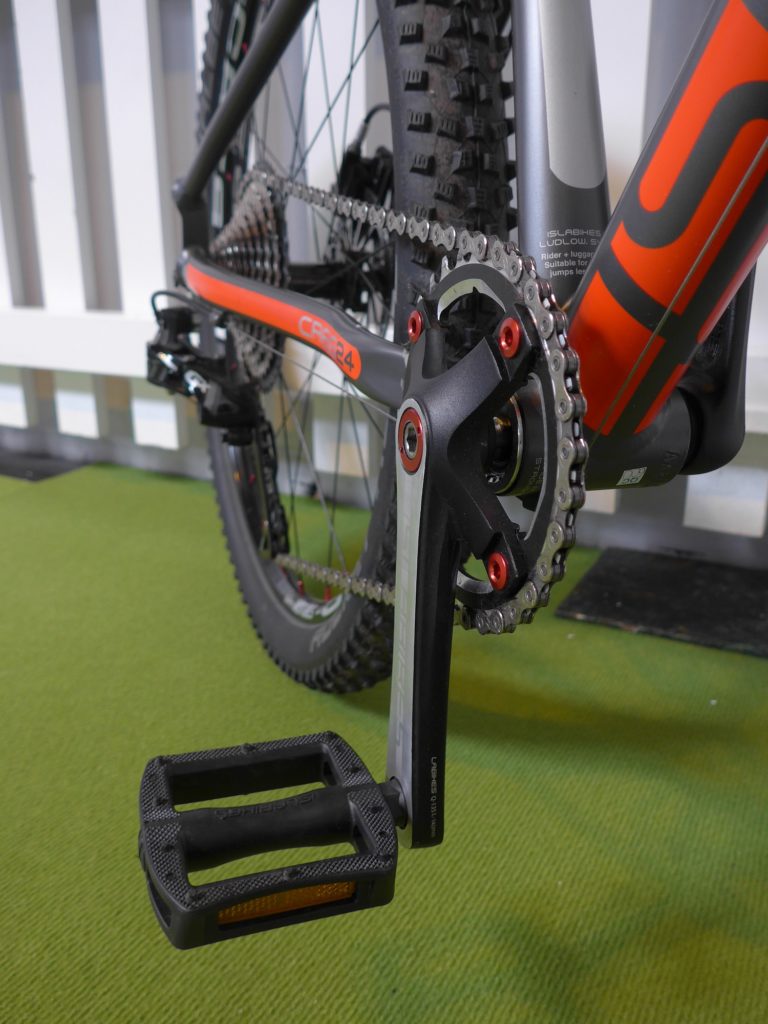 We've written a post on our thoughts about seeing the Islabikes Pro Series range up close and personal at the show if you'd like more details.
Easy Rider 24″ Trail Bike
Easy Rider started out designing and making balance bikes, but as the founder's two sons get older so the age range of bikes increases. At this year's Cycle Show we were treated to a peek of the Easy Rider Trail 24″. A prototype that Easy Rider are hoping to launch in spring 2017.
This will be Easy Rider's first foray into the world of a chainset combined with front suspension, as the smaller Belter 20″ Trail 3S that is already on the market comes with front shocks but uses a belt drive system to keep things nice and simple on the maintenance front.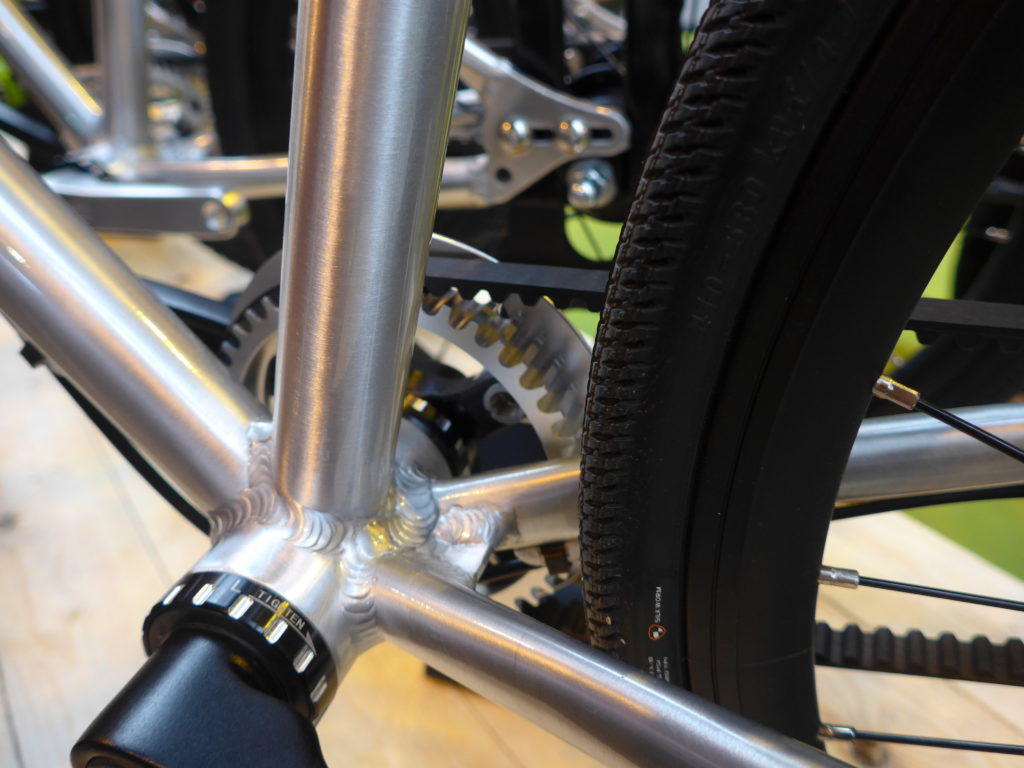 On the 24″ Trail bike we've been reliably informed they'll be using air forks and the Sram X5 groupset. As this is still a prototype, pricing, model name and full specification are still to be confirmed, so watch this space!
Unfortunately we've let you down slightly on the photography for this one, but you can see the new bike in the background.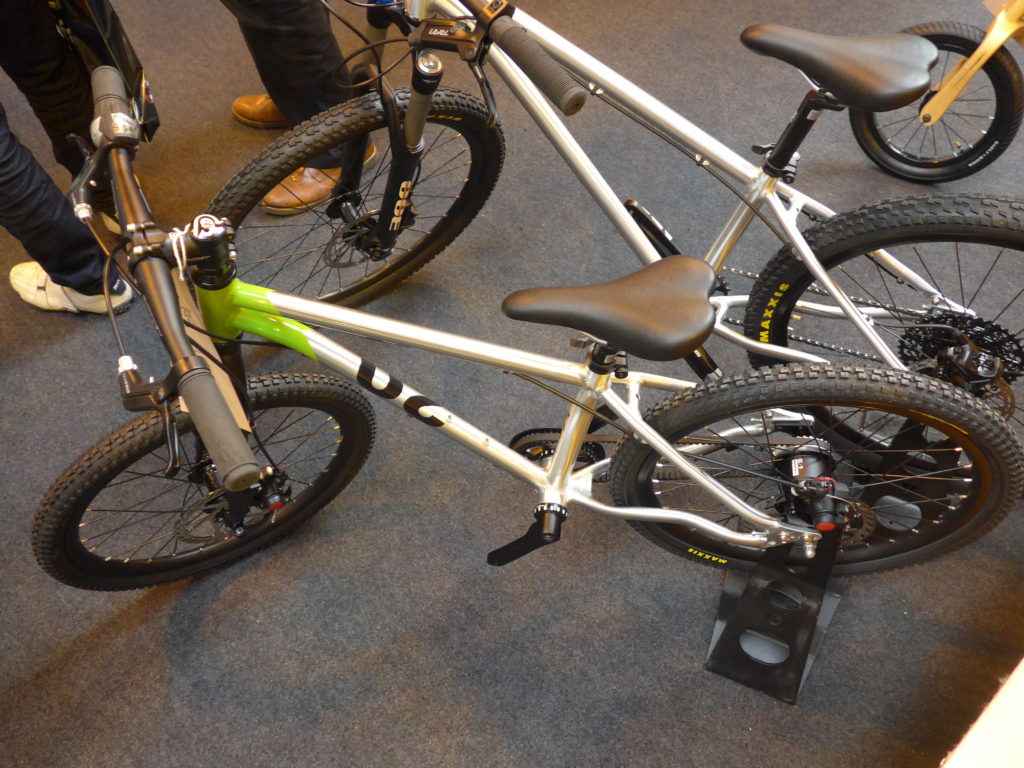 In the foreground is the Belter 20″ trail 3. Early Rider are trialling the introduction of colour onto the iconic 'raw' finish frames, and if this proves popular this paint scheme should be available from early next year.
The traditional Belter 20″ trail 3 is £499.99 or £599.99 if you want front suspension. Both are available from Tredz Bikes.
Cube Junior Mountain Bikes
The junior mountain bikes we've seen so far have been at the higher end of the price spectrum and most likely to appeal to very keen junior mountain bikers (or parents with deep pockets!).
Thankfully, Cube were on hand with their junior mountain bike range, starting at a more modest £359 for the 240 range. The entry level model in the 240 range comes with a Suntour suspension fork and has a 21 speed gear system utilising Shimano derailleurs front and rear controlled with Shimano Revo gripshifts.
V-brakes are operated by dialled in levers designed for smaller hands and incorporate a 'power modulator' to avoid any unnecessary 'over the bars' incidents due to over enthusiastic use.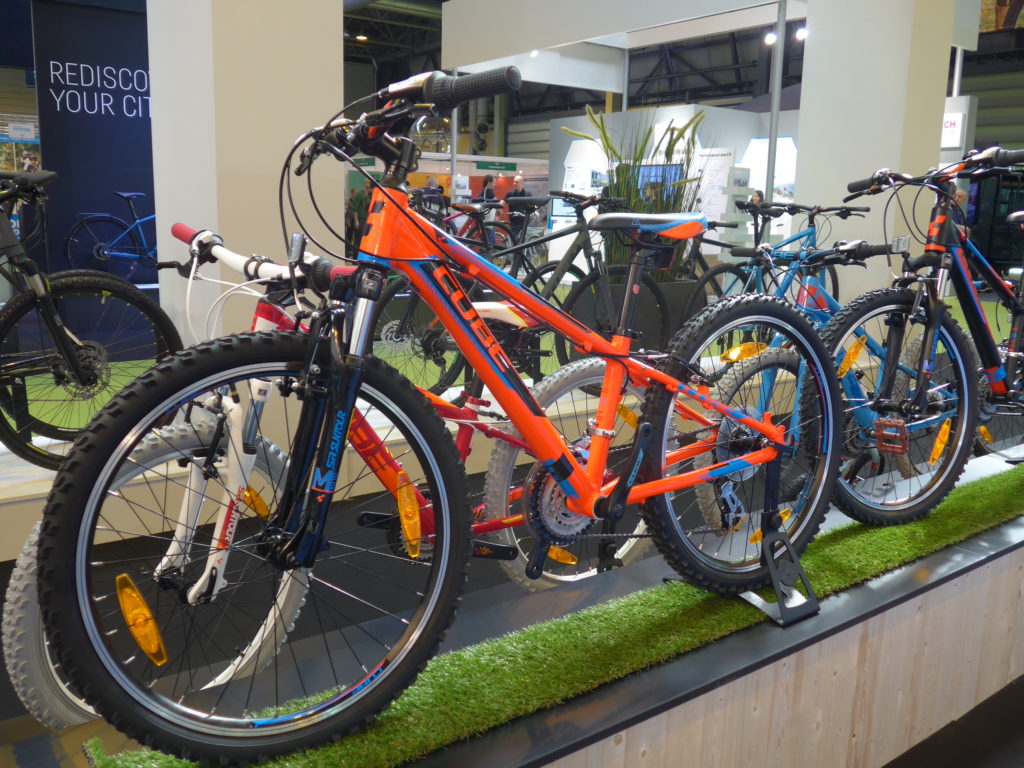 Cube's flagship offering is the 240 SL that, unusually at this level, comes fitted with a 1×11 Shimano SLX drivetrain that includes an incredible 11-46T wide range cassette. This should make easy work of any climb! The rrp of the SL model is £629, and so the specification is much higher with an air-sprung Suntour XCR fork that has lockout for climbing and can be tuned to the weight of the rider. The SL also comes with 160mm Tektro hydraulic disc brakes and fast rolling Kenda Small Block Eight folding tyres.
Both bikes are available to buy online at Tredz Bikes and Wheelies and come in a vibrant range of colours.
ShredXS – mountain bike clothing for kids
It's not every day you come across a young brand that's the brainchild of school kids, but that's exactly what ShredXS is. Jess and Fraser are serious mountain bikers, who got fed up of not being able to get their hands on quality child sized kit. So, being proactive types they decided that they would design and make their own!
It's always good to get your hands on an item and we were really impressed with the quality of the fabric and the triple stitched seams on the downhill shorts (£42). It was obvious that a lot of care, thought and attention to detail had gone into the manufacture.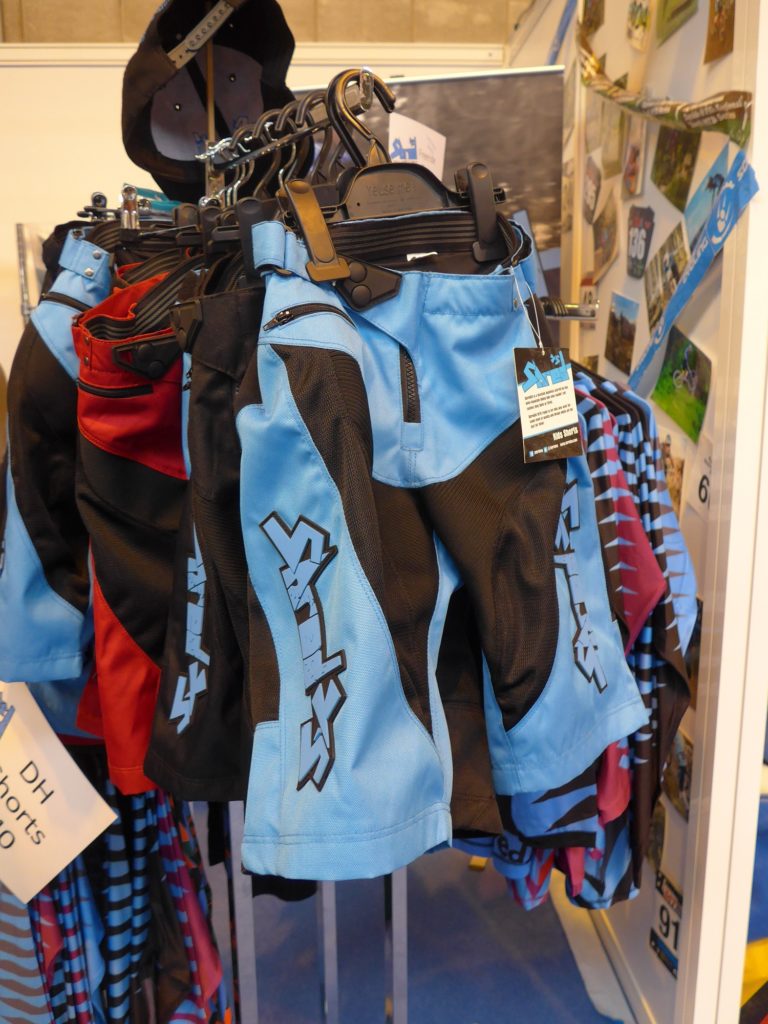 The long sleeve jerseys (£22) were beautifully soft against the skin, whilst being robust enough not to snag on Velcro. Even more impressive is that the ShredXS range starts young, with kit available for children aged from just 4 years.
We know this range is going to be a winner and can't wait to see their new cross country shorts when they're released.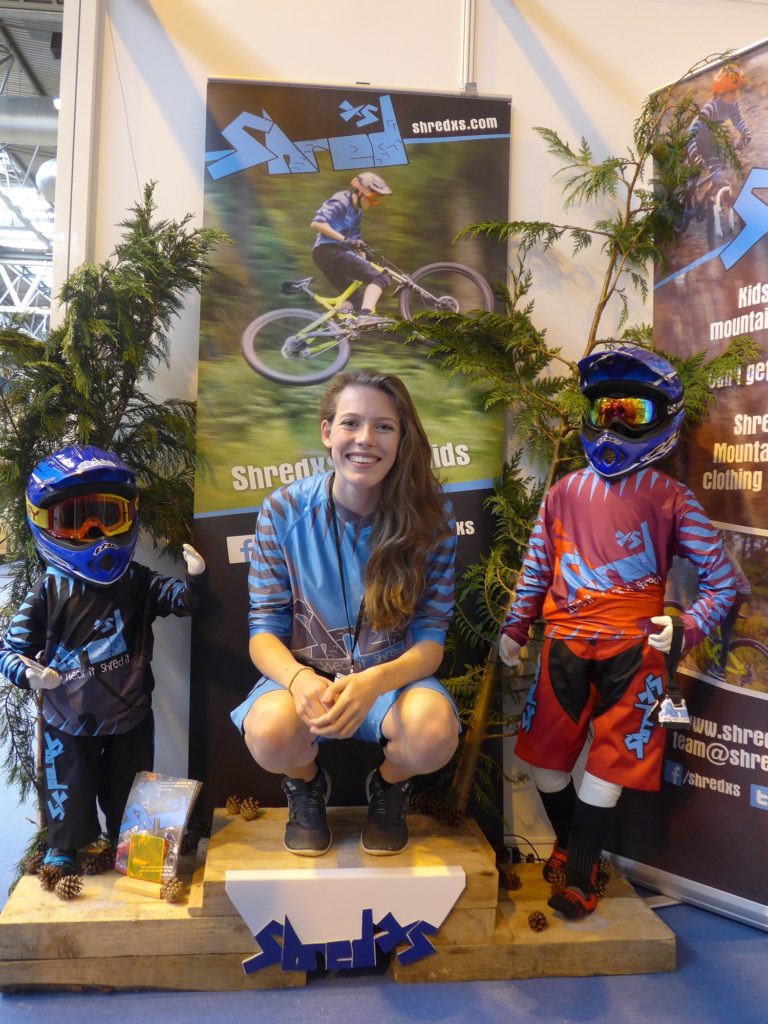 The ShredXS range of junior mountain biking clothing can currently be bought through their website and on Amazon.
We were really impressed with the range of junior mountain bikes and accessories on display at the 2016 Cycle Show – hopefully this has inspired you to get out and about on the trails and singletracks this weekend! The other major set of kids bikes at the Cycle Show were balance bikes, which get their own post.
To keep up to date with the latest news in the world of kids cycling, please follow us on Facebook or sign up for our newsletter. Thanks!
Other posts you may like: