Vitus bikes replace Wiggle's Verenti kids bike range
Last year, the online retailer Wiggle launched a new kids bike range called Verenti. When we saw the specification we were very impressed – it appeared to be their 'in-house' attempt to rival the likes of Islabikes and Frog Bikes, but at a significantly cheaper price. We're always keen to see anything that helps give more families access to a lightweight kids bike that has been designed with children firmly in mind.  We were saddened therefore that the bikes very quickly went out of stock, and we wondered whether they just hadn't been able to make the model turn a profit. So, you can imagine how pleased we were to spy something at the 2017 Cycle Show which looked very similar to the Verenti – but was badged up as Vitus bikes.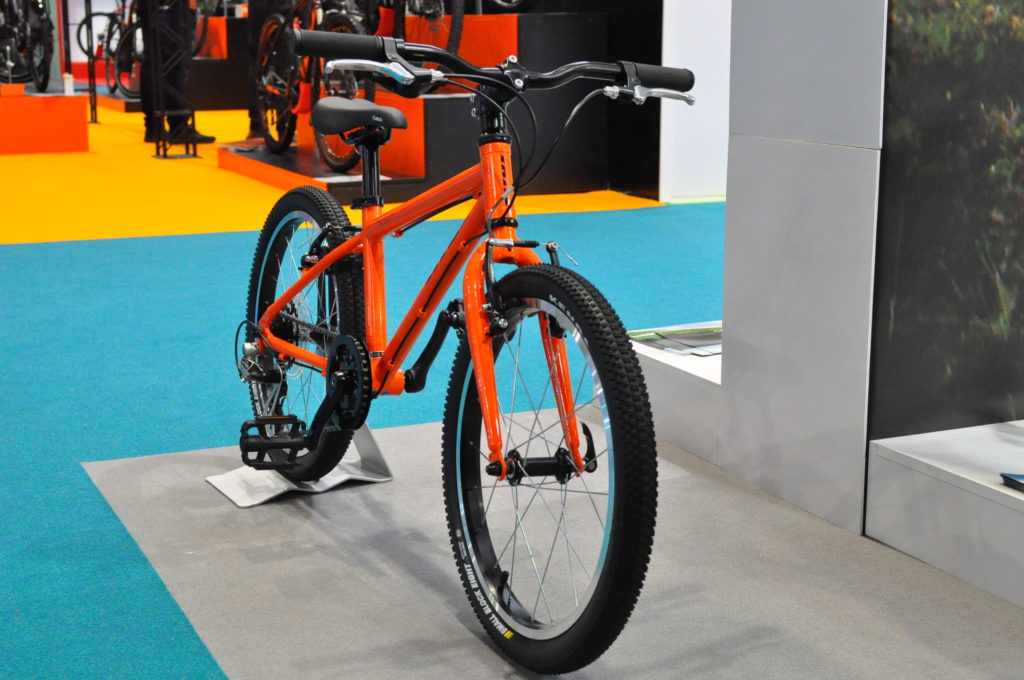 It turns out that following the merger of Wiggle with Chain Reaction Cycles they have (understandably) been reviewing their internal brands. The result is that the Verenti range has been rebranded as Vitus Bikes, had a couple of colour changes and has just gone back on sale. There are four sizes currently available – the Fourteen (a clever move to cater for the growing market of very young kids who've already honed their skills on a balance bike and want a small pedal bike), the Sixteen, Twenty and Twenty Four.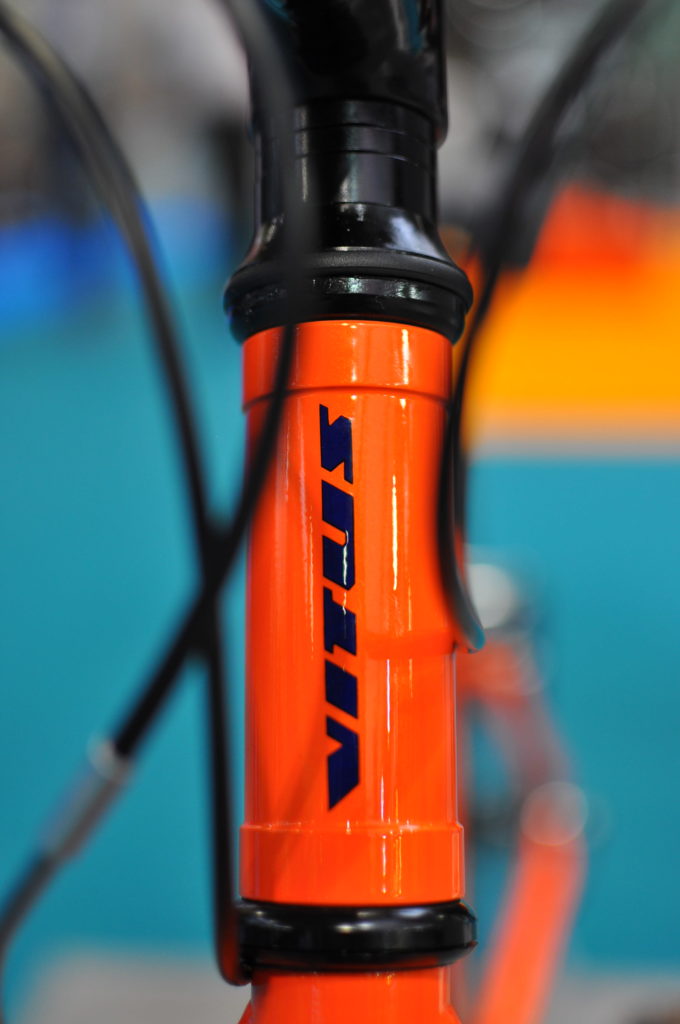 The 'Twenty' bike (their 20″ wheel model!) was on display at the 2017 Cycle Show and we were certainly impressed with what we saw.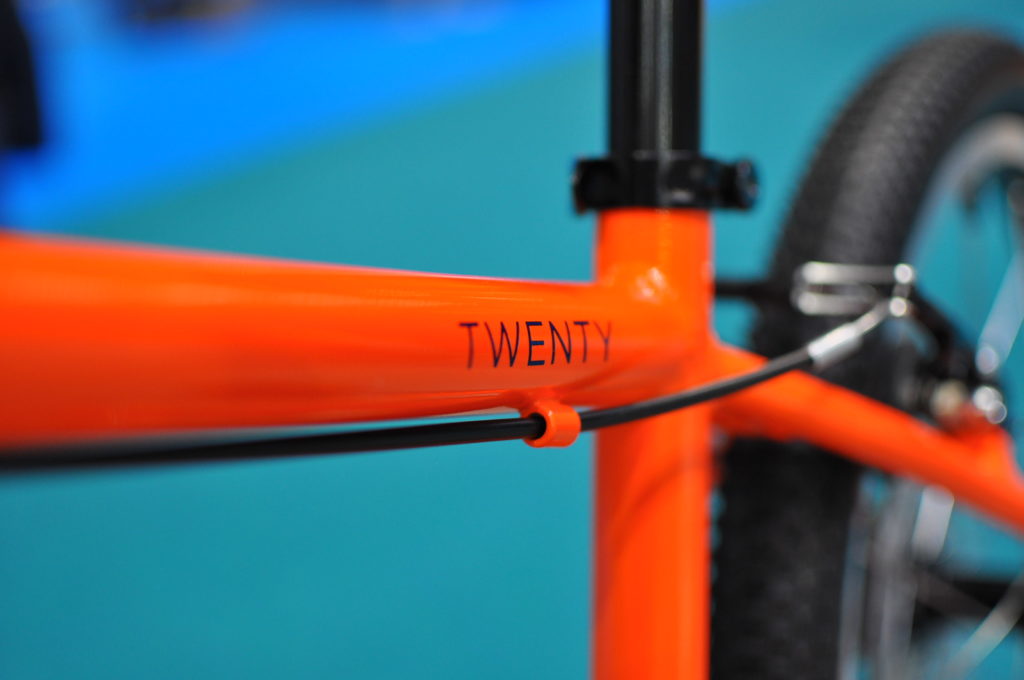 Whilst the vibrant colour scheme is eye-catching and the idea of taking the wheel size and turning it into the name of the bike a clever way to differentiate in an increasingly crowded market, it was the specification that we were really interested in.
We were lucky to be able to speak to Ben Marvin who designed the range and it was instantly apparent this is a guy that just loves his job. Ben spoke with passion and detail about some of the thought processes that had been used in the design, and he was obviously pleased with what has been released to market. It was actually a revelation to speak with someone that actually 'got' kids bikes at a cycle show, rather than just wanting to talk about the adult stuff.
Vitus Twenty – some specs 
Vitus have taken the 'keep it simple' approach with this range. At the front there is a single ring chainset sporting 32 teeth that hooks up to a 12-32T cassette. Shifting gears is courtesy of Shimano's Altus groupset, with both the rear derailleur and thumb shifter specified on the Twenty.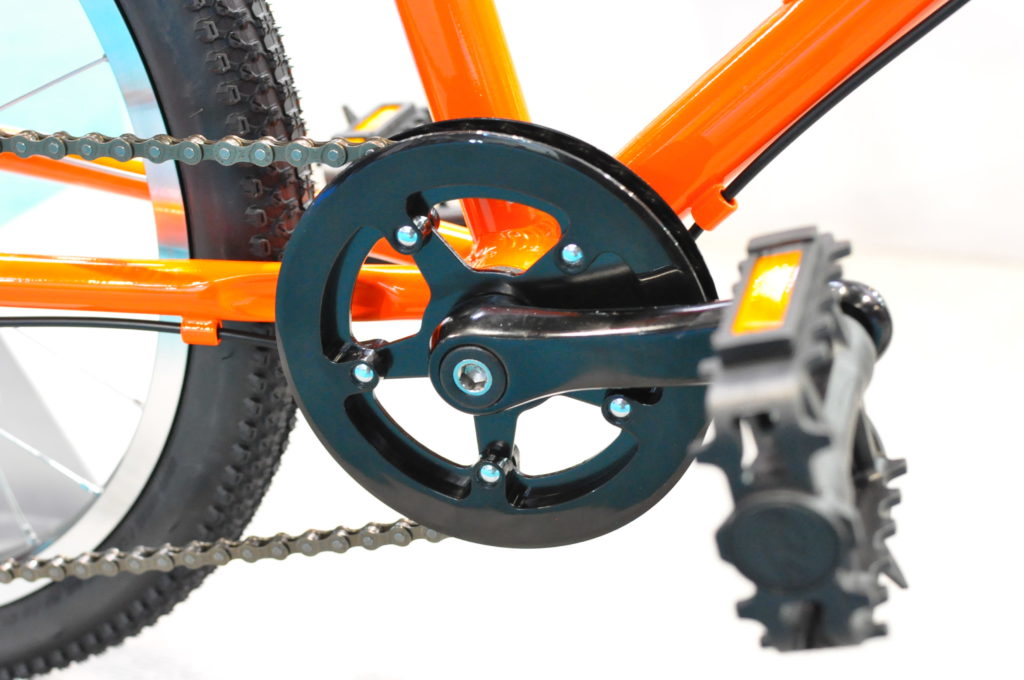 Tried and tested Tektro v-brakes are on hand to scrub off the speed, with dialled in short pull levers pre-adjusted to the shortest reach for little hands to use (you can extend them again if your child has larger than average hands).
In the flesh, the frame has a cool 'slack hardtail in miniature' look to it. Specified with straight bladed steel forks that angle away from the crown and designed with a slacker head tube angle than found on many kids bikes (67.5° for those of you who are keen on geometry), the Twenty should handle sweetly with a high level of stability – important stuff to minimise wobbles.
The quick release wheels have new tyres with a different tread pattern from those fitted to the earlier Verenti model. This should improve grip on certain surfaces (wet grass comes to mind) as the Kendra Small Block tyres should, Ben told us enthusiastically, work equally well on gravel, road or grass.  It's this passion about the detail that all kids bikes deserve and that makes a difference.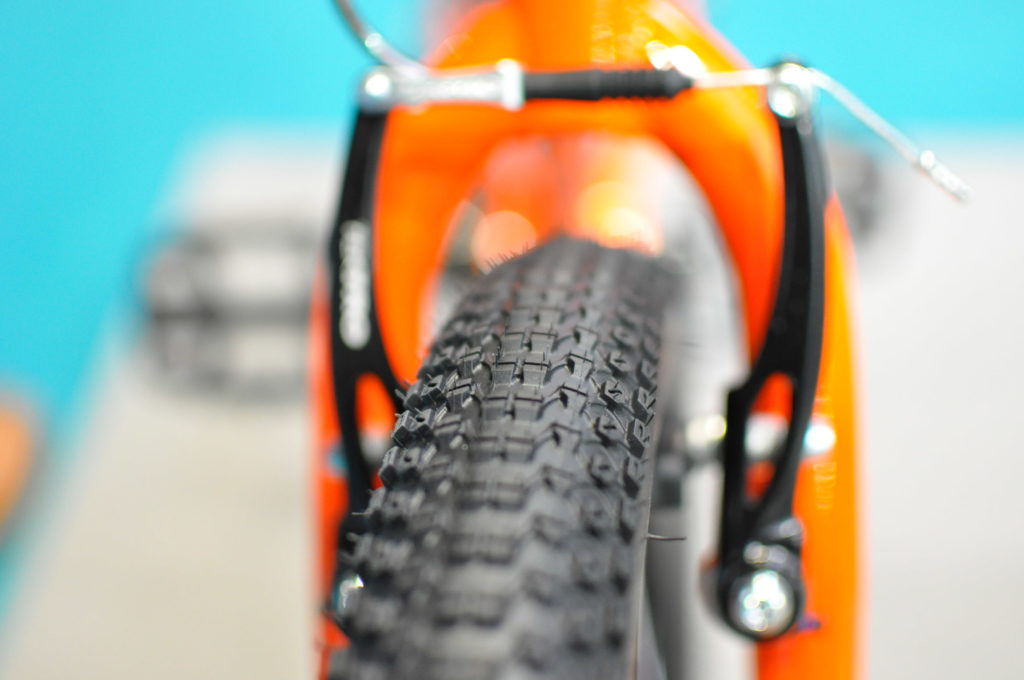 We're also pleased that the bikes and colourways are designed to be completely gender neutral. This helps parents who have both boys and girls and also removes the tendency some companies have had in the past of offering a lower specification on girls bikes (horror – shame on you!).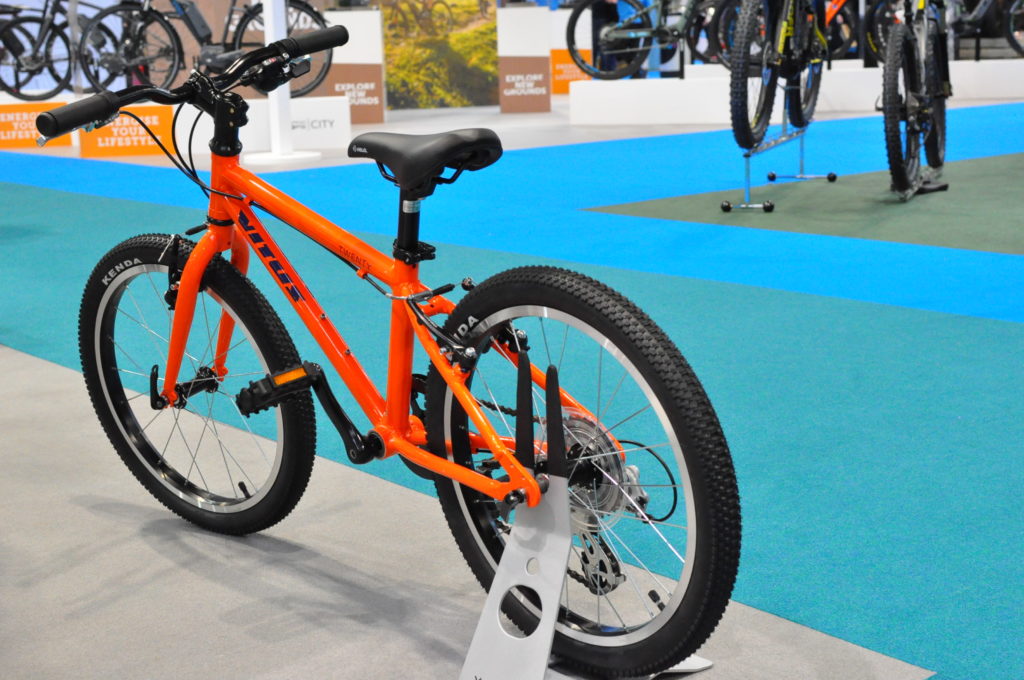 The really interesting aspect of the Vitus range is the price.  The Twenty is just £190, and other sizes currently range from 14" (£150) through to 24" wheels (£200).  It's unusual to find a cheap kids bike with such a good specification and pleasing looks.  We predict at these prices the Vitus bikes will be flying out of the warehouse in time for Christmas!
Where to buy Vitus bikes
Vitus bikes can be bought online either at Wiggle or Chain Reaction Cycles. It's worth checking both sites if you're interested, as when we looked there was a price differential!
Other articles you may be interested in:
Disclosure:  Cycle Sprog is an affiliate of Wiggle and Chain Reaction Cycles, so if you make a purchase through the links on this website then we may get a small commission. We try not to let this influence what we write and it helps us to maintain the website.