Vitus Bikes have unveiled their 2019 kids bike range.  Their kids bikes were launched in 2017 and proved popular with Cycle Sprog readers who are looking for a lightweight kids bike at a lower price point than some of the more established brand names.   For the 2019 season, there have been some changes to the specifications and colour schemes of the existing bikes, together with three new bikes in the range (which are designed for getting off the tarmac and onto more rough terrain).
Cycle Sprog is an family run, reader supported, website. We belong to several affiliate schemes so may receive a small commission from sales made from links on our site. We do our best to be impartial and recommend products on their quality not whether they are in a scheme.
New Vitus Kids Bikes for 2019
Vitus 20 + (£299.99)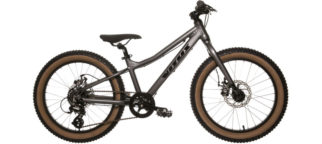 The Vitus 20 + is a junior trail bike, with 2.6 Plus size tyres to provide increased traction, and an element of tyre suspension.  Vitus told us that it's their way of bridging the gap to suspension fork bikes, but without adding the extra weight that forks bring.
The 20 + is fitted with a Shimano Altus 7spd 1X drivetrain (with 12-32t cassette ratio), with Tektro mechanical disc brakes, thumb gear shifter and an aluminium fork.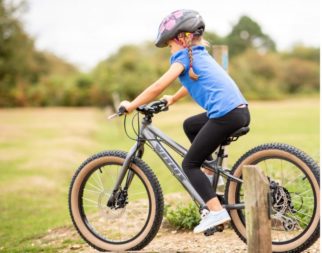 In Q1 2019 Vitus plan to launch a matching 24+ which will have the addition of hydraulic disc brakes.
Buy now: Vitus 20+ with free home delivery
Read our review of the Vitus 20+ bike here
Vitus Nucleus 24″ and 26″ hardtail kids MTB's (from £450)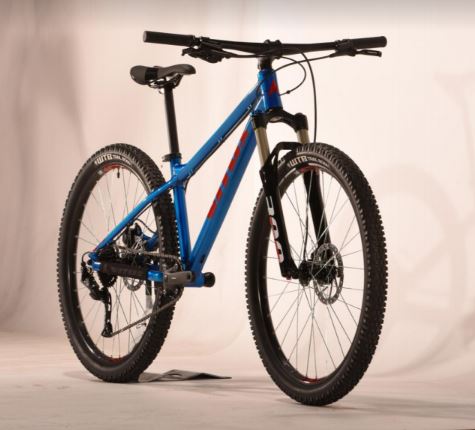 Vitus have obviously realised there's a real demand from kids (and parents) for mountain bikes to fit younger riders.  They've taken their adult Nucleus adult MTB and scaled it down for junior riders to give a progressive geometry proper hardtail mountain bike for bigger kids. They claim it will be stable and confidence-inspiring (something we're hoping to test out in due course!)
The Vitus Nucleus will be available in both 24" and 26" wheel sizes. The 24" wheel bike will cost £449.99 and features 65mm Spinner air suspension forks, hydraulic disc brakes and a Shimano 1X9 drivetrain. The 26″ wheel will cost £499.99 and comes with 100mm Spinner air suspension forks.

The Vitus Nucleus hardtail kids mountain bikes will be available from Wiggle and Chain Reaction Cycles from 10th December 2018.
Changes to the Vitus Kids Bike range for 2019
There have been several changes to the existing kids bike range for 2019.
New saddles
All Vitus kids bikes are now fitted with performance saddles. These saddles are sized for each bike, so gone are the days of a bulky generic 'one size fits all' junior saddle. The new saddles claim to evenly spread weight across the entire saddle surface, reducing pressure points and making riding a much more fun experience.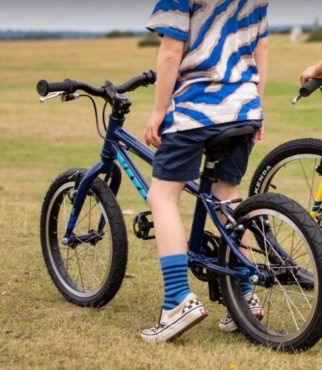 Reduced crank arm length and lower brackets
Vitus have reduced the crank arm lengths on all their kid's bikes. This is the distance from the pedal to the bottom bracket on the frame, and a shorted crank arm enables younger riders to have a much-improved pedal stroke. This should improve the efficiency and enjoyment of their pedalling.
The reduction of the crank lengths on the 20″ and 24″ wheel models has also allowed them to lower the position of the bottom brackets, lowering the centre of gravity on the bike to improve the bike stability.
Improvements to the Vitus 14 and 16
There have been further changes to the two smallest kids bikes in the Vitus range (both single speed):
Redesigned cranks to reduce the Q Factor (the distance between the pedals).  This should allow easier and more efficient pedalling.  This is a really important improvement as young children sometimes lack the leg power needed to ride on uneven terrain or grass.
New chainset which now includes a double guard for the chain.
Custom designed handlebars with smaller 19mm grips for the smaller hands younger riders
Shorter reach brake levers to allow more control and confidence.
The Vitus kids bike range now comprises a balance bike (the Nippy – £44.99), two single speed bikes for younger riders – the Vitus 14 (£189.99) and 16 (£199.99).   For riders moving onto 20″ wheels and gears, there is the standard 20″ hybrid (£229.99) and the new 20 + trail bike (£289.99).   For older kids, the standard Vitus hybrid features a 24″ wheel bike (£239.99) plus the two new Nucleus hardtail mountain bikes, which will be arriving online soon (£449.99 for the 24″ wheel and £499.99 for the 26″ wheel).
Vitus are a UK based direct to consumer brand, with bikes available from  Wiggle and Chain Reaction Cycles.
Buy now:  Vitus Range at Chain Reaction Cycles with FREE HOME DELIVERY
Other posts you may find interesting:
Affiliate disclosure:  Cycle Sprog is an affiliate of both Wiggle and Chain Reaction Cycles. This means that if you make a purchase through the links on this page we may get a small commission from them. This doesn't impact what you pay and helps us to keep the website running.  Thank you!