Here at Cycle Sprog we've reviewed a lot of kids bikes over the years, but up until now we've never been sent a kids bike with plus size tyres. All that changed when the Vitus 20+ arrived for review!
Cycle Sprog is an family run, reader supported, website. We belong to several affiliate schemes so may receive a small commission from sales made from links on our site. We do our best to be impartial and recommend products on their quality not whether they are in a scheme.
As the name suggests, the Vitus 20+ is a 20″ wheel bike with plus size tyres, designed for getting young riders (aged about 5 to 8 years) out mountain biking. We were certainly impressed when our boys took it out of the box (you can see their unboxing video here).
What do you think?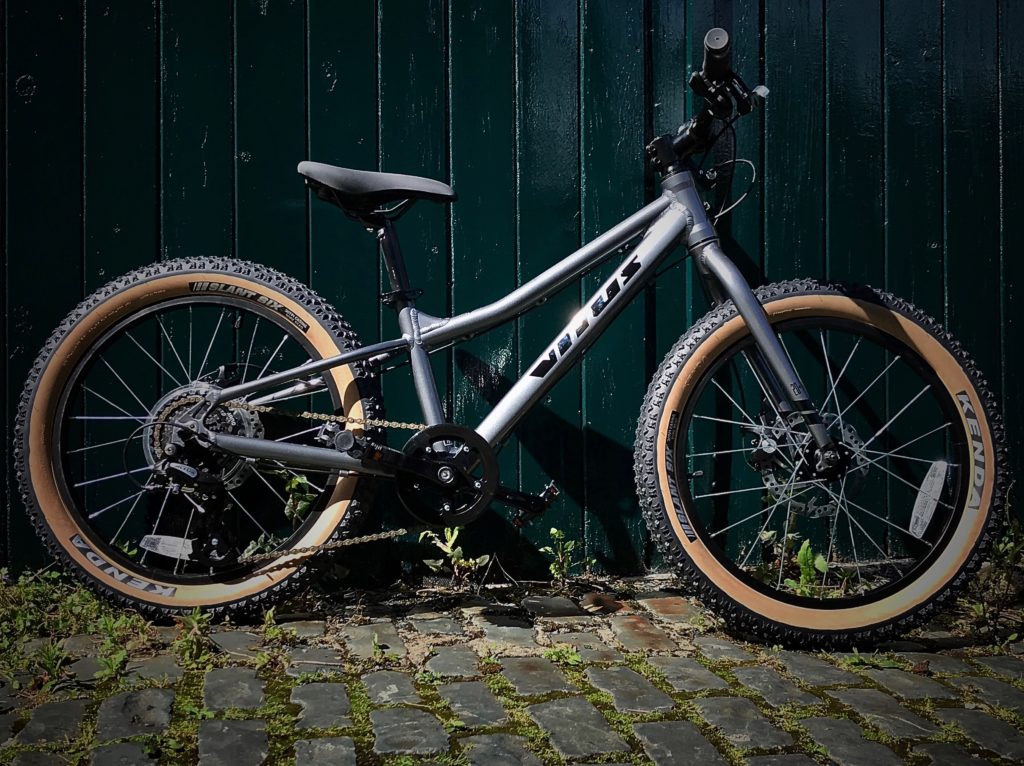 Unfortunately, our two Cycle Sprogs were devastated by the fact that they're now too big to review a 20″ wheel bike. So we now have two Sprogs moping around with a severe case of BRE (Bike Review Envy) at the moment!
The Vitus 20+ is definitely eye catching and looks like it's going to be great fun to ride. It's available in one colour which is a deep and rich metallic grey.
However, we all know that looks aren't everything when it comes to kids bikes, so in this article we're taking a closer look at the Vitus 20+.
We then handed the bike over to our reviewer to put through its paces, and you can read the Vitus 20+ test ride review here.
Vitus 20+ kids bike: first impressions review
The first thing you notice about the Vitus 20+ is the Kenda tyres. It's not surprising as they're 2.6″ wide with eye catching tan side walls. The majority of kids 20″ wheel bikes are fitted with black tyres around 1.75″ wide, so these really stand out and make the norm seem very tame in comparison!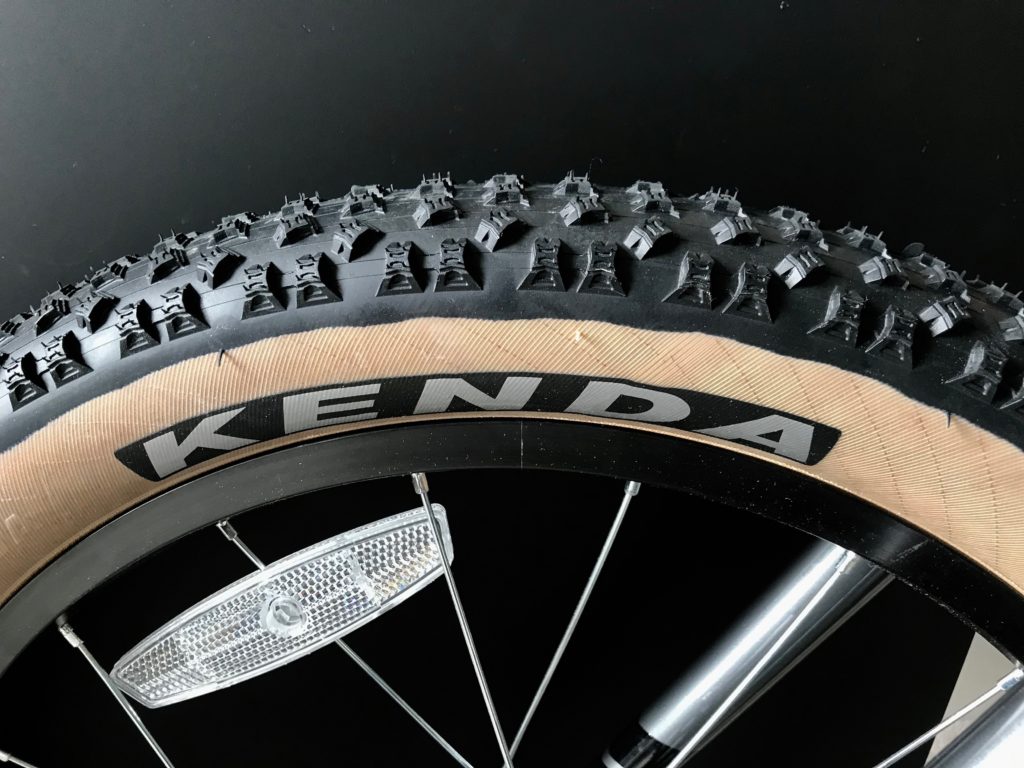 In theory the high volume tyres should enable the Vitus to ride over more challenging terrain than a standard 20″ hybrid bike. The 'Plus' tyres should provide a decent level of traction and give good shock absorption, plus they should also give a comfortable ride.
This is a conscious decision from Vitus for several reasons. Firstly, decent suspension forks don't come cheap and is one of the reasons why the majority of good quality kids MTB's are so expensive. With the Vitus 20+, they've managed to produce a bike for a penny under £300 which is very impressive.
Suspension forks also add weight and complexity to a bike, which isn't really necessary for the vast majority of 5 year olds. Also, young children are certainly not heavy so it's a debatable point as to whether they would actually be able to compress and use the travel of all but the most expensive, finely tuned forks.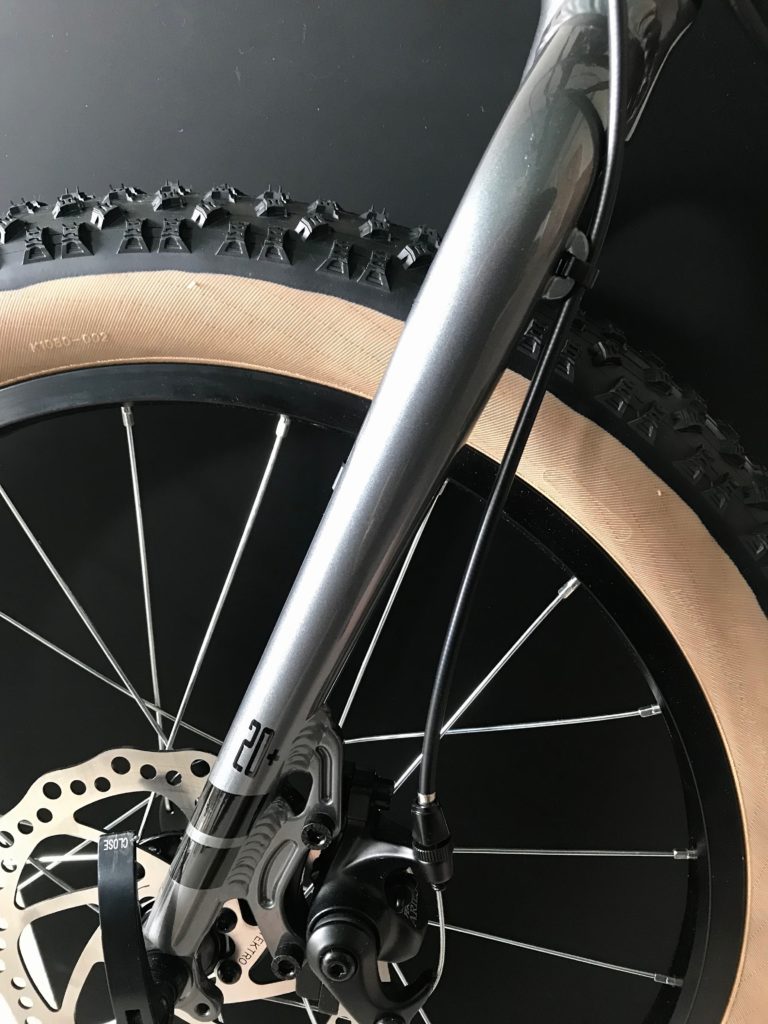 Instead, Vitus have cleverly used plus size tyres which they claim will add the equivalent of 30mm of travel during the ride. (Travel is the amount a suspension fork can be compressed. The heavier a rider the more they can compress, so 30mm is reasonable for a 6 year old heading out on trails for the first time). So armed with nothing more than a bike pump, you can tune the ride and 'suspension' for the terrain and weight of the rider just by inflating/deflating the tyres. Nice and simple!
The second thing we noticed about the Vitus 20+ is the geometry of the frame. Chris, our technical editor, started to get excited spouting terms like fork offset, trail, head angle and long wheelbase. For those of us who don't speak Bicycle this roughly translates as meaning Vitus have put a lot of thought into the geometry to create a stable bike and ensure that the ride is not twitchy, especially while climbing or descending. This, coupled with the plus tyres should give a good overall feeling of stability, and increase a child's confidence on the trail.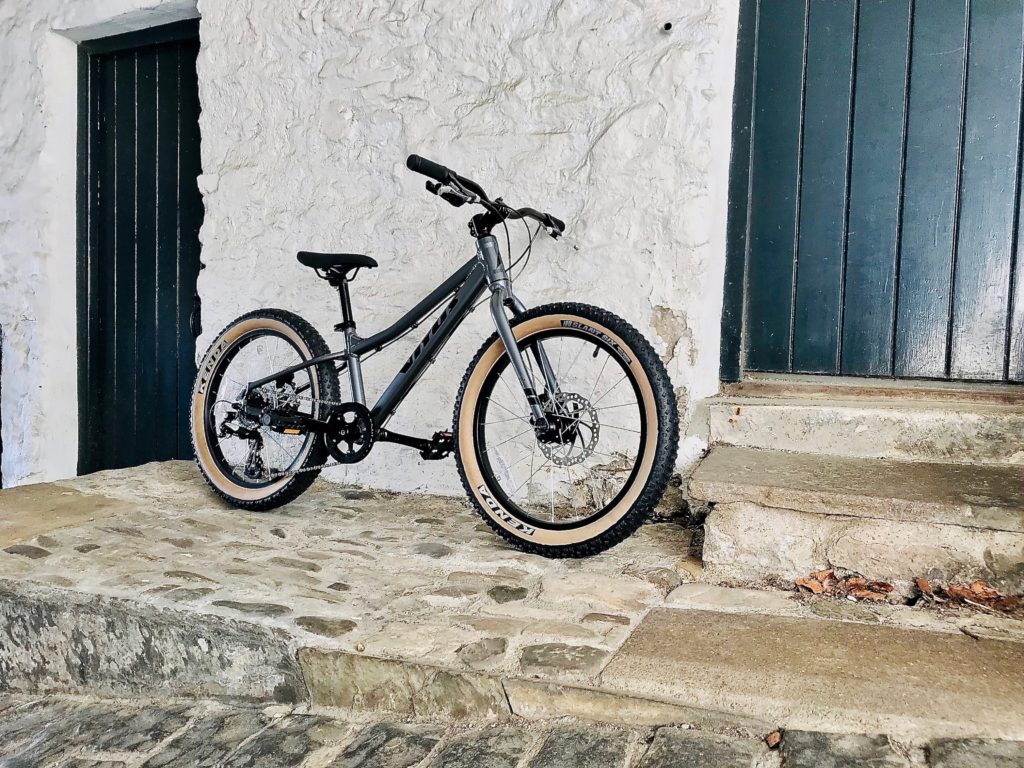 What size child is the Vitus 20+ suitable for?
The sloping top tube gives a low stand over height, which is great for smaller children. Vitus state that the 20+ is suitable for children with a height of between 120cm and 130cm and an inside leg of 52cm to 59cm. This can be anything from about 5 years through to 8 years plus depending your childs height.
We've taken the following measurements for the Vitus 20+:
Top tube to floor (standover height) – 46cm

Top of saddle in lowest position to floor – 57cm

Top of saddle in highest position to floor – 72cm
Braking on the Vitus 20+ kids bike
Vitus have invested in specifying Tektro Aries mechanical disc brakes for this bike. They're a cable operated system and should make braking reliable whatever the weather. They also look very cool!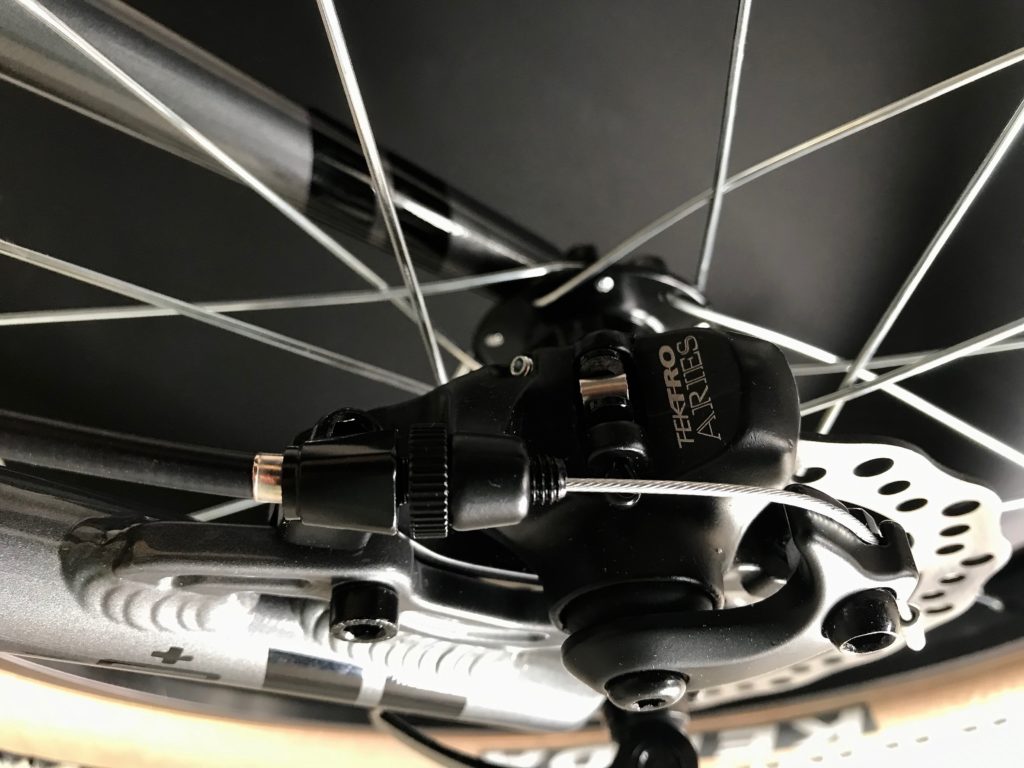 The brake levers are adjustable, so if your child has small (or large) hands you can alter the position of the levers and bring them closer (or further away) to the handlebars.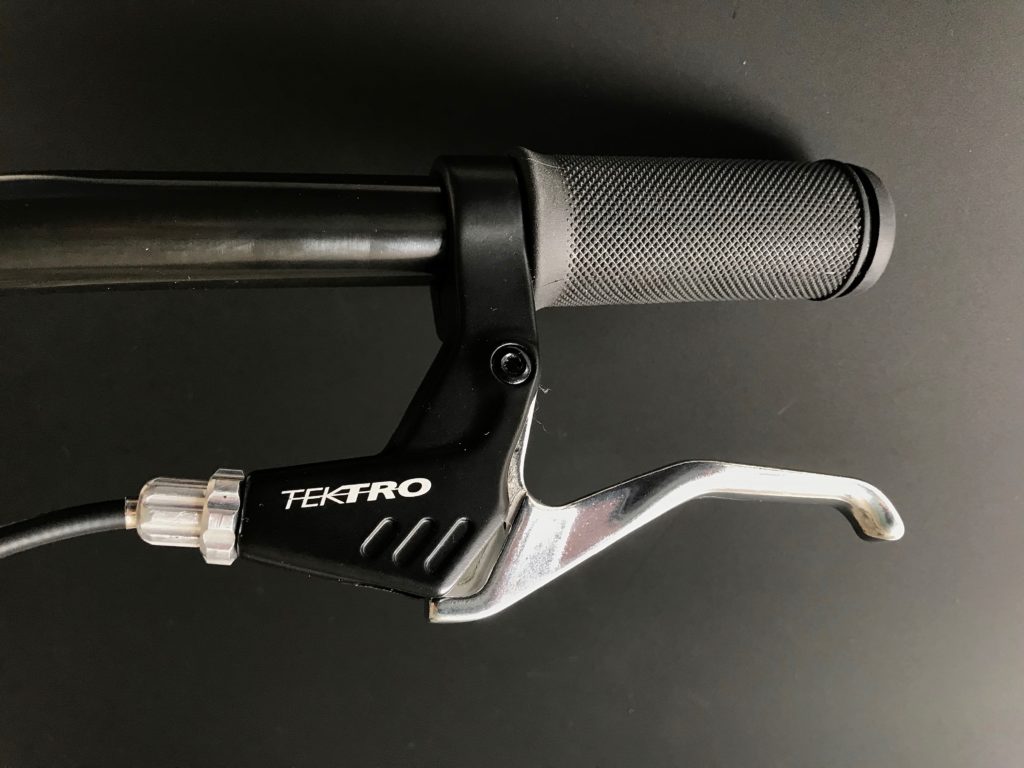 Gearing on the Vitus 20+
As this bike is designed for trail riding it needs to have a decent range of gears that are easy to use. Vitus have specified a single 32 tooth chain ring at the front, which is great as it means your child doesn't have to worry about changing through gears with two hands.
All gear changes are carried out with the right hand using a thumb operated shifter (the alternative would be a twist grip). As a brand, Vitus firmly believe that for a childs small hands thumb shifters are far easier to operate than twist grips as less strength is needed. In light of this, they're specified on all Vitus geared kids bikes.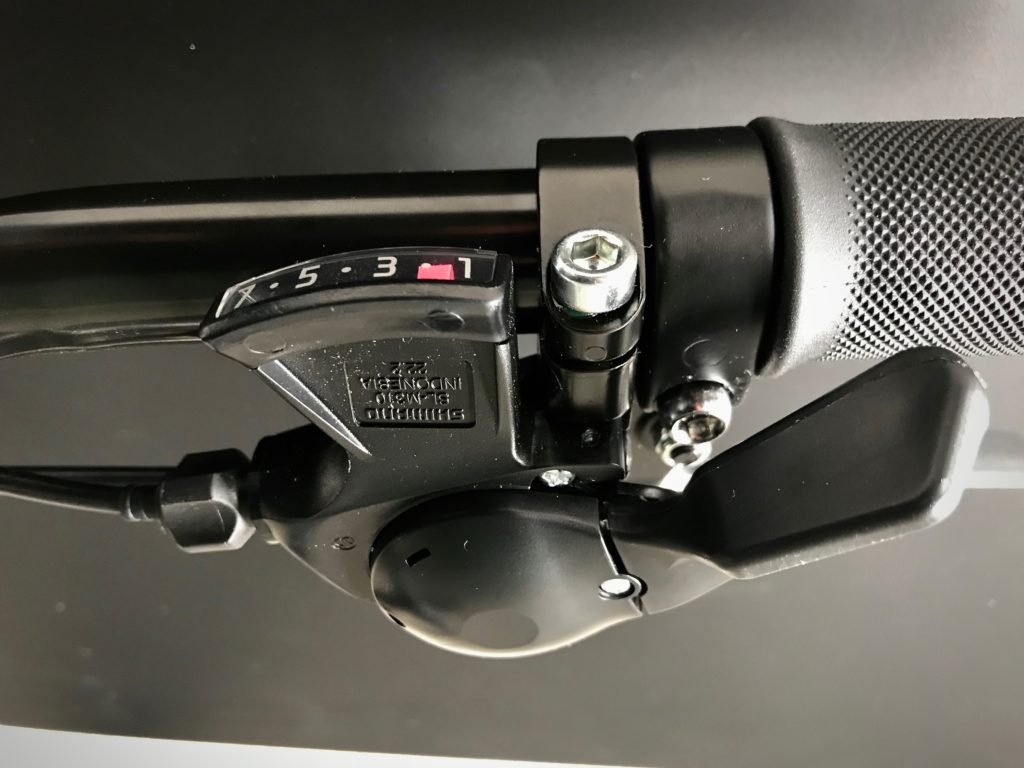 There's also a visual display to show which gear they are in which is a useful feature for riders who are just learning to change gear.
The 7 gear cassette has a spread that ranges from 12t to 32t which should hopefully be adequate for most hills you're likely to attempt with a young child in the UK.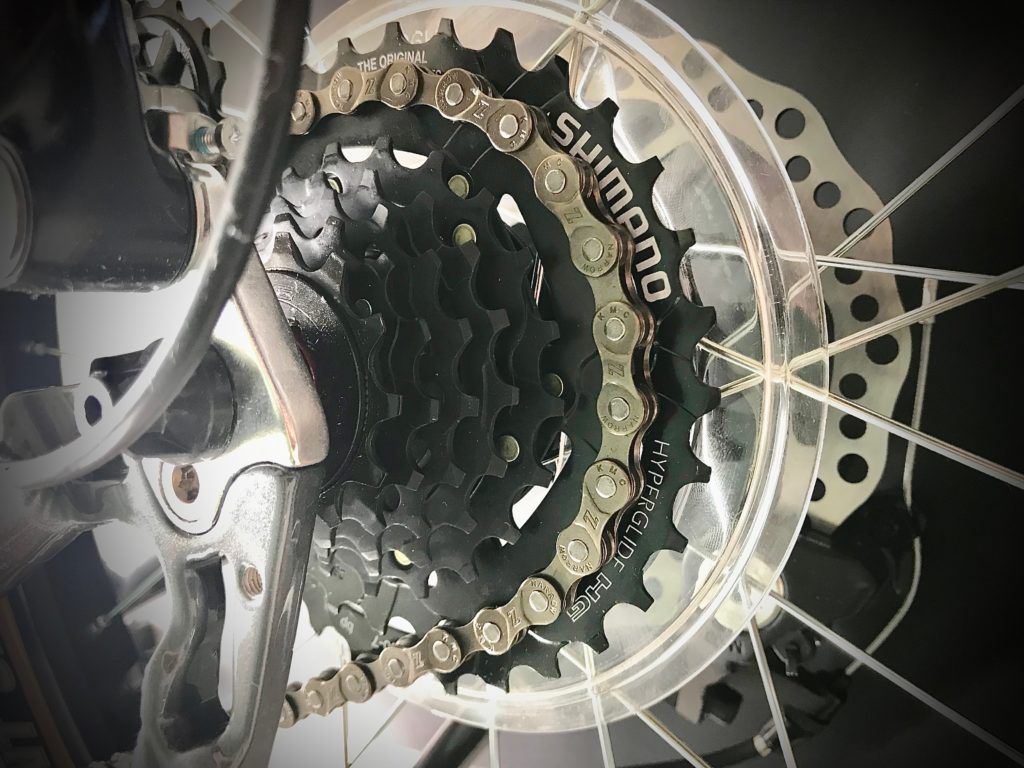 Vitus have also chosen to fit a Shimano Altus rear derailleur, which is a sturdy unit that should prove reliable.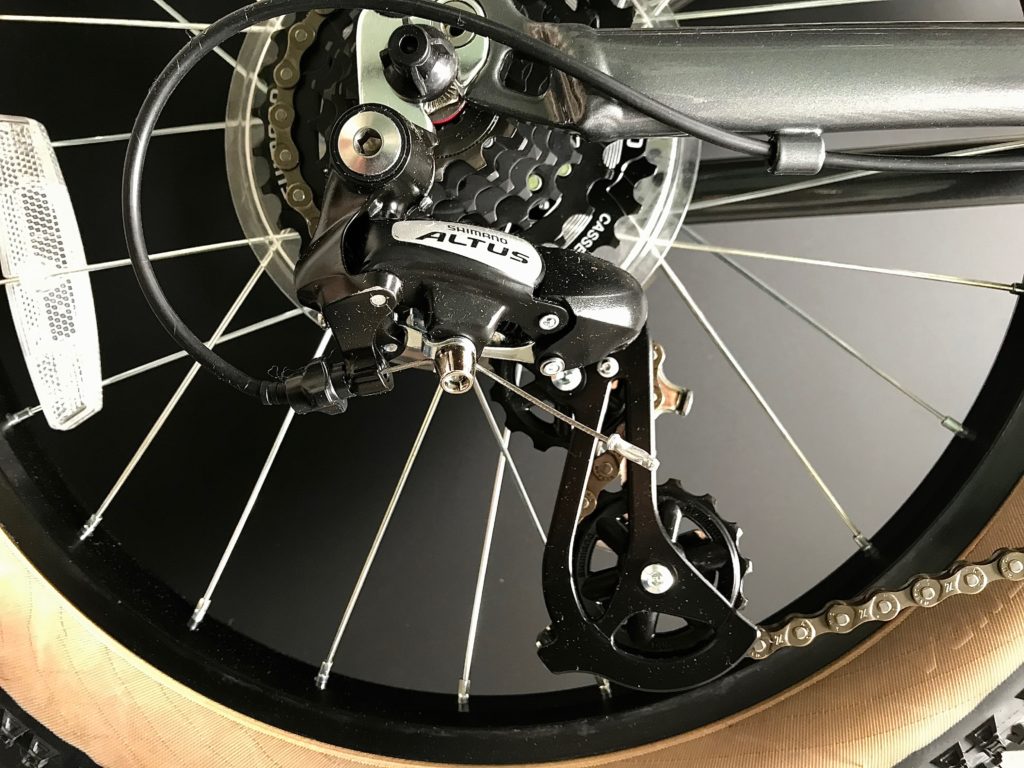 How much does the Vitus 20+ weigh?
The Vitus 20+ is based around a lightweight aluminium frame and fork, which means it's significantly lighter than a much cheaper steel framed 2o" wheel kids mountain bikes fitted with suspension forks which can weigh in around the 15 kg mark.
On the Wiggle website the bike is stated as weighing 9.81 kg, but we have weighed it three times with our scales and it came in at 10.45 kg each time with pedals fitted and 10kg without, so Wiggle's reading could be 'sans' pedals. When we got sent the bike (2019) it was £300 and by 2020 the price had risen to £360, reflecting the general rise in kids bike prices over this time.
This bike is obviously going to be heavier than standard 20″ wheel bikes we've reviewed such as the Hoy Bonaly 20 (7.57 kg) and Frog 55 (8.8kg). However, when you compare against other 20+ bikes with a similar specification such as the Cannondale Cujo 20, Scott Roxter and Bergamont Bergamonster 20 Plus they're all coming in just over the 10kg mark so the Vitus is in the same ballpark – both with weight and pricing.
Other components on the Vitus 20+
Finishing kit can really make difference on a bike and it's nice to see that Vitus have specified a quick release seatpost clamp, which makes things much easier when you realise your Sprog has had yet another growth spurt!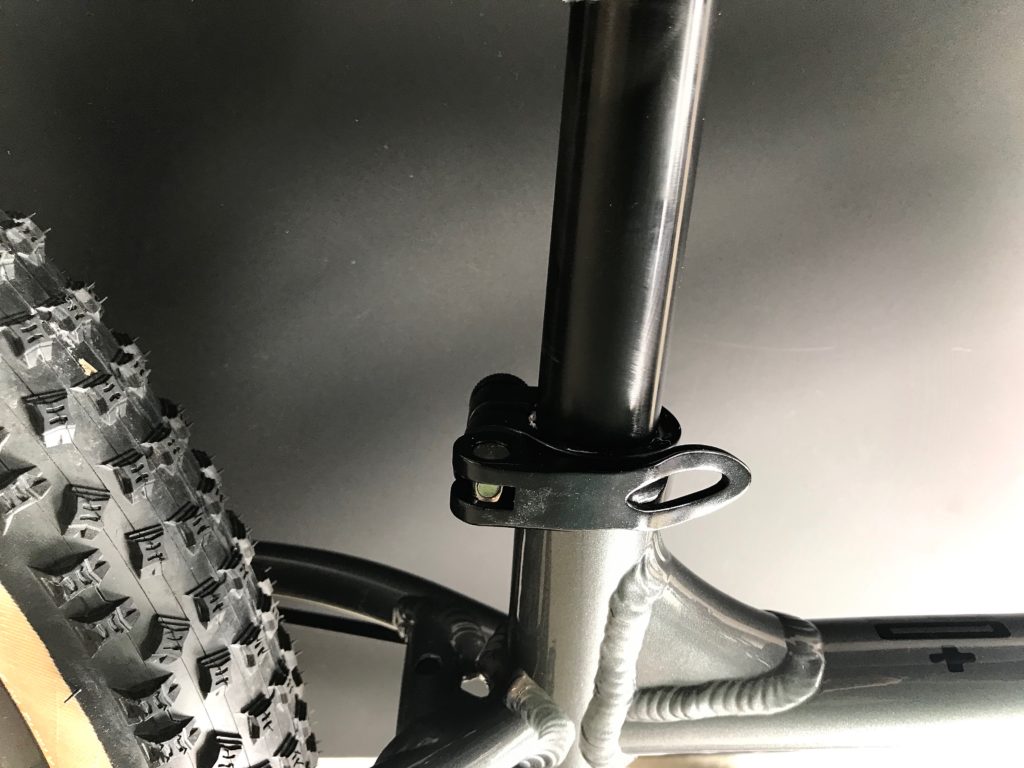 Comfort has also not been compromised by the design team, with the saddle being a model that is proportionally correct for a child. Vitus branded, it feels firm enough to the touch with good padding from the dense foam underlying a matt fabric cover.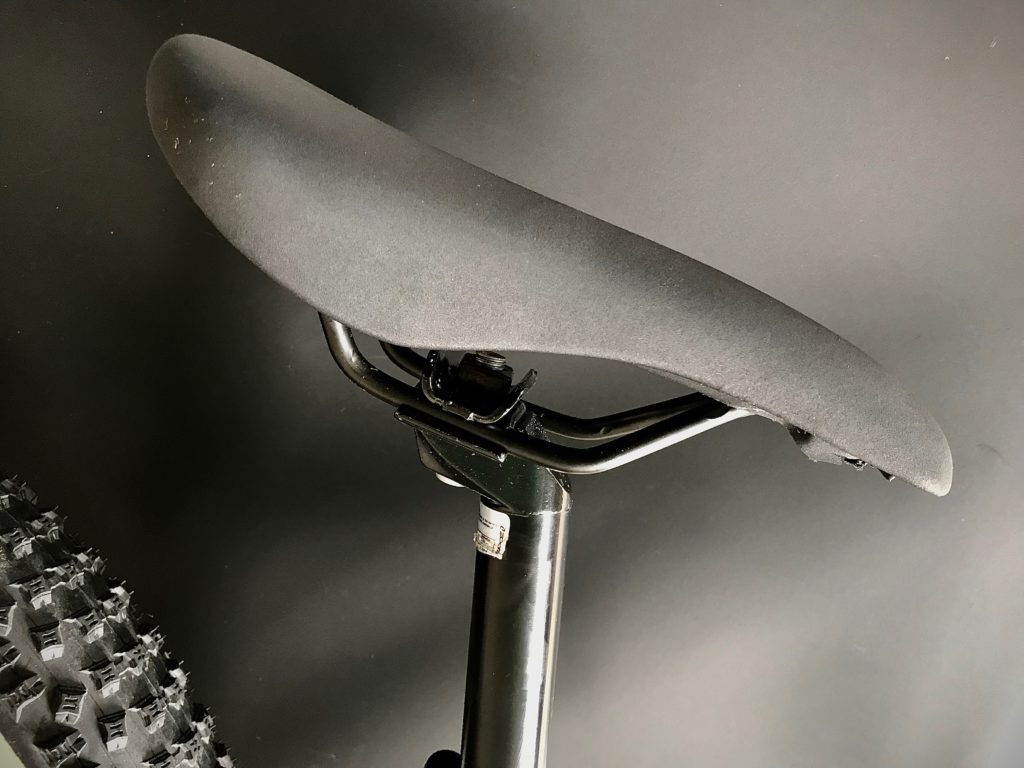 Finally, both the front and rear wheel are quick release. Always handy for fixing punctures on the trail, or for transporting the bike in the boot of your car.
Summary: Our first impressions of the Vitus 20+
All in all we're very impressed with the look and feel of the Vitus 20+ particularly considering the £299 price tag. It's certainly not a gimmicky bike – yes it's got plus size tyres which look great, but it's been designed holistically with a precise attention to detail aimed at ensuring it's spot on for young riders ready to explore and progress their riding. Plus, it looks really cool and seems to be just crying out to be ridden!
We're now going to hand the bike over to our Cycle Sprog reviewer to put through its paces for a number of months. We'll report back on how the bike gets on later in the year, so make sure you're following our Facebook page for updates.
Where to buy the Vitus 20+
The Vitus 20+ is only available on-line
If you'd like to find out how the bike performed when our reviewer put it to the test, you can check out our review of the Vitus 20+ here.
Disclosures: Cycle Sprog have been loaned the Vitus 20+ by Vitus Bikes. We have not been paid to write this review and all opinions are our own. We are however affiliates of Wiggle, who stock the bike. If you make a purchase after clicking on the links in this post, we may get a small commission. This helps us keep the website going, so thanks for your support.
Other posts you should read whilst you're here: