The Cycle Show takes place every year at the NEC in Birmingham. The day before it opens to the general public is the Trade Day, and Cycle Sprog went along to discover what's going on in the world of kid's bikes and family cycling. Here's a summary of some of the highlights of the 2017 Cycle Show – we'll be following up with more detailed articles on some of our favourites, so keep following Cycle Sprog on Facebook or Twitter so you don't miss a thing.
Kids test tracks at the Cycle Show
The kids cycle test track is always a popular draw throughout the weekend (although it is obviously quiet on Trade Day!) and this year it's sponsored by Ridgeback, who have a fresh new branding and improved models for 2018. They had all sizes on display from their Scoot balance bikes through to the 26" wheeled Dimension and Ridgeback bikes. Also available for testing were the Saracen junior mountain bikes.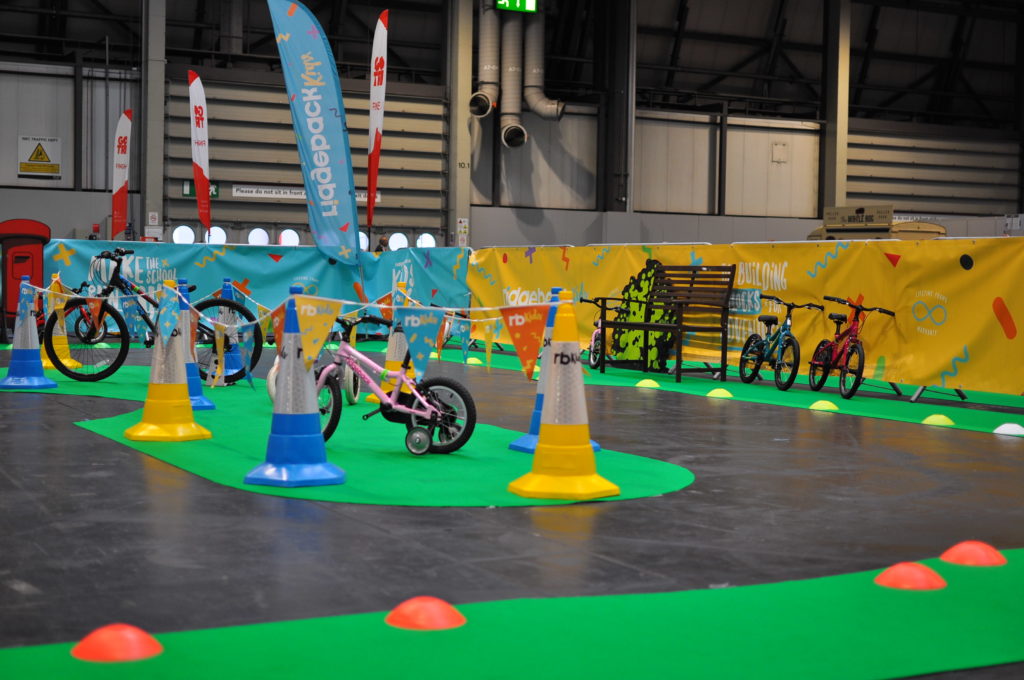 At the other end of the hall from the Ridgeback Track is the Islabikes test track where you can try out their standard and pro-series ranges.
They also had on display the prototype of the Imagine 20 bike, a fully sustainable bike designed to last 50 years. You can read my interview with Isla Rowntree about the Imagine Project here.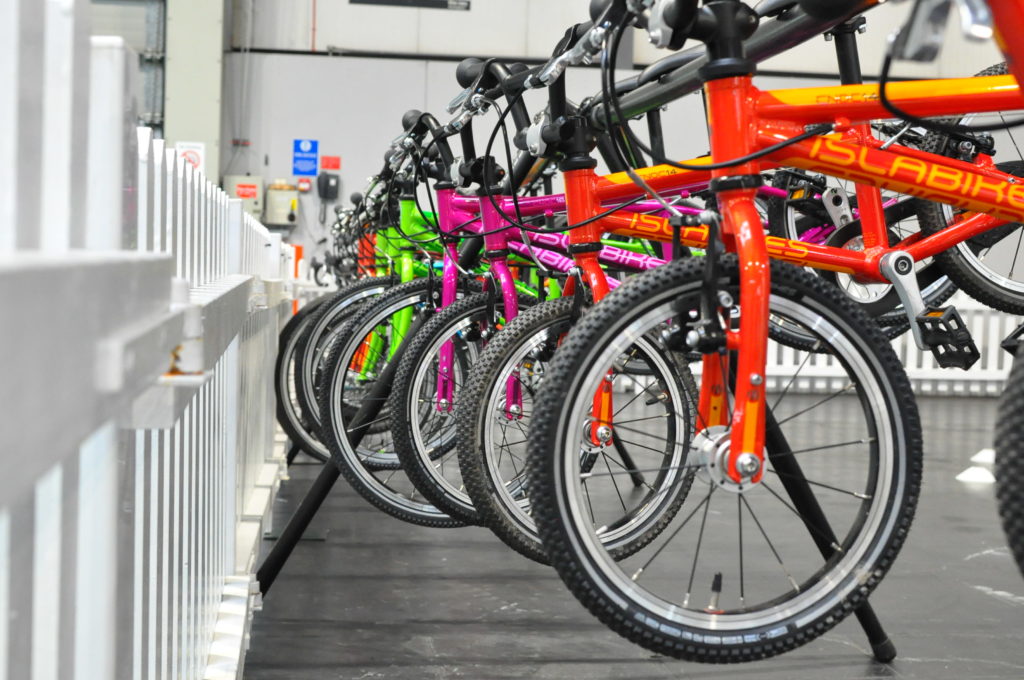 New bikes bike ranges at the 2017 Cycle Show
One of the highlights of the 2017 Cycle Show for us was seeing the new Darwin Bike range from Kiddimoto. Having concentrated their efforts for so many years on developing a wide and colourful range of balance bikes and accessories aimed at the younger age of cyclists, they've decided to branch out and begin to develop a range of bikes with pedals. The range will be available from 2018, so the models on display were prototypes only. You can read our full write up of the new Kiddimoto Darwin pedal bike range here.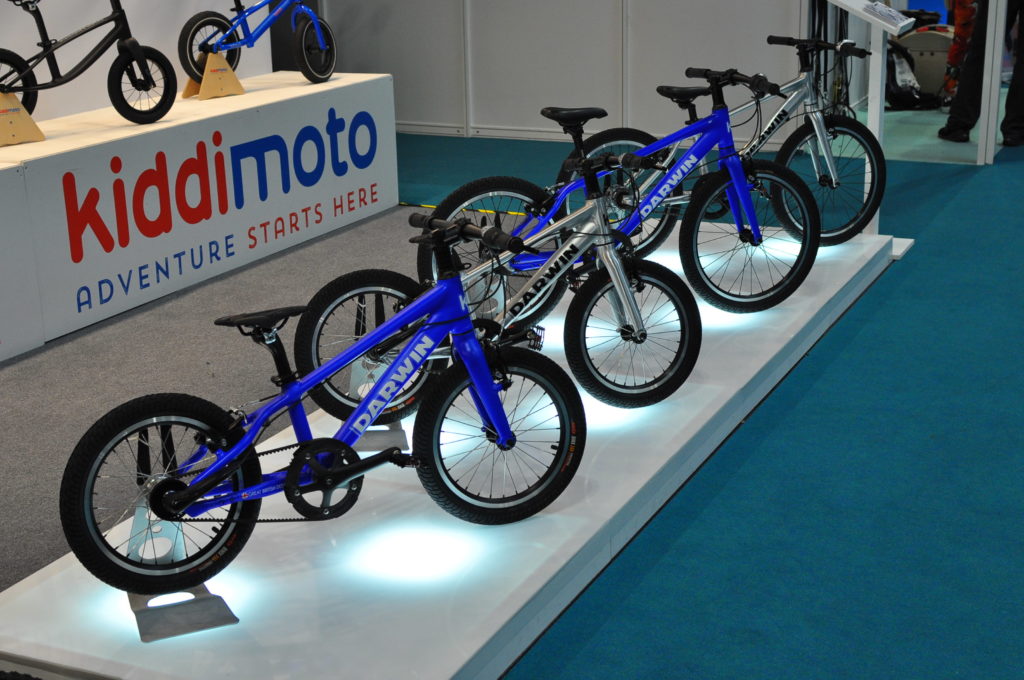 We had wondered what happened to Wiggle's Verenti range of lightweight but cheap kids bikes, which were launched last year before disappearing from sale. At the Cycle Show we found out – they've been relaunched as Vitus kids bikes, as part of the merging of the various brands owned by Wiggle and Chain Reaction Cycles. We were very impressed with the specification of the bike given their low price point (£190 for the 20" bike on display). You can read our more detailed view of what we thought of the Vitus bikes specification and pricing later today, so do come back!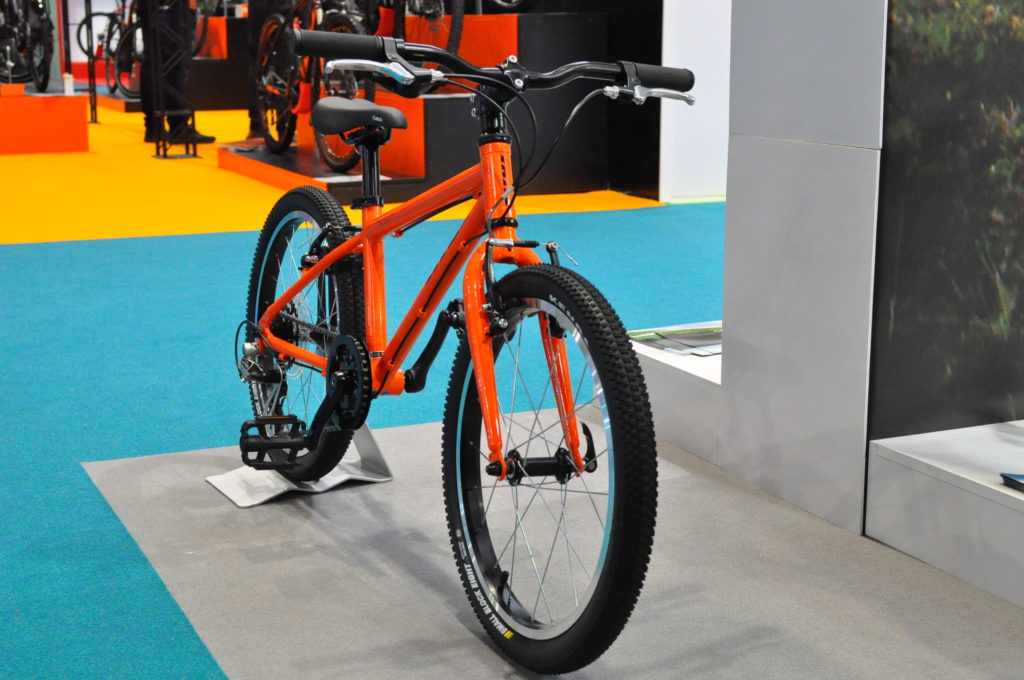 The new look Ridgeback and Saracen bikes being ridden on the test track were also given prominence on their stand. It's really pleasing to see a major brand with such an eye-catching display of kids' bikes. Other manufacturers please take note for next year!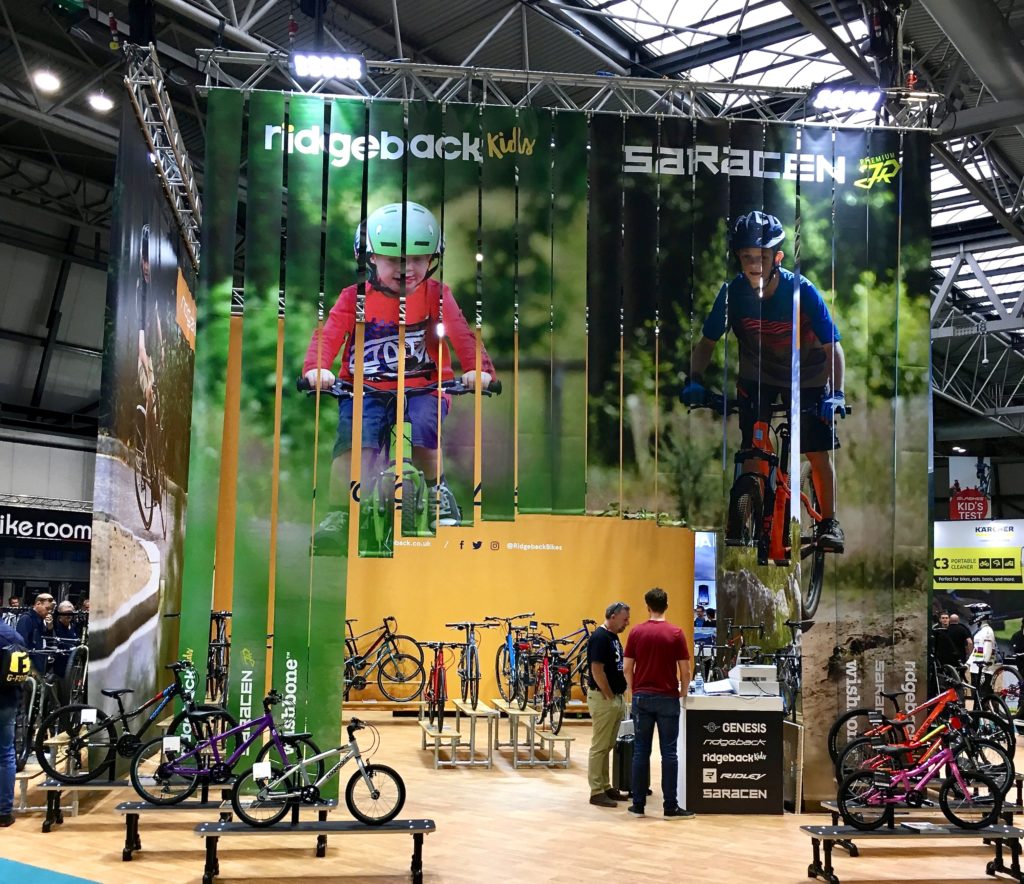 Cannondale are another manufacturer realising that parents are demanding more from their kids bikes, and they have completely refreshed their junior bike range for 2018. They had a good selection of the range on display, which goes on sale in October.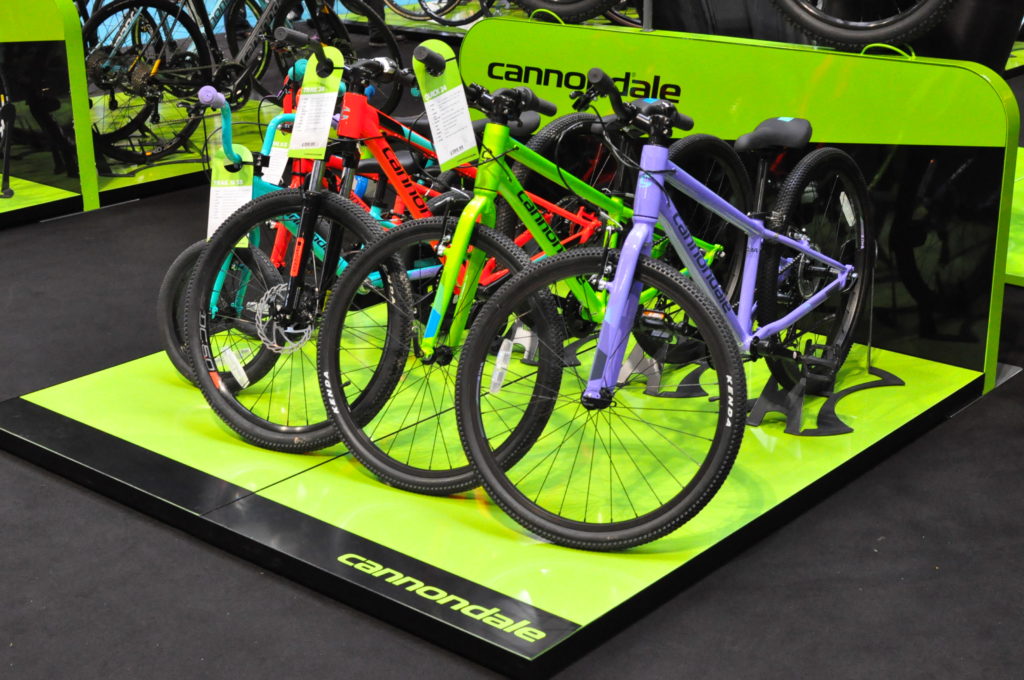 Kids mountain bikes at the 2017 Cycle Show
We love it when mountain bike manufacturers remember that kids like to ride down trails as fast (or faster) than their parents, and deserve a bike to reflect this. At this years' show we were lusting after the two youth Whyte bikes – the Whyte 405 (£950) has a stunning new colour scheme for the 2018 season.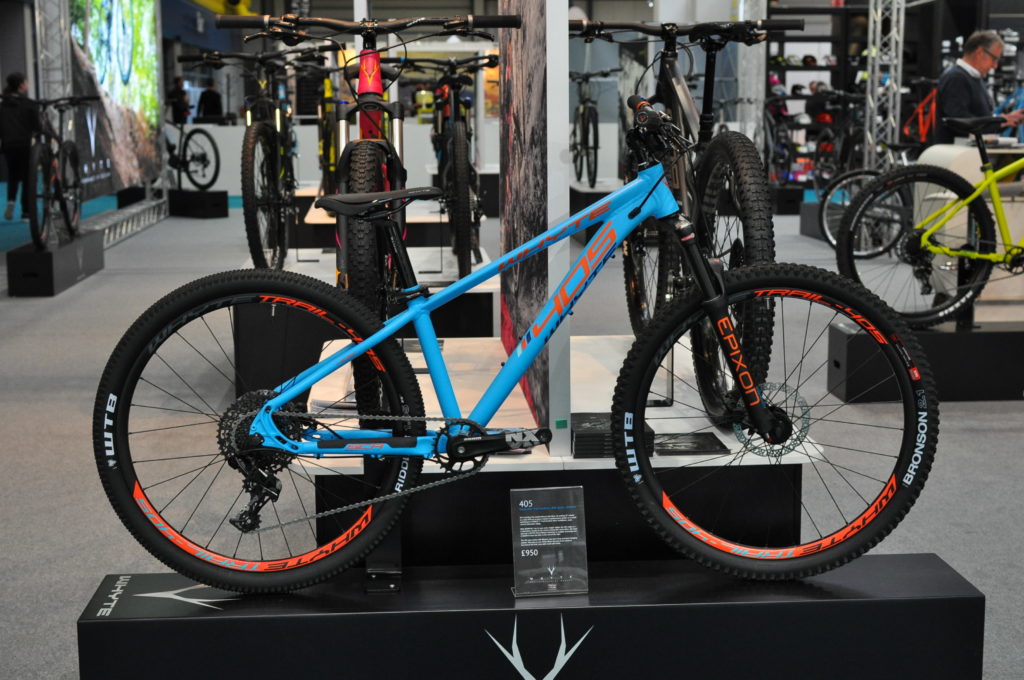 Whyte have made a couple of upgrades for the 2018 season, including replacing grip shifters with thumb triggers on the Whyte 403 (£599).
We also were excited to see the 2018 Canyon Exceed CF 24 (£1,199) – a 24" wheel carbon fibre mountain bike (£1,199), which extends their junior Young Heroes mountain bike range which was launched earlier in the year.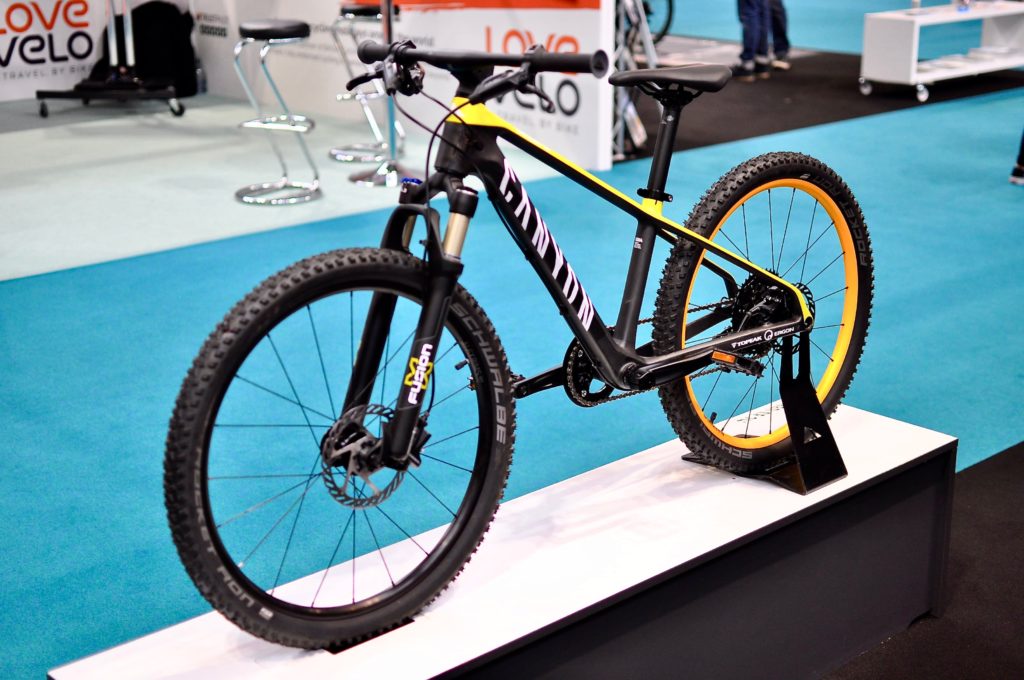 If your child is going to mountain bike, you may want to think about protecting their limbs and other parts. G-Form were showcasing their entire range of junior size protection, and with sizing available from S (about 5 years) through to L for young teens, they seem to have all bases covered.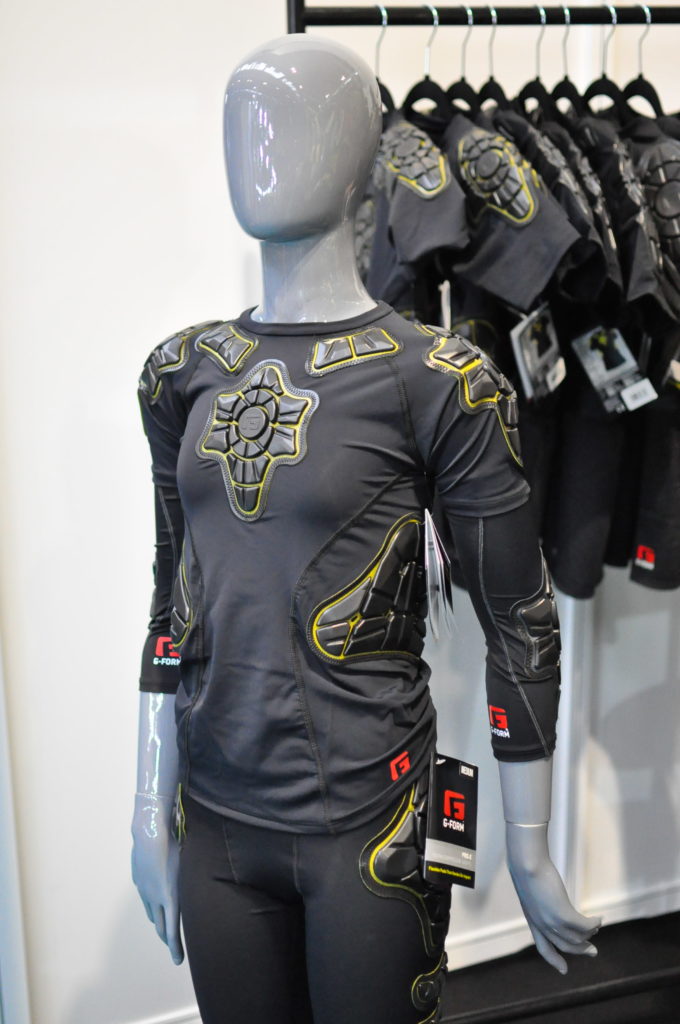 Cube bikes had a small selection of their extensive kids bike and accessory range on display. We'd been hoping to get our hands on their new Cube Stereo 140 Youth full suspension mountain bike (£1,699) but sadly we're going to have to wait a little while longer for that!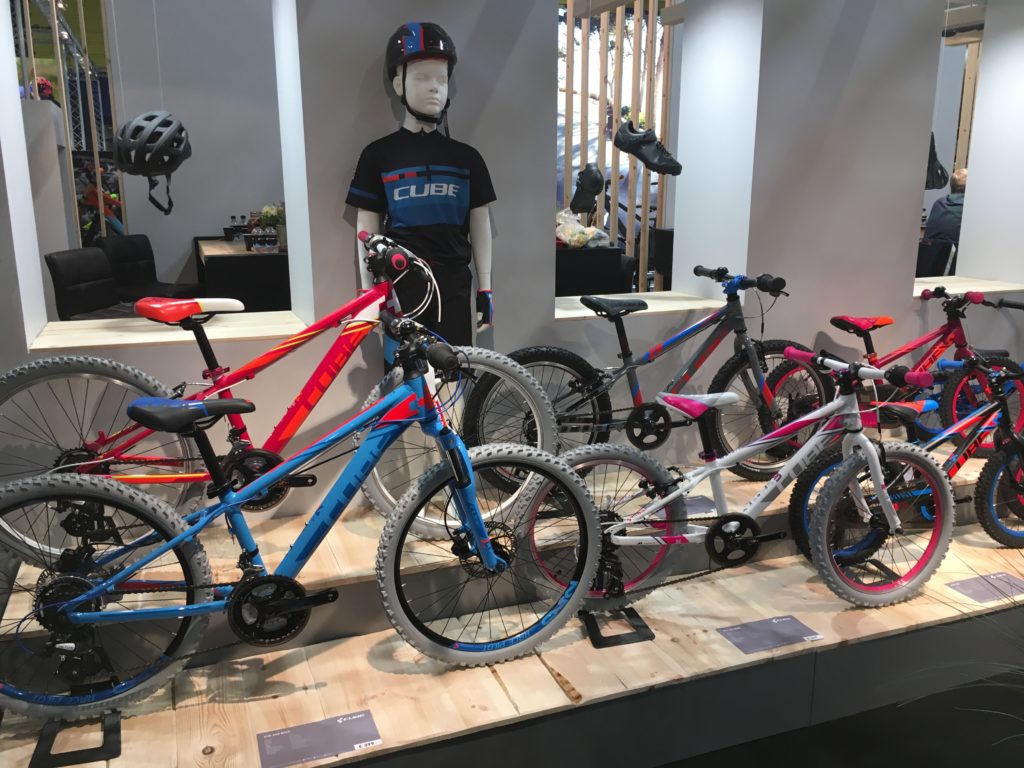 Kids cycle clothing
We may be about to enter the autumn/winter season, but Dare2B are already working on their kids summer cycling range for 2018! We liked their kids sized cycling tops – they've been designing both ranges for girls and boys, with a pleasing soft script logo on their female range.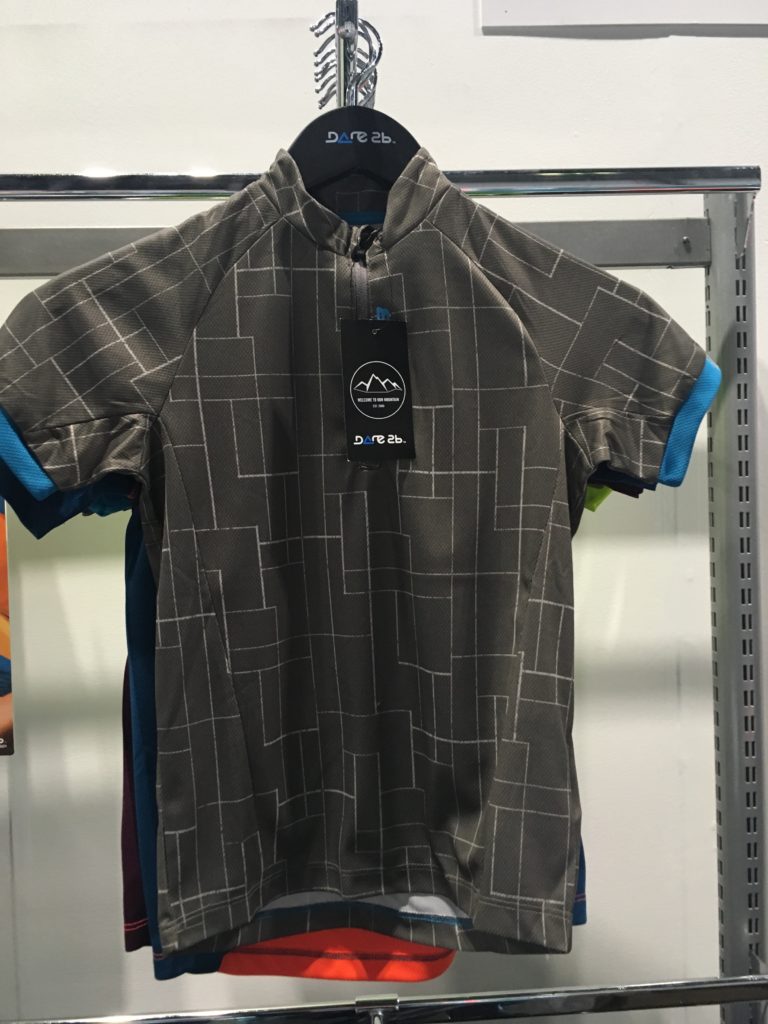 Madison also had their range of kids cycle clothing on display, including functional waterproof jackets, the Zen range of mountain biking t-shirts and shorts and their winter range of long legged bib tights and long sleeved jerseys.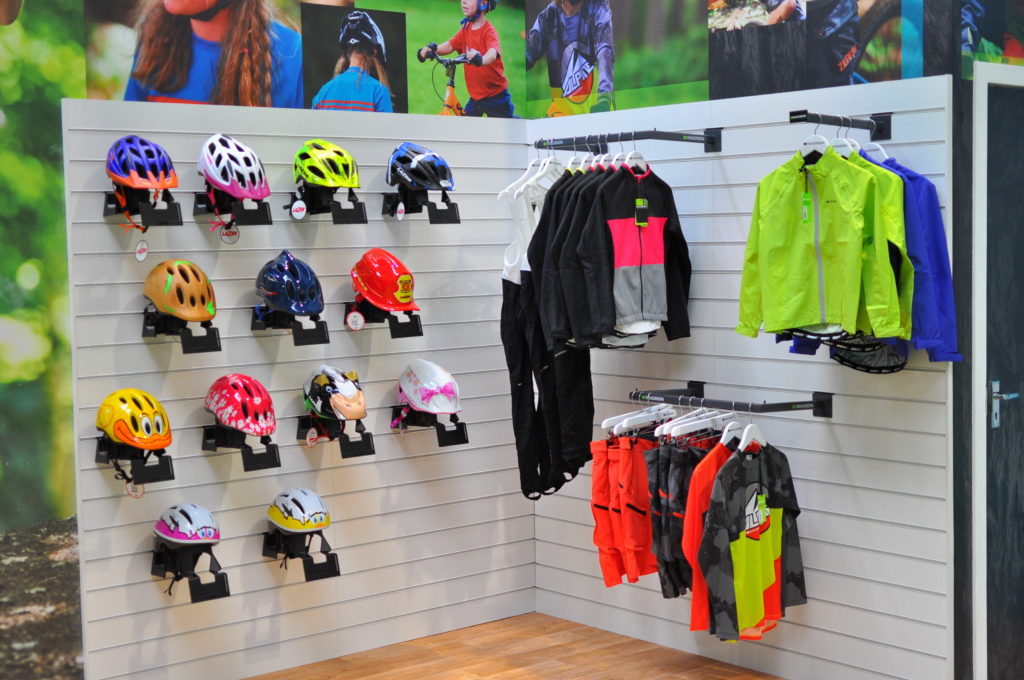 Lazer helmets have a fun range of kids sized cycle helmets, which don't compromise on quality. With fittings that take into account the height as well as the width of a child's head, they're designed to grow with your child. Some of the smaller models come with fun plastic covers you can slip on over the standard helmet, to make bike rides even more fun.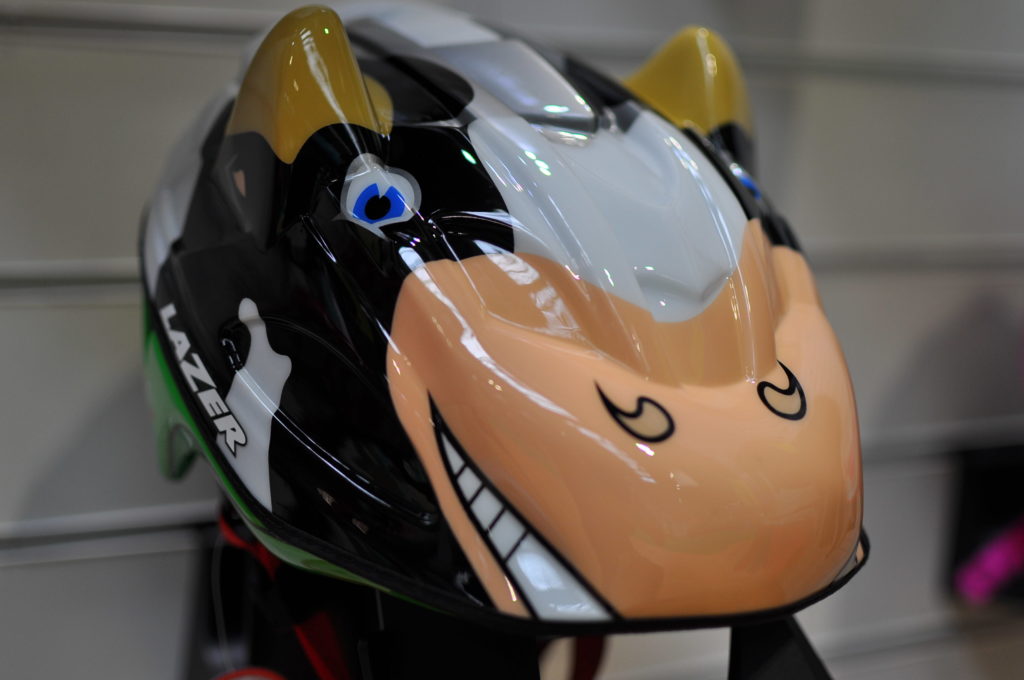 There's always something at the Cycle Show that makes us grin from ear to ear, and this year it was the Bon Courage Apparel t-shirts and babygros.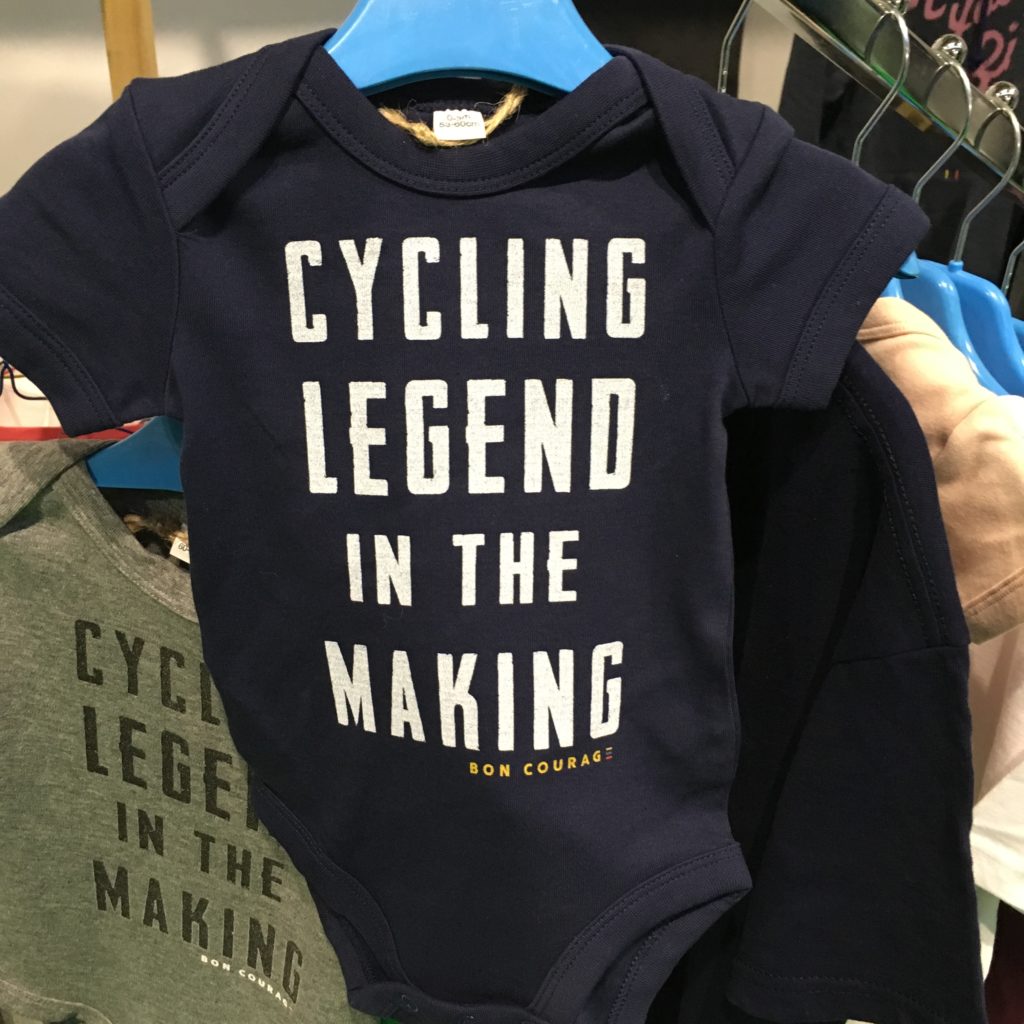 The 2017 Cycle Show wasn't all about two wheeled bikes. We spied a couple of cargo e-bike manufacturers seeking UK distributors as we were walking around, a sign that this type of transportation is increasing in popularity – perhaps in a few years they'll be a common sight on our roads (and at the show).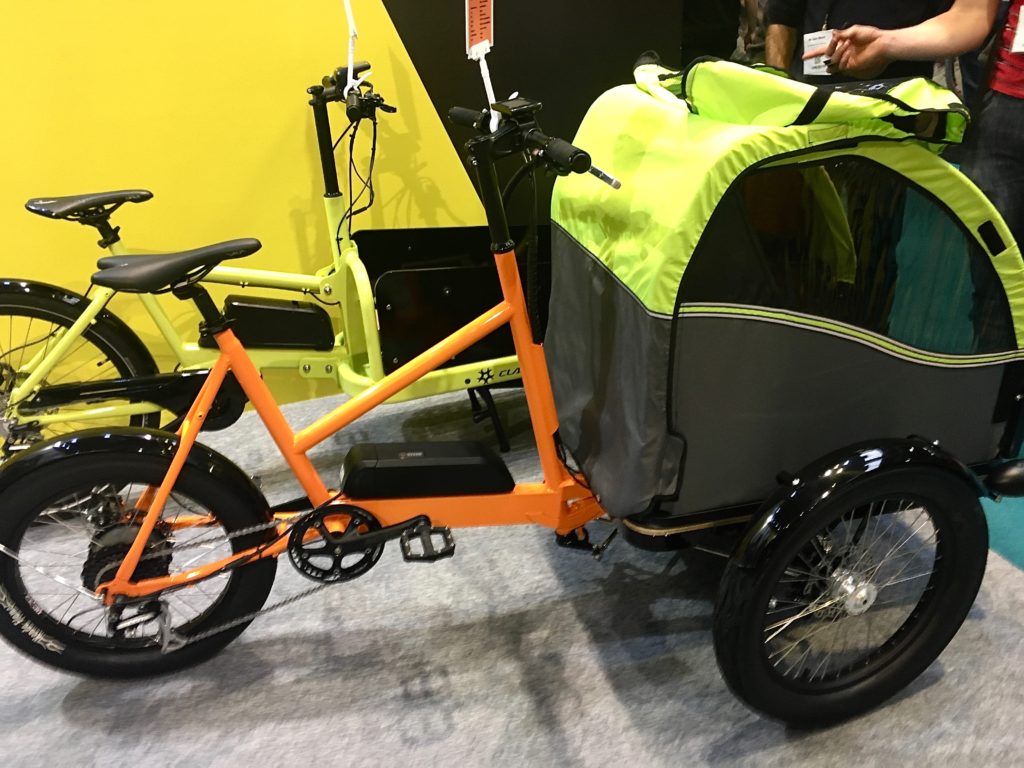 Bo-bike were only at the show on Trade Day, so were packing up to leave at the end of the day, so the general public will sadly miss out on what they have to offer in terms of front and rear bike seats.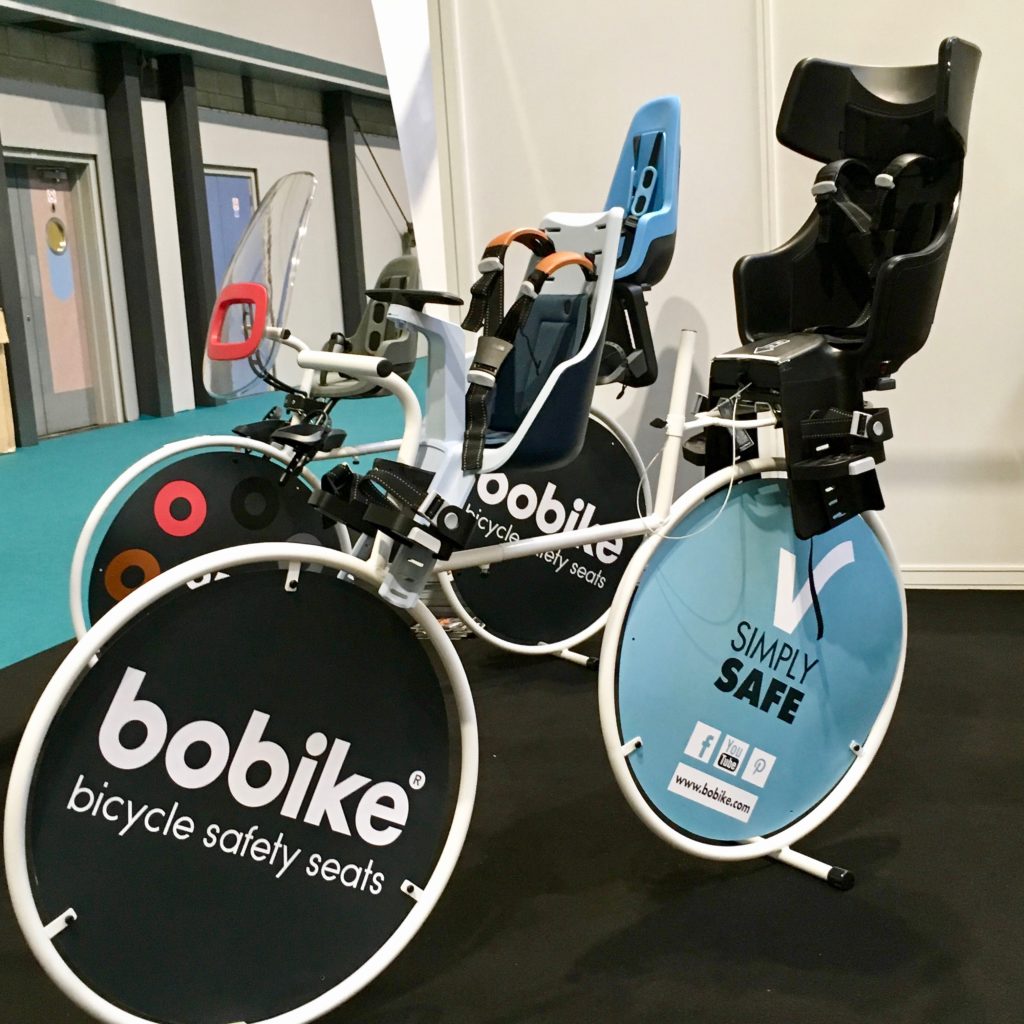 We really liked their colour co-ordinated helmets, designed for smaller heads and for use with their bike seats. They also had a brilliant windshield for keeping kids protected from the elements.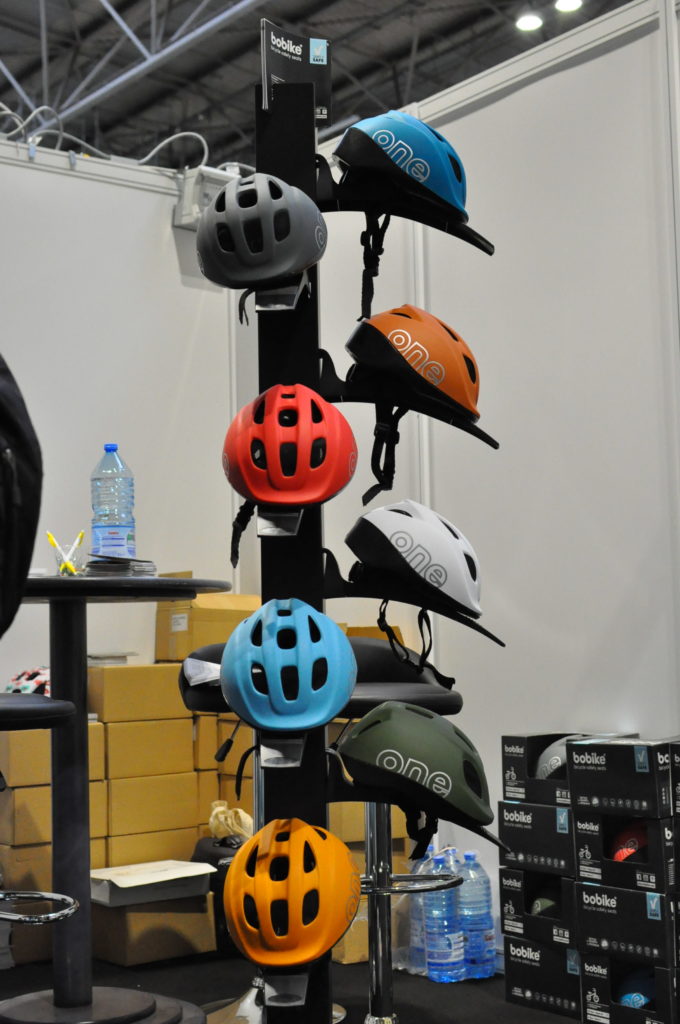 There were a couple of stands we didn't get a chance to visit as we ran out of time – the Shred XS kids sized mountain bike kit and the Dry Tri kids triathlon stand with the chance to row and ride were just two of them. If you know of any other great stalls we missed, why not get in touch and tell us know about them!
Thinking of visiting the 2018 Cycle Show?
The 2018 Cycle Show takes place at the NEC Birmingham from Friday 28th September to Sunday 30th September 2018. Families with younger children are encouraged to visit on the Friday and Sunday as the Saturday is expected to get incredibly busy.
If you book in advance you get 20% off the cost of tickets plus and additional 10% if you use the special Cycle Sprog promo code – just click on this link and then add the code SPROG and press Go.
Other articles you will like:
Disclosure: Some of the links in this article contain affiliate links, which means we may get a small commission if you make a purchase after clicking them. It doesn't cost you any more, and helps us fund the website.