Hello again! Cycle Sprog's admin support Penny here. If you're a regular Cycle Sprog reader you might remember that back in December last year I wrote an article about how my 6 year old stepdaughter WP was learning to ride a bike, using a balance bike that converts into a pedal bike called the SKØG, made by Black Mountain Bikes.
WP absolutely loved riding it in balance bike mode, but she'd been given it just as she was on the upper limit height wise, so outgrew it before she was ready to move onto pedalling.  We were therefore really delighted that the bigger Black Mountain HÜTTO had just been launched – and they kindly offered to send it over for her to continue her journey to fully fledged cyclist.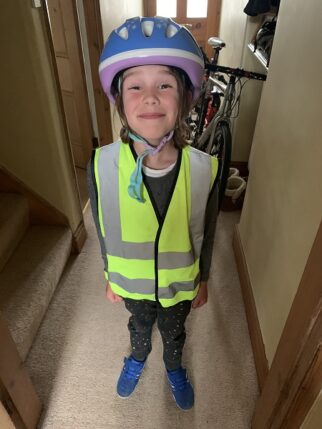 Disclosure:  Cycle Sprog were loaned this bike by Black Mountain Bikes for the period of the review. We were not paid to write this review, and all opinions are our own. However, we do belong to their affiliate scheme, so if you do decide to buy this bike on the back of this review please use our links as we'll get a commission payment which helps us keep the website going.  Thanks!
Black Mountain HÜTTO review
The Black Mountain HÜTTO is the largest bike in their range of "growing" bikes.  As with all their bikes it comes with a frame which can be extended as your child grows, meaning you get more use out of it than a standard bike.
They also have a clever way of converting the bikes from balance bikes to pedal bikes when your child is ready (or you can just skip the balance bike stage if they're already pedalling).
I'm not going to go too much into the specification of the HÜTTO , as you can read Cycle Sprog's technical review of the Black Mountain HÜTTO here. Instead I'm going to let you know the impact that the HÜTTO has had on WP's cycling.
Learning to ride a bike using the Black Mountain HÜTTO
At the start of the year we did wonder how long it would take to get WP comfortable with moving on from balance biking to pedalling, what with all the busyness of everyday life.   However, I don't need to remind you that 2020 had other ideas!!!
With Covid 19 and lockdown measures coming into place in March it turned out we had the best possible summer in which to do just that.
It really was the most natural progression from her using the SKØG to getting on to the HÜTTO – the main difference between the bikes being that the HÜTTO comes with gears.
We explained what the gears would allow WP to do, but also reassured her that learning to use them was for another day. To her, the gears just make the bike more like daddy's, and so much cooler, 'like a proper mountain bike'!
This was also helped because Black Mountain had kindly sent the top of the range HÜTTO TRAIL that comes complete with front suspension forks, disc brakes and off road tyres!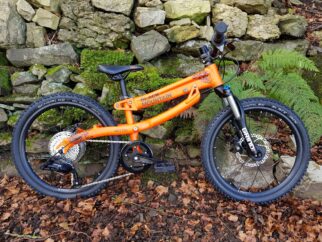 The smaller Black Mountain bikes come with balance bike mode as standard but is an optional extra on the larger bikes in the range if, like WP, your child hasn't yet mastered pedalling.
WP was very eager to head out on the HÜTTO, or 'Strike', as she named it. Once the pedals were off, we went out for her first try.
With it being a larger version of the SKØG, there was very little adapting to a different bike needed. She was very comfortable and confident on it, getting up speed and powering down the local cycle path ahead of us.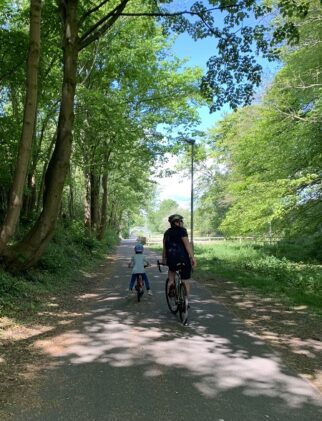 With her dad furloughed, some fantastic weather, and the roads being empty of cars, WP was out on her bike every time she was with us, even if it was just to scoot to the shop around the corner for an ice cream.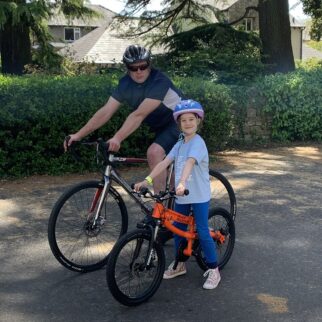 Initially she was wary about the pedals going back on, despite her 'air pedalling' and proving that she had no issue with balance at all.   We decided to put no pressure on and let her progress at her own speed, and this really paid off.
When she visited her younger cousin, who had a regular pedal bike, she decided to give their bike a go but it was far too small for her to do it properly.
But she was clearly ready to move on, and just four weeks after the HÜTTO arrived she gave us the nod to put the pedals back on…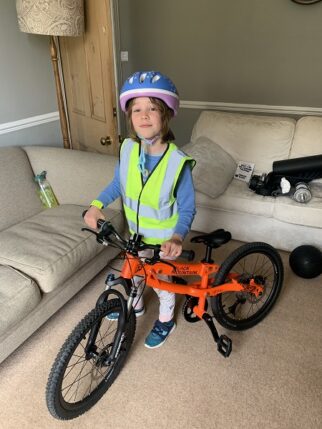 …… and off she went. Just like that!  No fuss, and without even a wobble, she was cycling.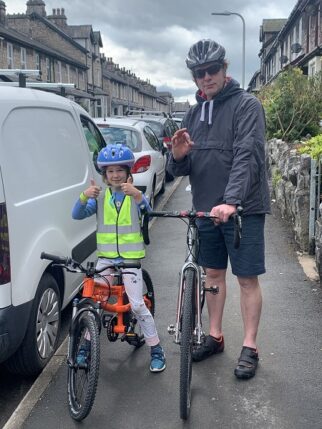 And she hasn't stopped since!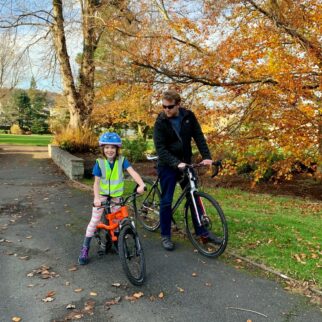 She and her Dad head out together, finding slightly different and longer routes each time.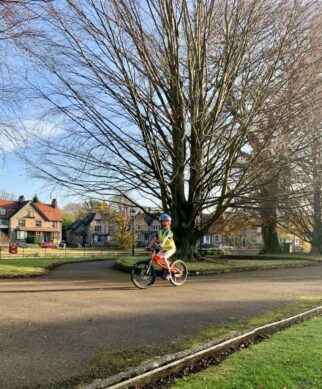 At the moment WP is on the smaller of the HUTTO's two frame sizes.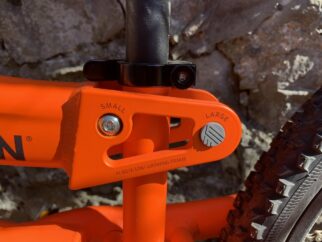 Being able to increase the frame size as she gets taller means the HÜTTO is a bike that she should be able to spend another year or so on whilst she masters the use of gears and gets confident riding on different surfaces.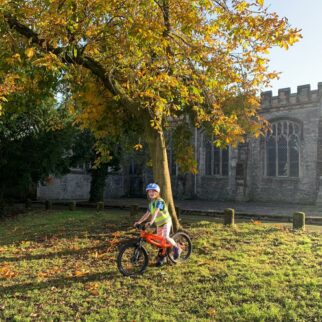 It's worth pointing out that the HÜTTO is very light (8.3kg) making it very easy for her to maneuverer and ride, and she's been able to get up gentle inclines easily.
However, with us living in a town in the Lake District, they're now starting to come across some steeper hills on their travels.  At the moment WP still feels she needs to get off and walk up when the going gets tough, so we're now ready to add the gears into the mix, as her cycling abilities go to the next level.
Black Mountain HUTTO review: final thoughts
We've been really impressed with how easily WP took to the HÜTTO.    It's lightweight and easy for her to ride and she's always really keen to get out riding on it.
The fact she could transition from balance bike mode to pedalling on the same bike has really helped our nervous little cyclist become a confident bike rider.
Where to buy the Black Mountain HÜTTO
The HÜTTO is only available to buy direct from the Black Mountain website.  Colour wise they're available in orange, green, purple and blue.
The HÜTTO is available in three different options depending on the type of riding your child is doing.  Whilst we were sent the top of the range Trail, the standard HÜTTO would have been perfect for the type of riding WP is doing.
HÜTTO (rigid fork and rim brakes) – £449
HÜTTO Disc (disc brakes, Black Jack tyres) – £549
HÜTTO Trail (disc brakes, Black Jack tyres and front suspension) – £649
Because the bike is so new, and lasts such a long time, it will be quite a while before they begin to appear secondhand, and the resale value on these bikes should be high.
If you'd like to know more about the Black Mountain Bike range you can read about them here:
If you've enjoyed reading this article, please do sign up for our newsletter - we'll keep up updated when we have new articles which may be of interest. Thanks!