The Black Mountain KAPĒL is a top of the range 18″ wheeled children's bike with a unique "growing frame" that allows plenty of room for the bike to adjust as your child grows. Cycle Sprog was kindly sent a Black Mountain KAPĒL for us to review so read on to find out how our five and a half year old tester got on putting it through its paces.
Affiliate disclosure: Cycle Sprog may get a small commission if you make a purchase from the links in this post. For more information please see our affiliate policy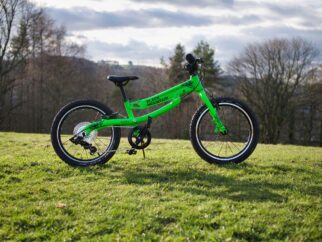 At a Glance:
Brand – Black Mountain
Model – KAPĒL
Child size – 5 to 7.5 yrs old/110cm to 128cm
Wheel Size – 18″ wheels with an upgrade to 20″ wheels possible
Gears – 7 – removable to create balance bike (additional purchase required)
Weight – 8.1kg
Cost – £449.00
Available from – Black Mountain Website
We like… The expanding frame that grows with your child, mountain bike inspired riding style, and a great paint job
Buy Now
Review of the Black Mountain KAPĒL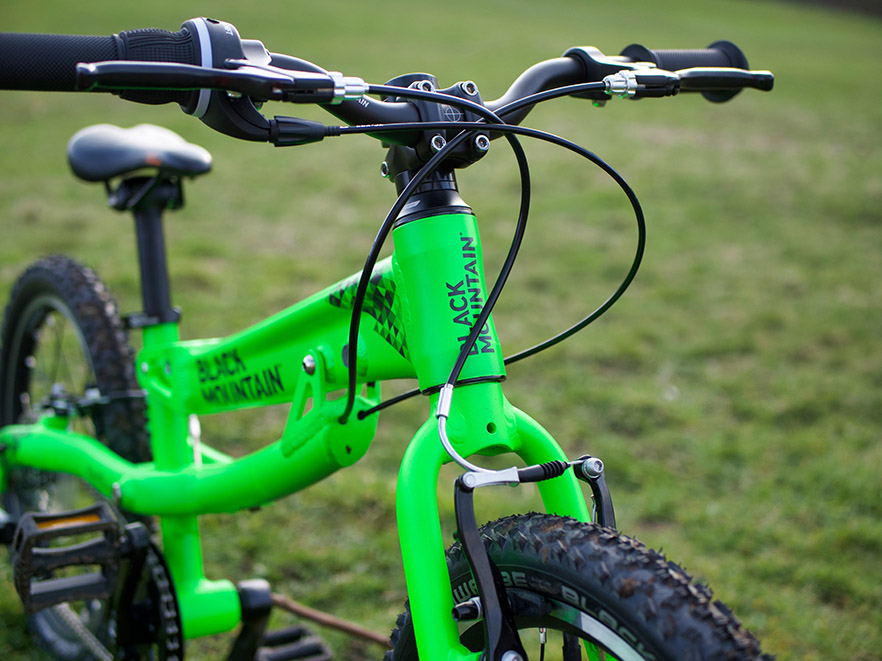 Overview
Black Mountain do bikes differently. Their unusual looking frames are more than simply a quirk of design, rather a unique way of 'growing' a bicycle to fit your ever-growing child. Using their patented EPOK™ system, their bikes cover a greater range of sizes, allowing one bike to fit a child for longer.
The Black Mountain KAPĒL is their 18″ wheeled offering – aiming to cover children in the 110cm to 128cm height range, or from approximately 5-7.5 years old. This meant that our 120cm tall five and a half year old reviewer was towards the middle sizing for this bike.
The KAPĒL has all the features you'd expect from a high-end kids bike including a lightweight aluminium frame, seven gears and 'V' brakes (which are the standard rim brakes you'd expect to see on a kids bike of this size).
Glancing over the bike it's obvious that the quality of the finish is very good, with a striking paint job and a set of components that match the quality of the frame. As a versatile bike, it looks very much an all-rounder, capable of cruising the streets or trails with ease.
On the scales, it comes in at 8.1kg and will lighten your bank balance by £449.00
Out of the box/assembling the Black Mountain KAPĒL
Black Mountain strive to be single use plastic free. The paper and cardboard packaging is a very nice touch and is great to see a bike brand embracing more sustainable packaging materials.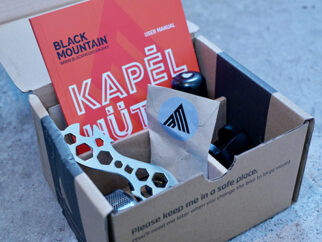 If you want to start as a balance bike you'll need to purchase the Balance Bike Kit for £29.00 which replaces the pedals and gears, and allows the saddle to be mounted as low as possible on the frame.
For us, our test rider was already pedalling so we jumped on with the full set of gears and pedals in the 'smaller' size setting.
Getting things set up on the KAPĒL is straight forward and the instructions are clear, with tools provided. The instructions guide you through the process of installing all the components and making sure everything is safe to ride.
Extending the frame on the Black Mountain KAPĒL
The EPOK "growing frame" system that Black Mountain have designed is ingenious and simple to use. Simply remove the rubber overs from the bolt holes, undo the bolt and shift them from small to large size. This increases the frame length and the bike is magically bigger!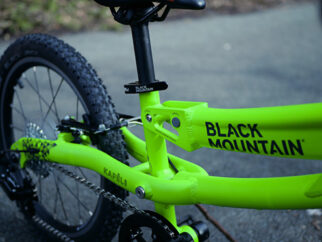 It takes a little fiddling to line everything up and I wouldn't recommend doing it mid-ride, no matter how persistent your child is!
You need the supplied 5mm Allen key, a set of instructions and a little bit of time, but is simple enough to do. It's not the sort of thing you would need to do regularly anyway – you may just have to reduce the size back down again for a younger sibling or when selling on.
Additional parts include the stem extender, which allows the handlebars to be moved up, and further away from the rider, again giving room to grow.
As for seat height, there is plenty of length in the seat post to allow for growth this way too. This adjustment lengthens the bike keeping knees further from the handlebars and allowing more room for your child.
Nothing changes much from the saddle area, this is still adjusted up and down as normal.
There is no messing with gears when you're extending the frame, and all the cables are long enough to allow for 'growth', which keeps things nice and simple.
From a rider's point of view, very little changes when the frame extends. I didn't get much feedback from my test rider, but it was clear this was a better fit for him.
Essentially the Black Mountain KAPĒL is the one bike that could take a child from a balance bike to a fully-fledged cyclist.
Specification of the Black Mountain KAPĒL
There is no skimping on the spec with the KAPĒL. The full 6061 aluminium frame keeps the weight down which is essential on a child's bike. It is slightly heavier than an equivalent priced fixed size bike, about 500g over an Islabike Beinn 20, but this is justified by the flexibility it provides.
Braking is controlled by Tektro v brakes, with small levers, light action and plenty of stopping power.
Seven gears are plenty and managed with a grip shift style control on the bars, which has nice clear numbers displaying the gear.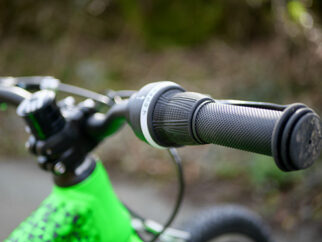 The 18″ wheels have decent Schwalbe tyres which are great to see and sometimes overlooked on kids bikes.
The hubs are sealed well from the elements, which will keep it rolling through the bad weather.
The KAPĒL is hard to fault – all the parts are simply smaller versions of components found on adult bikes, so they are serviceable and will no doubt stand the rigours of use.
If you want to upgrade to disc brakes, then the frame will accommodate them and Black Mountain will happily sell you a set of 20″ disc brake wheels and a suspension fork to upgrade the KAPĒL into a fully fledged mountain bike. Personally I wouldn't rush into this upgrade, but if your Sprog can't wait until they're on 20″ wheels then you might want to consider it.
The ride
Sizing is always a mixture of science and art, and to get started I simply put my rider on the small size with the seat low so he could get used to it. He was jumping onto the Black Mountain KAPĒL from a 20″ wheeled bike – so I didn't expect too many issues.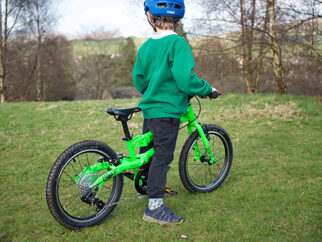 What was noticeable immediately was a change in the steering, as the KAPĒL borrows a lot of style from the mountain bike world it has a more relaxed steering angle. Compared to the steeper angle on his Islabike, it meant it took a period of adjustment, but no evidence it was better or worse, simply different.
The only thing we have noticed is that at very slow speeds, the KAPĒL steering is more laidback and needs a lighter touch, but once up to speed it makes a lot more sense and the bike is exceptionally stable over bumps, kerbs or rougher ground.
The bike is also quite long between the wheels, which further adds to stability when cruising along, and seems to give a real feeling of confidence to the rider.
The controls on the Black Mountain KAPĒL have all worked brilliantly. The light action to the gears and brakes is great, although the long levers on the brakes encourage a whole handed grab approach rather than a more gentle one or two-finger approach.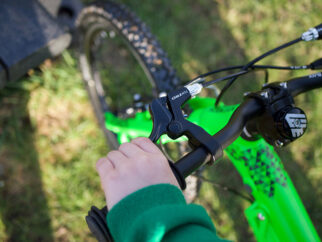 The range of gears has been good for our Cumbrian hills and tracks and the chain is contained nicely on the front chainring, keeping trousers snag-free.
The tyres are knobbly affairs and provide a nice combination of grip on and off-road. It's hard to emphasise quite how important a good set of tyres are on a bike, and these from Schwalbe represent how far we've come with kids tyres.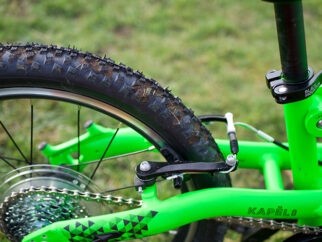 After some time on the shorter size, we jumped up to the longer version, with a couple of bolts repositioned as outlined above.
The longer size gives more space for knees, and a less upright position as the rider can lean forward onto the bars more. I thought there might be a period of adjustment, but given we were between the sizes anyway, my rider didn't notice much change. It's a testament to the adjustable system that you can grow the bike but maintain the same feel.
Black Mountain KAPĒL review – the final verdict
Get the sizing right on the Black Mountain KAPĒL and you've got a bike that'll last your child a long time and give a huge amount of cycling confidence and fun. The adjustable sizing is no gimmick and really does add longevity to the bike.
The great spec and confident riding position encourage an enthusiastic approach to riding, especially on rougher ground where the KAPĒL really shines.
If your child is able to use both frame sizes the KAPĒL certainly does represent good value for money.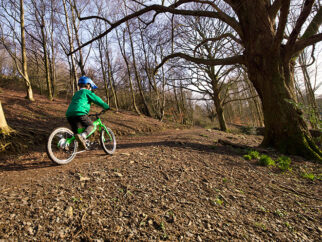 Where to buy the Black Mountain KAPĒL
Black Mountain Bikes are only available via their website. They ship internationally, or you can arrange to collect from their HQ in the Welsh Black Mountains.
Buy Now
Disclosure: Cycle Sprog were loaned the Black Mountain KAPEL for the period of the review. We were not paid for this review and returned the bike at the end of the review period. We are however affiliates of Black Mountain which means that if you make a purchase after clicking on their links we may get a small commission. This is what helps us keep the website going so thanks for doing this!
Other articles that you may want to read: