Earlier in the year, just before lockdown kicked in we were excited to welcome a special visitor at Cycle Sprog HQ. Ben from Black Mountain Bikes popped in to say hello and brought with him a couple of the latest models from the range, including the all new HÜTTO – a very interesting 20″ wheel kids mountain bike.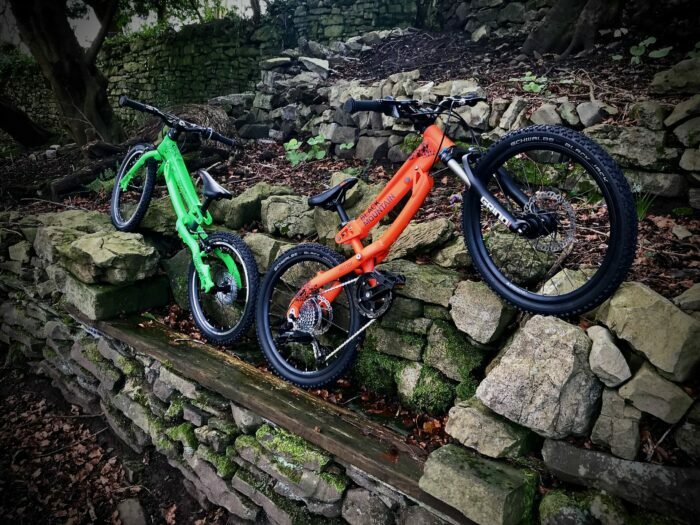 Our first look at the Black Mountain HÜTTO kids bike – a 20″ wheel MTB which grows with your child
For those of you who haven't heard of the company, the name stems from their base in the Black Mountains in Wales, and their fresh approach to bicycle design means they've been taking the kids bike market by storm with their "growing bikes".
After many years perfecting the concept, they launched their first models in 2018 – a range of balance bikes that converted into pedal bikes using a frame that expanded to take account of your growing Sprog. I think it's fair to say that the Cycle Sprog team have been impressed with their smaller wheeled bikes, so we were keen to see what the newest and largest offering in the range would be like, and Ben dropping by was a perfect opportunity to check them out.
Cycle Sprog is an family run, reader supported, website. We belong to several affiliate schemes so may receive a small commission from sales made from links on our site. We do our best to be impartial and recommend products on their quality not whether they are in a scheme.
Don't have time to read our review of the HÜTTO just now? Why not pin this image and read later?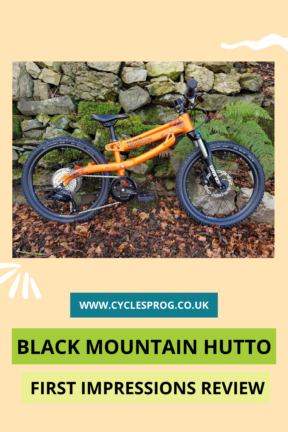 The bike I was most keen to get a look at was the HÜTTO. It's a 20″ wheel bike that I can truthfully say is unlike anything else I've seen before. It's also a very flexible design, with various configurations of the HÜTTO available for purchase. You can get it in standard mode, with rim brakes, all-purpose tyres and rigid front forks (£449) if your child is going to be riding mainly on roads, paths and gentle tracks.

You can also request this standard version to be configured as a balance bike (extra £29) if your Sprog isn't pedalling yet – useful too if a younger sibling may not be ready for pedals as soon as their elder one. If your Sprog is keen for some off-road riding action, you can upgrade to the HÜTTO Disc (£549) which, as the name suggests, comes fitted with disc brakes for improved stopping power (important when hurtling downhill!) and comes fitted with Schwalbe Black Jack mountain biking tyres.

Obviously, I'd begged Ben to bring the top of the range Trail version (£649) which comes with front suspension, as I really wanted to see everything that they have to offer, and I knew our readers would be interested too!
First impressions review of the Black Mountain HÜTTO Trail
To start off with, I have to say the bike looks great. Really great!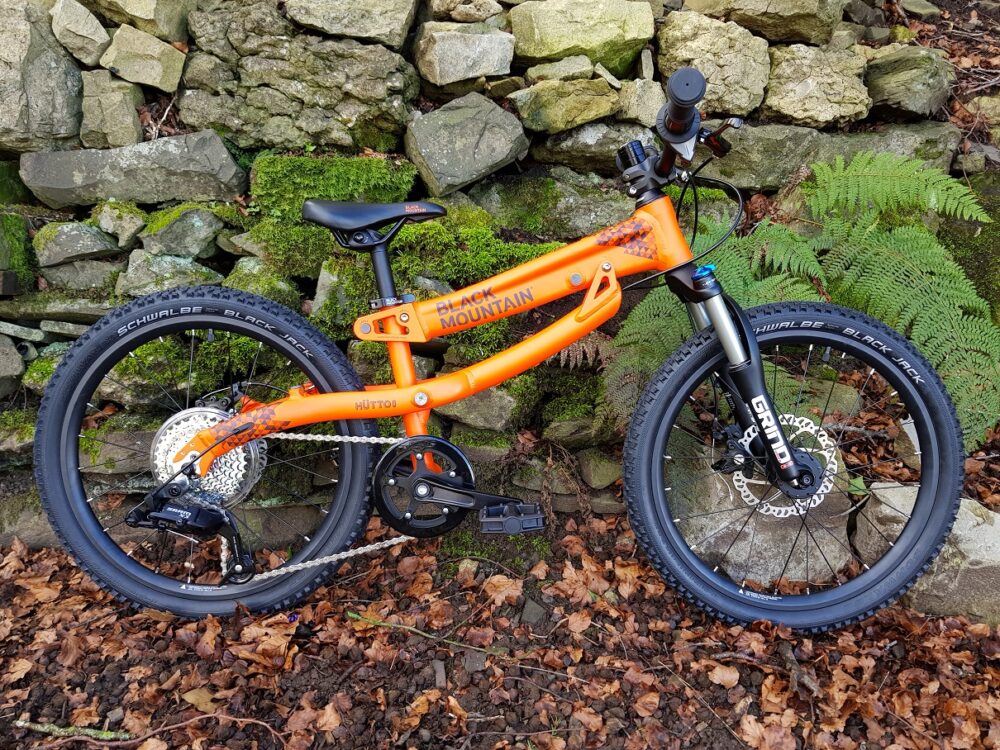 Aesthetically, the Black Mountain bikes can take a bit of getting used to – the frame shape is different to a "traditional" kids bike, as it needs to be able to grow as your child gets taller. Because we've been used to seeing the smaller wheeled PINTO and SKOG bikes, the HÜTTO (and it's slightly smaller sibling the 18″ wheel KAPEL, which Ben also brought with him) looked very familiar indeed.
Black Mountain has obviously found a winning formula for their frame. At first glance, the design of the frame, coupled with the front forks and the disc brakes, make the bike appear as if it could even be full suspension. I think this is going to be a very popular look with kids out on the trails…… But looks aren't everything – what do you actually get with the Black Mountain HÜTTO Trail?
A closer look at the specification of the Black Mountain HÜTTO Trail.
First up, the obvious difference with the HÜTTO Trail to all of their other bikes is the front suspension fork. This is Black Mountain's first foray into the world of hardtail mountain bikes. The move from rigid forks to suspension forks has been challenging for a number of other kids bike manufacturers, so it's going to be interesting to see how this one performs out on the trail. In the meantime, the first impressions are encouraging.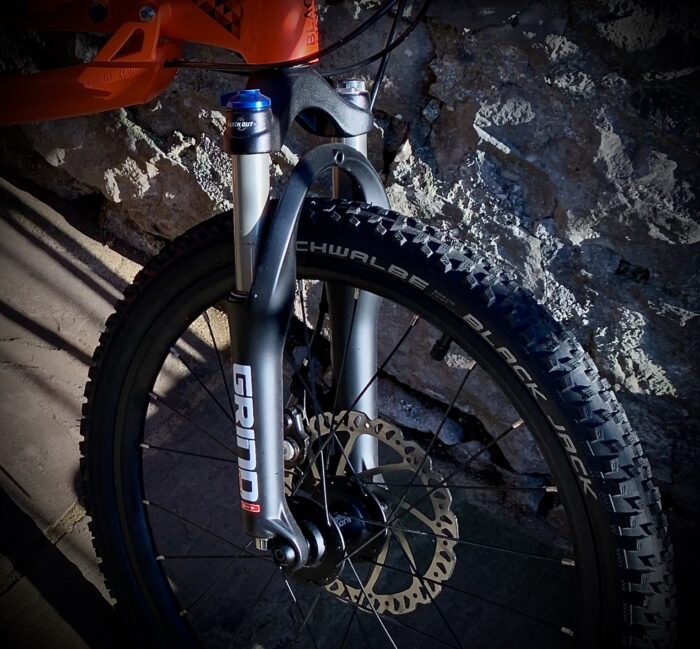 Black Mountain have chosen a lightweight Spinner Grind Air suspension fork rather than a coil-sprung fork, which is what you'll often find on kids bikes. The reason for going air is that the fork can be optimised to suit the weight of your child by adjusting the air pressure with a standard shock pump – useful as they'll probably be getting heavier as time goes on, plus younger siblings may not be the same weight.
However, you don't need to worry about setting the pressure if you're concerned about doing this. When you order the bike Black Mountain will ask for the weight of your child and tune the fork to suit (so make sure your measurement is up to date). The travel on the fork is 50mm which should help smooth out most of the bumps on the trail. The weight limit for the forks is 35kg, so you'll probably have to resist the temptation to give it a go yourself (and I have to say it is very tempting!)
Disc Brakes and tyres on the Black Mountain HÜTTO
The Disc Brakes specified for both the HÜTTO Disc and Trail models are supplied by Tektro with a 160mm rotor on the front wheel and 140mm on the rear. These have good feel and bite and we'll be keen to see how they react in different weather and terrain conditions when our reviewer gets out on the trails. The brake levers are micro-adjustable, so should suit even very small hands.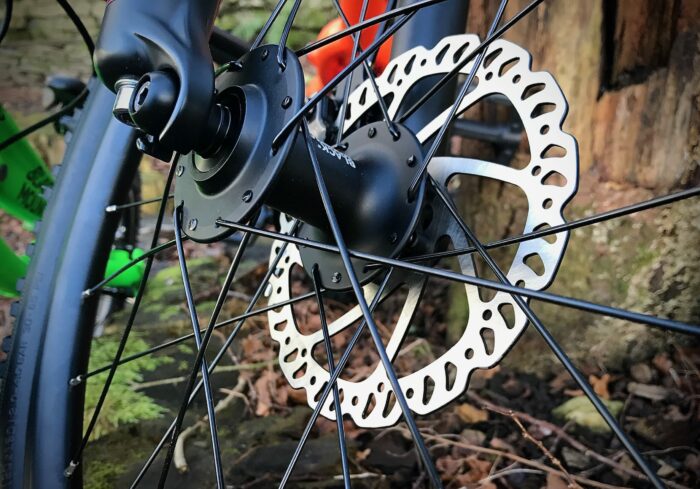 One thing to note on the HÜTTO is that the front wheel is not quick-release. Ben advises that Black Mountain has done this for safety reasons, as they don't want the quick release mechanism to catch whilst on the trail. However, this does mean you must carry a 1 x 5mm hex key (every multi-tool has one) to get the wheel off in case of a puncture, or if you need to remove the wheel to get the bike into your car.
The Disc and Trail versions of the HÜTTO are fitted with Schwalbe Black Jack tyres – these generally get very good reviews as an off-road/hybrid tyre, which is important if your child is going to be riding on a variety of different surfaces.
Gearing on the HÜTTO Trail
For many children riding the HÜTTO this will be their first time using gears, so it's very important they are simple to operate. Black Mountain has chosen SRAM twist grip shifters (as opposed to thumb shifters), which move through the gears smoothly. Our first impressions are that they move very easily from one gear to the next.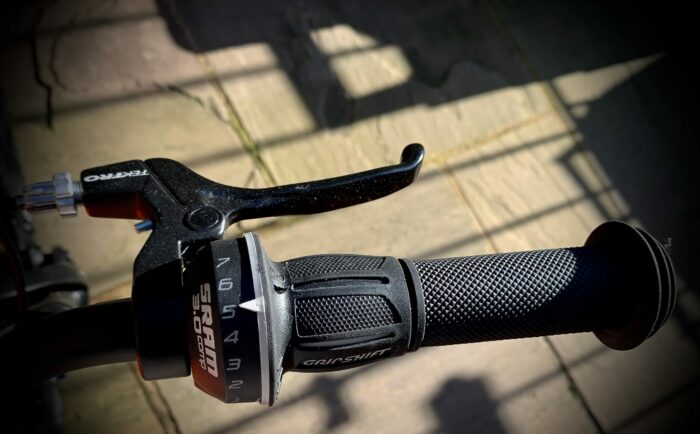 There are 7 gears at the rear, sized from 11 to 32 teeth, giving a nice wide range for getting up hills. There's a 32 tooth single chainring at the front, which simplifies things as your child only needs to worry about changing gear with one hand – very useful when they're first learning to ride. There's a chainguard fitted to avoid the chain jumping off as they're riding, and our test model came with a spoke protector fitted behind the cassette.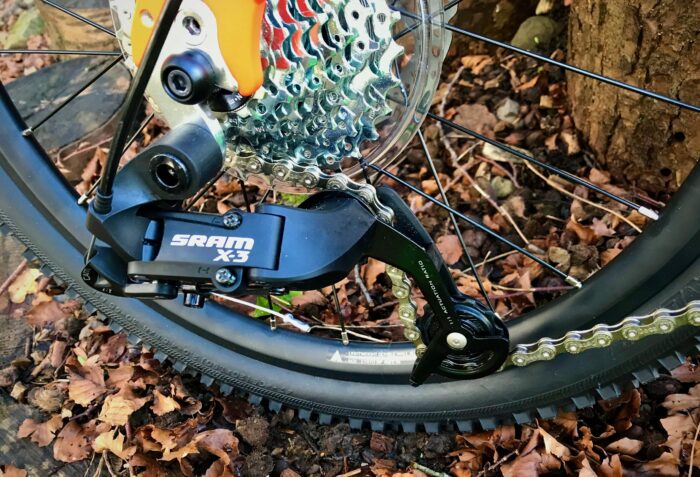 Obviously, one of the main features of the Black Mountain HÜTTO Trail is that the frame grows with your child. This means that the bike should last longer than a standard kids bike. The process of increasing the frame size is well documented in the accompanying booklets and there is also a useful instructional video on their website should you get stuck.
It takes about 30 minutes from start to finish, and if you're confident with an Allen key and spanner you'll be fine (if not, you can find a friend or pay your local bike shop to do it for you). I'm not going to go into too much detail here, as we've taken a closer look at the Black Mountain frame growing process in another post, and the process with the larger HÜTTO is exactly the same.
It's not just the frame shape which makes Black Mountain Bikes stand out from the crowd – it's the paint too. They are using very distinctive neon paints, which in real life really catch the eye with the colours being vibrant without being garish. We've seen the orange, green and light blue paint schemes ourselves and there's also a purple available. The bikes are almost impossible to photograph to show the richness of colour. Every time we take a shot the bikes look a slightly different shade – very challenging indeed!
There is also an important point to remember due to the neon in the paint. as eventually it will start to fade if exposed to extended periods of sunlight. As a reminder, Black Mountain put a small, removable sticker on each frame advising you not to store the bikes in UV light (i.e. sunlight), but it also pays to think about where you store the bike when not in use.
Packaging and customer service
Finally, I want to end this article by going right back to the beginning. When Ben arrived with the HÜTTO it was fully packed up ready for shipping. What really impressed me as we opened the large box and started to remove the packaging was the noticeable lack of any plastic. Black Mountain Bikes have shunned single-use plastic and it's encouraging to see how a bike can be well protected by the use of cleverly designed cardboard and paper elements.
All the little "bits and bobs" that you get with a new bike come placed inside labelled paper bags within a cardboard box, which gives an exciting birthday present feel to the proceedings.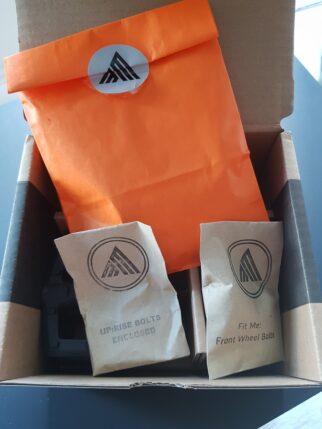 It's certainly a wake up call to the rest of the cycling industry to clean their act up. It's also worth pointing out that Black Mountain Bikes fully assemble all their bikes by hand at their HQ in the Welsh Black Mountains. Black Mountain is obviously aware that if they're going to woo people away from some of the more established kids bike brands they need to ensure that their end to end customer experience is second to none.
This shows in the little details such as the quality and clarity of the instruction manuals, the personalisation of the set up of the bikes and the ease of use of their website. This bike is certainly a premium product (at a premium price) and it's good to see that they've sorted out the entire customer experience.
Where to buy the Black Mountain HÜTTO
Black Mountain Bikes are only available directly from their website. There are three HÜTTO's to choose from:
HÜTTO (rigid fork and rim brakes) – £449
HÜTTO Disc (disc brakes, Black Jack tyres) – £549
HÜTTO Trail (disc brakes, Black Jack tyres and front suspension) – £649
Our first impressions review of the Black Mountain HÜTTO Trail – summary
The HÜTTO trail is an eye-catching 20″ wheel mountain bike with a well thought through specification and is aimed at kids aged between six and about eight and a half who are desperate to get out on the trails on a "proper" mountain bike. We've been really impressed with their smaller bikes, and from what we've seen have similar feelings about this larger offering.
UPDATE! Want to find out how our reviewer got on with the HUTTO?
Since publishing this article our reviewer has been able to put the HUTTO through it's paces.
Read now: Black Mountain HÜTTO review; from balance bike to pedalling with one bike!
You can read what the HUTTO is like to ride, and how the one bike took her from nervous balance biker to confident cyclist.
Other articles you may be interested in reading:
Disclosure: Black Mountain Bikes have loaned us the HÜTTO Trail for the duration of the review period. We have not been paid to write this article. However, we are an affiliate of Black Mountain Bikes, which means that if you make a purchase after clicking the links on this page, we may get a commission payment. This doesn't impact the price you pay and our intention is to be totally honest in our appraisal of all products, regardless of whether we get a commission payment or not.
Support Cycle Sprog!
If you've found this article useful you can buy us a virtual coffee (or two!) to say thanks and help us keep the Cycle Sprog website going.