Isn't it wonderful that summer is finally here?  It's certainly time to start getting all the family outside on their bikes, whether you're cycling to school, racing at the weekend or enjoying a cheeky midweek evening ride! Here's our monthly round up of some of the more exciting things going on in the world of family cycling.  This post has been kindly brought to you with the help of everyone who bought us a birthday coffee over on our Ko-Fi site – thank you so much!
Cycle Sprog is an family run, reader supported, website. We belong to several affiliate schemes so may receive a small commission from sales made from links on our site. We do our best to be impartial and recommend products on their quality not whether they are in a scheme.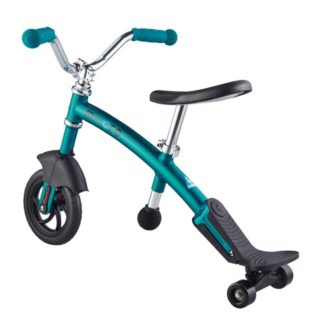 Micro are well known for making children's scooters and now they've branched out into balance bikes. Their new 2-in-1 balance bike features a unique design, with front suspension for added comfort plus the ability to add two mini rear wheels for additional stability (pictured above) for when your child is little, which you can then swap out for a regular wheel when they have gained confidence.  The RRP is £109 and is available from Amazon. 
New family cycling route opened in Buckinghamshire
The Waddesdon Greenway in Buckinghamshire links the village of Waddesdon to Aylesbury Vale Parkway station which is at the end of the Chiltern Railways line to London Marylebone.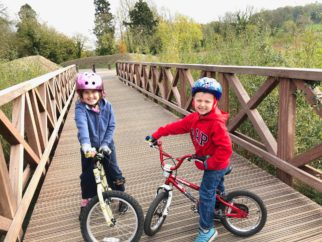 Set away from the A41 in the beautiful Chilterns countryside and following a route that coincides largely with the old roman road Akeman Street, the Greenway is a 4km long smooth, wide path that is already in regular use by local walkers and cyclists.
The path has several benches along the route to stop for a rest or a picnic and ends at Waddesdon Manor, a National Trust property and grounds with plenty to see and do for all the family.
Funded by the Cycle Rail Working Group and the Department for Transport, the Greenway is part of a scheme to connect rural communities to their nearest rail station. For further details, visit their Facebook Page
Scott has released two new kids e-bikes, the 24″ and 26″ wheel Roxter e-ride mountain bike.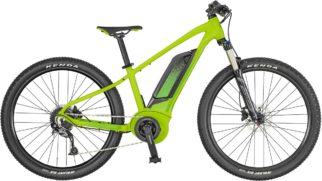 You'll need at least £2,000 to treat your Sprog to one of these bikes, and remember that in the UK you can't currently ride an e-bike on the road or at a trail centre until over 14 years of age. But if you cycle on private land and bridleways, or are heading to the continent for a summer of cycling, then these bikes will certainly make climbing hills a lot more fun.  The Scott Roxter E-Ride is available from Tredz 
SAVE £5 ON THIS BIKE AT TREDZ: Sign up for the Tredz Bikes newsletter (you can do this from the bottom on any bike page) and they'll immediately send you a code to get £5 off your first purchase
Little Ride jerseys for ages 2 to 5 years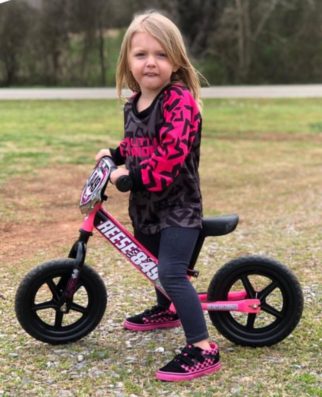 Little Rider Co are a new range of kids bike jerseys aimed at Cycle Sprogs and Sproglets aged between 2 and 5 years.  Suited for children riding balance bike through to BMX and Mini X, the range current includes 7 colours of kids jersey, plus they've got a few options for parents too!   For the full range, visit the Little Rider Co website. 
Croozer Trailers now 3-in-1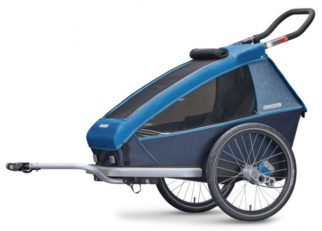 All 2019 Croozer Trailers are now being supplied with the jogging kit, meaning they convert from bike trailer to both a stroller and a jogger. Previously parents had to purchase the jogging conversion kit separately if they wanted to run with their child.   AlpineTrek currently have 10% off both the 2019 and 2018 models
UK Coaching Week – 3rd to 9th June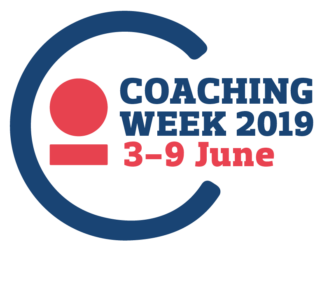 The first week in June is UK Coaching Week, a chance for all the cycle coaches out there to help spread the word about the great work they do and how important introducing children to regular exercise. For more information visit the UK Coaching website.
Shotgun Bike Seat now have UK distributor
Good news for mountain biking parents – the New Zealand based Shotgun Seats now have a UK distributor, which will make it easier for parents wanting to MTB with their Sprog.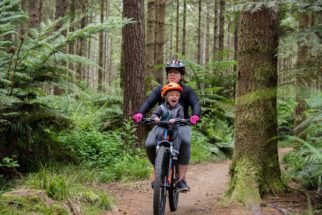 Having proven popular in Australia and New Zealand, the Shotgun Kids MTB Seat is now available in the UK through
VeloBrands
which means it should start appearing in more local bike shops over the coming months.
Designed in New Zealand, Shotgun is a front mounted child seat for kids 2 – 5 years of age, and is fully adjustable to fit virtually all mountain bikes.  The seat offers full rubber protection for alloy and carbon frames, and is quick release for easy fitting and removal. There's also a set of mini-handlebars for kids.
10% discount on kids bikes available to Cycle Sprog readers at Tredz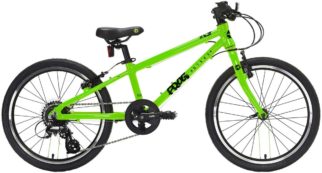 Tredz are kindly offering Cycle Sprog readers a 10% discount on the majority of their kids and junior bikes (excluding some larger MTB's and e-bikes).
SAVE £5 ON THIS BIKE AT TREDZ: Sign up for the Tredz Bikes newsletter (you can do this from the bottom on any bike page) and they'll immediately send you a code to get £5 off your first purchase
Tredz also offer free home delivery and interest-free finance, plus the code is valid even if the bike is currently reduced!
Bike Week – 8th to 16th June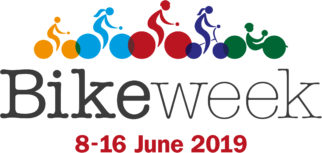 Charity spaces still available for Ride London
Sometimes it's good to have a goal that doesn't necessarily involve your Sprogs but can inspire them with what Mum or Dad can achieve.  If you're looking for an event to train for this summer then the Big Issue Foundation still have a charity space available for Ride London. They're also welcoming those already with a place onto their team.

Taking place on Sunday 4th August, you will follow a challenging 100 mile route modelled on the 2012 Olympic Road Race route, through the capital and into the beautiful countryside of Surrey.
With an individual fundraising target of £500, you'll be raising money for their vital work creating opportunities that will end poverty and exclusion for Big Issue vendors. Find out more and apply for a place on their website.
New kids books about cycling and bikes
There have been a few new books published this month, mainly around the rather unusual theme of the design and construction of bikes.  "How to design a bike" by Paul Mason is aimed at ages 9 – 11 years and encourages the reader to think in detail about all the important aspects of designing a product. Sounds great for cyclists and inventors alike!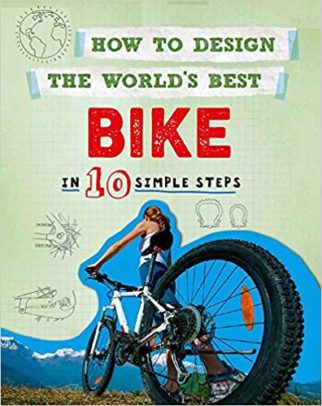 For younger children interested in the process of designing, building and selling bikes, there is a new Kindle e-book version available of a now out-of-print paperback by Anastasia Suen on the subject, called From Factory to Store.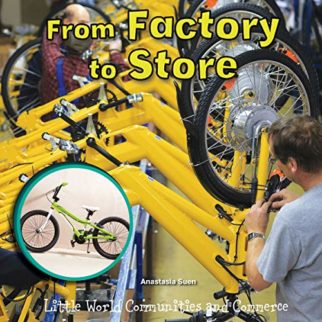 Also for younger readers (and riders) there's a new "learn to read" book by Norm Feuti  called "Do you like my bike?".  Hedgehog loves his new bike and he wants his friend Harry to ride it! But Harry does not want to ride it – does he not like the new bike??? You'll have to read it to find out!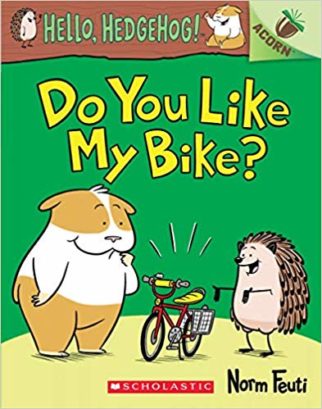 Making things safer for our children to cycle
There's been a mix of positive and gloomy news in the past month. Starting with the positive, the Welsh first minister has confirmed plans to make all residential roads in the country 20 mph.  It remains up to local authorities to enact this change, but it's a positive step in the right direction to allow more children to cycle and walk safely. Obviously, on busier roads it's essential that there are safe, segregated routes for cycling, to prevent cyclists and pedestrians being put at risk.
Two good examples of authorities who are doing this are Edinburgh and Brent (London).  Edinburgh is still in the consultation phase for ambitious infrastructure build, but is also implementing car free days as part of the Open Streets movement.  This is their vision for what Victoria Street could look like in a few years time. How much nicer would this be for riding with your Sprogs around the city centre, whether you live there or are visiting as a tourist?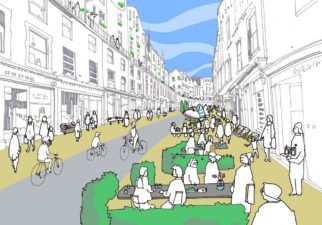 The London Borough of Brent is further along with their cycling infrastructure and have been awarded gold in the "Excellence in Cycling and Walking" category of the London Transport Awards 2019 for its work in promoting greener transport options in the borough.
The bad news is that things are getting worse and worse with air pollution, with new studies indicating that it can damage every cell in the body.  The calls for moving away from motor vehicles dominating our urban landscapes continue, but it does need a lot more parents to add their voice to these calls.
If you haven't yet emailed your MP about the need to ensure there's enough money to fund the detailed local plans for new cycling and walking infrastructure there's still time – click here!
You can also check some of the current cycling infrastructure consultations which are taking place here – if there's one local to you do take the time to respond. It doesn't usually take long, and it's usually only the anti-cycle lane brigade who choose to shout loudly!
On yer bike David! 
Earlier this month David Beckham was banned from driving for texting whilst at the wheel. Thankfully the judge ignored the former England men's football captain who argued that he needs his licence in order to pick up his children from school. It was good to see only a few days later the Beckham family out for a family bike ride and sharing the experience on Instagram Stories: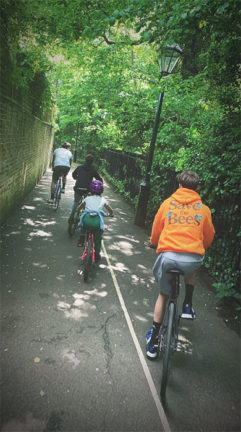 Islabikes recruiting
Leading kids bike manufacturer Islabikes are currently recruiting for a Team Member in their Customer Support Team based in Ludlow, Shropshire. Key benefits of the job include:
10 weeks paid sabbatical for every 5 years in addition to annual leave
Equal parental leave to encourage both parents to spend time with their new child, at above statutory rates of pay
Loan bikes and they pay you extra for every journey to work by bike
Full-time, part-time and flexible working inc. job shares, allowing you to work around other commitments such as childcare or the school run
Full application details and job descriptions are available on the Islabikes website careers page.
What you may have missed on Cycle Sprog this month:
Our big new post has been on Single Seat bike trailers.  If you're thinking of investing in one of these, find out all the details on what to look for and why some children's bicycle trailers cost over £900 and others under £100.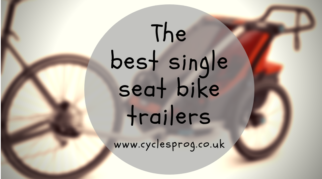 Obviously, we're always ahead of fashion here at Cycle Sprog, and the week after we published our guide, Danny MacAskill decided to launch a new video of him doing some rather impressive stunts whilst pulling one of the aforementioned single seat bike trailers. A great treat for Cycle Sprogs of all ages!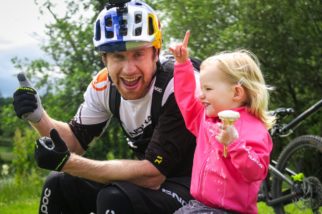 Our latest video review is on the Toddlebike 2 / Lena bike for ages 18 months and over. Check it out on over on our You Tube Channel (and please subscribe whilst you're over there!)
Our guest Sprog blog this month came from dad of two Carl, who kindly explained how he manages to fit in taking his Sprogs to 3 different cycling venues in one weekend, plus get in a wheel change and dinner in less than 20 minutes!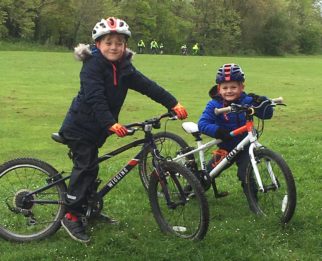 Finally, we've just had Cycle Sprog's 7th birthday – you can read our birthday blog here.  A MASSIVE thank you to everyone who bought us a birthday coffee to keep us going – this post is dedicated to you.  If you'd like to support us write the next post, then you can buy us a virtual coffee here.

Other posts you might find useful this time of year:
Affiliate Disclosure:  Some of the links on this page include affiliate links, which mean that if you make a purchase after clicking on them we may get a small commission. This doesn't impact what you pay, but helps us to keep the website going.