It's really important to keep your kids safe when cycling on a hot day.  In the UK we usually spend most of the year dreaming of long, hot, sunny summer days, and typically this comes while the kids are at school.  This year, things are obviously different, and for many families it's going to be  easier to get outside and cycle on the days when the sun is shining. So, here's 10 things you need to know to make your socially distanced family cycle ride in the sun safe and fun.
If you don't have time to read the article now, then just pin this image to read later……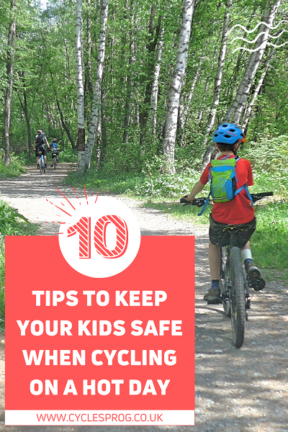 10 ways to keep your kids safe when cycling on a hot day
Cycle Sprog is an family run, reader supported, website. We belong to several affiliate schemes so may receive a small commission from sales made from links on our site. We do our best to be impartial and recommend products on their quality not whether they are in a scheme.
1) Water, water, water
Don't under estimate the amount of water you'll need to carry when cycling on a hot day. Carry as much as possible in water bottles on your bikes, and lots extra in extra bottles in your bags.
You can get small sized bottle cages and bottles that fit to junior bikes.   
Handy hint: Make sure your child's bike has the fitting points on the frame before buying a bottle cage! 
Do you have enough water to cope with unexpected situations such as your kids pouring a bottle over their heads to cool down, or wash their bike because it's "looking dusty"?  One way to stop this waste of water is to have a non-spill bottle for the kids, such as the CamelBak kids water bottle although note that this won't fit in a bottle cage so will need to carried in a rucksack, pannier or basket.
Another great solution is to get your child to carry their own water in a junior hydration pack – this allows them to sip regularly throughout the journey and is useful if their bike won't fit a bottle cage.  Camelbak makes some great kids sized hydration packs.  The Mini Mule comes with pockets for older kids, and the Skeeter is smaller and has just the hydration system for smaller children.
We've had a huge amount of use out of our camelbaks over the years, and like the way you can buy new mouthpieces if you have a child who chews things, or when you need to pass on to a younger sibling. A covid-19 friendly option is to get a different colour valve for each person in the family to make it easier to identify who is who's.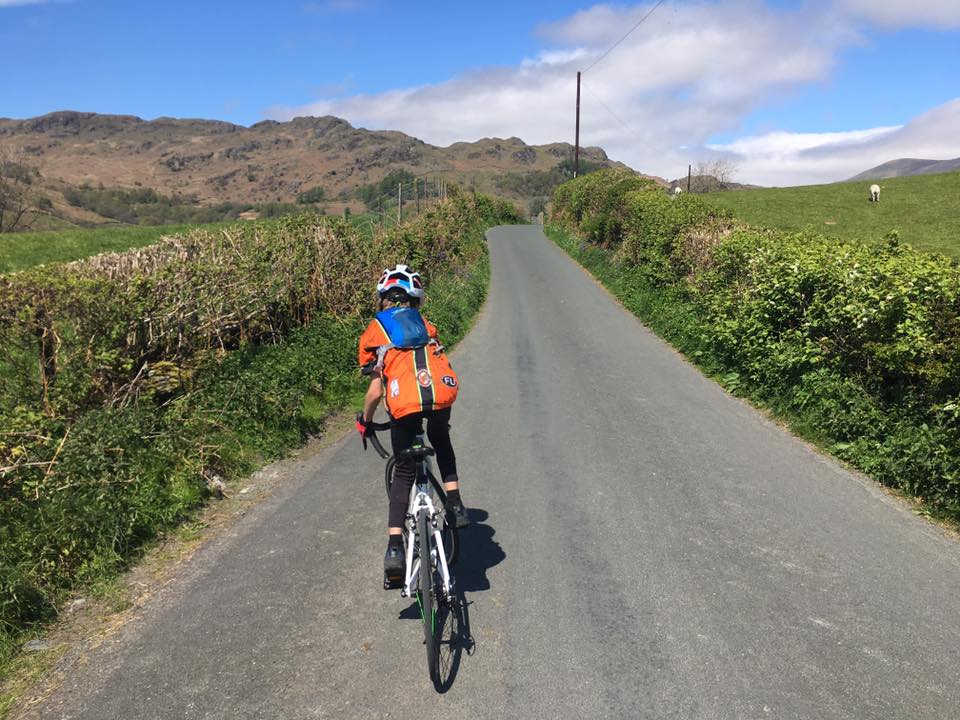 2) Take it easy when cycling on a hot day
Cycling in hot weather is exhausting, so plan your route carefully.  If you have any doubts about your kids ability to complete a route, then rethink your plans.
3) Seek out the shade
When you take a break from riding, try and keep your children cool.  Often kids will run off and play but try and get them to rest in a shady place before getting on their bikes again.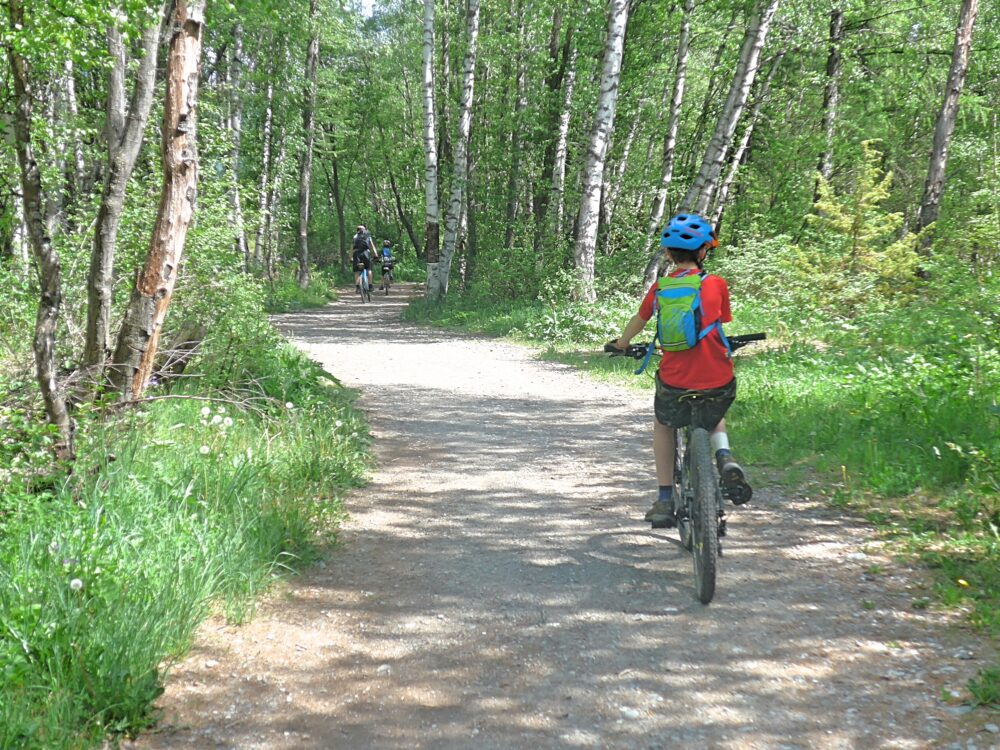 4) Protect your kids from the sun
Apply sunscreen regularly on all exposed parts, and cover up with thin, wicking layers. A kids cycling jersey is one good way to help regulate their temperature. Some T-shirts now come with insect repellent and UV protection too, so skin doesn't get burnt through the material.
Eyes are just as vulnerable to damage by the sun, as well as to flying bugs, so kids sunglasses are really important. For the under 2's, Baby Banz have a strap to keep them in place – very handy, or you'll find they threw them out of the trailer miles back!
5) Carry a sun hat for when helmets come off
For your kids and yourself (especially if you're going thin on top!)
6) Take extra care of little passengers
Babies and small children in cargo bikes, bike seats and cycle trailers are particularly vulnerable when you're cycling on a hot day – make sure their delicate skin is protected, and they remain hydrated.  If they're in an enclosed trailer make sure they're not overheating.  In cargo bikes and bike seats remember that they're just sitting there, so they may actually get cold, and need warmer clothing than everyone else.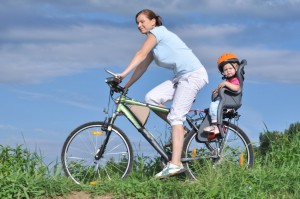 If you're cycling in the hot weather while pregnant, take it very easy – avoid overheating and dehydrating
7) Don't take chocolate
Flapjacks, bananas and malt loaf are child-friendly alternatives that will give them the energy needed to complete your family bike ride but won't melt. Alternatively, you can resort to the cyclist favourite – jelly sweets.
8) You should always have an ice cream stop
This is my 7 year old's number 1 rule for cycling on a hot sunny day!  Unfortunately, a lot of the normal places we'd stop are currently closed, but many newsagents and local convenience stores may have an ice cream fridge, and some cafes are doing takeaways.
9) Mad dogs and family cyclists go out in the midday sun
If you can, plan to take the kids cycling on a hot day either early in the morning, or later in the afternoon to avoid the main heat of the day
10)  Water, water water
Did I mention this? If you're going cycling on a hot day always carry more water and other drinks than you think you'll need. This is additionally important if you're not going to be able to refill en-route.
And if it all gets a bit too hot, you may need to find novel ways to cool down!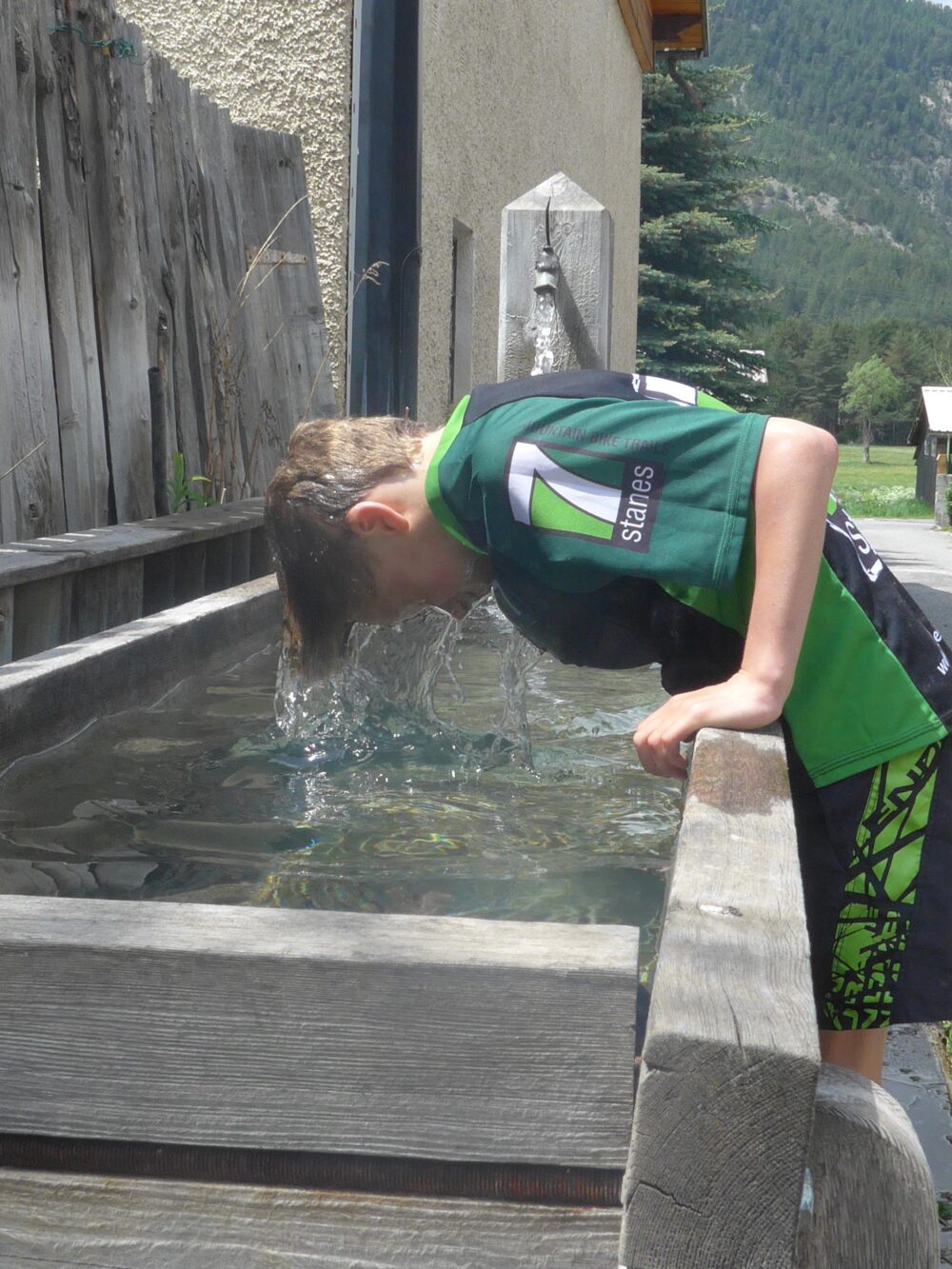 BONUS TIP #11!  – Keep heads cool while cycling
Thanks to Peter, who read this article and got in touch about keeping your child's head cool on a hot day without needing to dip it in a trough of water.
In hot weather the difference between a bike helmet with good ventilation and one without will be really noticeable.  If your child is wearing a full-face helmet then take particular care they're not overheating inside it.
If you're not doing the type of cycling that necessitates a helmet, and are comfortable for your child to ride without one, then Peter highly recommends bucket hats, having used them on summer touring.
"For those happy to have their sprogs ride without helmets a bucket hat keeps sun off ears much better than a cap, and also shades the neck a little too. Also cooler than a helmet: even with vents a couple of cm of polystyrene makes heads hotter!  Here we are, bucket hats in action on a summer tour!"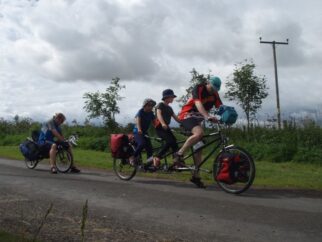 Have a wonderful time, and don't forget that if the forecast is for ridiculous temperatures, you can always reschedule your ride!
This article was first published on 6th July 2014, and was edited in August 2020, when it was sunny again!
Disclosure: This article contains affiliate links, which means that if you make a purchase after clicking we may get a small commission. This doesn't affect what you pay, but helps us keep the Cycle Sprog website running. Thanks for your support.
Support Cycle Sprog!
If you've found this article useful you can buy us a virtual coffee (or two!) to say thanks and help us keep the Cycle Sprog website going. 
Other posts you may like to read whilst you're here: