UPDATED – MY TALK HAS NOW BEEN CONFIRMED AT 11:00AM AT THE CASQUETTE LIVE STAND ON SUNDAY 31ST MARCH – SEE YOU THERE! MORE DETAILS AND HOW TO BUY TICKETS HERE.
What are you doing on Sunday 31st March??? If you're in or around London, why not come down to the London Bike Show at the ExCel and hear me talk about family cycling? I've been asked to take part in the Casquette Live Show, which is new "show-within-a-show" concept aimed primarily at women, but the line up is so stellar that it'll certainly appeal to everyone.
To be honest, I'm feeling rather awestruck myself…….
OK, lets me more precise – I'm absolutely ****ing myself!!
The line up on the Sunday is introduced by the words "If you love legends, you'll love our Casquette Live programme on Sunday 31st March…" and features Olympic champion Katie Archibald as the headliner with her session on "How to Ride Track Like an Olympic Champ".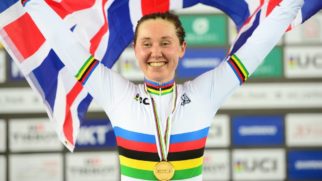 The "Pro-Panel" is Laura Scott (Trans Am, Transatlantic Way), Jasmijn Muller (24-hour world champ, Zwift record, LEJOG challenger); Shu Pillinger (the first British woman to complete RAAM) and Peta McSharry (Trans Con, Trans Am, Route 66, Silk Road Mountain Race) talking about "The Guts, Gore and Glory of Long-Distance Cycling".
The list goes on, lots of inspirational female cyclists. Then there's little old me, with a session called "Masterclass: Family Cycling 101" with the promise of explaining how you can use a sack of potatoes to get your family on two wheels!!!!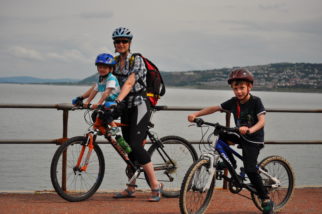 However, we can all bring a different perspective to cycling, and I'm guessing that not everyone aspires to being an Olympic champion or a long distance legend. So, if you're interested to hear how I've made the journey from Lone Ranger to Pied Piper and some the tricks I've learnt along the way (including the importance of potatoes!) then do please come along.
My time slot is now confirmed as being at 11am and I'll be around afterwards for anyone who wants to have a chat.
Mother's Day Treat
My session is on Mother's Day, so as well as coming along to my talk, there's obviously loads of other motivational speakers to hear, and great bikes to look at. Plus, I've been promised that there's going to be a Gin Bar in the Casquette Live area – which is quite possibly where you'll find me hanging out!!! For Cycle Sprogs there's the Hope Academy Test Track to have a go on too.
Tickets are available for sale here. You can buy in advance or on the day. If you book your tickets in advance using the code CASQUETTE, it's £16 for one adult, or £22 for two. Children aged under 15 are free. If you book the Casquette package you also get a free motivational manual.
If you have any specific topics you'd like me to cover, or any questions you want me to answer, then do drop a comment below and I'll try and weave them into my session.
Look forward to seeing you there!
Karen
Other posts you may find useful if you're trying to decide whether to come along: