What do you do when you're a Cycle Sprog who is desperate to be out on your bike but has to come inside occasionally and read a book (or go to bed, or learn your A to Z)???  Get a book about cycling of course! And we're very excited that this book is now available to buy!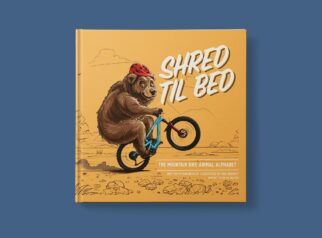 Cycle Sprog is an family run, reader supported, website. We belong to several affiliate schemes so may receive a small commission from sales made from links on our site. We do our best to be impartial and recommend products on their quality not whether they are in a scheme.
We're really excited that the good folk at Shotgun understand this, and have brought out a limited edition picture book aimed at young Cycle Sprogs everywhere.  Shred Til Bed – The MTB Animal Alphabet is a brilliantly illustrated, hardback animal alphabet book for your mountain biking kids filled with 52 pages of MTB stoke!
Young riders will love the illustrated A-Z animals in the book, whilst older kids (and kids at heart) will enjoy seeing their favourite MTB features in hard-cover print.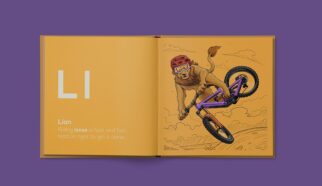 Each double page spread features an animal doing something related to the letter of their name – so you can see the Lion riding loose, and the Giraffe explaining what Gnarly means.  What better way to learn your ABC and your mountain biking terminology at the same time?
Just be prepared for your Cycle Sprog to be desperate to get outside as soon as possible to test out all their new found MTB knowledge!
How to order your copy of Shred Til Bed – The MTB Animal A to Z Alphabet book
Shotgun are doing a one-time limited print run.  The book is available exclusively from their website.
The book is available to audiences worldwide, with local distributors in various countries.
For our readers in the UK, all items are shipped from Shotguns UK warehouse – you get free shipping on all orders above £99 otherwise shipping is £5 per order.  For other regions, please check their website for full details.
CLICK HERE TO ORDER YOUR COPY NOW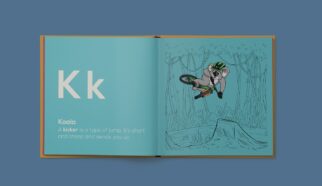 Who are Shotgun?
If you've not heard about Shotgun yet – they're responsible for getting loads of families mountain biking together from a really early age with their Shotgun front bike seat.
You can read more about the Shotgun front bike seat here, and check out of our review of the Shotgun seat here to discover how our 3 year old tester got on riding the trails with her dad.
Don't forget, the A to Z Animal Alphabet book is a limited print run, so place your order soon!!
Other articles you may want to read whilst you're here: