Well, here we are right in the middle of summer! It seems the weather can't make up its mind – one minute record breaking sunshine and another flooding (and even snow storms disrupted the Tour de France). Obviously it's easy to be frivolous about this, but it's likely that this is a symptom of climatic disruption, and a good reminder about why cycling is likely to be a major transport choice of the future.
Just because it's a bit wet, remember that kids don't melt in the rain, and there's plenty of opportunities to get outside and enjoy the lighter evenings and warmer days this time of year.
Here's a roundup of some of the family cycling news this month.
Cycle Sprog is an family run, reader supported, website. We belong to several affiliate schemes so may receive a small commission from sales made from links on our site. We do our best to be impartial and recommend products on their quality not whether they are in a scheme.
Whyte launch 24″ wheel kids mountain bike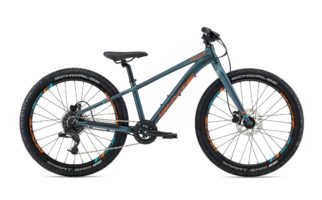 Over the past few years Whyte Bikes have been stealthily establishing themselves as a very popular kids mountain bike manufacturer. Long renowned for their adult bikes they've been releasing models slowly but surely (usually in line with the needs of their staff members kids!) Their 26″ wheel bikes (the 403 and 405) are now common sights at trail centres up and down the country, and the 403 surprised them as being their best selling bike of 2017. This was followed up in 2018 with a 20″ wheel bike (the Whyte 203). This left a big 24″ wheel gap in their range and it's not surprising that they've now released the Whyte 303. It's a 24″ wheel mountain bike that uses the same design philosophy as the 400 series, aiming to give stability and confidence on the trail.
Interestingly, they've chosen to go with rigid forks rather than suspension, which will help keep the weight down and mean that Cycle Sprogs will need to hone their skills on the trail (rather than letting the suspension do the work for them!) The Whyte 303 is designed for children 120 – 140 cm in height, weighs in at 10.3kg and costs £499.
Buy now: Whyte 303 at Leisure Lakes Bikes
Youngest Tour de France winner since 1909
View this post on Instagram
Egan Bernal has just become the youngest Tour de France winner in the modern era – only François Faber (1909) and Henri Corbet (1904) were younger. At just 22 years and 196 days Egan is a great inspiration to Cycle Sprogs all around the world – especially when he also gave his victory speech in 4 languages proving you can combine cycling and studying with great results.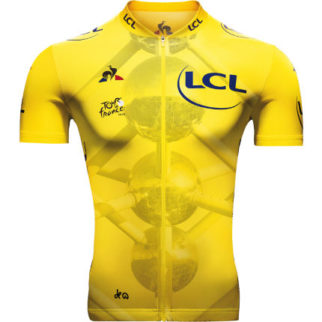 Many Cycle Sprogs like to dress up like their idols and you can buy a kids sized yellow jersey here
Girls can ride the Tour too
Also a huge inspiration are the women who also rode the entire Tour (a day before the men) – hopefully paving the way for when Cycle Sprogs like 11 year old Ruby Isaac to one day be able to compete in their own race.
Early glimpse of the 2020 Mondraker kids bikes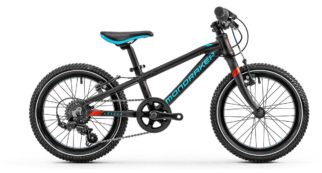 Those of you who like to keep up to date with the latest specs and colour schemes of kids bikes will be interested to see that Mondraker have now got their new 2020 kids bikes listed. There's slight changes to the specifications, including pedals and chains, but the most noticeable changes are the colour schemes – for example the new 16″ wheel Leader was a bright sky blue – now the colour has been relegated to the saddle and decals. The 2020 models are now available from Tredz.
SAVE £5 ON THIS BIKE AT TREDZ: Sign up for the Tredz Bikes newsletter (you can do this from the bottom on any bike page) and they'll immediately send you a code to get £5 off your first purchase
New Family Cycling Ireland Facebook Group launched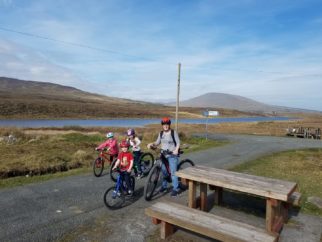 A new Facebook Group has been set up for people wanting to discuss family cycling in Ireland. It was set up by Paul McClintock because he, his wife and three children are out cycling all the time on greenways, mtb trails, pump tracks & BMX tracks. He created the group to share experiences & places to go with kids on bikes in Ireland both North & South.
New Islabikes Luath fitted with disc brakes
Islabikes have issued a sneak preview of the next generation of Luath road / cyclocross bikes. The new model Luaths will be fitted with carbon forks and disc brakes. Full details of the specification are still to be released, but expect the usual attention to detail that Islabikes are renowned for. The new Luath will be available in 4 sizes – 24″, 26″, 700c small and 700c large. The two smaller bikes will cost £700 and the two larger bikes £800. When it's released later in the year the Luath will be available direct from Islabikes, who incidentally have just moved into a lovely new space in Ludlow, where you can test ride their bikes.
LikeABike Jumper 14 released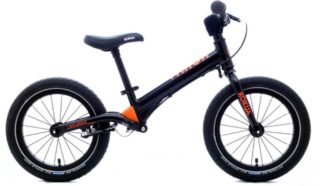 LikeABike have just released their latest balance bike – the Jumper 14. Designed for taller chidlren, it comes with 14″ wheels (most balance bikes have 12″) and also has a rear wheel brake.
The Jumper 14 costs £199.95 and is available from the LikeABike website
Tucano Urbano launch new bike seat protection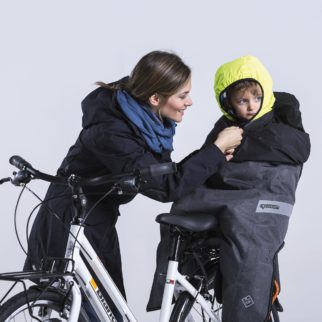 Tucano Urbano are an Italian brand typically known for their innovative solutions for Scooterists and Motorcyclists. They've just launched a new cycling collection, #TUBike which includes the Opossum, a multifunctional children's seat cover, which was designed and created by a mum that worked for the company, who wanted to cycle to/from school whilst keeping her child warm and dry. The Opossum range is available for rear and front mounted child seats, as well as a 'summer' alternative that provides compact, waterproof protection without the thermal element. Prices start at £35 direct from their website.
New kids books about cycling and bikes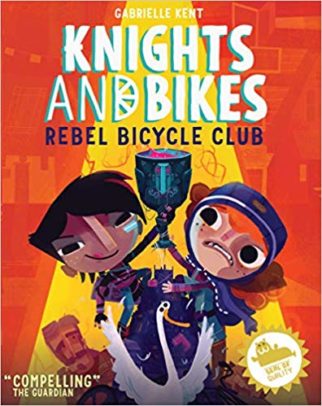 The long awaited second installment in Gabrielle Kent's "Knights and Bikes" series is here at last – The Rebel Bicycle Club.
Adventure awaits Demelza and her best friend in the whole world, Nessa, as they embark on a whole new adventure, solving mysteries, fending off bullies and celebrating the greatest friendship of all time. When an unexpected guest arrives in Penfurzy, Nessa and Demelza go out of their way to help them, entering a world of ancient myth and legend. Facing ghosts and monsters, and Conan the bully who just keeps getting in the way at the worst possible moment.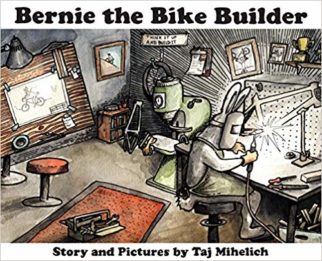 Bernie is an industrious rabbit with extraordinary bike-building skills who hand-crafts custom bicycles for some of the fastest bike racers in the world.
But every time he ships another one-of-a-kind creation to a racer in a far-off corner of the globe, Bernie feels a pang of regret: He never gets to see the impact of his bikes because his hometown friends (T-Rex, Beaver, Bat, Hamster, and Shark) aren't built to ride them.
Then one day, his short-legged buddy, Monty the Corgi, gives him an idea that rocks his world: If he made special bikes for his friends, he might finally see how much joy his creations provide. With newfound inspiration, Bernie builds his most ingenious bicycles yet—and opens up a world of possibility for himself and his friends.
Through captivating illustrations and an empowering message, BERNIE THE BIKE BUILDER tells a story about ingenuity, creativity, and inclusivity—and is sure to delight readers of all ages.
TAJ MIHELICH is a freestyle BMX World Champion and is widely considered one of the most influential BMX riders of his generation. He is the founder of Fairdale Bikes and lives in Houghton, Michigan. His writing and illustrations have appeared in such publications as Dig BMX, ESPN, Bicycling, Outside, and PinkBike. BERNIE THE BIKE BUILDER is his first book and is aimed at primary school children.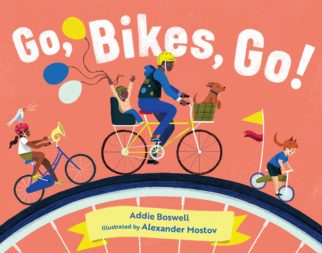 Inspired by the strong biking culture and community in the Pacific Northwest, Go Bikes Go by Addie Boswell is a board book features different types of bikes and the diverse people, young and old, who enjoy them. It features bikes children will recognize and some they can imagine, like bikes that wear shoes and bikes that fly.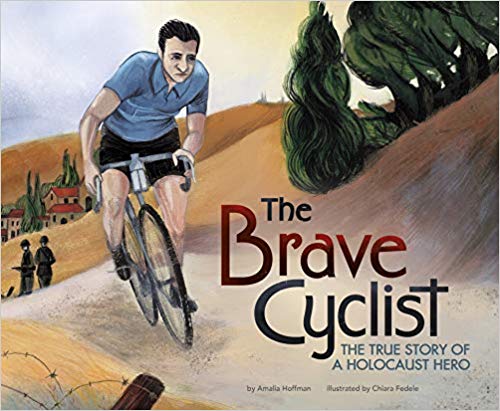 Once a skinny and weak child, Gino Bartali rose to become a Tour de France champion and one of cycling's greatest stars. But all that seemed unimportant when his country came under the grip of a brutal dictator and entered World War II on the side of Nazi Germany. Bartali might have appeared a mere bystander to the harassment and hatred directed toward Italy's Jewish people, but secretly he accepted a role in a dangerous plan to help them. Putting his own life at risk, Bartali used his speed and endurance on a bike to deliver documents Jewish people needed to escape harm. The Brave Cyclist: The True Story of a Holocaust Hero by Amalia Hoffman reveals how one person could make a difference against violence and prejudice during the time of the Holocaust.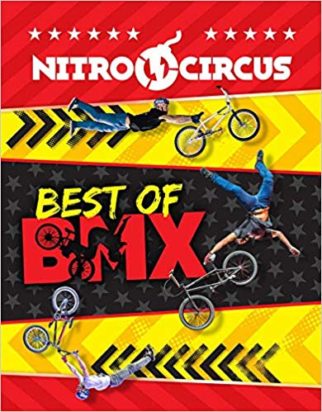 Nitro Circus is the world's biggest producer of action sports entertainment, consistently pushing boundaries, showcasing the greatest action sports athletes and the best, most dare-devil sporting tricks. Best of BMX is one of the first books in a new series that will take you inside their world.
Want to know how to do all those amazing flips and tricks? What kind of gear you should use? Or what it's like to be a BMX pro? Then this is definitely the book for you. From techniques and tips to records and events, Best of BMX is the insider's guide to this fast-paced and thrilling sport.
Have a great summer of cycling with your Sprogs! Don't forget that if you're wondering how to keep them entertained, they can always write us a Sprog Blog which we will publish on our website.
Other posts you should check out whilst you're here: