Over the past few years we've been really lucky and travelled to a number of overseas destinations to go cycling with the boys. One thing I've found is that trying to find suitable bike hire for the boys, and a route suitable for them to ride, has been time consuming. I've contacted numerous places to find out whether they do kids bikes, and it's been a long winded process. Trying to find safe routes to cycle has been even more frustrating.
I was therefore intrigued when I heard about Viator, a tour booking website owned by Trip Advisor that promises to take the hassle out of arranging the activities on your holiday. I tend to be a cynic about these claims, so decided to put it to a quick test.
How quickly could I find family friendly cycle tours in the places we've visited, or places I'd like to go to? Then I found out they were offering a £50 prize for the best blog post written about the site this month, so I thought I'd better write up my findings for a wider audience – you never know…… (Updated several weeks later – I won!!!)
Family Cycling Tours in Vancouver
We've been very fortunate to visit Vancouver twice – it really is a fabulous city to cycle in. Hiring a bike is very easy. There are numerous rental locations close to Stanley Park – a location that provides family friendly, traffic free cycling. It took me seconds to navigate the Viator website using my laptop.
Selecting Vancouver gave me several hundred options, but it's possible to quickly filter to Walking and Cycling Tours, which gave me a much more manageable 26 options. The criterion for my first selection was to find a tour that had an image with children in it. I chose The Vancouver Highlights Bike Tour (from £59.29 per person).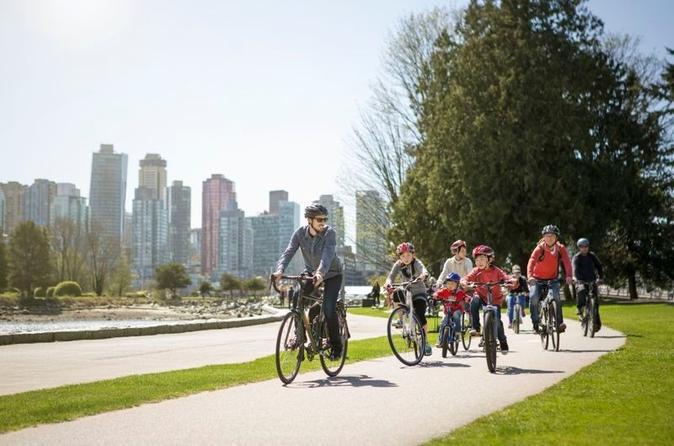 The picture, and the fact that the clearly displayed booking information said 'four plus', suggested this was a good choice. The wording put me at ease that it would be suitable for children, although it made it clear they would have to be able to cycle for 4 hours. There were not many available rides (not surprising given it's November!), but I managed to find one available for the following week.


Gulp!! Not cheap. I did a double check and you can hire two kids bikes and two adult bikes from English Bay Bike Rentals for £82, but you can't book in advance, and you don't get a tour. I could get a tour from them for four adults for £156, but it said for family tours you would have to contact them directly. So perhaps the Viator price is a realistic reflection as Vancouver is a very expensive place to visit after all.
The availability calendar in Viator worked well, and I could easily see which days had the tours running, however, I became a little suspect when it said I could book a cycling tour on Christmas Day! When I came to book, I was asked for the heights of all members of the party, which gave me confidence that we would have suitable bikes provided. I obviously didn't progress to payment so can't comment on this bit of the process.
I then tried to book a different tour around Stanley Park, which would have been cheaper than the city tour, but despite showing availability when I came to press book it said there was no longer availability. I'm giving Viator 3/5 for this search, as it found me family friendly tours very quickly, but the price and technical glitches left me having to search around on the web, where it is easy to find bike hire and tours anyway.
Family Cycling Tour in Copenhagen
Copenhagen is one of the best places to cycle in Europe, but it's a fast and furious type of cycling. The guide book I had recommended that only experienced urban cyclists venture out onto a bike. I've been several times with work (no kids), and agree that during rush hour it can be terrifying – but out of peak times the infrastructure is fabulous and you can cycle everywhere on well designed bike lanes. It took me less than a minute to find a family friendly bike tour in Copenhagen.
The first couple I clicked on said Adults only, but the third I clicked on, the Unknown Copenhagen by Bike Tour sounded perfect. It avoids all the main tourist attractions (which you can probably get to yourself) and goes off the beaten track. It says it's suitable for ages 8 and over, which suits my family now, and mentions in the accompanying text that children must be accompanied by an adult.
The next tours aren't available until April 2018, but I'm definitely putting Copenhagen on the list for one of the next Cycle Sprog trips! 5/5 for Viator for finding this one.
Family Cycling Tour in Paris
When we went to Paris I chickened out and we didn't cycle with the kids due to the traffic levels. I did regret it, and wonder if I was being too much of a cheapskate for not booking onto an organised cycling tour. Viator found me a great sounding "Hidden Paris Day Bike Tour" straight away, that had three age categories (0-3 years), Youth (Age 4-17) and Adult (18 and over). The total price for our family would be £117.40, which I seem to recall being comparable with prices when I was looking previously.
However, the wording said "Tours follow carefully planned routes, which primarily stay on bike paths, riversides and small one-way streets. " The word "primarily" worries me, and I would have to make contact to ensure that this tour is safe for my children.
Viator only gives you the details of the tour operator after you've booked, and only offers a full refund if you cancel before 7 days, so this would be OK if I was booking in advance, but not so good if I was leaving it to the last minute. 3/5 for Viator for pointing me quickly in the right direction of a tour company who offer tours for children. It would be 0/5 if I was looking for a tour today.
Family Cycling Tour in Portland, Oregon
Oh Portland – one of the best cities I've ever been to. Bike, beer, books, coffee, food. I'd return in a flash. The cycling infrastructure is incredible, and we cycled all day long.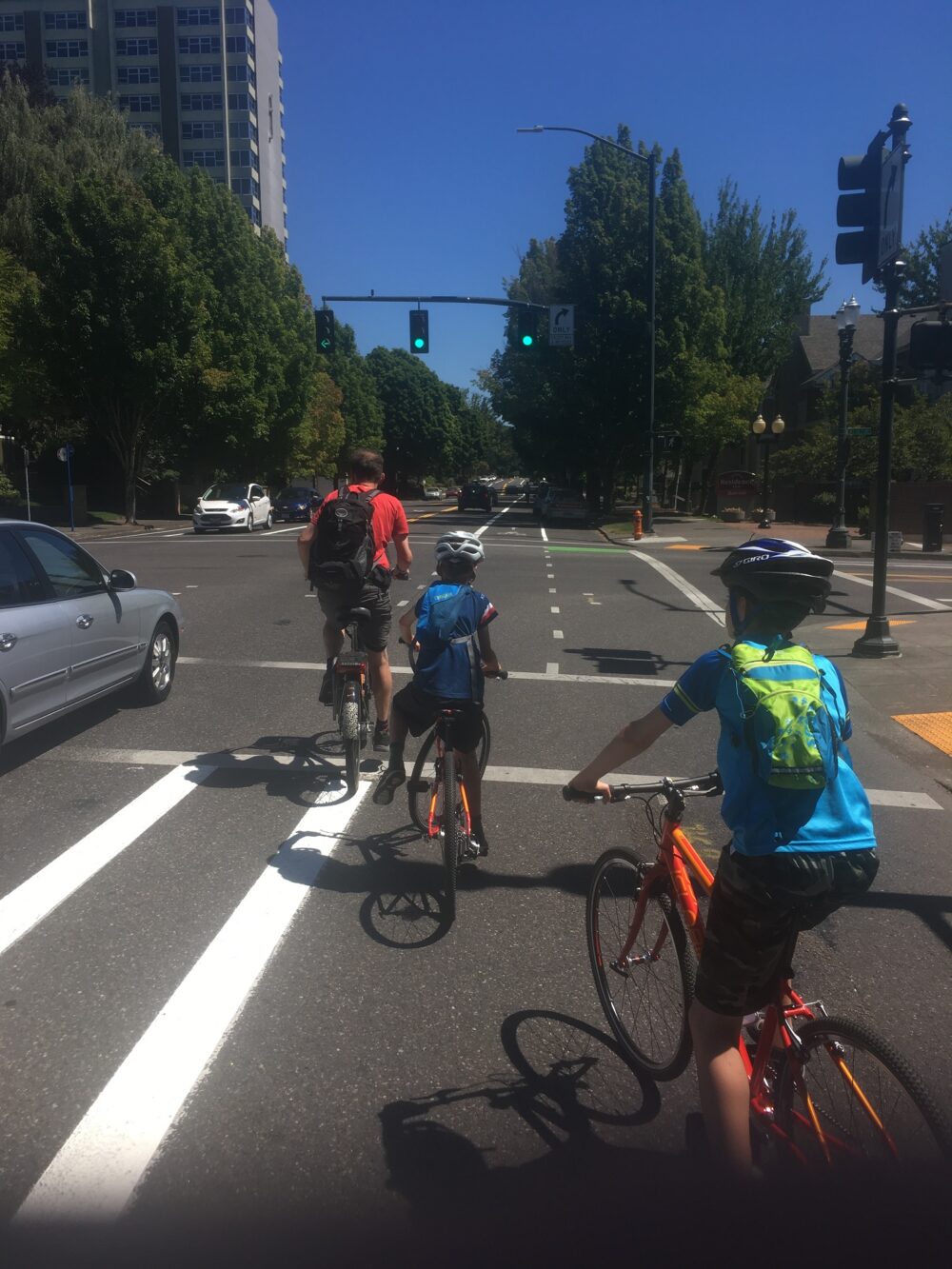 Viator got me confused here. The Downtown Brewery Bike Tour (from £53.30) says it is open to ages 0 and over (with adults being classed as 12 plus). The Essential Portland Bike Tour (from £30.31) said it was open to Adults only on the booking form, but the details said ages 10 plus. I couldn't find any tours suitable for younger children. I'm giving Viator 1/5 for this, as I should have been able to book something very quickly. Google returned me PDX Bike Rentals in seconds, where I can rent kids bikes, tagalongs and trailers, and organise a bike tour if I want it.
Family cycling tours in Seattle
When we went to Seattle we didn't cycle. The car seems to rule here, and yes I know it's a city renowned for having a great cycling culture, but I'm just not sure how great it is for family cycling. The photo shows multi-story roads running alongside the waterfront ….. enough said!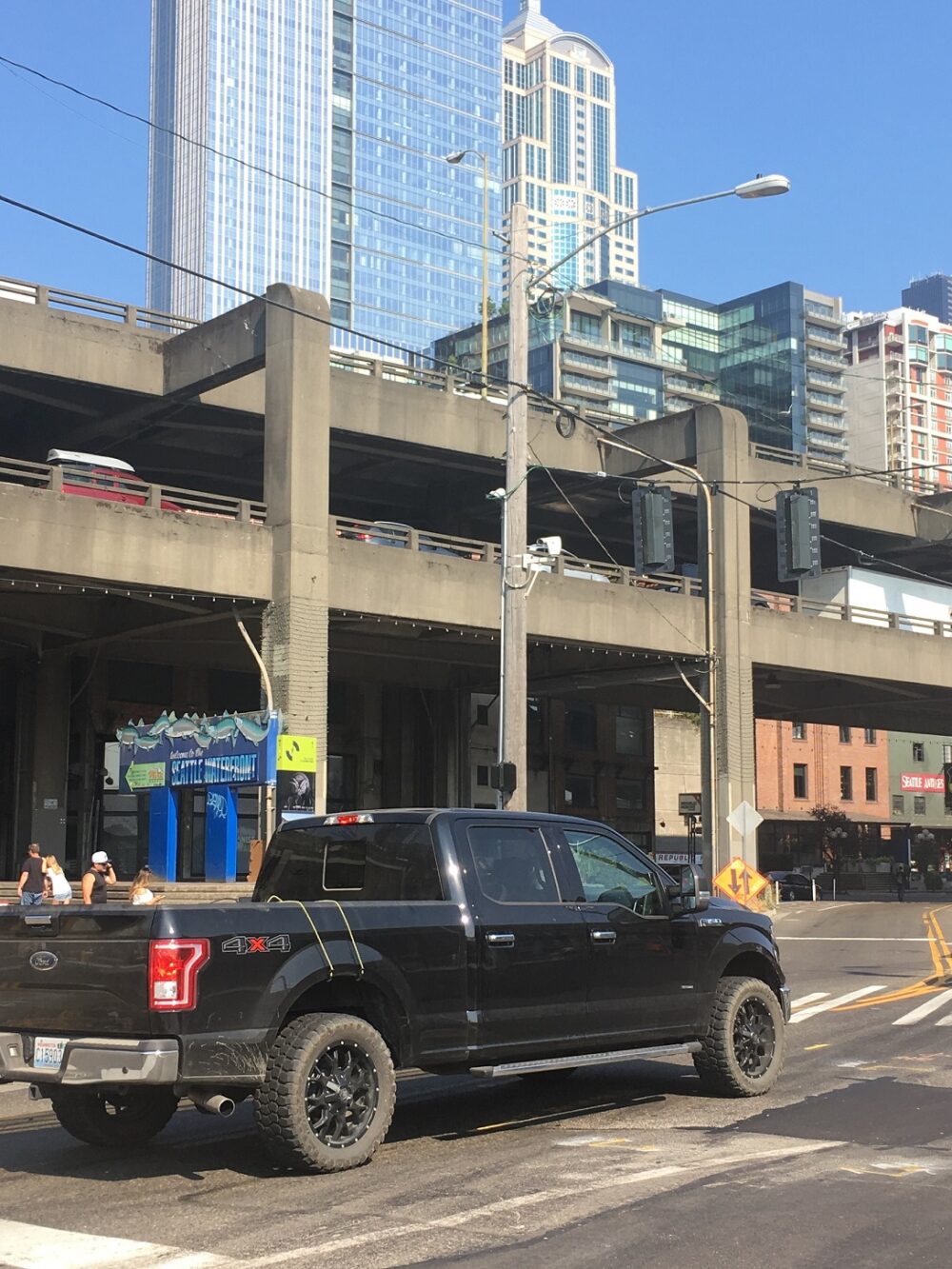 Viator has no cycling tours, for any ages, for a very good reason. 5/5 for Viator for saving me wasting time trying to find a tour in a place I'd be too scared to cycle with my kids when we arrived.
Family cycling tours in Rome
I've never been to Rome, but I'd like to go one day. I have an image of a car infested city, although I'm not sure if this is correct. A quick look on Viator, and I find a Discover Rome 3 hour bike tour, suitable for all ages (from £23.31 pp). Now, this tour tells me the following details: "Free bike seat for infants 0-4 years, infant seats and tag-along are available on request if advised at time of booking." It lets me book for next weekend, for £162 for the four of us – tempting, but the family are visiting, and I'm still skint from the Cycle Sprog road trip this summer! Definitely 5/5 for Viator on this one – I'd have no hesitation in booking my family onto this tour.
Overall impression of Viator
I used Viator on my mobile and on my laptop. The mobile version was a pain, especially if you're searching for a US city – there are hundreds and you have to scroll through them all – not good when you're looking for Seattle! The web version was very easy to navigate, and I found what I was looking for very quickly. The booking system is simple, although the cancellation policies and the lack of ability to contact the provider beforehand means I wouldn't have used this for the majority of my trips, as I was booking within 7 days of the trip. This isn't a reflection of Viator, but of the operators who don't provide enough information about cycling with children.
Where the info is given, then I'd definitely consider using this to book tours, as it's very quick and easy to use. The user rating (similar to Trip Advisor) means you can see what others thought before, and you could use the reviews to see who else has been on the tour with their children. Viator also have a low price guarantee, should you find the same tour anywhere else online cheaper, which, once I found out, gave me peace of mind about the prices. Of course, there are huge number of other things included in Viator, from sightseeing tours to classes, workshops and outdoor activities.
There is kid friendly section for each location, which is useful. It's also good for seeing what's available in your local area (Viator lists England, Wales and Scotland as separate countries, and has Northern Ireland under Ireland). It's absolutely fascinating seeing what activities are available – Gavin and Stacey TV Locations Tour of Barry Island anyone??? Viator is only ever going to be as good as the suppliers it works with, but I'll definitely be using it to get ideas for my next holiday – just trying to decide whether we should go to Rome or Copenhagen!
Other posts you may find interesting:
Disclosure: Some of the links on this page contain Affiliate links, which means Cycle Sprog may get a small commission if you book through them.