We are on holiday – yippee!!! We are staying in West Cornwall and so far have been unbelievably lucky with the weather, especially considering the gales and flooding of last week. It's definitely summer now!
Our school has two weeks for the Whit half term so we are able to get away whilst most people have had to head back to school, meaning we have the beaches more or less to ourselves. Like any young boys, our two sons adore being on the beach and will happily spend all day trying to dam any free flowing watercourse they come across.
So as you can imagine, it was quite a step for us to decide to forgo a day on the beach and decide to hire bikes for the family instead. How would the boys react? The thought of a day full of whining about not being on the beach did not appeal.
Thankfully, from the moment we pulled up at Elm Farm the boys were enthralled. Our three year old, T, was given a helmet designed to look like a fireman's helmet, and our 6 year old, N, was overjoyed to get a cool red mountain bike to ride. Chris's bike had a rear Co-Pilot seat for the little one, so after toilet stops, snacks, packing and repacking of the bag, we were finally off.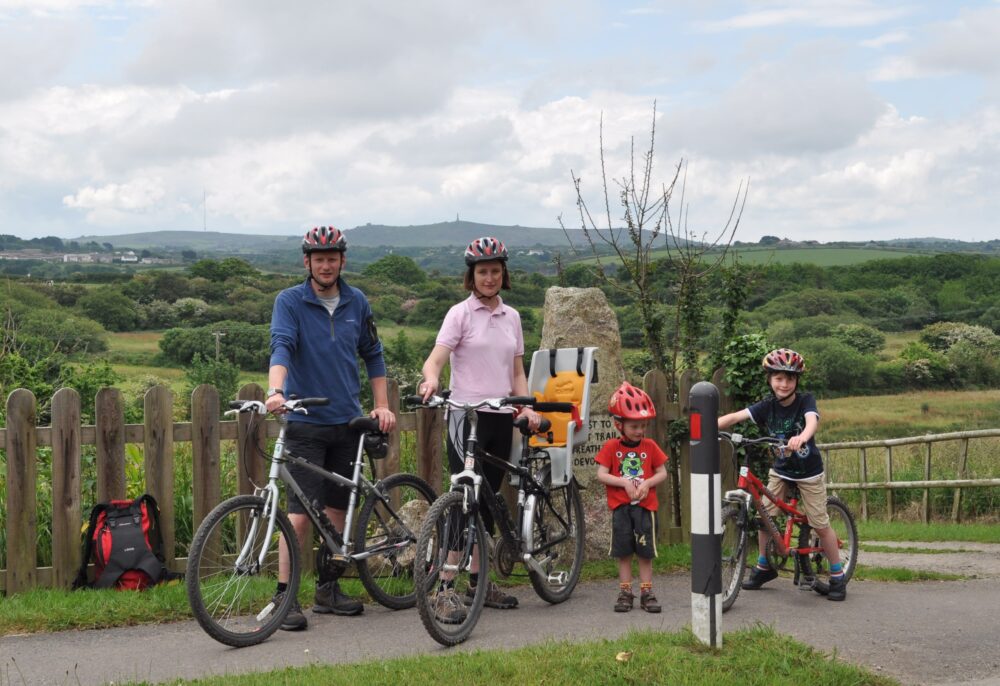 It was strange to be riding a different bike, and the hire bike was much more upright than I'm used to, but I must admit I really enjoyed the more relaxed riding this offered. On the red mountain bike, N was weaving all over the place. It looked as if he'd only just learnt to pedal, and both Chris and I were wondering whether this was a good idea.
Thankfully, it took about 5 minutes for him to settle in and get used to the new gears, brakes and riding position.
The route we were on mainly follows the old mining trails from the north Cornish coast at Portreath to the south coast at Devoran, a total distance of about 11 miles – an easy way to do a coast to coast with the kids in tow!
The first part of the route is on flat track between gorgeous hedgerows full of foxgloves and Rose Bay Willow Herb, with a couple of intersections crossing narrow country lanes with no sign of traffic. With the sun shining and the birds singing we could have been transported back 100 years and not have noticed!
We were brought back to reality when the track ended at the Rhodda's Clotted Cream factory and we had to cycle on a shared footpath to cross above the A30. The sudden roar of the traffic reminded us that it's difficult to go far without encountering some on-road riding when cycling with your family, but in this case we were really impressed with the way the route dealt with this.
There are two main roads to cross, with a short ride along a low trafficked road inbetween. However, the route markings are clear and we felt safe with the 6 year old under close supervision.
The latter parts of the ride were more popular with our budding off-roader, with a stretch of track through woodland providing enough mud and speed to be officially labeled "awesome". The loose gravel surface through the moorlands, passing by the old mines at Scorrier and St Day, was undulating enough to allow him to pick up pace and practice some skids.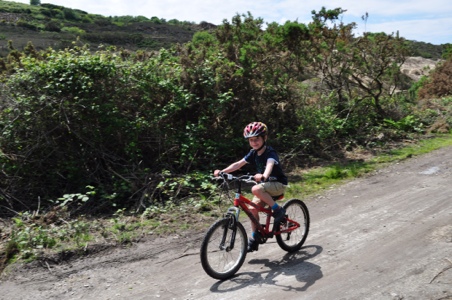 When we arrived at Bike Chain Biscoe the kids were in need of refuelling, and we were mindful of the return journey, so Chris continued on to the end of the route at Devoran (and on to Point Quay) while we ate ice cream. In the cafe is a huge collection of racing jerseys and other cycling memorabilia, plus a tank of terrapins to keep both the kids and adults entertained for ages.
All of this is courtesy of Ricci Pascoe who is a massive influence on cycling in the area. We were fortunate that Ricci arrived just as we'd finished our ice creams, and he was able to explain all about the cycling academies he runs to encourage kids from as young as four years to ride. He also coaches the more serious riders through to County and ultimately National level.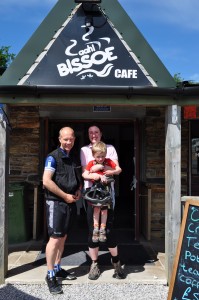 With Chris back from the breath taking views at Devoran and beyond, we were so engrossed talking to Ricci we almost lost track of time. We needed to get our bikes back by 5pm so said our goodbyes and made a swift exit.
Realisation then dawned that the outward journey had been mainly downhill, so going back was going to be harder work. It was decided that N needed one to one encouragement to get up the hills, so Chris and I swapped bikes and I rode ahead with T in the rear seat. It was good to get some faster cycling done, but I did miss sharing it with the entire family.
We all made it back safely, and this was when I really appreciated hiring. We parked up our bikes, N's being particularly muddy, and Fergus who we hired from wheeled them away for a hose down and a check over.
No struggling to get them loaded onto the roof of the car, no muddy and greasy bikes to deal with once we got home. Bliss!
Plus the most telling thing was, we didn't get asked to go the beach once during the entire ride – phew!
Sprog Blog
"There is a track that goes past an old broken mine. It's a long way to cycle but there are breaks in between and you go through a forest and that's where you get really muddy!" N aged 6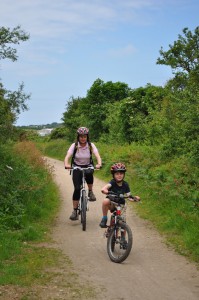 Other posts you'll enjoy: