This autumn half term we were lucky enough to visit Cornwall for a couple of days. The weather forecast was lovely for the time of year, so we decided to take the bikes and get out and enjoy some family cycling, Cornish style. A quick google search for "Mountain Biking with kids in Cornwall" brought up The Track Family Bike Park near Redruth in West Cornwall. Once I'd seen some photos of the bumps, jumps, berms and table tops – all in an enclosed traffic-free environment – I knew The Track was going to be a great place to take the boys (N aged 10 and T aged 8) for the day.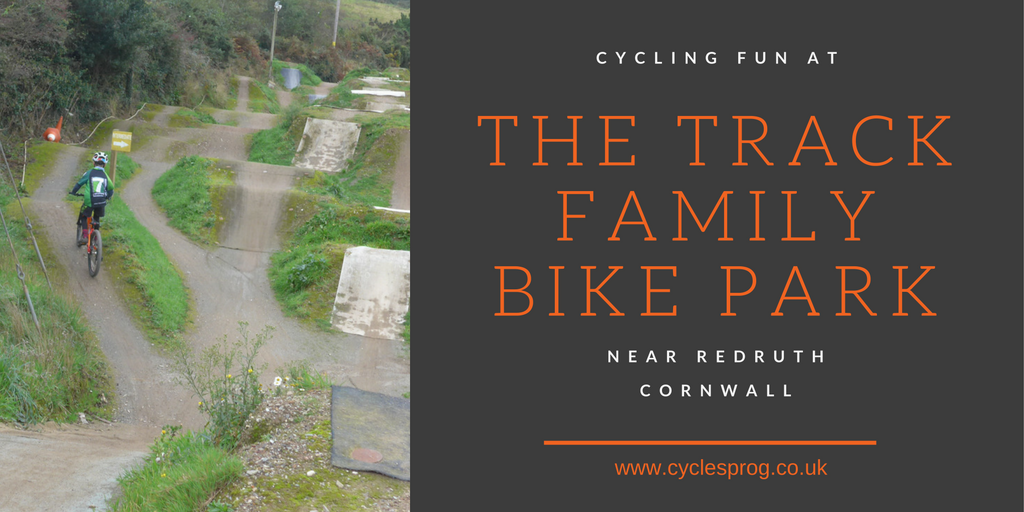 On arrival at The Track there was a very simple sign-in process and the chance to order some homemade Cornish pasties for lunch. As we'd brought our own bikes we didn't need to hire, so once Chris has made a quick trip to Tesco's in Redruth to use the cashpoint (no cards accepted at The Track!) all four of us were ready to be shown around by Nathaniel.
We started simple with some gentle bumps on the section of track designed primarily for balance bikes, as Nathaniel showed us how to "pump" correctly.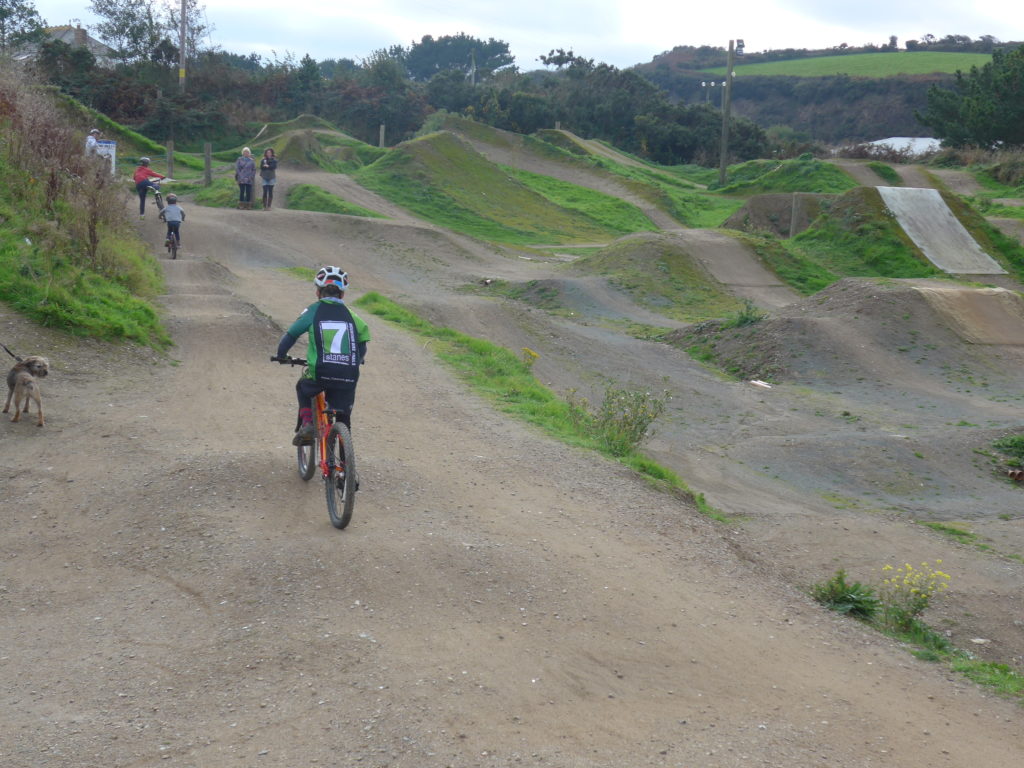 After a couple of goes we were raring to go onto something bigger and faster. In traditional jump park style, The Track has progressively more difficult jump routes in a line next to each other.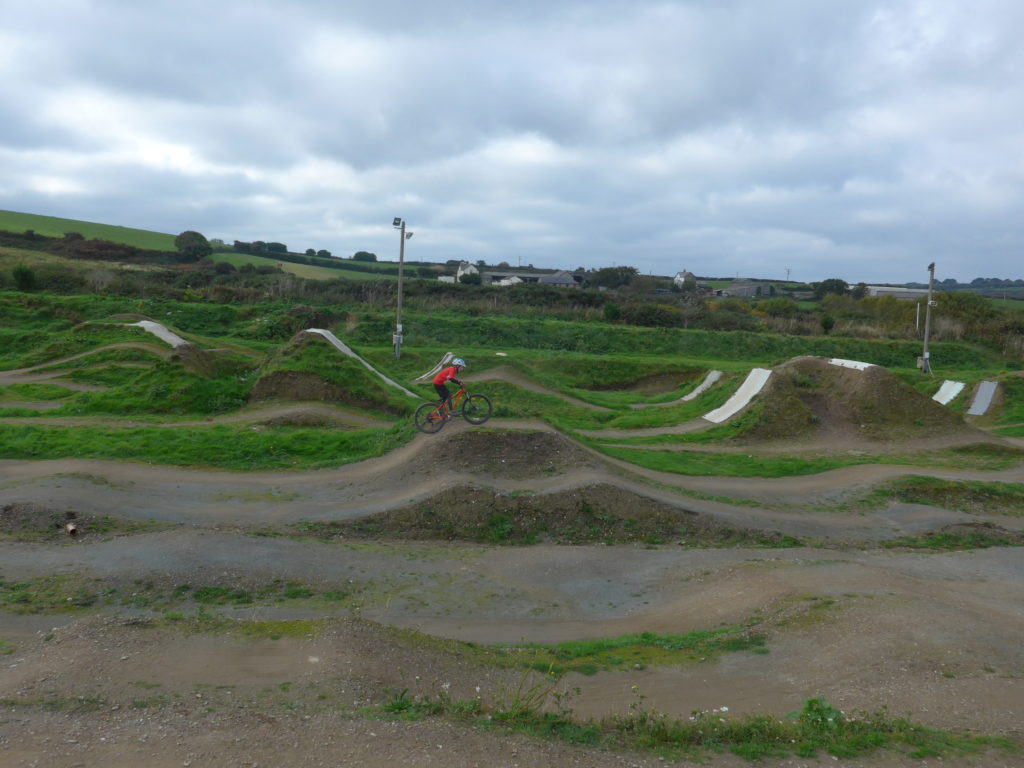 So you can start by rolling over the smallest tabletops and trying to get your wheels to lift off the group whilst several metres away a rider is performing mid air tricks! It's very inspirational and helps to spur you on to try again and again.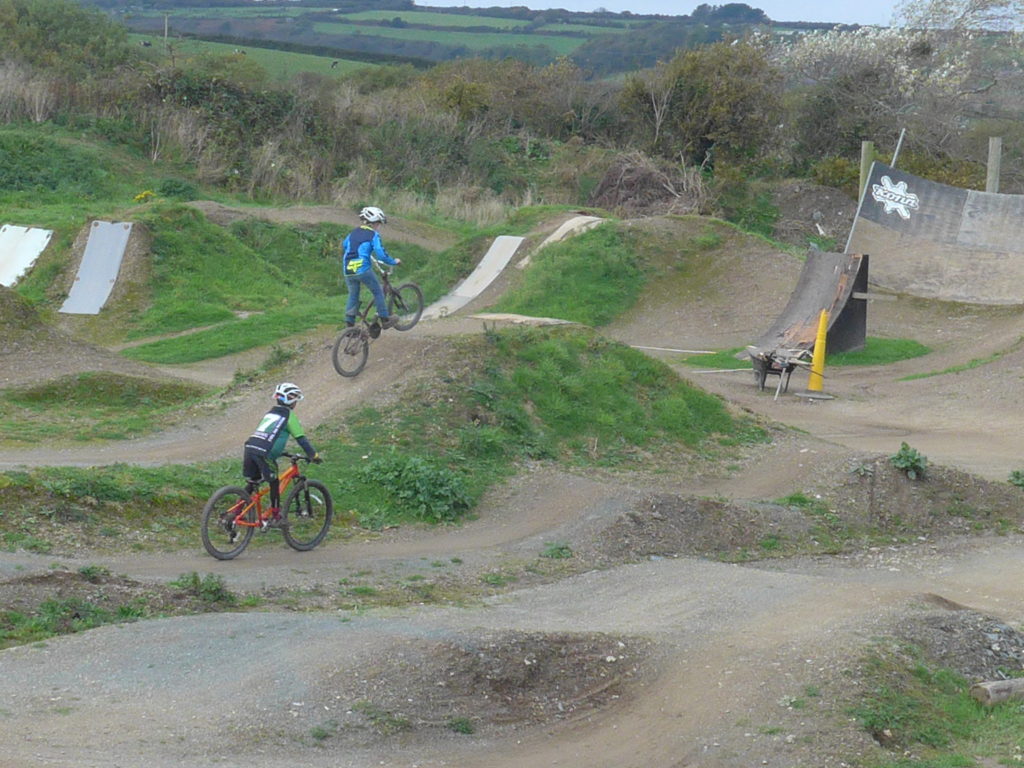 There are three different routes at The Track, from the balance bike track, through the intermediate section with table tops and jumps through to the "Race Track" with twists, turns, jumps and berms. As with the intermediate section, the Race Track has a route designed for each ability group.
Once Nathaniel had taken us round each of the different routes and advised us to stay on the beginner tracks to start with we were left to our own devices. The boys were off, and it wasn't long before they were getting some air between the tyres of the Islabikes Creig Mountain Bikes they are currently reviewing and the table tops.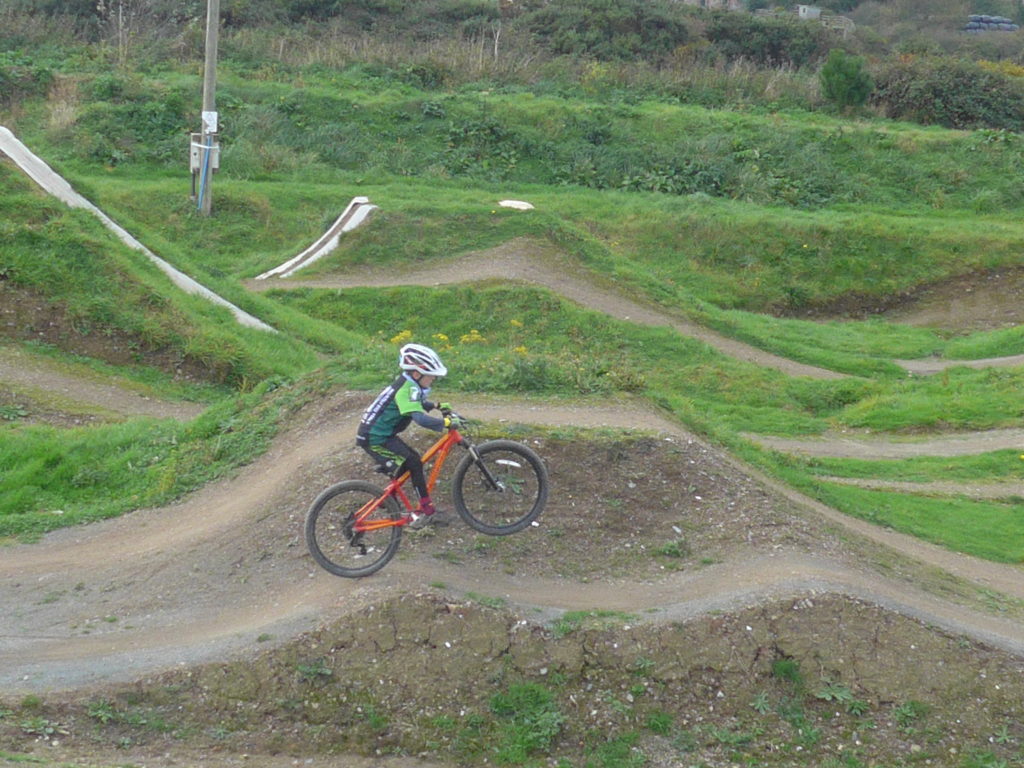 There's a big difference to the level of fear felt by an 8 year old boy and his 40-something mother, and it took me a while to pluck up the courage to try and do a front wheel lift. I don't have photographic evidence, but I'm sure by the sensation of landing back down I was managing some sort of lift (although probably only microscopic to onlookers!)
I'd turned up at The Track wearing cycling shorts and I soon realised that the fear of losing skin on my knees was limiting my riding so I changed into a pair of jeans and immediately felt much better.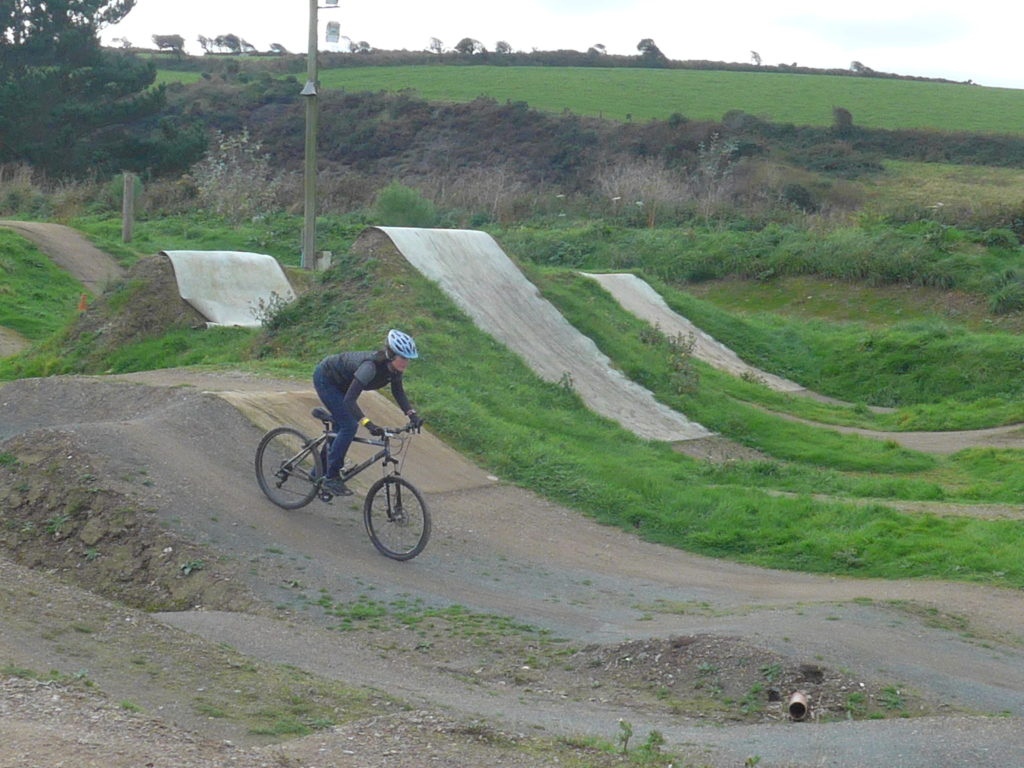 I'd been riding for an hour or so when Steve Tonkin stopped me to offer some advice on how to get a better lift. What better person to get advice from? Steve is the owner of the The Track and it was great to hear how it came into being.
Previously Steve had raced motocross and when a friend persuaded him to give dirt bike jumping a go he quickly got hooked. With nowhere to practise, Steve and a few friends all chipped in some money to hire a digger and build a few jumps on some land midway between Redruth and Porthreath.
Originally The Track was designed for experienced and professional dirt jumpers and attracted a small clique of hardcore Cornish dirt bikers. In it's time The Track has hosted some extreme events, including National Racing and Freestyle competitions.
The Track becomes a family friendly bike park
Enter Graham's Australian wife Fiona Myers, who arrived in Redruth with loads of ideas on how to transform The Track into a family friendly bike park – a venue for bike riders of all ages in West Cornwall. As a parent to teenagers, Fiona understood that parents wanted somewhere warm and dry to wait whilst their kids were riding, plus proper coffee to drink while they waited! She realised that kids as young as two could enjoy the pump track on their balance bikes and would go on to be loyal customers for years to come. As a swimming instructor herself, Fiona has also persuaded Steve to build Kernow Hydro on the site too – a heated salt water pool which offers hydrotherapy, kids swim lessons, aquanatal and baby swimming classes.
Steve has toiled extremely hard to build the family friendly bike park that now exists, and judging by the number of kids riding there on a Thursday during October half term (almost 40 at one point), the young riders of Cornwall are very happy customers indeed. Without exception, the riders were really friendly and helpful and made us feel welcome to enjoy something they were obviously proud of. It's great to see that The Track genuinely has a strong community feel and spirit to it.
Steve and Fiona have lots of plans to further improve The Track, including on-line booking for hire bikes and improvements to the course. It will be interesting to return in a season or so to see how they've got on.
After a pleasant chat, it was back to the riding! I tried hard to take Steve's advice to relax and go with the flow, but I know I was still all angles and tension. But hey I was having great fun!! N cycled over, desperate to show me the joys of "The Race Track", so up to the top of the starting point we went.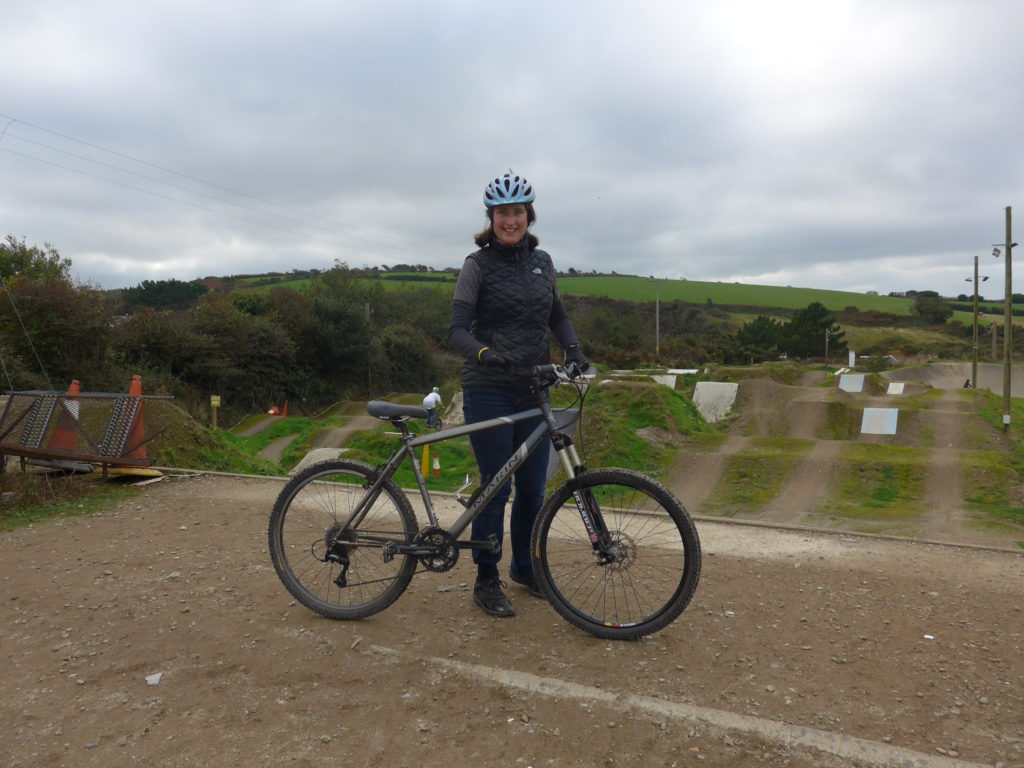 I knew this would be exhilarating, and being guided around by my 10 year old was a thrilling experience, especially when he decided half way round to swap from the beginner to intermediate track to spice things up a bit!!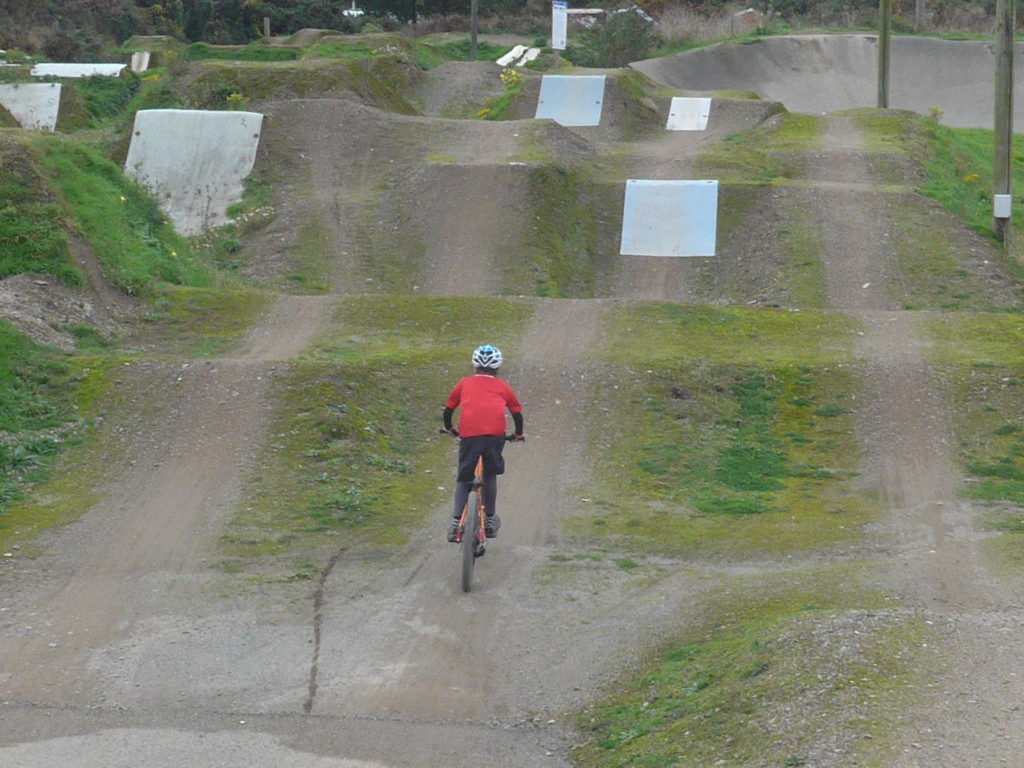 I've been getting a bit of practise in on berms this summer, and I was very pleased with how I took the line around these ones. I found myself riding the route over and over again trying to get the perfect speed out of the berm and over the first bump.
We were at The Track for about 4 hours and at the end we had to coax the boys away before they got too exhausted and started to make mistakes.
The boys are desperate to go back when they're slightly older to try out the "Foam Pit" where the teenagers were practising their jumps and tricks in total safety without coming to any damage.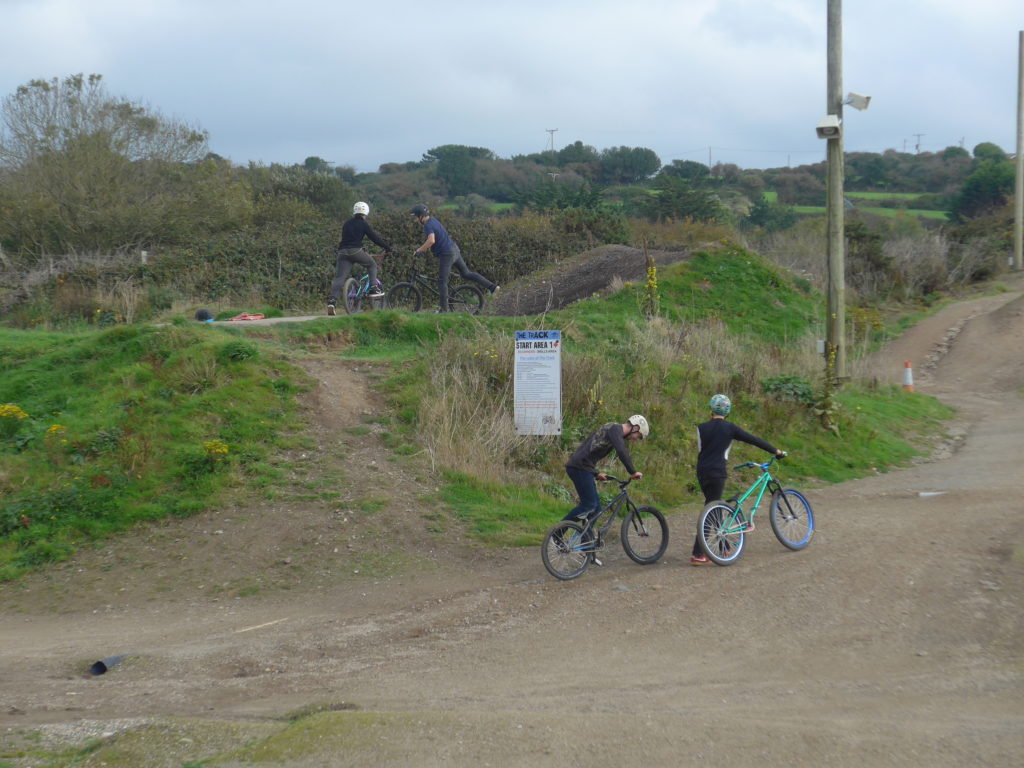 The boys only comment was that they'd have liked slightly better signage of which were the beginner, intermediate and advanced lanes as they got confused a little bit going round.
What age cyclists is The Track at Portreath aimed at?
With a series of gentle bumps for the youngest balance bikers and novice riders there is no lower age limit at The Track. While we were there, the youngest rider on the track was a VERY impressive little lad on a Specialized Hotwalk Balance Bike who was flying down the slopes and over the tabletops at an impressive pace.
There are riders of all ages and abilities on The Track at all times, and many of the riders were there for the first time, keeping Nathaniel busy with his introductory lessons. The younger ones were definitely more talented pupils than I was!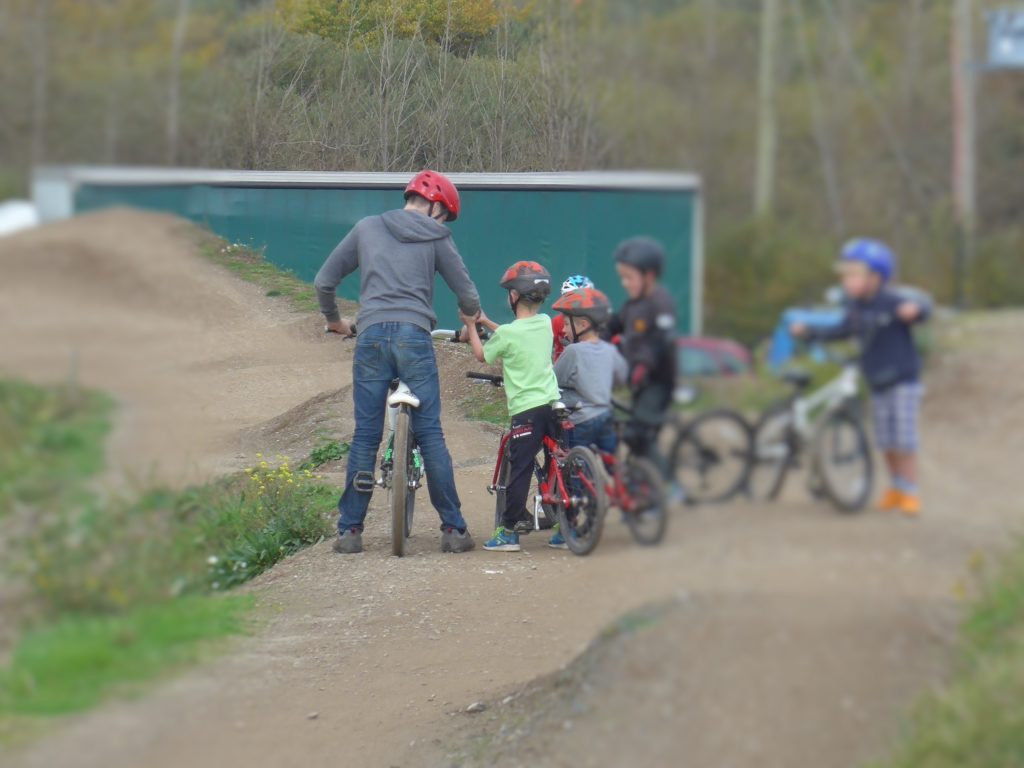 There was a good degree of self-regulation in place with lots of instances of older kids helping the younger ones out when they got into difficulties.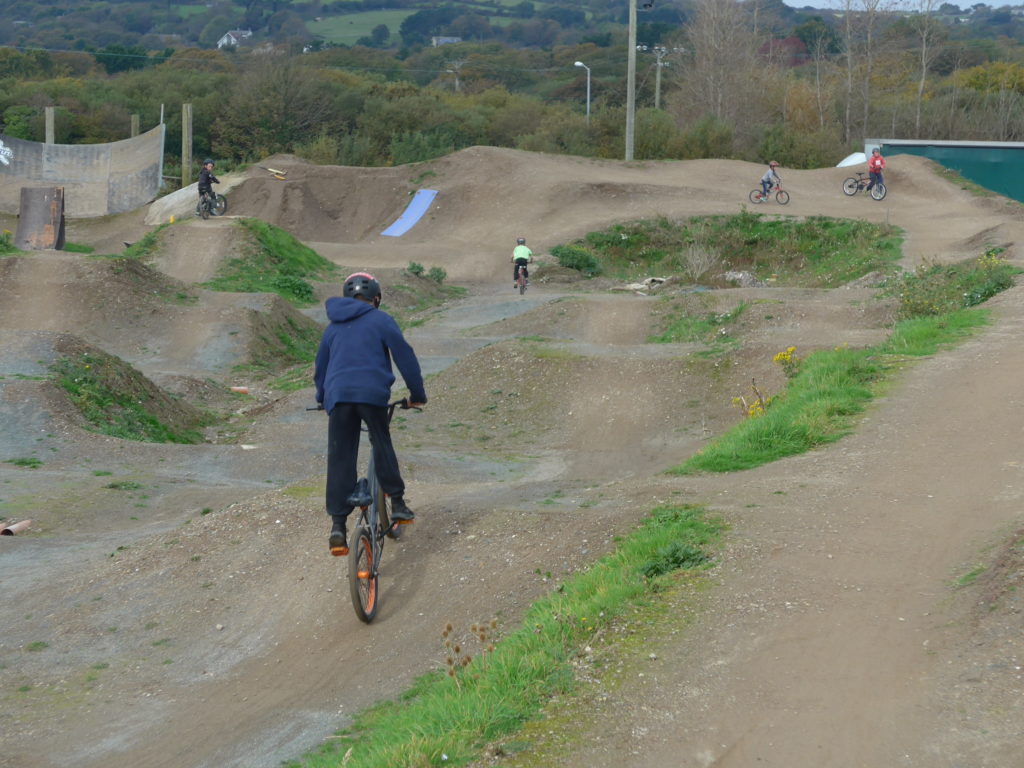 You do need to keep an eye on your child though and ensure they're keeping to an area where they're not going to clash with the faster riders. Of course, it's possible they'll come off their bike at some point, so it goes without saying that The Track isn't a place to go if you're a helicopter parent who wraps their kid up in cotton wool.
Should parents give jump biking a go?
Yes!!!! The Track at Portreath is advertised as being suitable for all ages, but when we turned up it was only kids riding, with the parents looking on.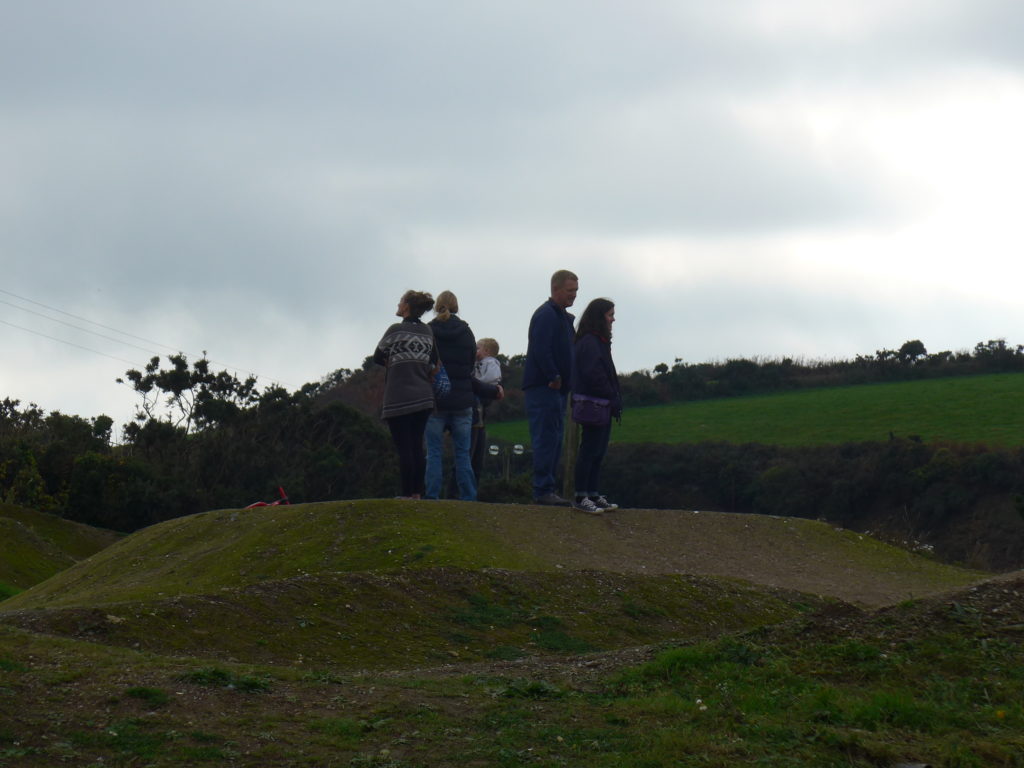 I did wonder whether we'd cramp the boys style by joining in, but The Track is big enough for parents to be able to ride in one area and the kids in another if need be.
It didn't take long for Chris to be adopted by some of the regular riders who were more than happy to offer advice on how he could improve his technique. He was soon getting those tyres off the ground!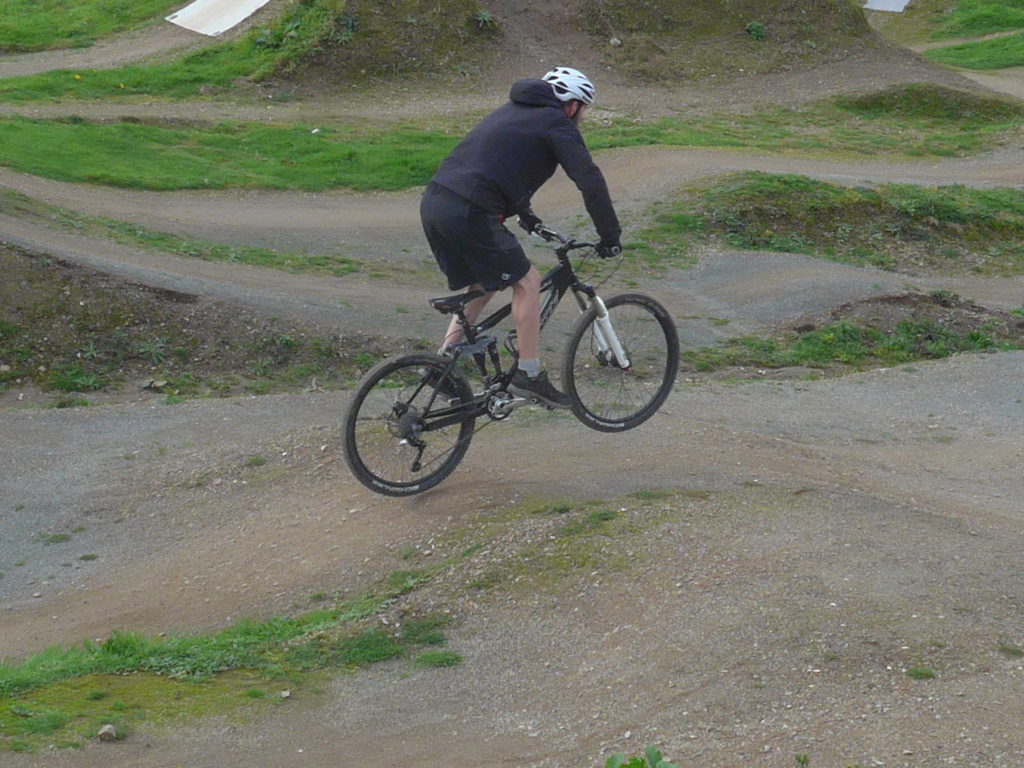 Everyone was really friendly, and when one lad suggested I should really have a go on the bigger tabletops and demonstrated how he rolled over them on his second visit to The Track I felt confident to give it a go.
Whilst we were there another mum and dad joined in too. I accidently got a photo of the dad getting a great lift in when I was photographing T.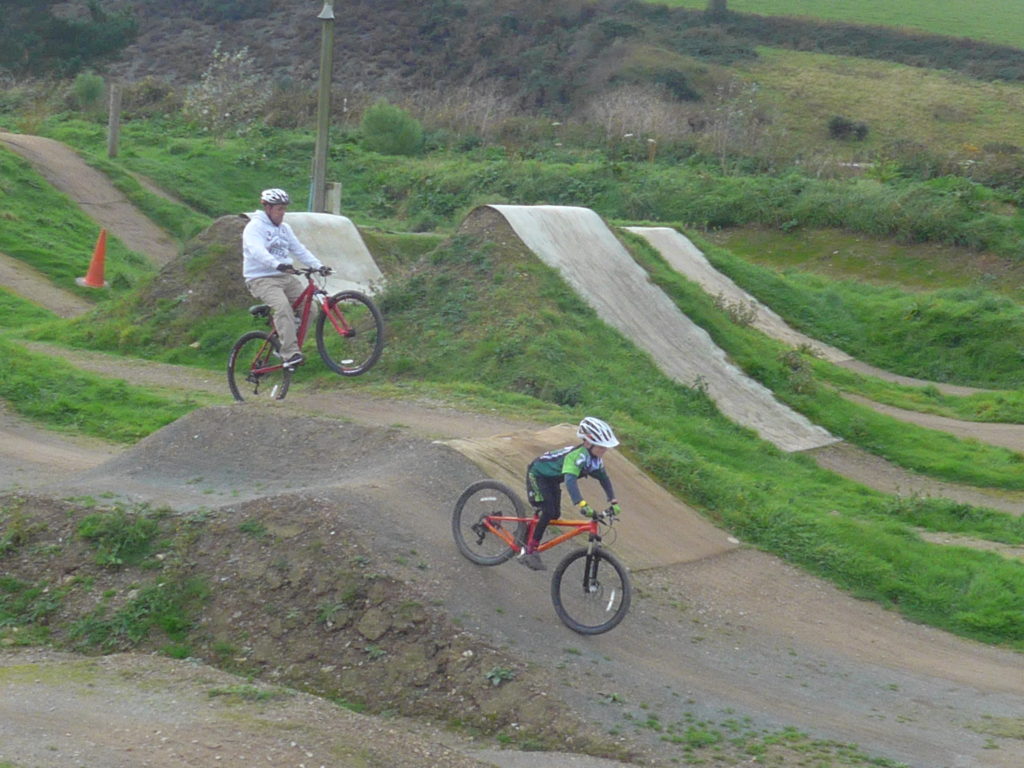 I'd really recommend giving riding at The Track a go if you can. It's very family friendly and a great way to get some exercise and try something a bit different with your kids.
One thing I did notice while we were at The Track was that with the exception of myself and the other mum all the other riders were male – mainly lads aged between about 8 and 18.
Steve told me that whilst the membership (of about 500) is predominantly male, girls are always welcome and there are some very keen female members. I'm sure if more mums joined in and showed what fun it can be then their daughters and friends may be more likely to have a go and find out what a brilliant time can be had on a bike.
Facilities at the The Track, Portreath, Cornwall
The Track is a family friendly jump bike and mountain bike skills track, situated just off the A30 at Redruth, Cornwall on the road to Portreath. Opening hours and prices can be found on their website. It's possible to hire bikes at The Track if you're visiting whilst on holiday in Cornwall. Helmets are mandatory and elbow and knee protection advised, especially if you're attempting the bigger jumps.
The café sells fresh coffee and handmade cakes (including gluten free). A catering van offers delicious homemade pasties (the vegetarian ones come highly recommended!), which must be pre-ordered on arrival. They also do a roaring trade in bacon butties and chips.
The Track has indoor and outdoor play areas for little ones who are too small to ride a balance bike, as well as the Kernow Hydro – a heated salt water pool which offers aquanatal and baby swimming classes.
If you've found this post about The Track Family Bike Park at Portreath useful please do share it with your friends. If you follow Cycle Sprog on Facebook you'll get to see all our other posts about family cycling fun!