Are you hoping to find some amazing Black Friday Islabike discounts for your child this year? Here's what you need to know: 
ISLABIKES NEVER TAKE PART IN BLACK FRIDAY DISCOUNTING. 
In this article we take a closer look at Islabikes policy on Black Friday and Cyber Monday discounting, and where you can find a cheaper Islabike in the run up to Christmas. 
We need to make it clear that Islabikes are one of the many small businesses who shun the entire Black Friday and Cyber Monday chaos.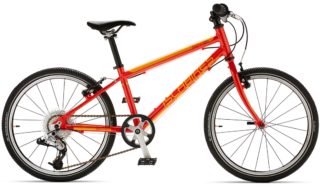 Why don't Islabikes do Black Friday or Cyber Monday discounts?
As a small company, with a highly sought after product, Islabikes don't need to enter into the Black Friday / Cyber Monday fray.
When I spoke to them about this, they were keen to stress that they want to ensure that every customer knows they are getting a fair price for their Islabike, when the child needs the bike. 
Black Friday and Cyber Monday discounting would mean parents wait until the end of November to buy a bike, when the child might have needed it months ago.
Plus for a small business like Islabikes stockpiling enough stock to deal with Black Friday would prove incredibly difficult plus financially very risky.
In 2019 Islabikes took this one step further and shut down their website on Black Friday to lead a climate change march from their HQ in Ludlow to the town centre.
Is there anyway to get a cheap Islabike on Black Friday?
There are a few ways, which we've written about in our post on buying cheap Islabikes
Are there any cheaper alternatives to Islabikes that have Black Friday discounts?
Yes there are!
See our post cunningly called CHEAPER ALTERNATIVES TO ISLABIKES for full details. 
Although of course you need to remember that an Islabike comes with over a decade of R&D behind it, and the price reflects the quality of the product you're buying. 
We only ever recommend lightweight and well designed kids bikes here on Cycle Sprog, but within that there is a spectrum – Islabikes really are at the top end of that spectrum for starter and hybrid kids bikes.
They come with a 5 year warranty on frame and forks and two years on components, and resale values remain high. 
If you've changed your mind and want to buy an Islabike, you need to go to www.islabikes.co.uk
If you can't stretch to a full price Islabike, then these are the posts you need to go to next:
Where to buy the cheapest Frog Bikes – Black Friday 2020
The cheapest kids bikes – Black Friday 2020