Buying a cycle trailer requires forethought because they're not cheap, so it is worth spending some time working out what exactly when and where you'll be using your bike trailer to make sure you make the right purchase. Some useful things to consider are:
how many children do you need to transport?
Most bike trailers are designed for two children, but if you will only ever need to carry one child, there are several single-seater cycle trailers on the market that will be lighter and easier to pull.
what age is the youngest child you're likely to need to transport?
If they're unable to hold up their heads unaided, you need to choose a model especially designed to carry infants.
how heavy are your children likely to get?
All cycle trailers will specify a weight limit, and as you start to reach this limit you may notice the tipping point. Remember the weight of bags as well as your children, and remember both children will be getting heavier together.
do you have space to store it assembled?
There is no denying bike trailers are big, so if you need to store it flat look for a model that is quick and easy to fold down
do you need to attach the trailer to more than one bike?
Go for trailer models where you can buy additional hitches
do you need to frequently detach the trailer from the bike?
Look for quick release mechanisms if you do, but remember this makes it easy for anyone to wheel it off.
are you riding in the dark?
Look for models that are outlined in reflective material and have good fixing positions for lights.
how much use will the trailer get throughout the year?
Cheaper trailers may come with a fabric base. This is great for going on occasional rides out on dry summer days, but if you are planning on regular commuting or riding whatever the weather look for models with solid floor that keep out the wet and can be wiped down after suffering the effects of muddy feet. For year round use also look for straps that can be operated with cold fingers, doors that firmly close to keep out the elements in the winter but rollback in the summer, and ensure there are enough reflective strips for dark winter days.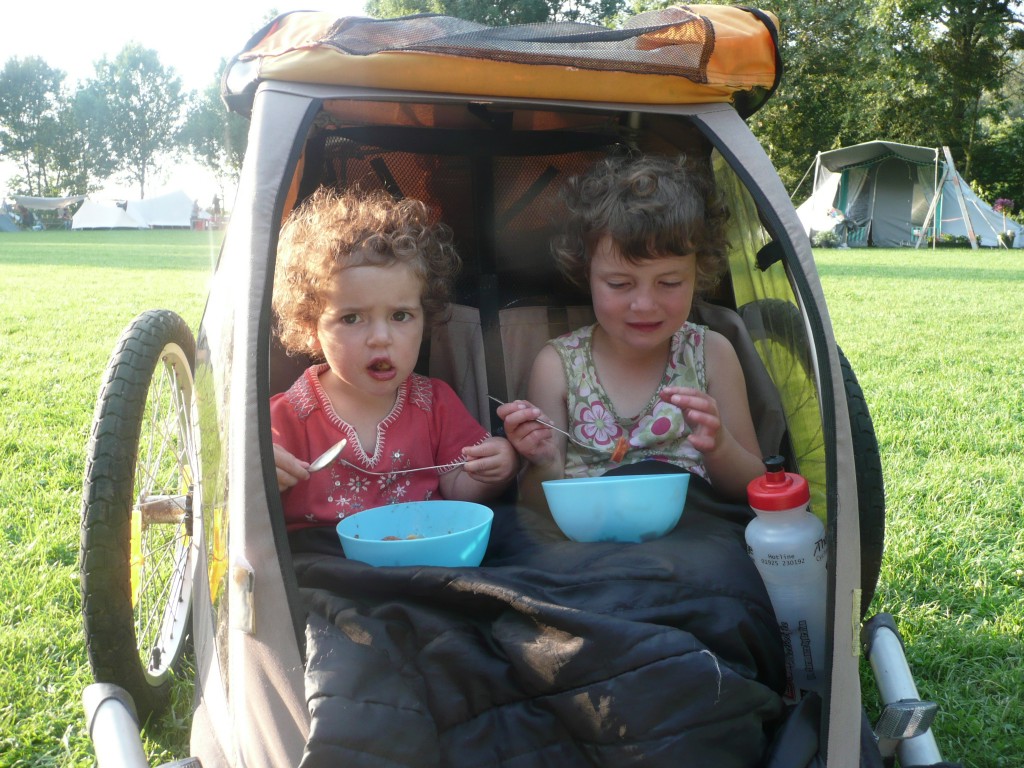 what's your budget?
Top of the range trailers such as Burley can retail for over £800, but there is a wide range available to suit most budgets. There are some brilliant second hand bargains to be had, so keep an eye on your local free ads or ebay. A well looked after trailer will also have a high resale value when your kids have outgrown it.
hints and tips
Always practice with a sack of potatoes before going out for the first time with your kids. If you've not cycled for a while, then it is well worth considering some cycle training so you are confident with your own abilities. Make sure your bike has good working brakes. You need to be able to stop the momentum of the trailer, and if you're going downhill the last thing you want is the trailer propelling you forward when you need to stop.
In most older models you'll notice that your child's helmet pushes against the back of the trailer, pushing their neck forward. To help them maintain their posture, some models now come with helmet grooves Remember kids get bored easily, especially when they can't see much so consider providing some entertainment. A bicycle trailer is not a cheap purchase, so consider hiring one before you buy.