Rob Walker from i-travel York has sent us this great film of him cycling to the child minders pulling his daughter Pheobe in a child bike trailer behind his bicycle. Thanks Rob!
The film is a great opportunity to see what it's like pulling a trailer behind your bike, both with a child in it and after they've been dropped off at their childcare.
Rob also explains how he actually saves time in the morning using the bike and trailer, rather than sitting in traffic jams, plus how the cycle to work helps him keep fit and feel better than travelling by car.
What's so great about child bike trailers?
Child bike trailers are a great way to transport either one or two young children. Some models can even be used with rear facing car seats with very young babies.
Bike trailers are great for year round use, as your kids are protected from the elements – be that rain, wind, snow or sun. Child bike trailers can also double up as cargo transporters if you're popping to the shops without the kids in tow!
Some models also convert into strollers – great if you need to push your child around when you get to your destination.
Most bike trailers also come with storage pockets, meaning you can easily carry all the stuff little people require every time you leave the house.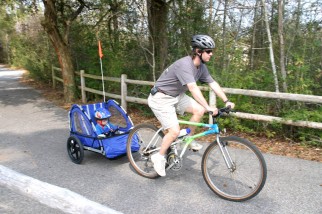 Want to know more about child bike trailers?
If Rob's film inspires you, and you'd like more information on starting to cycle with a bike trailer, we're here to help.
We've got information on getting started with a child bike trailer, details of some of the different makes and models available and where to buy them, plus some handy hints and tips on what to consider when buying your child's bike trailer.
Do you use a child bike trailer?
If you to use a bike trailer with your children, we'd love to here from you. Please do get in touch via the comments box below.
i-Travel York aims to inspire people in York to help look after their city, to keep it moving and keep the air clean, by considering their travel options before making a journey. Visit their cycling pages at http://www.itravelyork.info/cycling
Other articles you may find useful:
If you've enjoyed reading this article, please do sign up for our newsletter - we'll keep up updated when we have new articles which may be of interest. Thanks! 
This article was first published in February 2013 and updated in 2021 to refresh the links