The recent snowy weather has made me realise that if you cycle regularly with your kids in the winter, they are superbly equipped for fun in snow! Already having kids winter cycling gloves plus jackets and waterproofs meant that when the snow fell all I had to do was get my two boys into their gear and open the door – out they tumbled!
They, like most other kids this week, have been out at every opportunity, throwing snowballs at each other, at their friends and at us.
Given we've purchased the kids sized winter gear to allow them to cycle to school what ever the weather, I was expecting it to be fairly robust, but wasn't sure how it would handle prolonged periods of contact with the snow.
When I looked out the window and saw 6 year old N lying flat on his back with arms and legs wide, trying to make star shapes in the snow, and 4 year old T running around clutching large lumps of the white stuff, my heart sank. Surely I would be drying out cold wet kids and soggy clothing in a few hours time.
Kids winter cycling gloves are perfect for snowballing!
I am pleased to report that the winter cycle gear held up really well.
The Altura Childrens Winter Cycling Gloves that T has worn every day on the bike for two winters have proved ideal for keeping his hands warm and dry. I was anticipating tears of pain from red, raw hands plus soggy gloves to dry.
I'm pleased to report that the gloves were bone dry inside and his hands lovely and warm. The outsides of the glove had repelled the dampness of the snow, with no drying needed at all.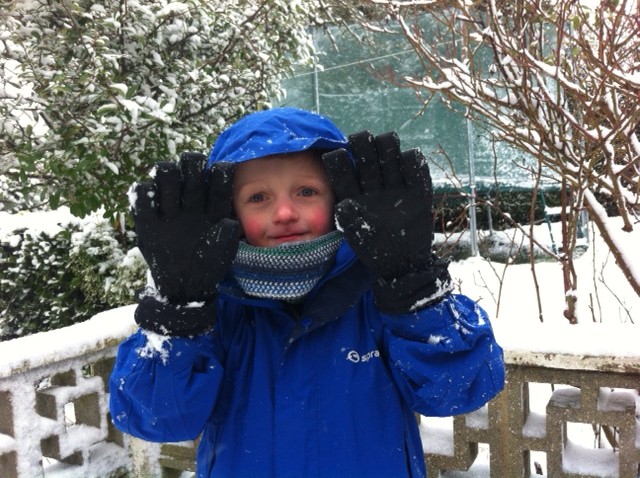 On his top half T was wearing his new Sprayway Children's Hawk IA Waterproof Jacket. This coat has proved itself totally waterproof in torrential downpours, so I wasn't so surprised when it kept him nice and dry in the snow. This has been one of the best buys of this winter, especially given the amount of rain we had during December.
On his legs, he was wearing a very well loved, third hand, pair of Spotty Otter waterproof over trousers. Again, they didn't let any dampness at all.
So after over 3 hours dashing around in the snow, falling over countless times, and throwing I don't know how many snowballs he came back to the house warm and dry – result!
My eldest son, N, has the same kid's winter cycling gloves, so his hands were dry too.
His second hand Sprayway Wilderness waterproof jacket is now getting to at the end of its useful life, having been through the washing machine countless times. However, it's still holding out, and his torso was dry. The only problem was the arms, where he'd managed to get the cuffs soaked – think this was more from getting snow up inside his arms, but can't be sure.
On his legs, the new Sprayway Rainpants Kids' Waterproof Trousers we bought before Christmas (again from Go Outdoors) kept his bottom half totally dry.
The astute of you will notice that the boys both have kids winter cycling gloves – very important for keeping their fingers warm on the bike each day. However, the waterproof jackets and trousers the boys wear are not necessarily designed specifically for cycling. This is partly because it's so far been impossible to find such items at an affordable price. Also because, kids being kids, they grow fast, and we're happy with multi purpose gear they can wear whatever activity they're doing. However, I think it's far to say that if it wasn't for all the cycling they do, I doubt we'd be so well equipped!
So there you have it – kid's winter cycling gloves are perfect for snowballing, plus having all the waterproof gear for winter cycling means they were well equipped for a days fun in the snow.
For our more detailed review of the Altura Winter Children's cycling gloves click here
Other posts you may find useful:
If you've enjoyed reading this article, please do sign up for our newsletter - we'll keep up updated when we have new articles which may be of interest. Thanks!