Cycling doesn't need to stop just because winter arrives, but don't forget that you'll need bike lights if they're going to be riding during the winter months. Finding a child friendly bike light that can be operated by small fingers can be tricky.
The wonderfully named Knog Frog Bike Lights have been reviewed for us by Kathryn and her family – husband Richard, Alice (6) and Tom (4). Will they pass the test and be a child friendly bike light?
The Knog Frog bike lights – first impressions
The Knog Frog bike lights we were sent to review arrived in easy to open recycled packaging – and were very easy to set up. Just open up the bottom, flip the top lithium battery around and the light is working. There are 4 settings – one constant and three intermittent flashing at various speeds, which can be easily changed (by both little and large fingers!) by holding the button down on the top for a few seconds.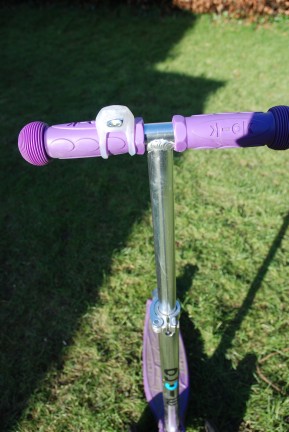 The light can then be 'clipped' (it has an integrated rubber strap) to a wide variety of tubing – seat posts, handle bars, rear stays – easily and without tools. Our 6 year old can do it – and I have done it with gloves on. At the size of about an inch it's small and light enough if you want to take it off your bike to fit in your pocket.
How bright is the Knog Frog?
We were impressed with the amount of light such a small unit can provide. The light from the Knog Frog is clear, sharp and can be seen a good distance away. We however, would probably only use this light to highlight existence on the road, rather than for use on a night ride to avoid potholes – and certainly not use it as our only light on a busy road. We currently have them clipped to our kid's scooters which has been great to make them more visible on the walk home from after school activities this winter – and my husband has taken it as a spare for night rides.
Is the Knog Frog a child friendly bike light?
Definitely! The name alone appeals to young children, and it's very easy to use. Alice is 6 years old and she has no problem clipping the Knog Frog to her scooter or bike, and the light can be turned on and off by her 4 year old younger brother. We were given the translucent Knog Frogs to review, but they do come in a range of funky bright colours which is great if you want to colour co-ordinate your child's bike – or your own!
Worth knowing
The Knog Frog bike lights are meant to be water resistant and the lithium batteries last up to 80 hours on the flash mode, but we have not had the opportunity to test this out to its maximum.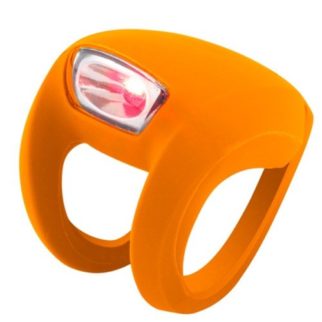 The Knog Frog bike light review – the final verdict
The Frog Knog bike lights are good value and easy for young kids to use. They're ideal for additional illumination on children's bikes, balance bikes, and scooters during the winter months. Their small size also means it's a useful spare light for adults cycling at night. So all in all, a child friendly bike light that works for Mum or Dad too.
Where to buy the Knog Frog bike light
The Knog Frogs come in a huge range of colours (including pink, blue, red, lime green, white, and grey), and can be bought either individually, or as a set of two – front and rear – lights.
You can buy the Knog Frog bike lights online from Tredz. Your local bike shop may also stock them.
The Knog Frog bike lights reviewed for Cycle Sprog were provided for review
If you've found this post useful, you may like these other articles:
This test of the Knog Frog Bike to see if it was a child friendly bike light was first published in February 2013. It was updated in February 2021 to reflect changes in pricing and availability of the lights.