The Forme Kinder 20 is a hybrid / all round kids bike with gears, which will fit boys and girls aged between about 6 and 7 years of age. 
We asked one young rider (and his Dad Ewen) to put the bike to a test. Here's their review of the Forme Kinder 20, so you can decide if this bike is suitable for your child. 
Please note that Cycle Sprog were sent this bike to review by Moore Large, who own the Forme Bike brand. We were not paid to write this review and all opinions are our own. 
Affiliate disclosure: Cycle Sprog may get a small commission if you make a purchase from the links in this post. For more information please see our affiliate policy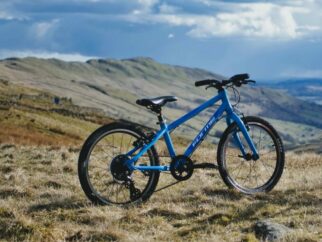 Forme Kinder 20 kids bike review
Our tester stats:  Height – 123cm    Inside Leg – 53cm    Age – 6
Bike details:
Brand – Forme
Model – Kinder MX 20
Child size – age 6-7 inside leg 52cm to 62cm/ height 117 – 136
Gears – 8-speed trigger shift
Weight – 8.47kg
Cost – £324.99
We like – No-nonsense all-round kids bike at a very good price.
who are Forme Bikes?
You might not have heard of Forme Bikes as their range of kids bikes has just had a major upgrade in the form (sorry!) of the new Kinder and Cubley bikes which you can read more about here.
This means when your child was younger they won't have been on your radar as an option.
These two new bike models cover the 16 to 26-inch wheel sizes and marks a real push from the brand to provide quality kids bikes at a competitive price point.
The Derbyshire based brand isn't new however and already makes a range of bikes influenced by their local area including commuter bikes, mountain bikes and road bikes.
There is a no-nonsense approach to much of their range, rather than crazy priced carbon bikes and eye-watering prices.
Overview of the Forme Kinder 20
So, here we have the 20-inch wheeled Kinder MX 20. There are larger versions available with 24 and 26-inch wheels and all three come in six colour options of red, blue, orange, green, purple and pink.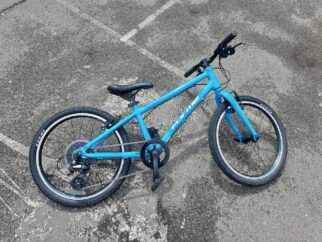 Forme calls it a "Light ATB" which means an All-Terrain Bike, but not a fully fledged mountain bike.
With this sort of label, I would expect the bike to be great on the roads, providing efficient progress, yet capable of exploring gravel roads and the sort of traffic-free cycling routes that are ideal for family cycling.
A glance over the bike supports the aims of the bike, with low profile knobbly tyres (Kenda Small Block 8) which will handle a bit of dirt but not much mud.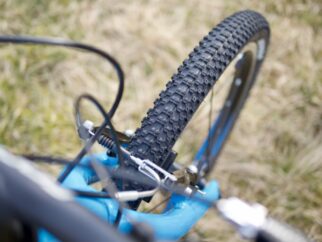 The Forme Kinder MX 20 has 8 gears (Shimano) to do battle with even the steepest hills and V-brakes (Tektro) to keep speed under control.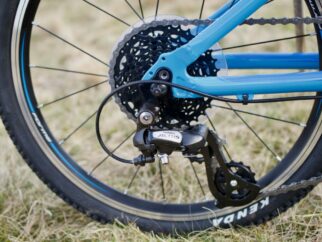 The frame and fork are both made of 6061 Aluminium which gets the weight of the whole bike down to just under 8.5 kg.
For comparison, an Isla Beinn 20 is 7.5kg and the Specialized Jett is 8.76kg.
Priced at £325 new or from £13.49 per month to lease, the Forme Kinder 20 is highly competitive, with the Beinn costing £500 and the Jett £369.00.
How does the Kinder MX 20 ride?
The beauty of the Forme Kinder MX 20 is that it's a classic kids bike, with no 'size adjustments' or complex setups which you get with some newer kids bike models (such as the Black Mountain HUTTO or the Specialized Jett 20). 
Simply get the saddle at the right height (which is easy to do with the quick release lever) and you're good to go!
The Kinder is certainly easy to ride too, there were no issues getting to know the bike and the controls are all comfortable to reach.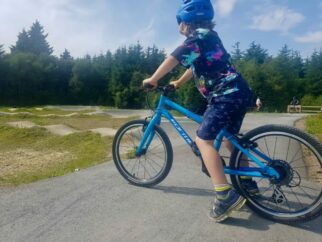 On the tarmac, the Kinder covers the ground well and is highly manoeuvrable around tight turns.
Urban riding suits the Kinder well, and the tyres are a good balance of grip, comfort and efficiency.
Given the all-rounder nature of the bike, excursions onto the grass were no bother and the bike looks comfortable over mild off-road terrain.
This versatility is the Kinder's strongest asset, able to move over a variety of terrain confidently and keep the smiles coming.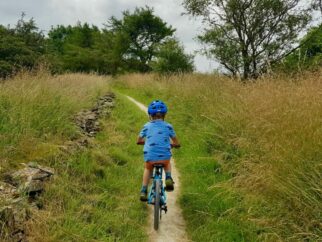 My six-year-old tester took a while to get accustomed to the trigger shifting having predominately used grip shift but both systems work well, it's simply preference.
Just as I gave up hope of him using his gears he suddenly announced 'of course I can use the gears' and hasn't looked back (literally).
The action is light and the indicator window helps give riders an understanding of what gear they might be in.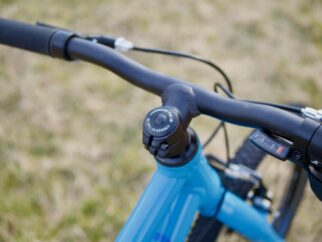 Braking similarly worked well with the light action V-brakes and reach adjustable levers. It would be nice to see shorter levers to encourage one or two-finger braking rather than a whole hand approach, but I say that about most kids brake levers.
The pedals do deserve a mention, as they are a cut above the usual plastic pedal with a nice shape and good proportions for a small foot. Grippy enough to keep a foot in place but not so vicious to do too much damage to a shin.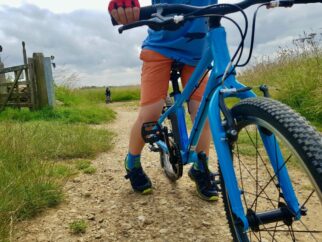 Can the Forme Kinder 20 be used as a mountain bike? 
We were keen to see how far we could take the Kinder if we turned up the level of adventure.
We visited some mountain bike trail centres and it was clear that Kinder would hold its own, but may not keep up with the ambitions of a child keen to push the limits!
Whilst the tyres did ok, the loose gravel and bumpier terrain did make it struggle. This, combined with the relatively steep head angle meant we were wishing for the steady composure of a mountain bike.
However, full marks for effort from the Kinder – we had a great time! 
For context, the Black Mountain Hutto, (a mountain bike) has a 5-degree slacker head angle than the Kinder. A head angle is the angle between the fork and the ground, the 'slacker' (lower number) the angle the better the bike is at bumping over obstacles on the trail and remaining stable through rough ground.
Steeper head angles, such as the Kinder 20, give faster steering and are easier to manage at slower speeds.
This is in no way a criticism of the Kinder, we just found it shines best on steady gravel tracks and pavement where its nimble steering and agility can be used to full effect to nip around tight turns and dodge pedestrians!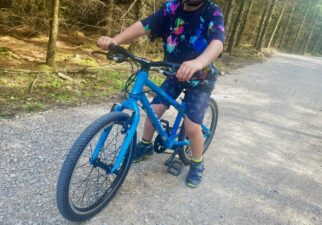 If you have a budding mountain bike rider and are visiting trail centres on a regular basis then a 20″ wheel mountain bike is probably the answer. 
If you're just making the occasional visit and riding the easier trails when you're there, then the Forme Kinder can hold its own and its competency on varied terrain is impressive.
a couple of observations on the 2021 model Kinder
For all those kids bike geeks out there, here's a few things to be aware of with the initial 2021 model Kinder 20 (if you're not that way inclined, then skip to the next heading!) 
A nice touch from Forme is the one-piece bar and stem combination which looks very neat and removes a couple of bolts to worry about.
They say this is great for the rainy British weather as there's one less place to suffer water ingress. However the trade off is that with no spacers under or above the stem, changing the bar height is not an option.
It would have been great to see a longer steerer tube to bring the bars up. What's more, you can't simply swap the bars to a high rise set, as you'll also need a new stem.
The Forme Kinder also has dedicated mudguard mounts front and rear if you wish to fit them (we didn't so can't comment further).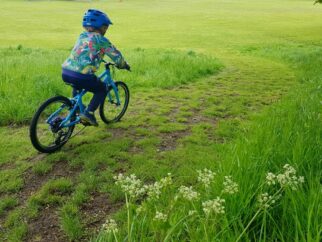 You may also want to check out our first impressions review, which does a deeper dive into the spec of this bike. 
The final verdict on the Forme Kinder 20
A true all-rounder, providing a versatile cycling experience for young cyclists, the Forme Kinder MX 20 is a 'Jack of all trades', and pretty much masters them all too.
There is nothing radically different or groundbreaking about the Kinder, it is simply a good, well-presented kids bike which, is essentially what many of us are looking for.
There is a lot to love about the Forme Kinder, not least the attractive price which certainly places it at the top of the list for potential bike buyers.
If you're doing specialist types of cycling you'll probably want to look elsewhere, but for first geared bike for everyday riding the Kinder is certainly a good choice. 
Where to buy or lease a Forme Kinder 20:
Forme kids bikes can be bought through your local Forme Stockist or an online retailer. You can also lease the Forme Kinder 20 for a low monthly cost via The Bike Club. 
Other articles you might be interested in:
If you want to keep up to date with all things Cycle Sprog then sign up to our newsletter and you won't miss a thing!