Ard Rock Mountain Bike Festival takes place each year in the Swaledale area of the Yorkshire Dales.  Emma took her two kids – boys aged 3 and 6 – along, as their dad Rob was racing in the Enduro event.  Here's her report on how they got on.
Ard Rock MTB festival – a family perspective
If you have never heard of Ard Rock, it is a 3 day mountain biking festival situated in stunning Swaledale offering an enduro race, endure sport, marathon, sprint and intro events. The festival started in 2013 and is very popular, doubling in size each year for the past two years.
Having been to Ard Rock as a family for the past two years and finding that the provision for children had improved on our second visit, I was interested to see what Ard Rock 2018 would deliver.
Ard Rock – the early years 
Our first visit to Ard Rock in 2016 with an 18 month old and a 4 year old was very challenging as there were very few families there and there was very limited provision for the children. Fortunately, I got chatting to the Grandmother of some of the organisers children and suggested it would be good to have more for the children.
I was a bit dubious about going in 2017 as I would be left trying to entertain a 3 year old and 5 year old as Rob raced, but was pleased to see that they had introduced a pump track which the children were able to use during the day, so I spent many hours watching the boys whizz round the track with other boys and girls.  There was also a stand from Islabikes where they were showcasing their Pro Series Bikes but unfortunately you couldn't get to test ride any of them.  Ridgeback kids were also there with a very brightly coloured child friendly stand where you were allowed to borrow their bikes and try them out on the pump track was well as giving away goodies from their Tiny Explorers Kids Club.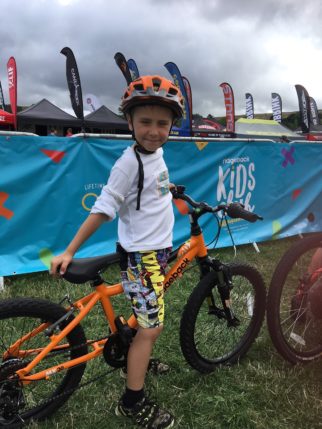 Evening entertainment included the final rounds of the adults pump track competition which was great fun for the kids to watch. There were many  more children there this time and therefore the event had more of a family feel.
Ard Rock 2018 – a family event! 
With a few hints that the 2018 event would be more child friendly I was excited to see what would be provided.  I was pleased to see the return of the pump track this time provided by Dirt Factory Indoor Bike Park where the children were timed. The kids had chance to improve their times throughout Friday and Saturday, which meant lots of trips back!  Thanks to kind donations from many of the exhibitors, prizes were donated for the first second and third place riders in various age categories from balance bikes, 5 and under to over 10s.  Every child who took part received a small prize.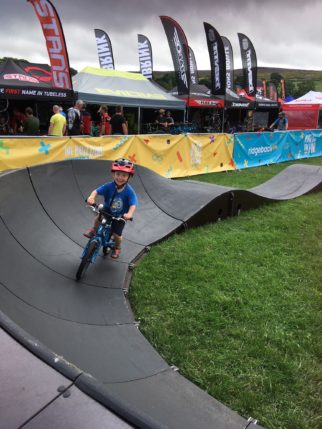 2018 welcomed the introduction of a wood work section provided by Timber Fly Ramps with 3 coached sessions on Friday and Saturday  provided by MTB Guisborough (a local mountain biking club) and Trail Advantage (a MTB skills and coaching company).  With three levels of coaching from the "Little Rippers" for those on balance bikes and new riders to the "Flyers" for the older ones where they learnt to jump. At other times the children were allowed to use the woodwork.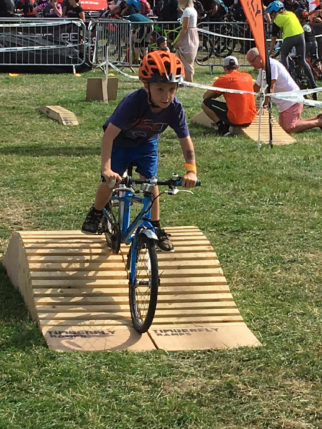 Ard Rock 2018 saw the return of Ridgeback Kids who were now positioned next to the pump track and wood work section so you could really test out the capabilities of their bikes.
Cuda Bikes were also located next to the pump track so  you also had chance for the kids to try out their bikes as well as get a temporary tatoo which were very popular with the kids.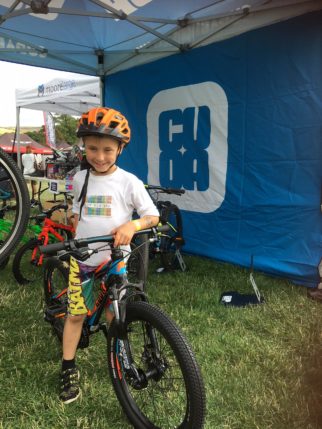 If the kids needed a break from cycling, or if they were too small for cycling, two play areas were provided in the main marquee.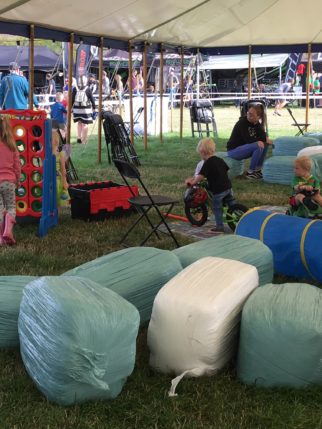 A selection of toys were kindly provided by the 2 year old son of one of the organisers  (who was very good at sharing with everyone) as well as a quiet corner with mindfulness play equipment and colouring provided by  Reconnexxion Worxx.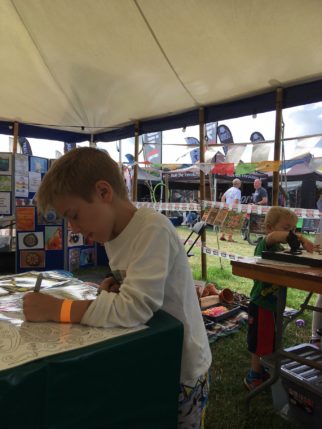 This provided a welcome break for young and old.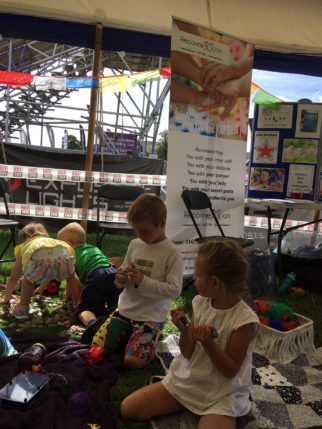 Riding the Swale Trail
On Sunday we thought we would take the opportunity to try out part of the new Swale Trail a newly opened mainly off road trail which passed the Dales Bike Centre  where the event is held.  This gave me the welcome opportunity for me to get on my bike!
The section we tried had a short stretch on road before heading off on an undulating gravel track which levelled off after the first mile.  We only managed to do a couple of miles as the boys had tired legs and had to save themselves for a final go on the pump track.  For a full review of the Swale Trail route and it's suitability for families, click here.
Kids bike racing at Ard Rock
On return to the site we discovered that the pump track and woodwork section had been combined to create a course for a kids race. This had been a last minute decision by the organisers, so hadn't been able to be publicised in advanced.  Unfortunately this meant we missed our boys age categories,  however they were allowed to record a time once all the other age categories had competed.  Again there were prizes for first second and third places in each age category again with prizes being donated from the various stands.  Prizes included helmets, pedals and t-shirts much to the delight of the winners.
With over 200 different children using the wood work section, Ard Rock has definitely turned into a family friendly event.  There's a family camping area away from the main event village if you want to get away from the noise from the evening entertainment.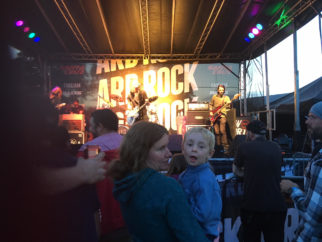 As there was no extra cost for kids camping it offers great value for money if you bring your family – unless your child falls in love with one of the demo bikes!! My favourite quote I have heard since getting back "Our two (4 and 6) are already asking if we can go back again next year, that says it all really".
Dates and ticket prices for Ard Rock 2019 have yet to be released, but further details will no doubt be available on their website in due course.
About the Author:  Emma Young is a mum of two children and a transport planner, promoting sustainable transport. As well as being a guest blogger for Cycle Sprog she also runs the Child Friendly Bike Rides in Yorkshire Facebook Group and is a Leeds Girls Can ambassador responsible for promoting family friendly activities.
Have you been on a great bike ride or to a family friendly cycle event with your Cycle Sprog? If you'd like to write a guest post like Emma, to inspire other families to get out on two wheels, do get in touch. 
If you've enjoyed this post, check out some of Emma's other brilliant blogs: