Alpina Carapax Jr. Helmet Review
In this review, we're looking at the Alpina Carapax Jr. helmet. This is a lightweight mountain bike inspired helmet from a German brand with a long history of manufacturing high-quality helmets and protective equipment.
We've asked a range of different kids (and their parents) to try it out and give us their impressions, so you can decide if this helmet is suitable for the Cycle Sprog in your life.
Affiliate disclosure: Cycle Sprog may get a small commission if you make a purchase from the links in this post. For more information please see our affiliate policy
Helmet details
Helmet model: Carapax Jr.
Size: 51-56cm (other models cover other sizes)
Colours available: Choice of 6
Safety standards: EN 1078/TÜV Rheinland Test Mark
Weight: 260g
Cost: £54.95
Date of review: October 2021
We Like: Lightweight, stylish helmet from a European brand with great heritage.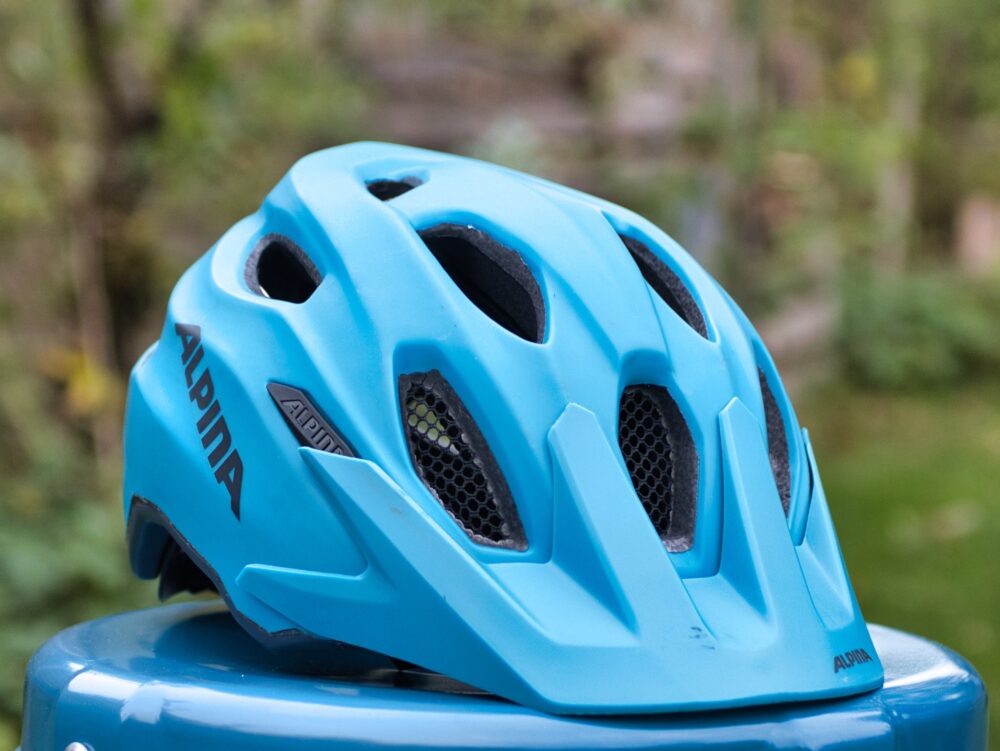 Alpina Carapax Jr. kids helmet review
German brand Alpina has been producing protective equipment since 1980. Having started making helmets and googles for snowsports they went on to make bike helmets and eyewear.
The majority of their products are designed and manufactured in Bavaria and Alpina are committed to their model of local production.
The Carapax Jr. is based on the adult model of the same name which is a lightweight all-rounder and one of the lightest Enduro helmets around. The Jr. version takes its cues from here and presents itself as a mountain bike styled helmet complete with low coverage behind the ears and the ubiquitous peak!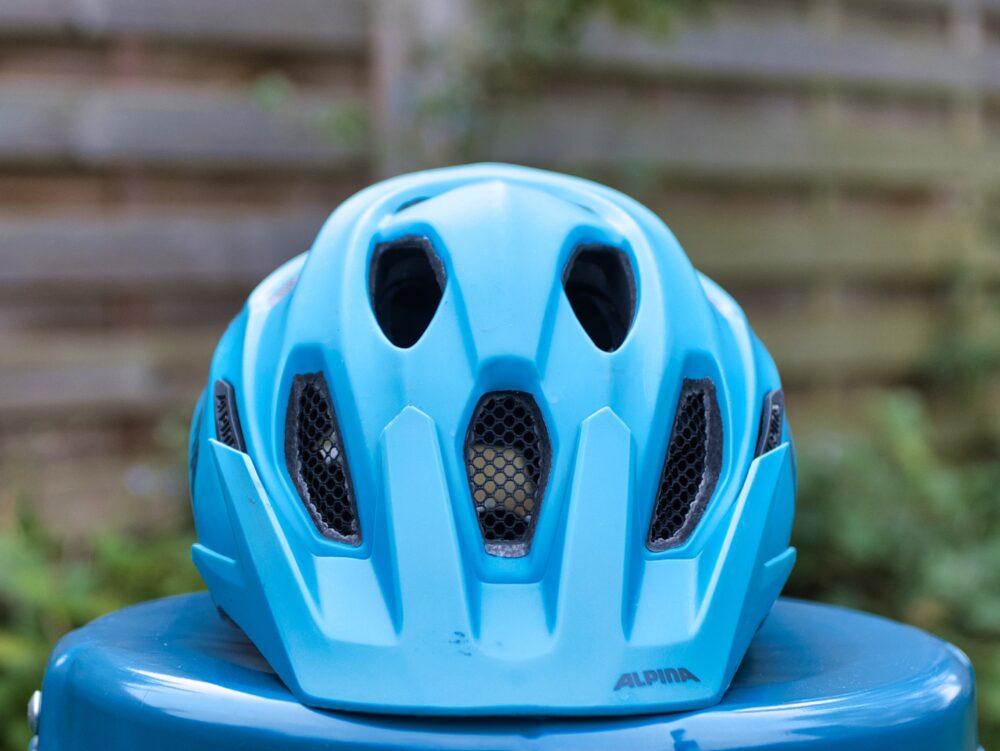 Construction is the in-mould method where the outer plastic shell is bonded to the EPS foam inner, which is common on cycle helmets.
The large vents keep the air flowing through and it even sports a bug mesh to prevent any unwanted travelling companions from getting in!
Adjustment is made with a simple dial at the back of the head and the chinstrap is a nice, 'push together' fastening rather than a traditional clip.
There's a 'Y-hang' adjuster so the straps can be easily positioned under the ears.
With 6 colours to choose from you'll be hard-pressed not to find a colour that appeals, and if you want a little more visibility you can purchase the 'Flash' version of the helmet for a bit more.
Those looking for a smaller helmet can choose from the Alpina Pico and Ximo which deal with more compact heads.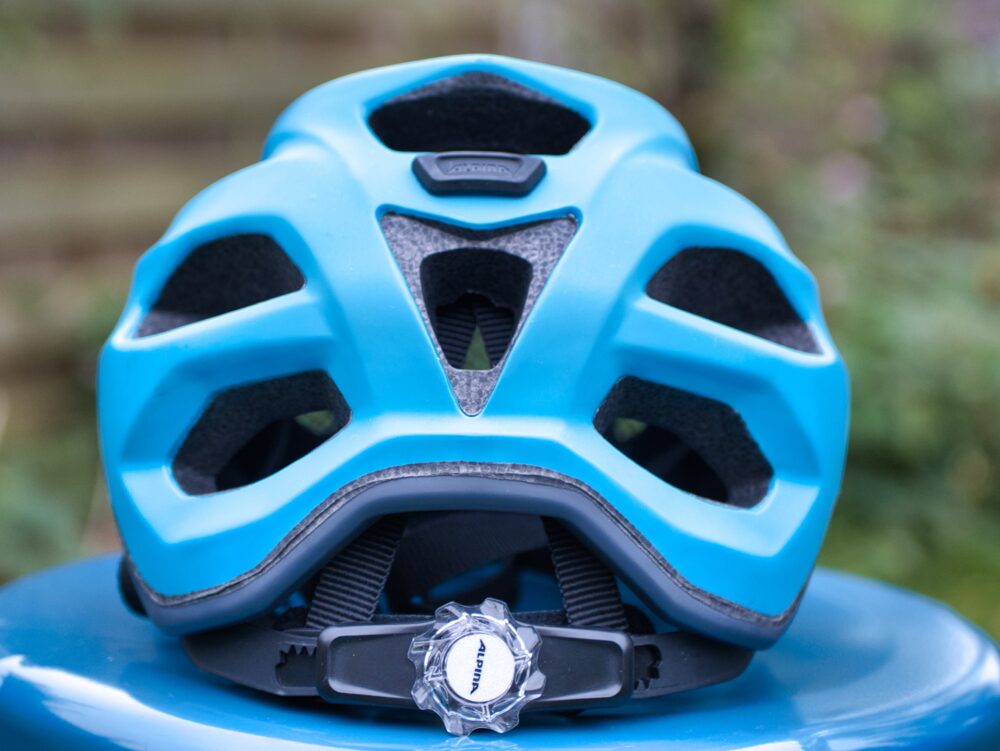 The rear adjuster is easy to use, either by the child or by an adult and holds the head securely.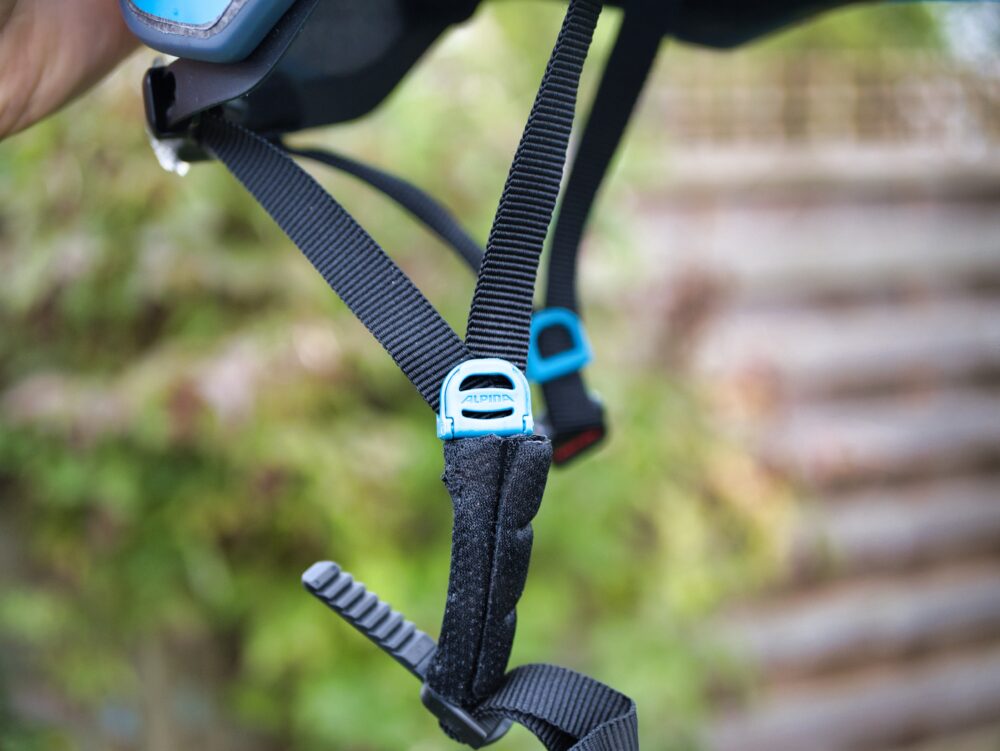 The chin strap is fully adjustable so the straps fit around the ears and has a padded area under the chin to keep things comfortable.
The Alpina helmet in use
Firstly it was noticeable that the Carapax Jr has a smaller size range than some of the other helmets I have been testing. Whereas some have a 7 cm circumference range, usually in the 50-57cm range, the Carapax Jr. goes from 51-56cm giving only a 5cm range.
This was only an issue as I tried to test it on multiple heads and found it not as flexible in its sizing as some others.
We also found the helmet to be a better fit on those with a narrow head, as the Carapax Jr comes in about 1cm narrower than many other helmets we have tested.
Those towards the upper limit of the size struggled to get a good fit and the helmet either perched on the top of their head, or else pressed against the sides of their head too much.
However, those with a narrower / smaller head whom it did fit, found it very comfortable, so it's yet another reminder that trying on a helmet is crucially important.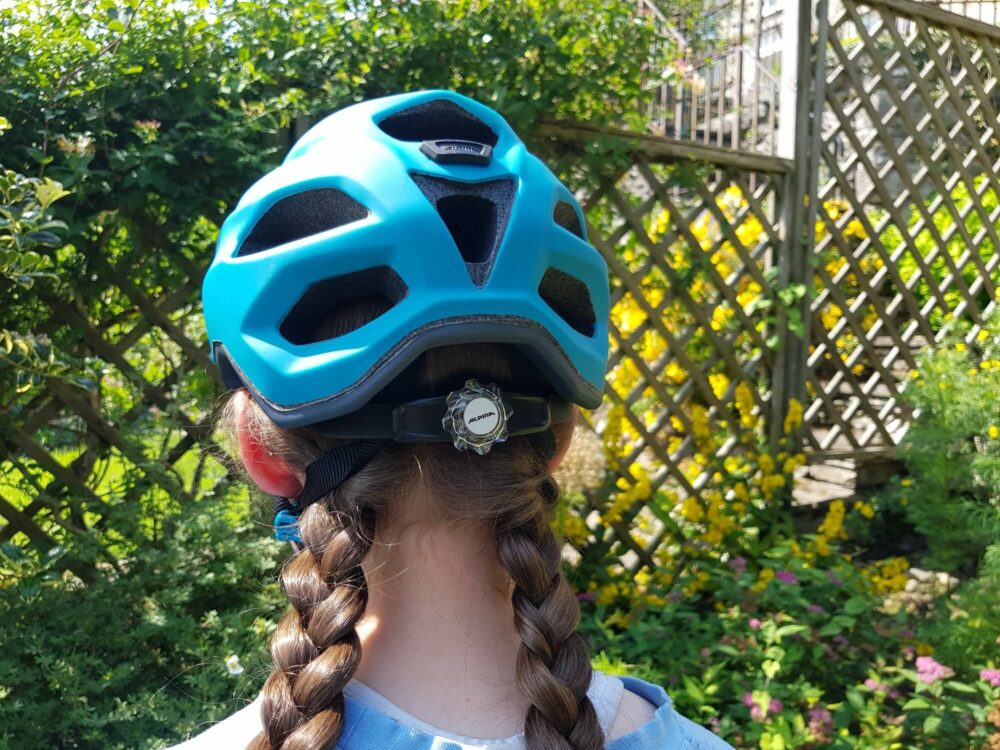 With a head the correct shape, the fit of the Alpina Carapax Jr helmet is good and comfortable.  The rear adjuster tightens easily but without much 'click'.  It fits well with long plaited hair and some testers liked the icey/reflective look of the dial.
The style is fairly understated, and the younger kids were fairly non-plussed compared to some more garish coloured helmets we had been testing. The older testers were far more impressed and liked the block colour and simple styling.
The mum of one of our helmet reviewers has a very small, narrow head and she borrowed the helmet for the summer holidays and reported back that it was the comfiest helmet she's ever worn.  No problems with a sweaty head, even during August temperatures.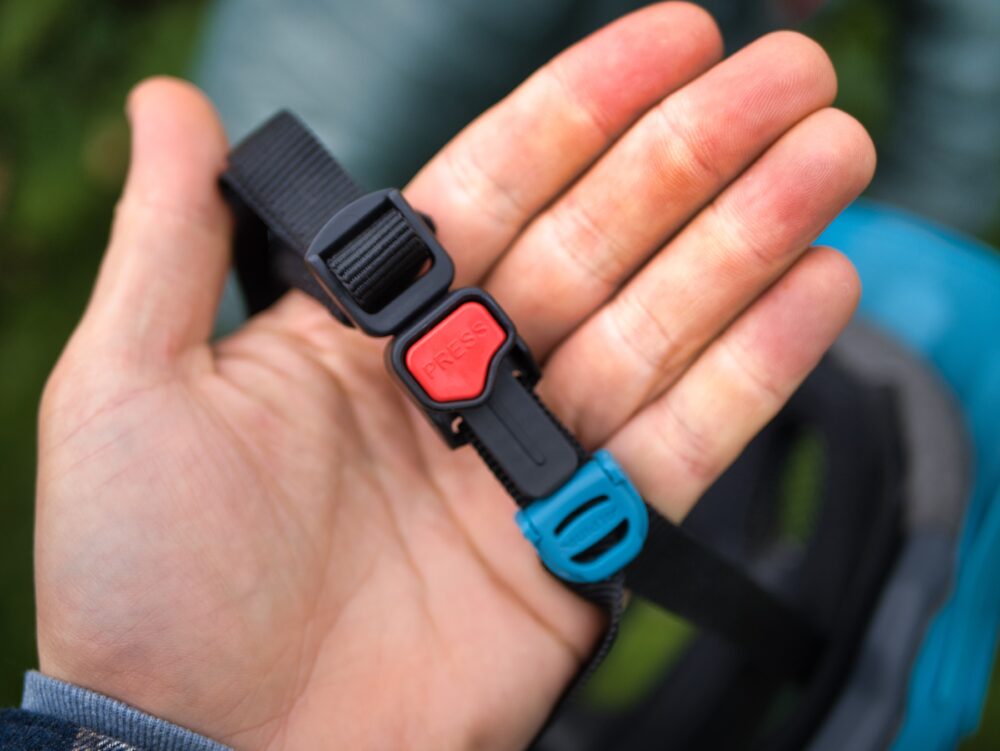 The straps adjust easily under the chin and the chinstrap is fastened with a nice system to avoid pinching any skin.
This works well for small fingers and gives more independence and ownership over the experience.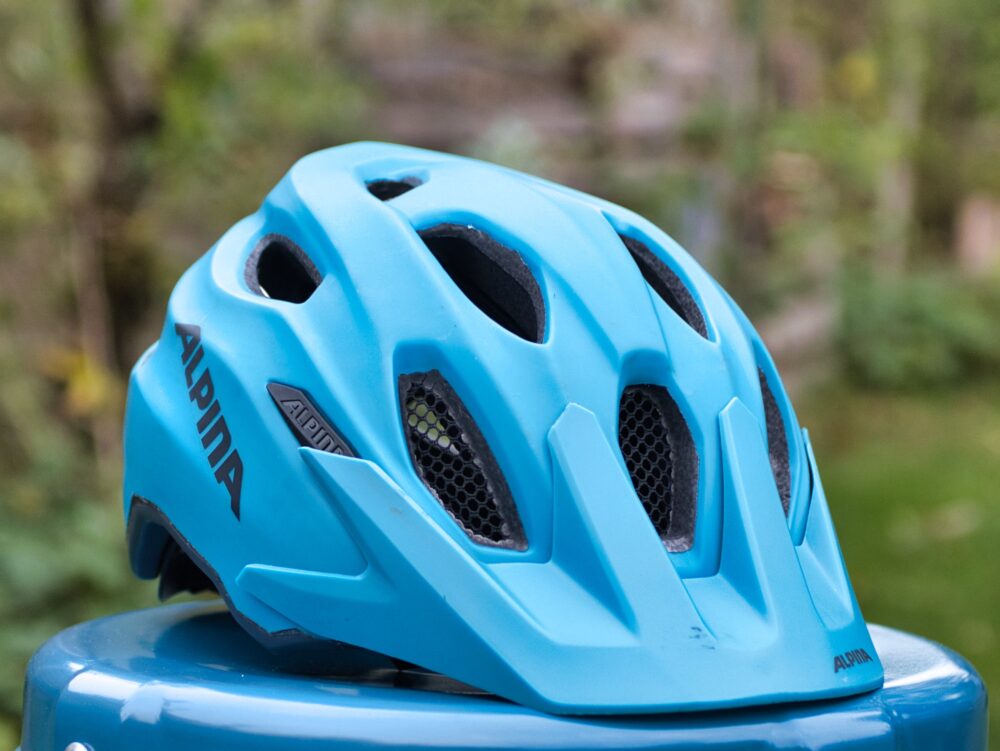 The Carapax Jr has some serious competition not only on price but sizing range and features too.
It's up against helmets like Cube's Talok with MIPS (which is £15 cheaper) or METs Eldar MIPS for the same price.
That said, Alpina have a serious heritage in safety equipment and do a lot of their manufacturing in Germany (although we don't know if this helmet is made there) which will no doubt affect their prices.
Overall verdict on the Alpina kids helmet
If the helmet works with your child's head shape it makes for a very comfortable and lightweight helmet built to the high standards Alpina are known for.
Our older reviewers appreciated the more adult MTB inspired styling of this helmet.
Keep up to date with the latest Cycle Sprog articles
Sign up to receive our newsletter straight to your inbox.
Everything you need to know to keep cycling through winter