Family cycle routes in Lancashire are plentiful, and there is no doubt that this is a beautiful and varied county. From the flat coastal plains of the Fylde through to the rolling Bowland Fell, Lancashire offers wonderful cycling opportunities for all the family.
To help you get out on your bikes, we've brought together a selection of some of the best family cycle routes in Lancashire – just click on the route name to get full details.
Family cycle routes in Lancashire
2.5 miles along a traffic free old railway line as part of the Hyndburn Greenway, this is flat and easy route for young riders.
The Bay cycle route – a new family friendly ride with stunning views
The Bay Cycle Way is a new long distance cycle route following the coast from Walney near Barrow (Cumbria) south to Glasson Dock near Lancaster.  Most of the Lancashire stretch from Morecambe, along the promenade, through Lancaster (via the Millemium Bridge) and onto Glasson Dock is traffic free.  Depending on the direction of the prevailing wind, this can be an easy or a very challenging ride!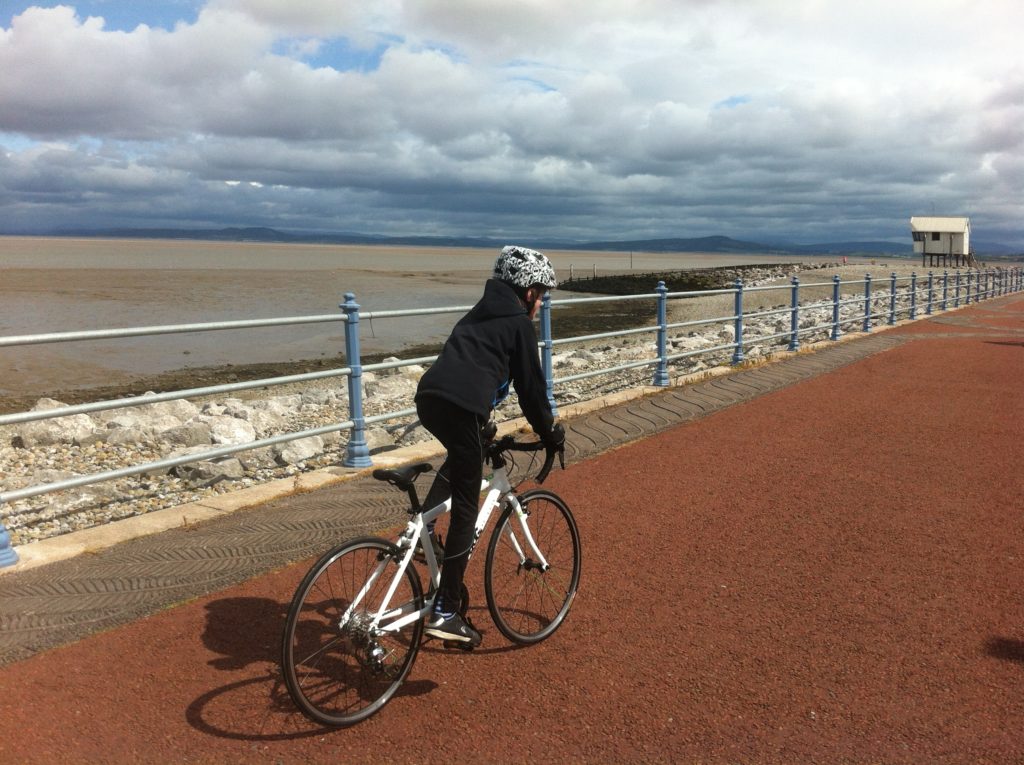 Witton Park nestling under Billinge Hill, on the west side of Blackburn offers 480 acres of beautiful mixed woodland and farmland.
You can ride through the park on National Cycle Route 6 to the village of Pleasington. There is a visitor centre in the park with an exhibition area. The Old Stables tearoom provides light refreshments. With a playground and pets corner, Witton Park is a good place to go for a cycle ride with children.  A programme of led rides with bike hire is run from the Visitor Centre.
National Cycle Route 62 covers over 12 miles along the promenade at Blackpool, making it the UK's longest seafront cycle route.  For a great day out cycle along the promenade visiting sea front attractions on route.  It is a great route for all the family, and passes by all the sea front attractions.  Parts can get busy in high season.  Once a year, on the day after the August Bank Holiday Monday, the entire promenade is closed to traffic for the annual testing of the illuminations, allowing families to Ride the Lights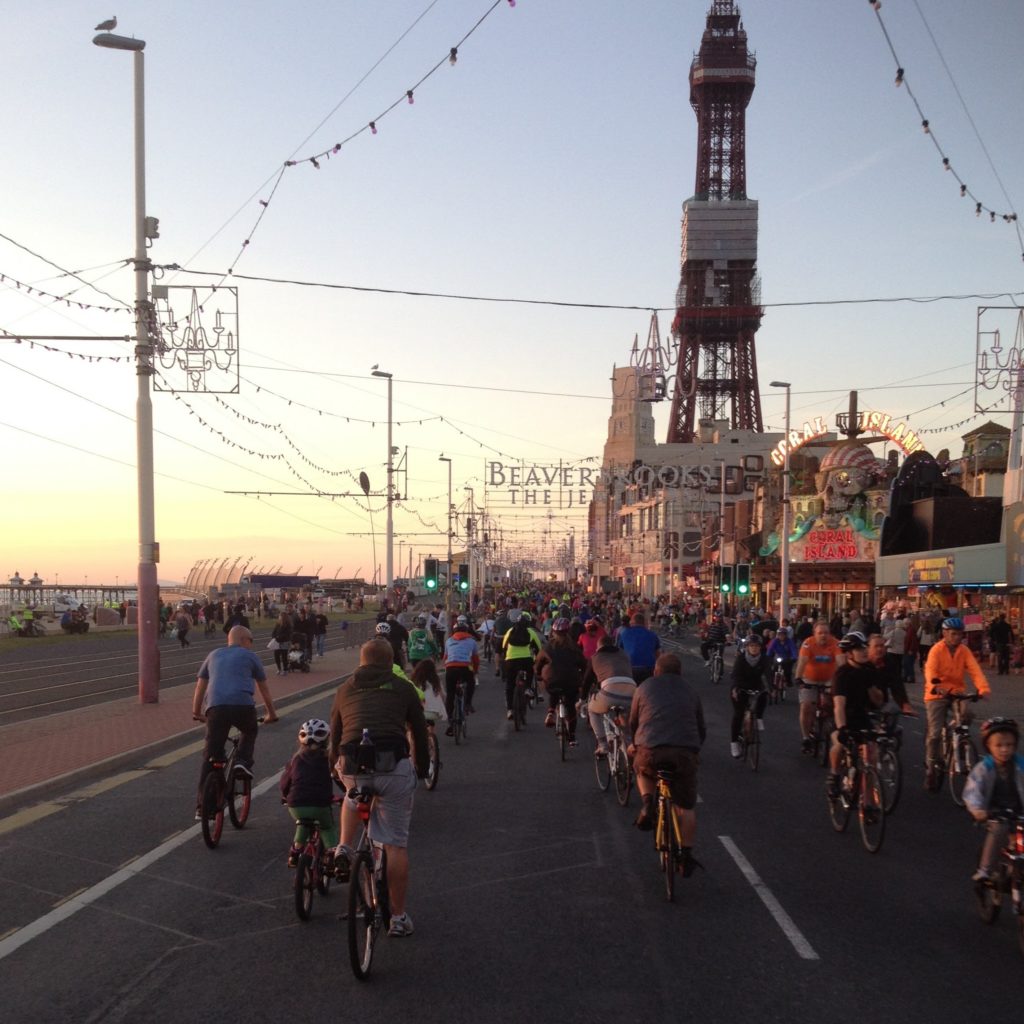 Three great family friendly Sustrans routes through Burnley and the surrounding area.  Find out all about Burnley's rich and varied history from the role of local families in the civil war, through to the cutting edge of weaving technology in the  Industrial Revolution. This route links together local attractions using a combination of traffic free route, converted former railway lines, canal towpaths and woodland trails, and short sections of quiet or traffic calmed roads.
Because some of the sections of route are quite long they have been split into separate routes coming together at The Weavers' Triangle Visitor Centre but can be combined.
As family cycle routes in Lancashire go, this is a great one. Starting in the village of Dunsop Village in the Ribble Valley, it takes you out into the heart of the Forest of Bowland. Travel alongside the upper stretch of the river Dunsop with the fells on all sides of you.  Flat tarmac bridleway – 8km
This route follows the Leeds Liverpool canal towpath from Foulridge and is part of the Pennine Cycleway.  The route is 10km, mainly along the towpath, but has a short on-road stretch.
Another route from Foulridge, this route follows the Leeds Liverpool canal north towards the Yorkshire Dales. Lots to see en-route, it's flat and traffic free for the entire 6km.  There is a great write up of taking the kids along this route on the Kids and Camping website.
Gisburn Forest – mountain biking for older kids
Gisburn Forest is the largest in Lancashire, climbing above the Ribble Valley with fantastic views of the Forest of Bowland. There is a network of forest roads for those new to off road cycling so you can decide exactly how far you want to ride. For older kids, Gisburn Forest has a 9.5km blue Mountain Biking route called Bottoms Beck that mixes sweeping forest roads with exhilarating single track, and a blue graded skills loop to help perfect those techniques.
The link above will take you to a great booklet with 6 family friendly, mainly traffic free routes in Lancaster, Carnforth, Morecambe and the surrounding areas.
Lancaster has had a lot of investment in cycling over recent years, and it's possible to travel siginificant distances on traffic free paths.  This 18k triangular ride offers plenty of variety, ranging from the historic heart of Lancaster, the car-free bustle of the Greenway, the wide open space of Morecambe's breezy Prom to the peaceful canal towpath.
This route is almost all on traffic-free cycle-tracks, apart from one stretch of about 250m on an on-road cycle-lane; this can be avoided by walking the short distance. It's also almost entirely flat, with just one gentle climb approaching Hest Bank.
Lytham Promenade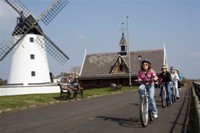 Lytham Promenade is a great place to cycle with children. For a sedate ride, pedal past Lytham Green with its windmill and lifeboat station to Fairhaven Lake and Granny's Bay. The RSPB have a visitor centre at Fairhaven Lake. There is a children's playground and a lakeside café where you can stop for a drink and a bite.
There are views across the Ribble Estuary from promenade. The Ribble Estuary is one of the country's top bird watching sites with over 250,000 birds wintering here to escape the cold of the Arctic, where they spend the summers.
There is a 20km route there and back along the Pennine Cycleway from Victoria Park to Townley Park via Nelson and Burnley that is ideal for those on single bikes. It isn't recommended for trailers, taglongs, trailgators or tandems, due to barriers along the route.
The Padiham to Burnley cycle route via Ightenhill passes along the scenic Calder Valley, but does involve quite a lot of quiet roads, so is more suited for families with older children, who are confident cycling on road, or those still in seats, trailers, tagalongs etc.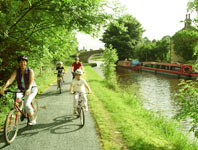 Follow the Pennine Cycleway along the Leeds & Liverpool Canal, following signs from Colne Train Station to Foulridge Whalf.
As this is mainly along a towpath it's relatively flat and the surface is good whatever the weather so it's a good route for all abilities to tackle. There is also plenty to see along the way
Reader recommendations for family cycle rides near Preston:
Cycle Sprog followers on Facebook have recommended the following cycle routes close to Preston for a family with a 4 year old and a 6 year old :
Zaynan Lythgoe recommends the GuildWheel (click here for the Facebook Page)  – don't forget to like the Cycle Sprog Facebook page while you're at it!
Steven Carson agrees that Guild Wheel is pretty good  but warns that at 22 miles it "may be too far for the little ones, plus it is hilly in places and is not totally car free as there are a number of shared stretches, albeit that they are pretty quiet. It can be done in stages though – the bit down by the River Ribble from Brockholes to Avenham would be a good place to start with cafes/tilets at either end". 
Steven also advises that "a bit further afield there are off road paths at Cuerden Valley, nr Leyland/Chorley though again there is the odd hill but you can just do the flat bit… can be busy with dog walkers as well."
So there you have it. A Cycle Sprog selection of family cycle rides in Lancashire, ready and waiting for you to saddle up, fun.
If you've got a favourite family cycle route in Lancashire that we've missed, and you'd like us to include, please do let us know via our Facebook page or email.

Thanks to the Visit Lancashire website for much of the information
Want to know more about cycling with your kids?
If you'd like more advice on cycling with your kids, inspiration for family friendly cycle routes, or reviews of the best kids bikes and children's cycling accessories don't forget to sign up for the Cycle Sprog newsletter.
Please follow us on Facebook and Twitter. If you've found our post on family cycle routes in Lancashire useful then it would be great if you could share them with your friends. Thanks!
Other posts you might be interested in:
This guide to  family cycle routes in Lancashire was first published in April 2013, and updated in October 2016 to reflect changes to routes