Every autumn evening, Blackpool's promenade twinkles and glistens as over a million lights sparkle and shine, creating the world famous Illuminations.
And just like at Christmas when you need test out your fairy lights before using them, Blackpool's illuminations also need to be thoroughly tested before they are turned on for the autumn.
So, each year on the day after August Bank Holiday Monday, about a week before the big switch on, the whole of the promenade road is closed to motor traffic and the lights are put through their paces.
For 2021 this means Tuesday 31st August.
While motor vehicles are banned from the road, bicycles and cyclists are positively encouraged to turn up and have some fun for the Blackpool Ride the Lights.
For about 4 hours Blackpool Promenade becomes the greatest cycle-way on Earth and makes for a great family, fun-filled evening!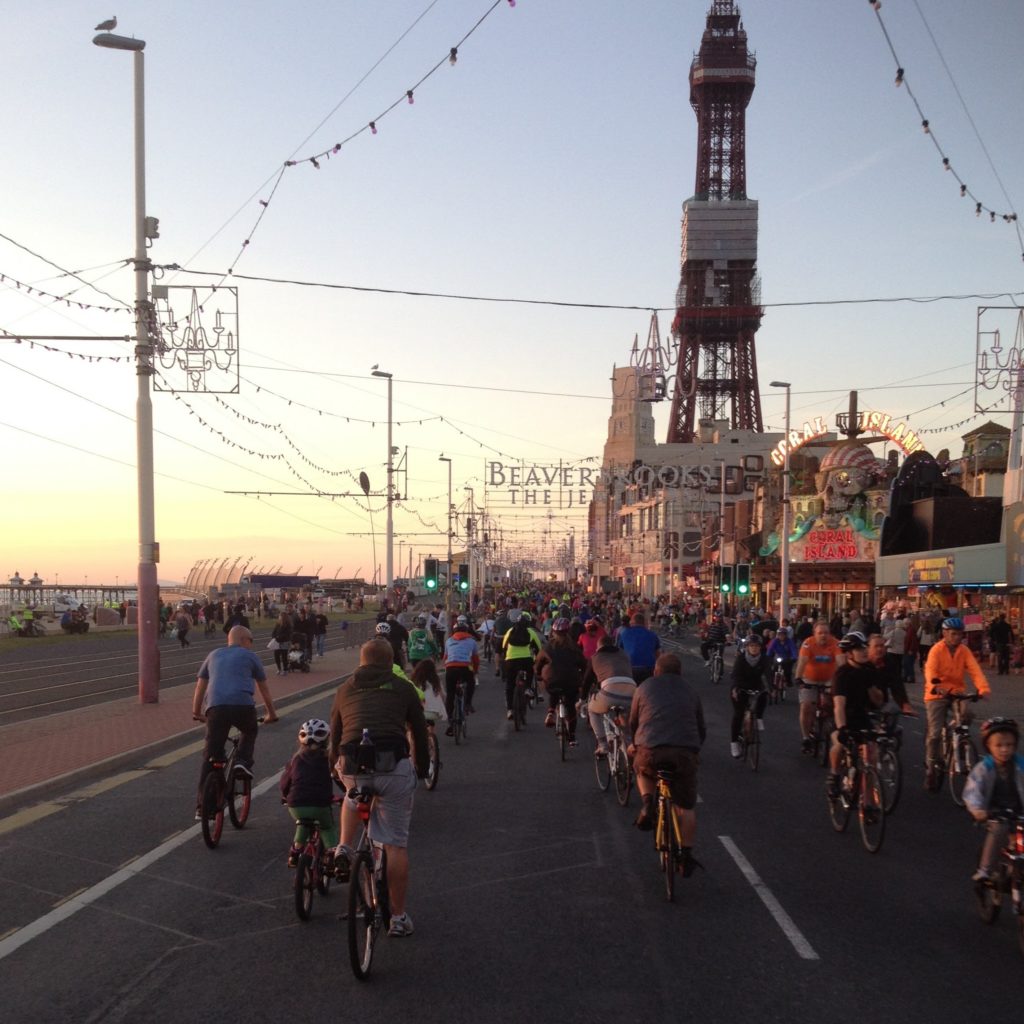 On the day after Bank Holiday Monday the prom road is shut from about 6pm until 10:30-ish.
You can join the route in either direction at any time or in any place that you want.
By cycling, rather than driving, you get to hear the "ohhs" and "ahhs" and excitement of children's voices, you can chat with strangers as you ride side by side and wave/high-five folk as people ride back down the other side of the road.
You are much more aware of the usual seaside sights and smells (not always such a good thing if the horse carriages are still around), and as the daylight fades into darkness you gradually become aware of the glow from the illuminations taking over from the natural light – it's an almost magical sensation that you just do not get when you surrounded by the metal shell of a car or coach.
Can anyone join in on the Blackpool Ride the Lights?
Yes! Hundreds and thousands of people spend the evening just cycling up and down the prom, all of different ages and abilities – babies in trailers, older toddlers on balance bikes, kids on tag-a-longs or with stabilisers, teenagers darting about, rusty old shoppers (that's the bikes, not the riders), unicyclists, fat bikes, road bikes, penny farthings, gleaming choppers (again the bikes, not the riders) and even the odd Dodgem car or Log Flume log that has been converted to pedal power – all the cycling world is here, all riding in the knowledge that they are safe from motor vehicles.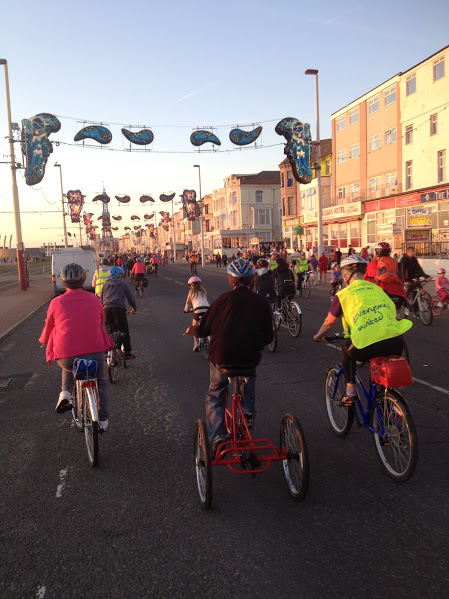 And best of all, when you get to one end, you just turn around and cycle all the way back to where you started… and then turn around and go again.
I think we rode 19 miles the first year that we went as my daughter insisted on going to see the pirates display at the north end of town… and then half way back she insisted on us going to see the pirates display again… and again… and again etc.
Do I need lights on my bike for the Blackpool Ride the Lights?
Yes – it will get dark whilst you are out.
In fact, you are actively encouraged to bling your bike and pimp your pedals in order to make your steed as bright and sparkly as possible, which makes for a spectacular sight as the night falls.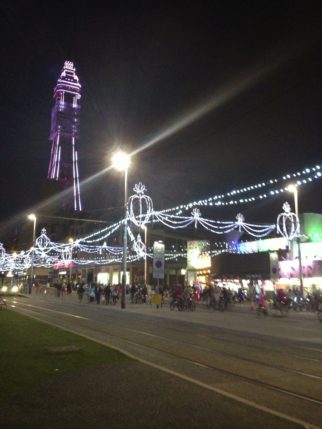 Blackpool is still in midst of its summer season as well, so the piers, trams, fairs, road-side tat stalls and food outlets are all operating as normal.
Outside the bars and pubs you'll see bike upon bike laid up against the walls, locked to anything that looks reasonably solid, and, of course, its obligatory to stop for a cone of chips along the way… though last time my 4yr old thought it was highly amusing to pour her food into my cycle helmet and eat them out of that instead!
Are there any downsides to the Blackpool Ride the Lights?
Well, yes, though I am being picky…
Firstly, the sheer number of cyclists, especially early in the evening, means you may have to have your wits about you a bit more than usual, especially if you have little riders with you.
This is more apparent at the start of the closed road sections as quicker riders, who really should know better, try to weave and force their way through slower riders… not cool if you've a toddler on a small bike with you or if you are towing a trailer.
Once into the ride though these 'quickies' are well out ahead of you, so you can start to relax and enjoy it more.
Also, as mentioned earlier, Blackpool is still in holiday mode, and there are people still trying to enjoy a few days holiday.
There is a good chance they were not aware of Ride the Lights and so will be trying to cross roads at zebra crossings or traffic lights, which as the roads are closed many cyclists think they can ignore.
Finally, and the biggest irony of all, is the amount of people who, wanting to take their families somewhere safe to ride their bikes, then proceed to park in the mile or two of cycle lanes to the south of Blackpool, meaning that riders using the lanes are then forced out into the road – adults with kids in seat/trailers trying to co-exist with double-decker busses and lorries is not cool.
Can I cycle with my kids through the Blackpool Illuminations on another evening?
Of course. While the road being closed is a one-off occurrence (and they really should do another night as well, perhaps during October Half Term as it obviously goes darker much earlier then) you are not restricted to cycling through the illuminations on just this one night as you can always stick to the prom (rather than the road) and ride safely up and down the sea-front on any evening that the illuminations are on… in fact on a Friday or Saturday night it is actually quicker to cycle through them than drive.
You do miss out on the sights and sounds of the Ride the Lights though, such as these modified dodgems!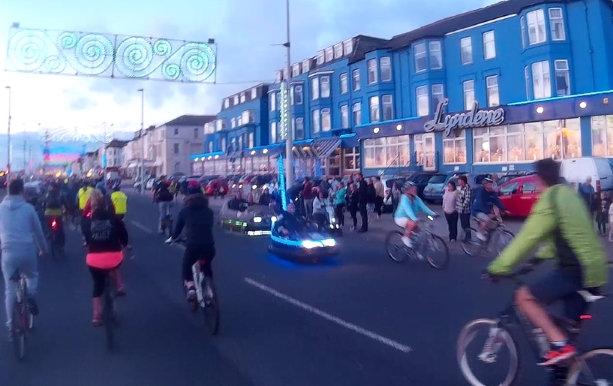 What else should I know about cycling with my kids through the Blackpool Illuminations?
Please remember that being by the coast means that the weather can change quickly and a fresh sea breeze may appear from no-where. Sprogs in trailers or bike seats are not doing any pedalling so they will not be working up a sweat like you are, and they may become considerably colder as the sun sets and day becomes night, so be prepared to wrap them up well.
Blackpool Ride the Lights takes place each year on the Tuesday after the August Bank Holiday Monday.
For 2021, this means Tuesday 31st August 2021.
For more information check out the Visit Lancashire Website.
If you can't make the Blackpool Ride the Lights, check out the best Family Cycle Rides in Lancashire.
A huge thank you to dad of two Steven for providing this article about the annual Blackpool Ride the Lights cycle ride. You can follow him on Twitter at @StevenInLeyland
This article was first published in 2016, and updated to reflect the dates of this years Ride the Lights
Other articles you may find useful: