Cyclo-cross for kids is growing in popularity – it's fast, it's furious and it's great fun! Lorraine Allman and her 7 year old son tell us what it's like riding Cyclo-cross for the very first time.
We first heard about Cyclo-cross at our local kid's cycling club where D, aged 7, goes every week. It sounded interesting, so we hit the search engines when we got back home to see what it was all about. The Welsh Cyclo-cross website is fun, informative, and easy to navigate, so we hoped the experience on the day would be the same!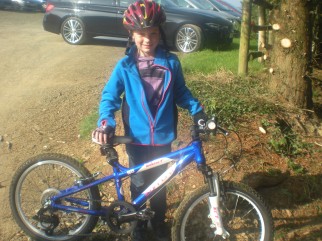 Our local kid's cycle club, Pocket Rockets, involves mainly track and occasional fieldwork. D regularly rides on the (rural) roads around home so a more 'bumpy' track isn't something he has experienced much of. Sunday morning came and we did our usual rushing around, picking up the Sunday papers early, arriving at Clerkenhill (an adventure farm) in Pembrokeshire around 9.45am.
Getting started with children's cyclo-cross
The first thing to say is that it was great to see several other children from D's cycle club who had also decided to give cyclo-cross a go for the first time. Much to D's annoyance though, the weather had put on a real show for us – barely a cloud in the sky, a light breeze – perfect conditions, but as D said "there's no mud!" I confess to being slightly relieved by this, not least so that I didn't fall flat on my face, but also because I wanted this to be a positive first experience rather than one which resulted in 'battle' scars.
The day was round 2 of the Welsh Cycle League (the full report can be found on the British Cycling website). Clerkenhill is a great spot for cyclo-cross – just off the A40 near Haverfordwest. It's well signposted with plenty of free parking plus toilets and a small café. There weren't any signs telling us where to register so we ended up taking a circuitous route ending back up where we started, just a short walk away from where we needed to register!
Everyone we met was really friendly. Registering was quick, easy, and cheap (just £1 for the kids). D was in the under 8's category along with around 29 others, so it was a good sized group. We'd been warned not to be put off by participants turning up in all the 'gear', and they weren't wrong about that, but the main thing was D had his helmet, his gloves, a decent mountain bike safety checked the day before and just before the race, and was looking forward to it.
The kids cyclo-cross course
The Under 8's cycle for around 9 minutes and aim to complete about 3 laps of the course or as many laps as they can. If we had arrived earlier, he could have had a test drive of the course, but it wasn't essential as the route was clearly marked.
At the start of the whistle, the group sped off and so far as I could see some of them kept a fairly constant fast speed throughout – and that's really where cyclo-cross differs from something like mountain biking – it's short and it's fast!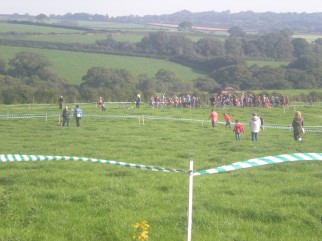 The route had lots of bends, several hills, part dirt/gravel track, part bumpy and uneven grass. I stayed at the top of one of the steepest points of the course, mainly so I could shout some hopefully useful words of encouragement to D as he sprinted past. In reality, however, I started to feel more than a little anxious as a whole group flew past with no sign of D.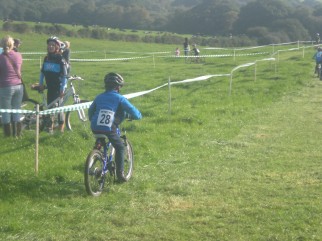 Then he came around the corner of the hill –pushing his bike! That's the great thing about kid's cyclo-cross, it's actually okay to get off your bike and push!
There were a few other kids doing this and he hopped back on quickly enough three quarters of the way up the hill, and with a few shouts of joy from me, he zoomed past with a stern look of concentration on his face. By the third and last lap, he seemed a little weary, but not to be outdone, put on an amazing sprint at the end to complete the course to a wave of the chequered flag.
Cyclo-cross for adults
Races were scheduled at Clerkenhill throughout the morning – starting with the under 8's at 10.15am through to the Seniors/Juniors/Veterans/Women starting at 12.15pm, so you can make a good day of it if older members of the family were interested in participating too. The adult cyclo-cross route is tough and it's fast – I mean, really fast! Races last for 50 minutes, so if you can cope with having your heart rate way above normal for that time whilst covering some challenging terrain, go for it!
Cyclo-cross for kids – the verdict
We met up at the end and D rehydrated – cyclo-cross is very thirsty work. As we were walking back, he said his legs felt like jelly and I said that was a good thing because it meant he had worked really hard. He probably won't win any races at least for a while, but I could see how chuffed he was to have completed the race. Rather hesitantly, I asked whether he might like to ride another cyclo-cross sometime. The answer was a resounding 'yes'.
I'll leave the last word with D on what he made of it all:
"I liked Cyclo-cross and I definitely want to do it again. It was really hard going up the hill but I loved speeding down the hills on the grass and doing the zig zags. I was so tired at the end my legs felt like jelly, but I was really glad I did it".
Positives: Well organised, friendly, short race time, open to all, cheap to enter, off road safe environment, use any bike you like, lots of fun.
On the downside: Cycling on rough tracks and grass takes some getting used to. A mountain bike is fine but it's heavier for getting up hills. We were lucky with the weather, but on a very wet day, the track would have taken on quite a different feel and been a much tougher ride for everyone.
This review was written by Lorraine Allman, with help from her 7 year old son. Lorraine is a mum, business woman and author of the Enterprising Child website. She can also be found on Twitter @beindemand
This article was first published in October 2013
Other posts you may find useful: