Here at Cycle Sprog, we're really pleased to welcome Liz as new contributor to our family cycling blog. In her first article, Liz tells us about her first family cycle ride of the year – blisters and all!
Our first family cycle ride of the year
Having made the decision the week before to go on a family cycling holiday to Holland this Easter we thought we had better make the most of the sunny weather and get the girls out on their bikes for some practice!
Living just a stone's throw from the Chester Greenway, we decided to go the 2.5miles and back to Guilden Sutton. This is on the traffic free, reasonably flat and tarmac surface cycle track which seemed like a good start for our first family cycle ride of the year. Unfortunately, we couldn't replicate the wind and indeed there were no windmills or tulips but there were several other points of interest.
It was a beautiful Sunday morning so Emily (7) and Lucy (4) got ready into their gear. Emily was particularly excited to wear her new cycling top, although was rather disappointed when we insisted on a coat on top, as after all, it was the start of January. We asked her to put the snacks in the back pockets as 'grown-ups' do on their rides which went down well.
Keep on running!
The slight twist to this 'family cycle ride' is that Ian and I were running as we had bought new trainers in the sales and were just trying them out and thought that we would 'easily' keep up with the girls, Emily on her purple Islabikes Beinn 20 and Lucy on her pink Carrera Luna.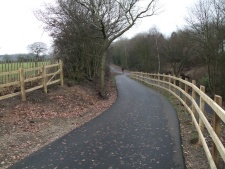 Image of Chester Greenway by Sustrans (www.sustrans.org.uk
The outing started well with us splitting up, to get up to the Greenway, girls on bikes with Ian who went up the slope and me nipping up the steps to get a head start. That caused amusement straight away as the girls weren't going to let me be in front! Needless to say, they both whizzed past pretty smartly and we were left playing 'catch up', quite literally and quickly realised how we had underestimated their speed.
Luckily it was not long before we bumped into our friends who were coming back from the park with their cousins. That was welcome for a breather and and a natter. The six kids with bikes crowded together and looked quite a sight on the track with their colourful helmets and bikes. They seemed to be having a good old gossip about each other's bikes/shoes/helmets/bells but we finally managed to prize them away to continue on.
The track is reasonably flat apart from the small slopes up and down over and under bridges where Lucy welcomed the odd push along to get her going again. The girls initial energy burst did drop off so that the stops became a little more frequent to look at the wooden horse, graffiti in the tunnel, train under the bridge, cute dogs being walked and various other reasons!
Time for snacks!
We had a snack stop near Guilden Sutton before turning around for the homeward stretch. Emily was happy to provide these from her back pocket and also the water from her bottle cage on her bike – I think this was more needed by us than the girls!
As always, the girls knew that I rarely set out without the sweet supply and, as I suspected, these came into their own on the way back by which time our run was at a rather steadier pace! Before we reached home we bumped into a friend of Ian's from the Sunday morning bike group who said a cheery 'hello'! The next time he saw her she commented at how lovely it was to see the girls out on their bikes and us running behind them!
It wouldn't be a family cycle ride without the cries of, "are we nearly there yet?" but we, of course, all had great fun, lovely fresh air and good exercise. We will, no doubt, be doing more of it in the coming months in preparation for our Holland adventure (in spite of the few odd looks that we received!) We definitely enjoyed our hot chocolate and cake when we got home.
In case you were wondering, my new trainers hurt my feet and ended up on eBay!!
You can read about Liz's Holland adventure here:
Is a family cycling holiday to Holland a good idea?
Getting ready for a family cycling holiday to Holland
Ferry exciting! Setting out on our family cycling holiday in Holland
Using stations and trains in Holland on our family cycling holiday