Some years I manage to miss autumn.  
I'm not THAT unobservant that I fail to notice there is a season between the long, lazy days of summer and the crisp, dark days of winter. It's just that some years it passes in a blur of dreary weather, shielded from view by hoods and umbrellas. 
Other years the autumn weekends rush past, as we get into the stride of the school year. As the clubs, parties and playdates recommence, it's easy to get close to Christmas before coming up for air, and realising the transient beauty of autumn has passed and winter has set in.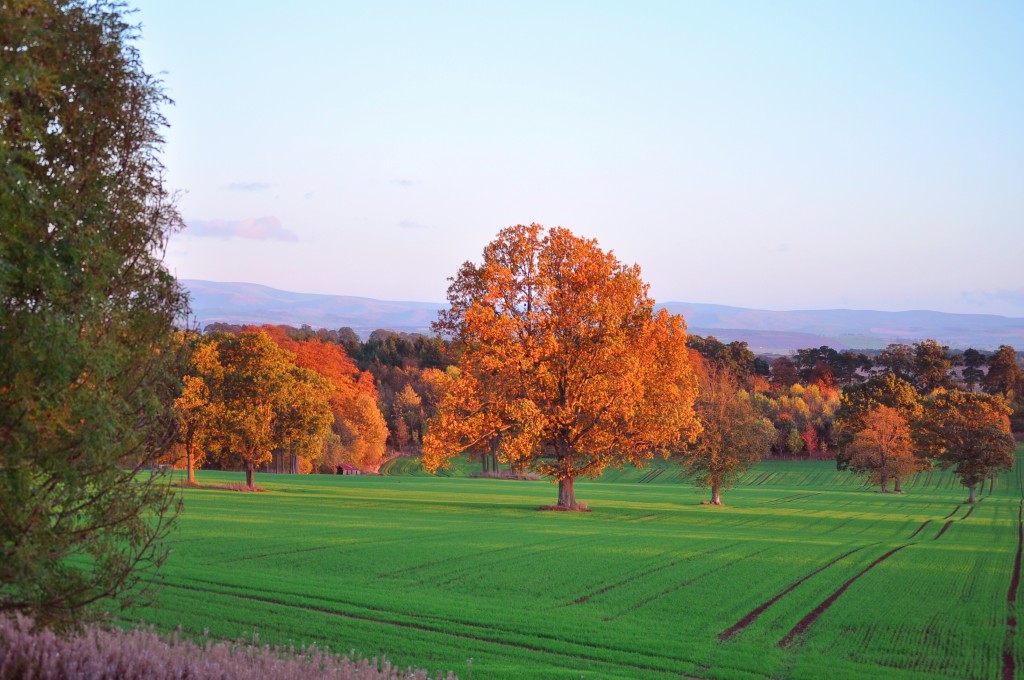 This year it's been very different.  A half-term trip to the Borders of Scotland has rekindled my passion for this most beautiful of seasons.
It wasn't until the start of October that the idea of a half-term adventure started to niggle away at me. After 6 weeks of school and work routines, those happy, free roaming days of summer already seemed a lifetime away.  The opportunity to escape once more and get back to nature, away from the constant stream of emails, phone calls and homework, was too much to resist.
While the weather in the UK can be variable at the best of times, I knew it would be a big risk taking a holiday at this time of year, especially as I wanted to go north into Scotland so we could combine it with a visit to friends in Stirling.  
Budget was also a problem – this wasn't a planned holiday, so I needed something cheap. Thankfully I managed to get a great deal on a cottage in the middle of the countryside close to Galashiels and Kelso in the Scottish Borders. 
As we were packing all our cycling gear and strapping the bikes to the roof of the car, Chris and I did wonder if we were mad, and as we set off in torrential rain I was glad we'd researched a reserve list of indoor attractions. But thankfully the weather gods were smiling down on us, and we had almost three full days of glorious sunshine and warmth.

In a huge break with tradition, the first autumn family bike ride we enjoyed saw us heading out to explore our surroundings without any idea of where we were going.  For someone who is a project manager by day, this doesn't come naturally. I usually demand a map, a family friendly cycle route I know we can all safely complete, and an escape route if needed! But on this occasion the local bridleway looked too inviting to ignore, so off we pedalled.
Whilst the boys cycle to school every day, it's so different enjoying the freedom of cycling off road, and we were soon whooping with joy as we flew downhills, and puffing and panting up the other side. When it got a bit steep, N got off his Frog 55 and pushed, while Chris flew up each hill pulling T behind him on his Islabike, attached with the FollowMe Tandem.
T can ride his own bike now, but he's not confident or strong enough to do a full ride, plus the Islabike Beinn 16 doesn't have gears, so he'd never have got up the hills! Thankfully he was really happy to be pulled along at speed – he's always in a good mood when he's on the winning team!
We cycled through the most stunning woodland for almost an hour before the bridleway ran out and we needed to retrace our tyre tracks back to the cottage.
The sun dappled leaves, the stillness of the warm air and the chorus of birdsong made this one stunning autumn family bike ride. I'm blaming the raw beauty of the autumn day for taking my breath away (rather than my current fitness levels!)
Having had our appetite whet for autumn cycling, we decided that the next day we would head out to Kielder Forest – just over an hour away from our base.  A decade ago, this was one of Chris and my favourite weekend escape spots for camping and mountain biking, and we desperately wanted to share it with the boys.

We had a brilliant time, which you can read about here. I'll sign off now with the promise to myself that I'll be a bit more adventurous in future, and explore that inviting looking trail – who knows where it will lead?
Other posts you may be interested in:
If you've enjoyed reading this article, please do sign up for our newsletter - we'll keep up updated when we have new articles which may be of interest. Thanks!