If you've got a budding road cyclist on your hands, then you're most likely going to be pestered for a drop handlebar road bike.   Most manufacturers don't start making drop handlebar kids road bikes until the 24″ wheel size, which are sized for riders aged about 8 years through to about 11 years old, depending on their height and leg length.  If they are younger than this, then check out our post on the few 20″ wheel road bikes available.
Take a moment to GRAB YOUR FREE KIDS BIKE BUYING CHECKLIST which will help you record all the information you need to find the perfect bike for your child.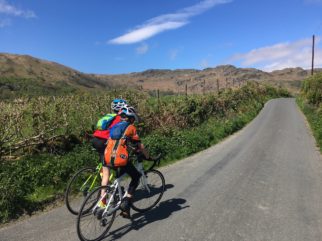 Does your child really need a road bike?
Before you go ahead and buy your 8 year old a drop-handlebar road bike, please do ask yourself whether s/he is really ready for one. Whilst they may want to emulate their racing hero, there are a few things to remember about a road bike:
 A kids road bike is much harder to ride than a hybrid or mountain bike
The skinny tyres and drop handlebars and paddle gear levers mean your child must have good bike handling skills in order to cope with a drop handlebar bike. We've seen quite a few children struggle to cope with drop handlebars, so unless your child is going to specialise in road, track or cyclocross cycling we'd recommend a 24″ wheel hybrid bike, or even a 24″ wheel mountain bike.
They can be more restrictive in where you can go
Will your child want to ride on off road track and trails, as well as on road?  Buying a drop handlebar bike makes this much harder, so think carefully whether you're going to be restricting where they can ride. Some of the bikes in this article can be fitted with cyclo-cross or gravel tyres for riding on grass and gentle trails, but not all.
The riding position isn't ideal for carrying heavy rucksacks
It is more than possible to commute on a road bike (plenty of people do it, including myself), but do be aware that it's harder on your child's back to carry a rucksack full of school books when they're are bent over the drop handlebars.  Their riding position also means that they're not as upright and visible to other road users, compared to being on a more upright, flat handlebar bike.
At this point, if you're rethinking your decision, then you need to visit these two posts:
If you've considered all these points and are happy that your child is ready to move onto a drop handlebar bike, then this article will help you choose the correct bike.
Cycle Sprog is an family run, reader supported, website. We belong to several affiliate schemes so may receive a small commission from sales made from links on our site. We do our best to be impartial and recommend products on their quality not whether they are in a scheme.
Road bikes for kids aged from 8 years – 24″ wheels
In this Cycle Sprog guide to the best 24″ wheeled road bikes for kids, we've included road bikes, cycle touring bikes and some 24″ cyclocross bikes too, as not all kids will actually be riding exclusively on roads. If you're looking for a 20″ wheeled road bike for a smaller rider, check out our other post on 20″ wheel kids road bikes.
Cycle Sprog reviewed and recommended bike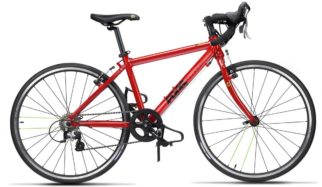 Frog  Road 67 key data:
Price: £490
Typical age range: 8-12 years
Inside leg: 67cm
Bike weight: 8.8kg
Brakes: Tektro Oryx (992AG) Aluminium Alloy Cantilever
Frame: 6061 T6 heat treated Aluminium alloy
Tyres: Kenda K-1018 rubber 24*1 1/8 Black ETRTO:540MM
Available colours: Red, white, black, blue, USA
Warranty: 2 years - extended to 5 years for frame if you register the bike within 28 days of purchase
The 9 speed Frog Road 67 is an all aluminium road / cyclo-cross bike with 24″ wheels designed for junior riders with a minimum inside leg of 67cm.  In practice this means it's a road bike for kids aged between about 8 years and 12 years old, depending on height and leg length.
The bikes are assembled in Frog Bikes' Welsh factory – very fitting with Geraint being Wales's first ever Tour de France winner!  The bike comes in a range of colours, including Team Sky for any ardent fans (although the demise of the team after the 2018 season may mean you'd prefer a different colour – there's plenty to choose from)
Weighing in at 8.8kg, the Frog Road 67 comes with quick release sealed hubs front & rear and is supplied with 2 sets of tyres, namely Kenda road and cyclocross tyres, making it ideal for both on and off road cycling. This was a feature we liked when reviewing this particular bike, as at the age of 8 not many kids are able to ride on the road at all time.
The Frog Road 67 is fitted with brakes on the drops, as with adult road bikes, but also with auxiliary brakes on the top of the handlebars, as often found on cyclocross bikes. This can be very useful when learning to ride a kids road bike – you may find your child does not lean over and use the drop handlebars all the time. It can be a struggle to manage the "twitchiness" of a road bike for the first time, and these additional brakes can be very reassuring.
For more details, you can read our review of the Frog Road 67 here.
If you've got an old Frog Bike that's been outgrown and needs selling get your Used Frog Bike quotation here. 
Cycle Sprog reviewed and recommended brand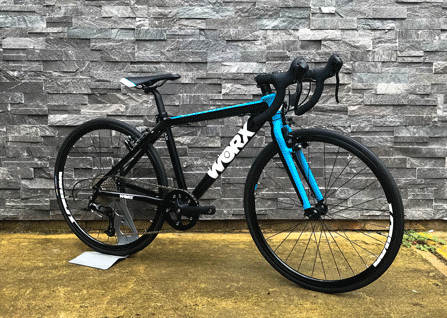 Worx (the JA-24) key data:
Price: £595
Bike weight: 8.5kg
Brakes: Tektro Oryx Canti
Frame: Hydroformed profiled aluminium 6061 triple butted
Tyres: Kenda Road Tyre (Maxxis CX 5 also available as an optional extra £50 /pair)
Available colours: Gloss black and blue
Warranty: tbc
The JA24 is the Worx road and cyclocross model aimed at kids wanting to race or at least ride very fast! Their target age range is those competing in the U8-U10 category.
The JA24 is built around a 6061 aluminium triple butted frame that is both light, coming in at 8.5kg, and strong with a low standover height (tiptoe of 60cm) to cater for differing sizes of child.
As expected, everything is designed with the child in mind, from the narrow q-factor cranks of appropriate length to the profile of the handlebars that have been shaped specifically to give comfort and ideal body position on the bike.
Worx have specified Microshift components for the 9 speed drivetrain, matched to a Worx branded single ring 36T (34T can be specified) crank. Now many a good thing has been said about the Microshift system, especially the shifters that are sized for small hands and have a short throw for changing gear that is easy for a child to do (something that is not always true!). Out back, there is an 11-32T cassette that matched with the fitted 36T chainring provides a broad range of gears for most scenarios. As mentioned, a 34T chainring can be specified when purchasing the JA24.
There's a smattering of Worx branded kit such as the stem, bars and saddle and these look to be well designed and manufactured pieces of kit. The wheelset is also in-house which is a good thing indeed as Worx have a very good reputation for the quality of their wheelsets.
Being designed for cyclocross, there's generous clearance all round to accommodate cyclo-cross tyres and the inevitable clingy mud. Braking is provided by Tektro Oryx cantilevers, with supplementary top mounted levers on the bars.
In summary, the Worx JA24 is a serious bicycle that has had countless hours spent on its design to produce a robust machine with a great specification for the budding U8-U10 rider. It also helps that it's a delight to look at too.
We've reviewed the larger Worx JA-700 if you want a more detailed view on these bikes.
Cycle Sprog reviewed and recommended bike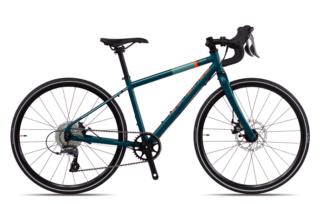 Luath 24 key data:
Price: £699.99
Typical age range: 8+ years
Minimum height: 130cm
Minimum inside leg: 59cm
Bike weight: 8.3kg
Brakes: Tektro, flatmount cable disc
Frame: Aluminium, flat-mount dropouts
Tyres: Islabikes Road, 24″ x 1.0 (26-507) folding, 120TPI
Available colours: Granite, teal
Warranty: 5 years on frame and forks and a 2 years on parts
Islabikes have taken the cycling world by storm over the past decade, creating top quality bicycles designed specifically for children and selling them with apparent ease to an ever expanding audience. The Islabikes Luath 24 oozes quality and does not disappoint.  The bike has just had a major makeover for winter 2019, with a lightweight aluminium frame and carbon forks.
The new Luath features Tektro cable operated disc brakes, paired with easy reach Shimano levers and Islabikes' custom shape dropped handlebar designed for smaller hands. As a result, Islabikes have removed the secondary brake levers on the handlebars (a feature found on earlier models).
The 8 speed gearing on the Islabikes Luath 24 is courtesy of a singlespeed 34t chainring means there's no confusion with having to change two levers and no chance of chain crossover.  The rear cassette range is 11-34t.
The Islabikes Luath has enough clearance to be fitted with grippy tyres making it an ideal bike for cyclo-cross, triathlon and gravel riding.
Eyelets are fitted for both mudguard and rack, so you can pop a pannier on and no more carrying the school bag/lunch box/gym kit on your back if using to ride to school. This also makes the Luath 24 an ideal road touring bike.
Therefore the Islabikes Luath is a good choice for an all round junior bike if your youngster is into a bit of road, cyclocross, triathlon and touring.
Advert:  If you've got an outgrown Islabike that you haven't got round to selling on, why not get a quotation today from The Bike Club? They'll even send a courier with a bike box to come and collect it from you. 
Bombtrack Beyond Junior 24 (£999)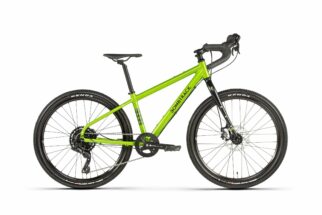 Bombtrack Beyond Junior 24 key data:
Price: £999.99
Typical age range:  
Minimum height: 135cm
Maximum height: 155cm 
Standover height: 66.6cm 
Bike weight:  10.2 kg
Brakes: Taktro Mira F/ Lyra R mechanic disc brake with 160 mm F /140 mm R rotors
Gears: Microshift CS-H093 9-speed cassette 11 – 42 T with 32T chainring
Frame : 6061 aluminium
Tyres: Kendal Small Block Eight 24 x 1.95
Warranty: Frame: 3 years Fork: 2 years Parts, Paint, Decals: 1 year
The Bombtrack Beyond Junior 24 is a kids bike designed with long distance cycle touring in mind, with features like top tube direct mounts and cage mounts underneath the downtube, plus triple cage mount bosses on the fork blades.  If you're planning to pack up your panniers and head off bike packing with your child then it's worth checking out the specification of this bike to see if it suits your plans.    It has a maximum rider weight of 90 kg incl. luggage. 
Bombtrack are a German company who aren't all that well known in the UK yet, especially in the junior market, but we're going to be interested to see where they go with this range. Participation in bike packing continues to grow so we're going to need bikes for the kids to ride!.
Buy New
The best secondhand kids road bikes with 24″ wheels
Islabikes Luath 24 (old model)
Islabikes completely refreshed their Luath in October 2019, so here are the details of what to expect when you're buying second hand.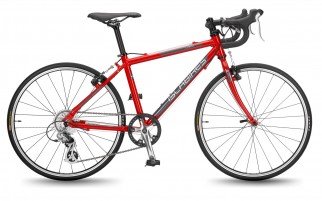 The bike is built around an aluminium frame and Chromoly steel forks, and with the weight of the bike coming in at a shade over 8kg, the old style Islabikes Luath 24 is definitely still a lightweight offering.
The 10 speed gearing on the Islabikes Luath 24 is controlled by Shimano STI levers, with a nice touch being the secondary brake levers mounted on the top of the bars to provide a little safety net, as wherever your child's hands are on the bars there is a brake lever close by.  The 10 x 1 gears mean there's a wide range available, but no confusion with having to change two levers, and no chance of chain crossover.
It can also be fitted with grippy tyres making it an ideal bike for cyclo-cross and triathlon.  Eyelets are fitted for both mudguard and rack for commuting / touring.
Advert:  If you've got an outgrown Islabike that you haven't got round to selling on, why not get a quotation today from The Bike Club? They'll even send a courier with a bike box to come and collect it from you. 
Bradley Wiggins made cycling history when he was the first Briton to win the Tour de France in 2012. His Wiggins kids bike range was launched at Halfords in July 2016 and was discontinued in early 2021.  The road bikes were all named Rouen after one of his stage wins, with the 540c being the smallest road bike in the range.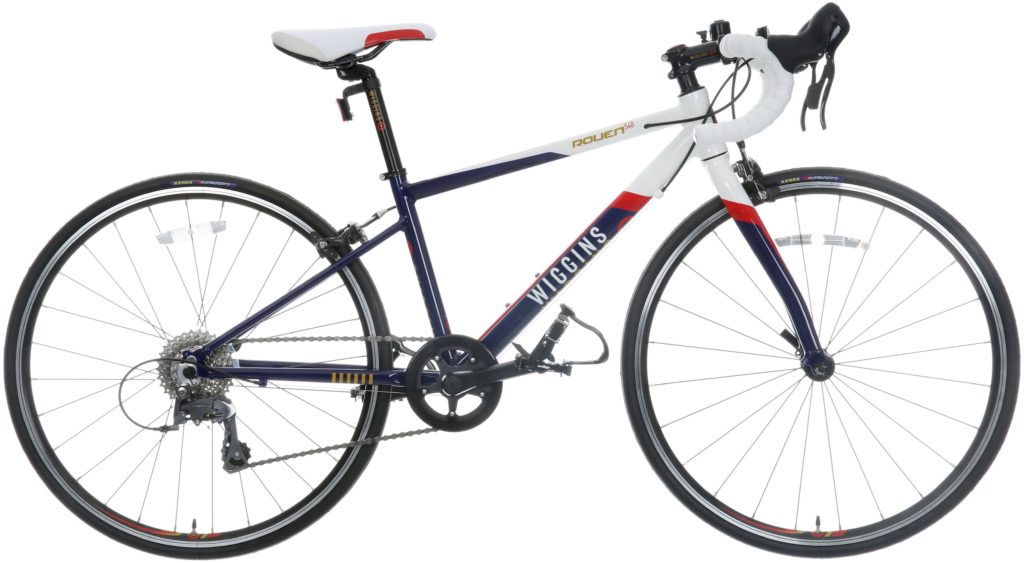 The Wiggins Rouen 540c used to be one of the cheapest 24″ kids road bikes available, whilst still retaining a lightweight (8.7kg) and quality components.
The Wiggins Rouen 540c has some design features such as the reverse curve front forks and Wiggins distinctive 'mod' target logo, which we think will appeal to young road cyclists looking to emulate their hero.
Buy Used
Sponsored Content Start
Want to make some quick cash from that too small bike?
Do you have a good quality kids bike that's been outgrown and you've been meaning to sell on? 
Luckily The Bike Club are making it REALLY EASY for you to sell on old kids bikes. 
Just get an online valuation for your old bike, and if you're happy with the price they'll send a courier round with a bike box to pick it up. 
No hassle - just more space and more cash for the next size bike. Easy! 

Sponsored Content End
Cycle Sprog reviewed and recommended brand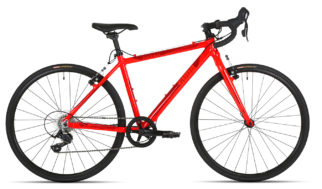 Cuda CP24R key data:
Price when new: £500
Bike weight: 9.3kg
Brakes: Tektro Kanti
Frame: Alloy Double Butted
Tyres: Kenda Road 24 x 1" & Kenda Cross 24 x 1"1/8
Available colours: Pink, orange, green
Warranty: 12 months
Cuda Bikes 24″ wheel road bike offering was the CP24R – with the "P" standing for "Performance" and the "R" standing for "Road".  You can probably work out yourself what the C and the 24 stand for.
The bike is a well specified alternative to some of the bigger names, and the fact that Cuda partnered with the Triathlon Trust during the 2018 season to get more kids giving the sport ago speaks volumes about these bikes.  When sold ned this bike used to come with two sets of tyres – road and cross – which is great if your child races or rides on two different surfaces.
The spec includes a 9 speed 14-25t rear cassette,  junior specific 110mm drop bars (340mm wide) and  Tektro Kanti – Microshift short reach lever. Minimum saddle height is 62cm and maximum 78cm, with a weight of 9.3kg with pedals.
We reviewed the slightly larger C700R and our reviewer was really impressed with the bike.
Buy Used
Scott Speedster Junior 24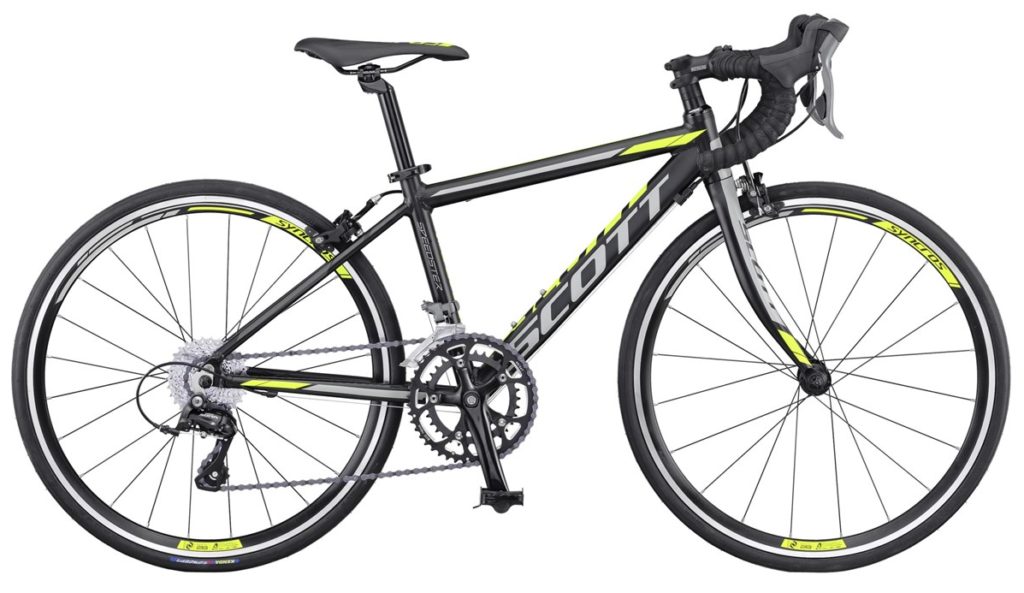 Scott Speedster key data:
Price: £759 (in 2018)
Bike weight: 8.7kg
Brakes: Scott Comp SCBR 312 39-49mm
Frame: Speedster24 Junior
Tyres: Kenda K-191 / 24×1 / 60TPI
Warranty: Frame - 3 years
Scott have been producing great mountain bikes and road bikes since 1986. Known for their work on carbon fibre frame technology, they have a great selection of kids bikes suitable for riders aged from two years up to teens.
Scott's children's 24″ wheeled road bike offering was the Scott Speedster Junior 24 road bike. The 2018 model was kitted out with a combination of Shimano Claris and Sora components. There are 16 gears to choose from making this slightly more complicated to ride than the other bikes listed with a single chainring. However, all this comes in with a very respectable weight of just 8.7kg.
The Scott Speedster Junior 24 was priced at £759 during 2018.
Buy Used
Cycle Sprog reviewed and recommended brand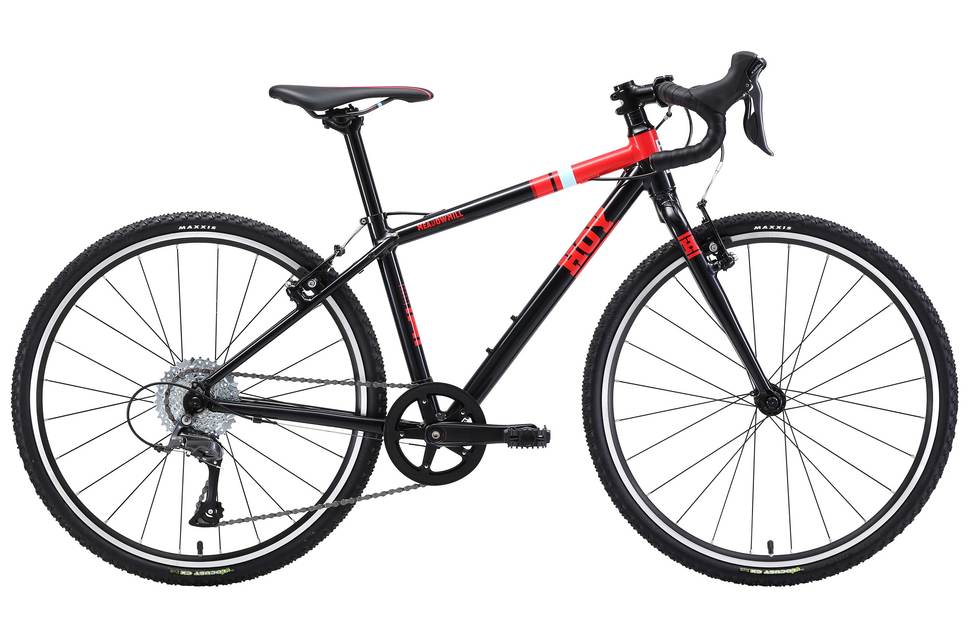 Hoy Meadowmill key data:
Price when sold: £530
Typical age range: 10-13 years;
Minimum height: 135cm – 150cm;
Inside leg: 62cm;
Bike weight: 8.69kg;
Brakeset: Tektro 930AL alloy V;
Frame: HOY 6066-T6 heat treated alloy;
Tyres: Maxxis Locust 24 x 1.25, 32-520;
Available colours: Black/red;
Warranty: Evans Cycles website says "All products ordered from Evans Cycles come with a full warranty which covers manufacturing faults and defects in workmanship."
Released in 2018 the Hoy Meadowmill 24 was a great bike for anyone wanting a drop handlebar bike but still wanting to ride on the rough stuff from time to time. The geometry and the tyres mean you can mix it up on tarmac, road, grass and gravel, all on the same ride. It's not going to be the fastest bike on the road but is great for a Sprog who wants to do a little bit of every type of riding and is desperate for a drop handlebar bike.
We've tested some smaller bikes in the Hoy range and they all got the thumbs up!
If you're looking on eBay, be careful not to get confused with the Meadowbank, which is a single speed track bike.  There was an earlier Hoy kids road  bike called the Hoy Cammo which it's worth looking out for too if you want a pure road bike. 
Buy Used
Sponsored content:  
If you've got an old Hoy Bike that's been outgrown but you've not got round to selling on, then The Bike Club are here to help.  Click here for a valuation and then sit back whilst they send a courier (and a bike box!) to come and collect it from your home - freeing up space and giving you cash for the next bike. 
The best 24″ wheel road bikes – the summary
As you can see from our selection, there are an increasing number of good quality drop handlebar road bikes for kids available with a 24″ wheel.   You can choose from an all out racing bike to a cyclo-cross bike, depending on what type of cycling your child will be doing.  There's also an increasing number of secondhand kids road bikes, due to their growing popularity, so if you're struggling to find one new it's worth keeping an eye out for secondhand. 
We hope you found our article on 24″ road bikes for kids useful – if you did please share it with your friends.
Other articles you may find interesting:
Want to know more about cycling with your kids?
If you'd like more advice on cycling with your kids, inspiration for family friendly cycle routes, or reviews of the best kids bikes and children's cycling accessories don't forget to sign up for the Cycle Sprog newsletter.
Please follow us on Facebook and Twitter – we've love to hear what bike you ended up buying.
This article on road bikes for kids was first published on Cycle Sprog in November 2013, and is regularly updated to reflect changing makes and models of 24″ kids drop handlebar bikes.
Affiliate disclosure: Cycle Sprog may make a small commission from purchases made through some of the affiliate links on this site. This does not affect the amount you pay, and helps us to fund the website hosting – thank you for your support.
Support Cycle Sprog!
If you've found this article useful you can buy us a virtual coffee (or two!) to say thanks and help us keep the Cycle Sprog website going.