It can be bewildering trying to fathom out which bike is the best bike for a 10 year old boy. That's because there's no one bike that is going to be perfect for every single lad! To help you out, here at Cycle Sprog we've put our collective heads together and jotted down our thoughts on what to think about when looking for a bike for a 10 year old boy. We've also recommended a selection of bikes that might be suitable too!
Cycle Sprog is an family run, reader supported, website. We belong to several affiliate schemes so may receive a small commission from sales made from links on our site. We do our best to be impartial and recommend products on their quality not whether they are in a scheme.
UPDATE ON BUYING KIDS BIKES - October 2021
During lockdown 1.0 the nation went mad for cycling and all the kids bikes sold out, and many brands and retailers are still struggling to restock again (add in the issues with Brexit, shipping costs and the Suez canal hold up and it's not surprising really).  This means that there aren't as many quality kids bikes as usual at the moment, BUT there are a few to be had.   
We've kept all our usual recommendations at the end of this article (especially useful if you're buying secondhand), but this shorter list are the current places we're recommending who have stock ready to dispatch. 
QUICK LIST OF WHERE TO CHECK FOR IN STOCK KIDS BIKES:
If you're in a real hurry, just check these places that should have quality kids bikes in stock and ready to dispatch.  
If you're not sure what makes a great kids bike take a moment to download our FREE kids bike buying checklist, so you know what you're looking for and don't get tempted by a dodgy deal.  Don't forget a lightweight, well made bike will be LOADS more fun to ride than a heavy, poorly made toy bike, that has a tendency to fall apart - I'm not joking - check this out!) 
Tredz stock a good range of quality kids bikes, and we really like that they are honest and upfront about how long delivery should be before you place your order.
To be extra helpful Tredz even have an "in-stock now" button which is a real timesaver and saves so much frustration.  This is especially  handy if you need a bike in time for a birthday. 
They have bikes from a wide range of quality brands, including Forme, Frog, Squish, Cube, Giant, Orbea, Cannondale, Puky, Specialized, Scott and Saracen.   
If you can't find what you're looking for elsewhere it's worth checking back at Tredz quite regularly as they are getting new stock in all the time. 
The Bike Club is a brilliant way to get a great quality kids bike for your child without the upfront cost.  It works like this: you sign up to their membership scheme and select your chosen bike, which they send out to you in return for a monthly payment (so you do have to pass their credit checks).  When your child gets too big for the bike you send it back and upgrade to a bigger bike. 
So with the Bike Club you get peace of mind that your child is riding a really great quality bike at a bargain price, rather than a really cheap bike. 
They only stock Cycle Sprog recommended brands such as the brand new Forme Bikes as well as Squish Bikes and Frog Bikes.
UPDATE: Monday 19th July 2021 - The Bike Club have been in touch to let us know that they've just taken delivery of some NEW COLOUR FORME BIKES. 
These three new paint schemes are currently exclusive to The Bike Club lease scheme, so if your child wants a purple, green or orange bike check them out (these are in addition to the standard red, blue and pink Forme kids bikes). 
Sponsored content start: 
If you have an old kids bike you've been meaning to sell on, then The Bike Club also have a hassle free way to do this, called reCycle.
They will even send a courier with a box to pick it up!  Get a valution of your old bike here.  

Sponsored Content End
CRC sell the great value Vitus Kids Bikes and the popular Commencal range (which is more suited to off road riding).  Stock has been appearing on their website  (although they are selling fast!)
They also have an "In stock" button on their website which saves so much time. 
 Check Availability at Chain Reaction Cycles 
Things to consider before buying a bike for a 10 year old boy
As he grows over the next couple of years, your "little boy" may suddenly want to start exploring further afield, potentially alone or with his friends. This can especially be the case once he's started at secondary school – being seen cycling with parents can be particularly uncool!
You need to make sure that whatever bike he's riding is safe and easy to ride, so do think carefully before buying the very cheapest bike you can find, as you want him to be safe and free from mechanical problems.
However, if you invested heavily in bikes during his earlier years you may have concerns about allowing him to take an expensive bike for a trip to the park with his friends. If that's the case, midrange or budget bikes may be more suitable for this.
Take a moment to GRAB YOUR FREE KIDS BIKE BUYING CHECKLIST which will help you record all the information you need to find the perfect bike for your child. 
What size bike does a 10 year old boy need?
It's amazing but 10 year old boys vary so much in height, so you need to make sure that you measure him carefully and get the correct size bike.  Too small and he'll get limited use from it, but too big and he won't be able to control it, and possibly get frustrated or scared.
The official height charts state that the smallest boys will be 122 cm on their 10th birthday, and the tallest boys will be 160 cm as they get to the end of their 10th year.  This means some 10 year old boys will need a 24″ wheel bike, while others will be on a 26″ wheel bike and some leggy ones managing a 27.5″ or 700c wheel bike.   In this post, we're mainly focusing on 26″ wheel bikes, but all manufacturers will have smaller (and sometimes larger) bikes available.
How much should I spend on a bike for a 10 year old boy?
Bikes for 10 year olds can be more expensive than bikes for much younger children, as they tend to come equipped with more complex and higher spec gearing and in some cases disc brakes and suspension.  It can often come as a surprise that a decent kids bike will cost a minimum of several hundred pounds, but it's worth comparing that to the cost of games consoles and TV screens.  There are a few things to guide you as to how much to spend.
What's your budget? – don't forget that if you buy the very cheapest bike out there it may have brakes and gears that are difficult to use, and could well rust quickly. And it will be heavy. Very heavy!  Here are our thoughts on why you should never buy a really, really cheap kids bike.
Read our guide to buying a kids bike if you need more advice on this.
How much is he going to ride the bike? Obviously, if a bike is going to be ridden every day whatever the weather (perhaps to commute to school), you're going to be looking for something much more hard-wearing than if it only gets ridden occasionally. However, if you buy a very cheap bike (not the ones featured in this post) you may be disappointed when you come to use it after months of inactivity to find everything has rusted and seized up.
How likely is he to remember to lock his bike?  Bike theft does occur, so you obviously don't want to be investing in a hugely expensive bike if you think he's going to leave it lying around unlocked when he's out and about.
As a guide, you should be able to get a decent new bike for around the £350 mark (less if you're buying during sales / Black Friday or with our discount codes). However, the more you spend, the better the quality of the bike, and you can spend several thousand pounds on specialist mountain bikes and road bikes if you really want to.
Having done it ourselves countless times, another great option that we recommend is buying a decent bike second hand rather than a cheap new one. With a bit of hunting around you should get a good bike for well under £200.
What type of bike does a 10 year old boy need?
There are so many different places a 10 year old boy can cycle –  road, gentle off-road routes, grass, serious mountain bike trails, race circuits, pump tracks and BMX parks being just a few of the options.  If you buy a specialist bike for him and it's his only bike, then you're potentially limiting the riding he can do.
If he's still exploring which type of cycling he likes best, then we recommend going for a flat handlebar hybrid bike with all-purpose tyres, which will allow him to go virtually anywhere (and are recommended a bit further on in this post).
If he's decided to specialise in a particular type of cycling, then, of course, a specialist bike will be worth the investment with maybe a cheaper second hand one to knock around on.
The best bikes for a 10 year old boy
Take a moment to GRAB YOUR FREE KIDS BIKE BUYING CHECKLIST which will help you record all the information you need to find the perfect bike for your child.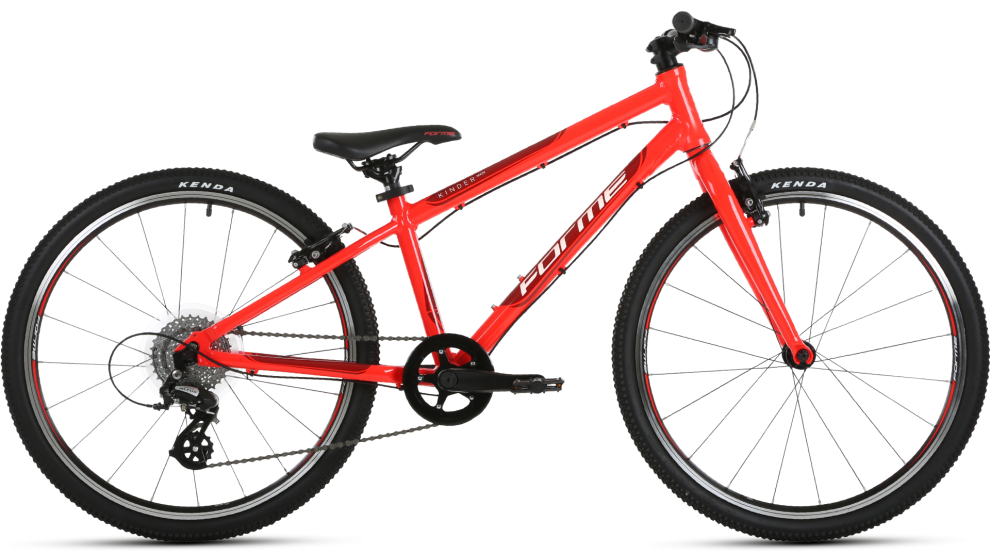 Forme Kinder Key Data: 
Price new: £315 – £350
Lease: from £11.85 to £12.90 per month
Inside Leg: 52 cm to 74 cm   
Saddle to floor: 59 cm to 81 cm
Bike weight:  8.47 kg – 9.34 kg
Brakes: Tektro V Brakes
Gearing: 8 speed Shimano 11-34T cassette with 32T chainring with changes by Shimano Rapid Fire thumb shifter
Frame:  Alloy 6061
Tyres:  Kenda Small Block Eight
Available colours:  Red, Blue and Pink
Warranty:  Lifetime on Frame
The Kinder is Forme's brand new offering for Winter 2020.  With wheel sizes ranging from 20″ to 26″, there's a Kinder available to suit all sizes of 10 year old boy. The Kinder is a light bike, weighing 8.47 kg for the 20″ and just 9.4 kg for the 26″ wheel size, which means it's going to be easy to manoeuvre. This is important as your child is likely to get more adventurous with their cycling at this age, and as they ride further they're going to have to deal with more steps, kerbs and other obstacles.
The gearing on the Forme Kinder is simple – 8 speeds operated by a Shimano Rapid Fire trigger shifter. The range of gears should be fine for most hills a child of this age is tackling – after all the bike is named after Kinder Scout in the Peak District (close to where Forme Bikes are based).  The Kenda tyres are good all terrain options found on many quality kids bikes in this price range.
If your child is growing quickly and you're not sure whether to skip to a bigger bike for them to "grow into", then you need to know that the Kinder is available on a monthly lease via The Bike Club.  A monthly subscription allows you to get a bike that fits your child now and upgrade it to the next size when they've grown and are completely ready for the next size up.
The Forme Kinder is a versatile all-rounder of a bike that will be just as happy riding some trails at the weekends as it will be doing the daily school (assuming we're all still going to school!)
We've been sent a couple of the new Forme Bikes to review - here's our first impressions review of the Forme Kinder.
Cycle Sprog recommended brand
THIS BIKE IS AVAILABLE TO RENT FROM THE BIKE CLUB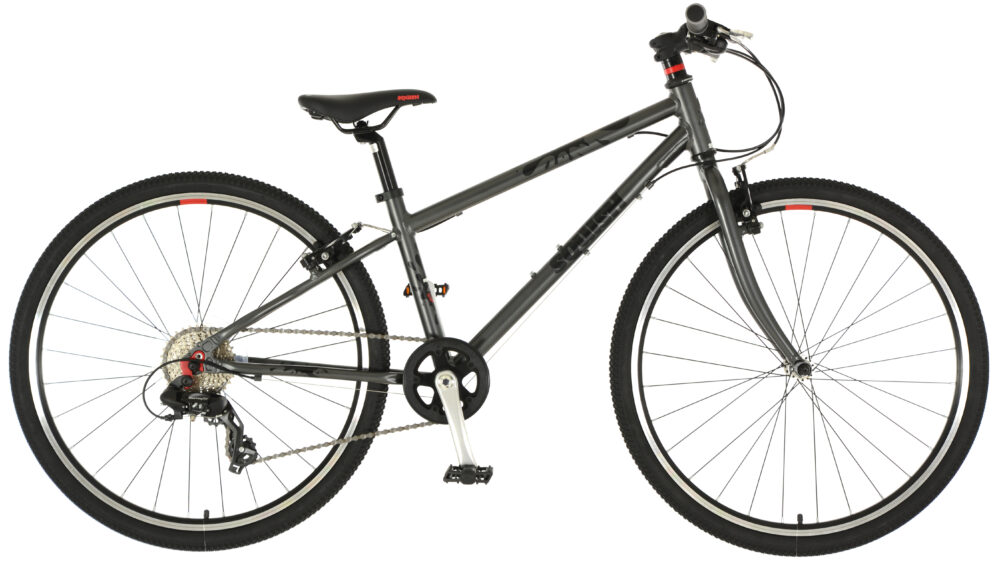 Squish 26 key data (13″ frame):
Price: £350
Typical age range: 9+ years;
Minimum Height: 145cm;
Minimum inside leg: 67cm;
Bike weight: 9.88kg;
Brakes: Tektro Mini V-Brakes;
Frame: Triple butted alloy frame;
Tyres: 26 x 1.5" Cadence Lightweight Junior Tyres;
Available colours: Grey/black, aqua, red/blue;
Warranty: Frame and Forks – 3 years; components – 1 year (excluding wear and tear).
Squish are relative newcomers to the kids bike market, and what is good for those looking for a bike for a 10 year old boy is that their largest wheel offering, the Squish 26, comes in two frame sizes.  The 13″ frame is suitable for those with an inside leg of 67cm and the 15″ frame for those with an inside leg of 70cm.
As with all the other bikes in this post, the Squish is lightweight (9.88kg) and has appropriately sized components for a 10 year old boy.  The Shimano 8spd 11-32T cassette should be enough to get up and down most things.
We haven't reviewed this particular bike, but the Squish 18 got the thumbs up from our younger reviewer. 
AD:   Got an old Squish Bike to sell on?  The Bike Club have made it hassle free - click here for your valuation and to arrange a courier to come and collect your old Squish bike.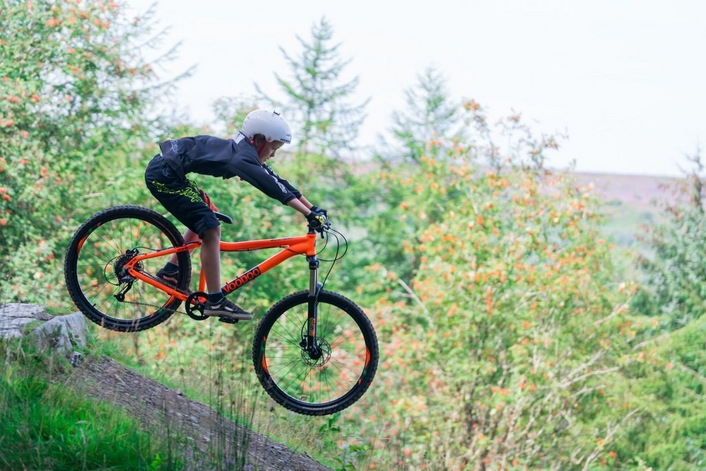 Voodoo Nzumbi key data:
Price: £450
Typical age range: 9-12 years;
Height range: 138-170cm (they have two frame sizes, 13″/15″, so this reflects the height range across both options);
Bike weight: 16.4kg according to Halfords, owners say 12.8kg for 15″ frame
Brakes: Tektro Hydraulic Disc Brakes;
Frame: Lightweight butted aluminium;
Tyres: Kenda KINETIC tyres;
Available colours: Orange;
Warranty: Please check with the supplier.
Voodoo has developed a reputation for building good quality mountain bikes at a very reasonable price. The Nzumbi is no exception, with a pretty good setup for the cost. There's a 9-speed single chainring setup with Shimano Altus shifters and rear mech.
A Suntour XCR fork will give some help at the front, while braking comes courtesy of hydraulic discs. A liberal smattering of own-brand finishing kit here and there and you've got a stunning looking, very orange, proper mountain bike for less than £500.
With two different frame sizes to choose from, this bike should fit most 10 year old boys who are desperate to get onto some off road trails. 
BUY NOW: THE VOODOO NZUMBI AT HALFORDS 
BUY SECONDHAND: Voodoo Nzumbi from eBay
Cycle Sprog reviewed and recommended bike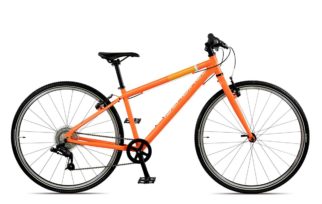 Beinn 27 key data:
Price: £499.99
Typical age range: 10+ years;
Minimum height: 146cm;
Inside Leg: 68-80cm;
Bike weight: 9.2kg;
Brakes: Aluminium mini V-brakes;
Frame: Aluminium;
Tyres: Islabikes Mixte;
Available colours: Orange / Teal / Charcoal;
Warranty: 5 years on frame and forks and a 2 years on parts.
The Islabikes Beinn is a top quality all round bike, that will handle virtually everything that a youngster can throw at it.  This bike will stand up to being ridden to school everyday and taken out on the trails at the weekend, and can even be used for cycle touring holidays.  It's an investment piece, but well worth it if you're 10 year old is going to be riding it most days.   The Islabikes Beinn comes in various wheel sizes, but most 10 year olds will probably want the largest size – the Beinn 27 (9.2 kg). You'll notice this is one of only two 27.5″ wheel bike on this page, as Islabikes have only recently released this 27.5″ wheel kids bike.  The theory is that they can go further and faster on the larger wheels, with less effort. Expect to see others following their lead in years to come.
Islabikes also do a drop-handlebar road/cyclocross bike (the Luath) which comes in both 26″ and 700c wheel sizes, and a mountain bike (Creig) which comes in 26″ wheels only.
You can read what our 11 year old reviewer thought of the Beinn 27 when he rode it for the first time in this review,  but please note that this bike has now been superceded by the adult Beinn's which are designed for riders 4′ 9″ to 5′ 8″ tall. 
Islabikes can only be bought direct from them online, or you can order and pick up from their Ludlow showroom. Alternatively, there is a thriving second hand market in Islabikes on eBay (note that the Beinn 27 replaced the old 26″ Large frame with a number of design revisions to incorporate the larger diameter wheels, but will take a while to flow through on second hand sites).
Advert:  If you've got an outgrown Islabike that you haven't got round to selling on, why not get a quotation today from The Bike Club? They'll even send a courier with a bike box to come and collect it from you.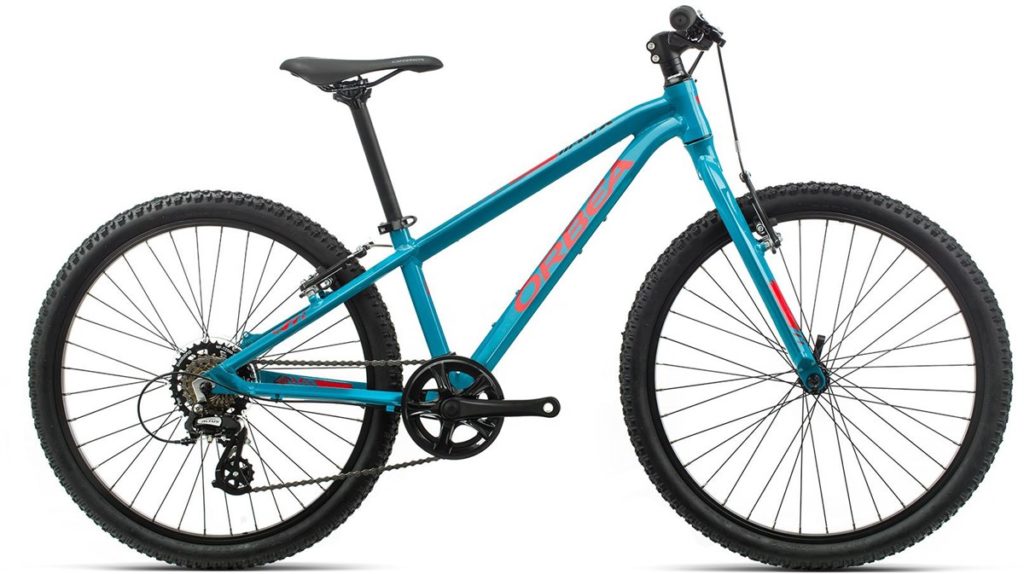 Orbea MX 24 Dirt key data:
Price: £289
Height: 135-155cm;
Brakes: Alu V-Brake;
Frame: Orbea MX 24 Alu;
Tyres: Kenda 922 24×1.95;
Available colours: Blue/red, bright red/black or purple/pink;
Warranty: 2 years – register bike within 30 days for lifetime warranty on frame and forks and 3 years on paint, varnish and corrosion.
With an aluminium frame and steel forks, the MX24 Dirt is available in three colours (red, blue and purple). It features a 7-speed transmission that has a 36 tooth chainset at the front coupled to a 14-34 tooth cassette at the rear, with Shimano providing both the shifter and derailleur. Tried and tested v-brakes bring things carefully to a halt.  It's a 24″ wheel bike so is aimed at the smaller 10 year olds – Orbea say it's suited for those 135-155cm in height. Plus it's a really decent price and you also get a discount if you use our exclusive code shown below!
BUY NEW: The Orbea MX24 Dirt
 BUY SECONDHAND: Check eBay for a secondhand Orbea MX24 Dirt
Frog Bikes
Cycle Sprog reviewed and recommended brand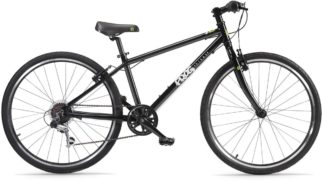 Frog 69 key data:
Price: £360
Typical age range: 10-12 years;
Minimum inside leg: 69cm;
Bike weight: 9.98kg;
Brakes: Tektro 837 AL, aluminium, linear pull;
Frame: 6061 T6 heat treated aluminium alloy;
Tyres: Kenda K1047, 26″x1.5″, Hybrid;
Available colours: Black, electric blue, green, orange, purple, red and USA;
Warranty: Free 5 year warranty on frame and forks.
The great thing about Frog Bikes (apart from their excellent quality, junior sized components and great resale value), is that they come in a good selection of sizes for older kids.  All Frog Bikes are named according to the inside leg measurement, so the Frog 69 is for kids aged about 10 – 12 years with a 69cm minimum inside leg.  There is also the Frog 62, Frog 73 and Frog 78 – all named according to the inside leg measurement – so there should be a size for every ten year old lad.  They're not the cheapest bikes around, but they're really well made and lightweight due to their aluminium frames, fun to ride and come in a wide range of colour choices. Resale value is good too if you're able to maintain them.
Frog have also recently launched their mountain bike range, with the Frog MTB 62, 69 and 72 so again there should be a size suitable for virtually every ten year old.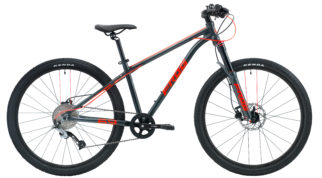 The Frog range also includes two drop handlebar bikes – a road/cross bike and a track bike that come in 67 and 70cm inside leg sizes.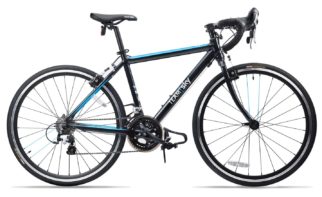 Here at Cycle Sprog we have reviewed the hybrid, mountain bike and road Frog Bikes in various sizes, and have always been really impressed with the design and comfort of the bikes.
Frog Bikes are available from a network of local bikes stores.
BUY NEW:  Frog Bikes 
BUY SECONDHAND: Check eBay for secondhand Frog bikes
If you've got an old Frog Bike that's been outgrown and needs selling get your Used Frog Bike quotation here.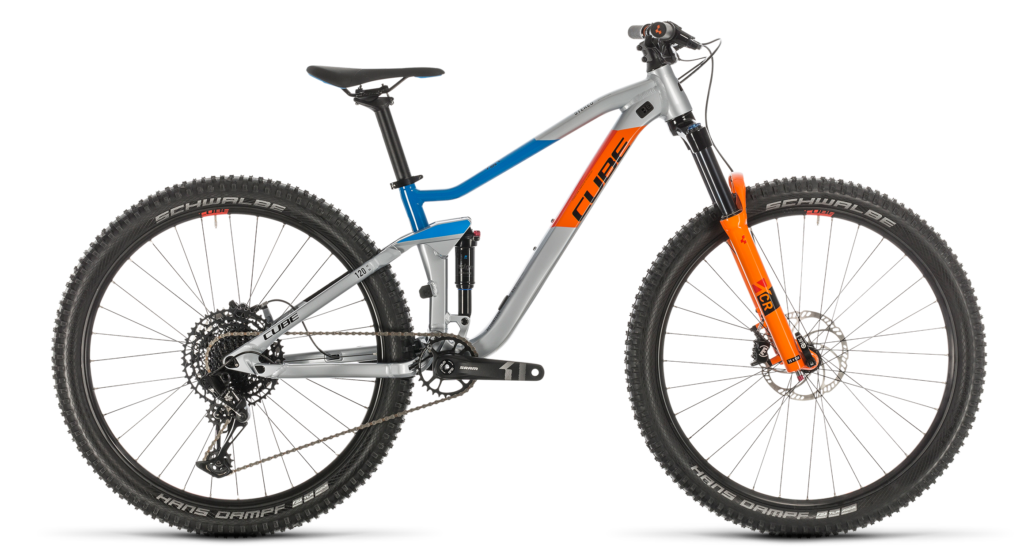 Stereo 120 Youth key data:
Price: £1699
Bike weight: 13.9kg;
Brakes: Magura MT Thirty, Hydr. Disc Brake (180mm);
Frame: HPA Ultralight, Advanced Hydroform, Triple Butted, ETC 4-Link, ISCG Mount;
Tyres: Schwalbe Hans Dampf, APerfL, 2.35;
Available colours: Silver w/blue and orange;
Warranty; Frame 6 years, rest of bike 2 years
Cube are no strangers to the world of full-suspension, producing a broad selection of top quality mountain bikes for the adult market. Of course, they didn't stop at that because kids should get to enjoy the delights of a full-susser too, so a couple of years ago Cube brought out the Stereo 140 Youth – an awesome bike that we were lucky enough to test.
For 2020 Cube has once again created a 27.5″ wheel full suspension bike for kids based upon the cutting edge technologies they employ in the adult range. This is based around a custom-sized triple-butted lightweight alloy frameset that comes in two sizes – 13.5″ and 16″.
With 120mm of travel provided by the SR Suntour XCR34 air fork and SR Suntour Edge R shock, there's plenty of fun to be had.
Cube has specified SRAM for the transmission with an Eagle 12 speed setup throughout, featuring 30 tooth chainset and seriously wide range 11-50t cassette to give amazing gear options to cover all eventualities. Braking comes courtesy of Magura MT Thirty with 180mm rotors front and rear, so retardation of speed should not pose a problem.
The Cube Stereo 120 Youth certainly looks amazing and with such a quality specification we're expecting junior riders will be enthused to get out, ride and grin from ear to ear.
BUY NEW: Cube Stereo 120 Youth
BUY SECONDHAND: Cube Stereo 120 Youth sometimes come up on eBay so it worth a quick check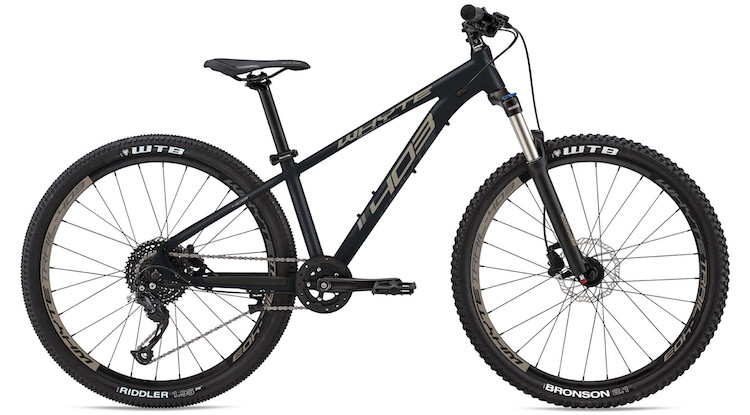 Key data for the Whyte 403 from Leisure Lakes Bikes:
Price: £625
Bike size: 26″ wheel 
Height: 135-152 cm
Brakes: Promax Solve disc brakes, 160mm Rotor
Frame: 6061 hydroformed aluminium
Forks: Suntour XCR – 100mm Travel, HYDRO Lock-out, Air Spring, Adjustable Rebound
Gears: 9 speed – 28T single chainring, 11-40T cassette and Shimano Altus SL-M310 thumb shifter
Tyres: WTB Bronson Race, 26″ X 2.1″ Front, WTB Riddler, 26″ X 1.95″ Rear
Available colours: Matt granite/grey/silver shown here and Matt Orange
Weight: 12.7 kg
Warranty: Frame: 2 years - can be extended to 4 years if registered within 28 days of purchase. Doesn't cover racing, jumping or tricks
Whyte bikes are everywhere at the moment and are particularly popular with the pre-teen and teenage market. You're getting a cool looking bike with brilliant specification, which will allow you to do some serious biking – either off road, or in the urban playground.   The Whyte 403 is a scaled down version of Whyte's renowned 900 series adult bike and is designed to allow kids to ride faster and harder from a younger age.  With a light but strong 6061 aluminium frame, Shimano Altus 9-Speed groupset with trigger shifter and SR Suntour XCR 100mm travel forks there's a lot of fun to be had on this bike, but the WTB Bronson Race/Riddler tyres and Promax Solve disc brakes will give you peace of mind too.
The Whyte 403 is suitable for kids between 125 cm and 152 cm tall.  It comes in a choice of eye catching Lime Green or a more subtle Granite Grey.
Buy secondhand: Whyte 403 mountain bike on eBay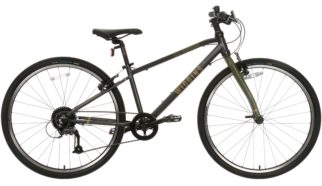 Wiggins Chartres 26 key data:
Price when new: £312
Typical age range: 9-12 years;
Bike weight: 10.3kg;
Brakes: V-Brakes;
Frame: Lightweight Aluminium;
Tyres: VEE-Rubber;
Available colours: Grey;
Warranty: Frame and Forks - lifetime; All other parts - 1 year
The Wiggins Chartres 26 is a good all-rounder that will happily cope with trips to mates houses plus longer, more challenging rides out.  We've had good feedback from Cycle Sprog readers on these bikes, which have been designed by Tour de France winner and Olympian Sir Bradley Wiggins.  You're getting a well specified lightweight (11.3kg) bike. The Chartres is a hybrid bike so will be suited to road and gentle trails, although there's no suspension so it's not a full out mountain bike.
Unfortunately Wiggins Kids Bikes were discontinued in early 2021, but there are still a lot available secondhand. 
If your 10 year old boy is desperate for a road bike and isn't going to ever want to fit wider tyres to it, then the Wiggins Rouen range is a good entry level road bike. It is road specific though – no wide cross tyres here, so you need to be certain he's only going to be rolling on the tarmac if you go for this one.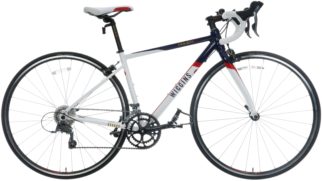 Wiggins Rouen key data (ADV Junior Road Bike – 26″ Wheel):
Price: £360
Typical age range: 9-12 years;
Minimum Height: 138-154cm;
Bike weight: 9.3kg;
Brakes: V-Brakes;
Frame: Lightweight butted aluminium frame;
Tyres: Superlight Air Filled Vee Tyre;
Available colours: White;
Warranty: Frame and Forks - lifetime; All other parts - 1 year
BUY SECONDHAND: Check out eBay for Wiggins Chartres 26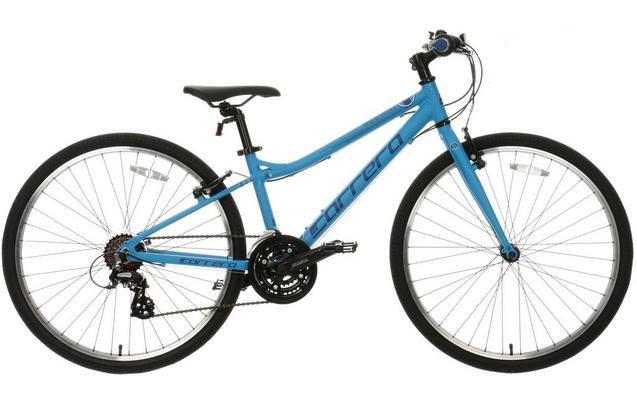 Subway 26 key data:
Price: £320
Typical age range: 9-12 years;
Minimum Height: 138-154cm;
Brakes: Tektro V-brakes;
Frame: Aluminium;
Tyres: Kenda;
Available colours: Blue;
Warranty: Frame and Forks – lifetime guarantee – all other parts 1 year
There are not many kids bikes for just over £300 that come specified with a lightweight aluminium frame, alloy wheels and fast rolling Kenda tyres.  Obviously, at this price, compromises are being made to keep the price low, with one outcome being that it could be heavier than other offerings (Halfords don't specify a total weight for this bike). The alloy frame is paired up to a pair of steel forks that should give some comfort at the handlebars. The Carrera Subway 26 has 21 gears (compared to up to 9 on the other bikes in this post), which will also make things heavier and more complicated (both for the rider and the mechanic). However, for just a tad over £300 you should still be getting a decent ride for your money.
BUY NEW: The Carrera Subway is available exclusively at Halfords, and can be ordered online for free home delivery or collection in store.   
BUY SECONDHAND: Carrera Bikes on eBay
Summary of the best bikes for a 10 year old boy
We've only managed to cover a fraction of the bikes that are on the market at the moment that would be suitable for a 10 year old boy, but hopefully, from this you can see the range of bikes available, and what you get for your money.  All the bikes featured are well made, lightweight and if looked after properly should be able to withstand everything a 10 year old asks of it in general day to day use. If you're looking for a mountain bike for serious off road riding, then do check our post on 26″ wheel mountain bikes.
How many bikes does a 10-year-old boy need?
Obviously, in our opinion, you can never have enough bikes at any age. Whilst the majority of 10 year old boys can get by with just one bike, if he's really into his cycling then the x=n+1 rule applies (where x = number of bikes needed and n = number of bikes owned).
He can't be expected to ride his mountain bike on a road sportive or for cyclocross, and if he's only got a road bike then how's he going to cope at trail centres? And of course, if he's going to really perfect his skills, then a BMX is going to be essential. Better get saving! Seriously though, one hybrid bike is all he needs if the majority of his riding involves riding to his mates, school, the bike park. If things are a bit more specialised then you might have to start digging into your pockets.
Finally, don't forget to read our post on how to sell on his old bikes once he's outgrown them!
Hopefully, you'll find the best bike – don't forget to leave us a comment below to let us know which bike you end up with, so tag your photos @cyclesprog on Instagram for a share!
In this post we're looking at a variety of different quality bikes – if there isn't something that's right for your son, then why not check out these other posts:
Other articles you'll want to read:
Affiliate Disclosure:  In order to keep Cycle Sprog free to our readers we use affiliate marketing, which means that on some of the links on this page we may get a small commission if you make a purchase. It allows us to keep the website going, so thanks for supporting us by purchasing through these links.
Support Cycle Sprog!
If you've found this article useful you can buy us a virtual coffee (or two!) to say thanks and help us keep the Cycle Sprog website going.