The Islabikes Beinn 27 is a kids bike with a difference. It's the first of the quality kids hybrid bikes to be fitted with 27.5″ wheels, providing young riders with the benefits of faster and easier riding (especially over bumpy ground) that comes from a bike fitted with this larger wheel size – up until now virtually all kids hybrid bikes have stopped at 26″ wheels.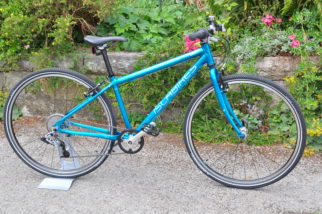 Aimed at children aged 10 and upwards (inside leg measurement of 68cm – 80cm), the Beinn 27 is Islabikes largest kids hybrid offering. A hybrid bike is suited to all kinds of riding – tarmac, grass, gravel and singletrack. The Beinn 27 is the type of all-round bike we recommend for youngsters who are not specialising in one cycling discipline and need a 'go anywhere, do anything' style bike.
Islabikes have forged such a reputation for building quality kids bikes that we can almost take it for granted that the Beinn 27 is going to perform well for most types of riding. We've already written a review of what happened when an 11 year old who doesn't cycle much (and who had never had the joy of riding a lightweight kids bike) got hold of the Beinn 27. He loved it, and couldn't quite believe the difference between the Islabikes and his much cheaper, heavier and harder to ride bike.
That kind of comparison is easy to do – you just give a child the bike and let them ride around for 10 minutes. In those circumstances, the experience allows the bike to speak for itself. Actually testing how the bike handles in different situations has been a longer term project. We gave the Beinn 27 to a reviewer who kindly agreed to put the bike through its paces on some quite challenging terrain, where many kids would be riding mountain bikes with suspension and wider MTB tyres.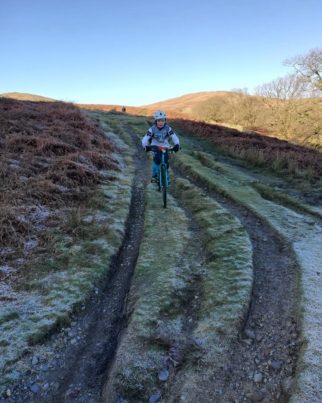 We thought that if 9 year old Rowan was happy and confident riding the Beinn 27 during the winter months around the Kentmere area of the Lake District then that would speak volumes about the abilities of the bike (and its rider of course!). It's probably fair to say that most riders will not use the bike in the conditions Rowan was riding, so please bear this in mind when you read the review.
Review of the Islabikes Beinn 27
Rowan rode the bike on a variety of different terrains in the Kentmere and Kendal areas of Cumbria, including road, rock, grass and loose scree – typical of what a cross country rider would encounter. The review period was during the latter part of the year, so the weather and ground conditions were quite a bit wetter and colder than you'd get during summer months.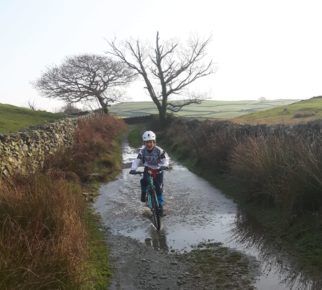 Islabikes state that the Beinn 27 is suited for ages 10 and over, but Rowan is a tall 9 year old, with an inside leg measurement of 64cm and height of 145cm at the end of the review period. This meant the saddle was at the lowest setting, giving plenty of room for growth.
Handling of the Beinn 27
The majority of off-road cyclists you meet in this part of the world tend to be riding mountain bikes, as the front suspension forks soak up the bumps making for a more comfortable and easier ride. However, the trade off is that the bike does weigh more, which can make climbing more tiring. With a decent mountain bike the rider can rely on the bike to get them over obstacles on the trail.
However many of the cheap kids mountain bikes have suspension forks that aren't designed for the light weight of a child so don't actually compress properly. This means the rider gets all the weight penalty and none of the suspension benefit. In these cases a decent hybrid bike is actually a better option.
With the Beinn 27, Islabikes use lightweight cro-moly steel for their forks to keep the ride responsive but also provide a degree of shock absorption too. Riding a rigid fork bike means that the rider will hone their technical skills in picking lines on the trail; they have to think that little bit more about what features on the trail they can and can't ride over.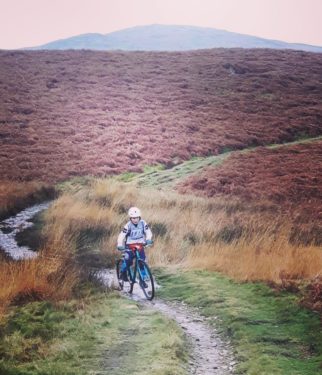 On this type of terrain you need tyres that are going to grip well. The Beinn 27 is fitted as standard with Islabikes own tyres, which are designed to be lightweight and have puncture protection and a reflective sidewall.
They're grippy, but they're only 1.5″ wide and don't have the tall knobbly lugs (raised rubber knobs) that you get with dedicated MTB tyres.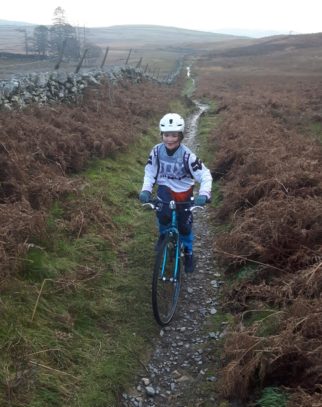 If you're going to be doing mainly MTB riding then you can swap them out for something more suited to the terrain. Islabikes stock Continental X King tyres as their MTB option (2″ wide), which are compatible with the Beinn 27 so long as a mud guard hasn't been fitted.
Rowan certainly had no complaints about the lack of suspension and found the 27.5″ wheels easy to ride on, telling us "I liked that it was light. The bike was good to ride on road, trail and rocky ground. It was able to handle mud, rain, loose rocks, puddles, grass, river crossings and roots."
The handlebars on the Beinn 27 are Islabikes own design. They're made of aluminium and are 580mm wide. Rowan's feedback was that "the handle bars felt nice and comfortable. They're not as wide as a mountain bike."
Gearing on the Islabikes Beinn 27
Obviously the Lake District is one of the UK's more hilly areas, so Rowan was really putting the gears on the bike to the test.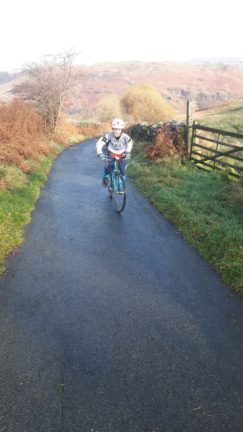 The Islabikes Beinn 27 is fitted with a SRAM X4 grip shift which means that to change gears the rider doesn't have to take any part of their hands off the handlebars. Rowan told us " the gears were really easy to change" which is great when you're riding in an area that needs kids to do this very frequently. Given the time of year this was also done with thick gloves and chilly fingers, which can prove problematic on some kids bikes.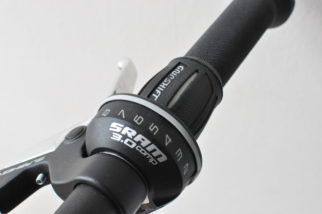 In terms of the gears themselves, the Beinn 27 is fitted with a single 32 tooth chainring at the front (some bikes have two or three chain rings). This means that the Beinn's rider doesn't have to worry about changing gears with both hands and prevents confusion as to which front and rear gear combinations you need to be in for going up and down hill. Much easier all round.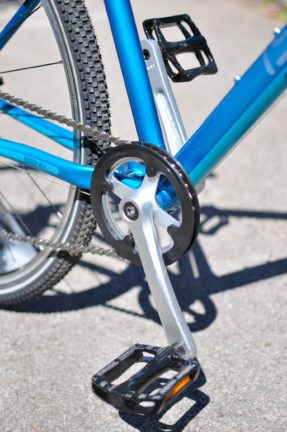 The Beinn 27 is 8 speed and has a wide range of gears courtesy of a SRAM 11-32 cassette. For the majority of places the Beinn 27 is going to be ridden, this range of gears is going to be more than adequate.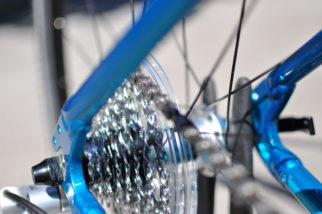 Of course Rowan was riding in the Lakes so the feedback was that "a lower gear would be helpful on the steep hills". Personally I'm usually thinking about a battery by this point, so this isn't surprising!
Braking on the Islabikes Beinn 27
Of course, once you've got up a hill you need to be able to get down it again, and brakes are very important!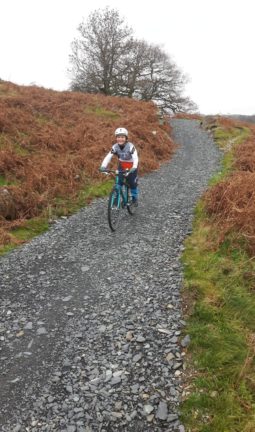 The Beinn 27 is fitted with aluminium mini V-brakes front and rear, which are controlled by Islabikes own specification aluminium micro levers.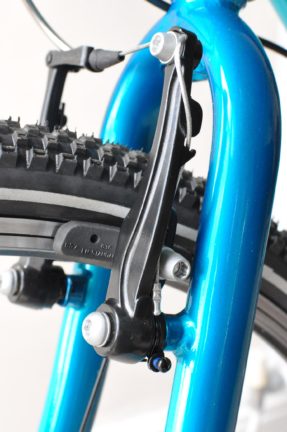 Obviously Rowan was putting these to the test on some steep descents and told us "the brakes are good and easy to press but not so good in rain". This is where the limits of being able to use the Beinn 27 for year round cross country riding start to show.
If you were to upgrade to Islabike's mountain bike (the Creig 26) then you'd get more powerful disc brakes which have greater stopping power in the wet. The standard tyres we discussed before will also cause a bit more slipping in the wet, so kudos to Rowan for descending on this bike on rainy Cumbria days! Another area where the cross over between hybrid and MTB shows is in the pedals. Rowan told us that "the pedals could have had more grip", which is understandable when your shoes are wet and muddy.
If you're thinking of using this bike for such riding then it's worth considering a slight upgrade to MTB tyres and pedals. One other small gripe that Rowan (and I think probably more mum and dad) had was with the seat post. "It could have a quick release lever so you don't need to use an allen key". Given the rate kids grow, this is a feature that many parents like on a bike, especially in cold weather when stopping to fiddle with your tool kit isn't much fun.
Final verdict on the Islabikes Beinn 27
Rowan rode the Beinn 27 in some challenging conditions that I'm guessing the majority of kids riding this bike won't find themselves in. So, it's testament to the quality of the bike that the overall conclusion was that the Beinn 27 is "fun to ride. It looks good and felt safe". Fun, good looking and safe – you can't really ask more than that for a kids bike!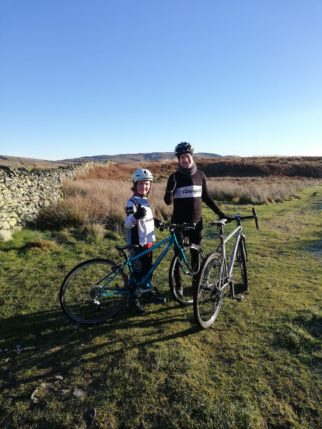 The Islabikes Beinn 27 is available to purchase directly from Islabikes. It costs £439.99 with additional accessories such as mudguards, luggage rack, prop stand, tyres (MTB, cyclocross and road specific) available.
Cycle Sprog were loaned the Islabikes Beinn 27 for the purpose of this review. We were not paid to write this review and all opinions are our own.
You can follow Rowan on Instagram for more great cycling adventures!
If you've found this review of the Islabikes Beinn 27 helpful in choosing your next kids bike why not buy us a cup of coffee and help us to keep the website running for the next year. Thanks!

Other posts you may find useful: