There was a lot of excitement when a large bike box arrived at Cycle Sprog HQ, containing an all new Islabikes Beinn 27 for us to review. It's the latest offering from Islabikes in their hybrid, multi-purpose kids bike range, and also the first time they've offered a larger 27.5" wheel. It's a 'go anywhere' type bike and is aimed at kids aged 10 years and over.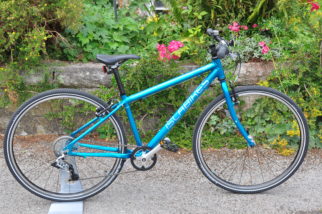 N, our eldest Sprog, had his friend 'S' come over to our house after school. S was very keen to see the new "exclusive" bike that N had obviously been boasting about (we received the bike just two days after launch, and clearly this has a certain kudos amongst 11 year old boys!)
Whilst we spend a lot of our time (and income) on bicycles, the vast majority of the population don't necessarily have the same passion, and our guest had never had the opportunity to ride a quality kids bike before. He was salivating over the Beinn 27 as we took it out the box, marvelling over the glossy paintwork and stunning teal colour.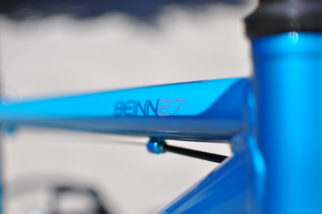 It became clear he was desperate to take it for a spin, and it seemed only right to let him have the first ride once Chris had assembled the bike as per the included instructions – a very quick process of attaching the front wheel via the quick-release lever, hooking up the aluminium mini V-brakes and fitting the lightweight Islabikes exclusive pedals.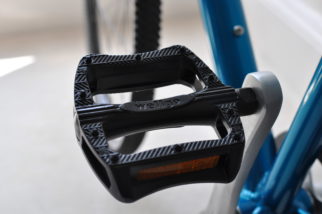 After receiving the green light from it's pre-ride M-Check it was ready to go. I carried the Beinn 27 down the steps and outside, marvelling at how light the bike felt. The frame on the Beinn is 7005 T6 heat treated aluminium – for frame geeks out there, this is a higher grade aluminium with a higher strength to weight ratio than found on the majority of other quality kids bikes (which use 6061 T6).
With S hot on my heels, I asked him to pick up the Islabikes and he let out a massive "Wow" as he realised just how light it felt (9.9 kg including pedals, if you're interested). In an instant S was on the bike and riding away down the path, exclaiming in the way only 11 year old boys can. After he'd reached the end of the short traffic free path outside our house, he had to turn round and come back, so I stopped him to get his first impressions.
Each time he passed me on his 'circuit' I got an update as to what he was thinking. Thankfully I had a pen and paper on me, but unfortunately no phone or camera (typical!). This is, word for word, what he said. It's not your traditional bike review, but I think it sums up better than an adult possibly could what it means to ride a top quality kids bike for the first time:
Lap 1: "It just feels really stable. It feels like I'm not going to crash" – just getting used to riding the bike
Lap 2: "It feels kinda right" – huge grin on his face
Lap 3: "It's really stable and got really good braking" – third lap, speeding up and pulling hard on the aluminium micro brake levers.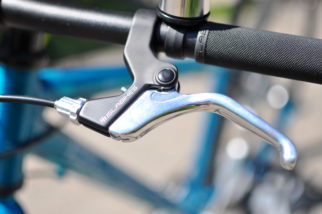 Lap 4: "It's really easy to change gear. You know how it usually takes a while to change gear? Well this is instant – really fast. And the chain doesn't fall off when you change gear" – rather tentatively changing through the Sram 8 speed 11-32 cassette for the first time.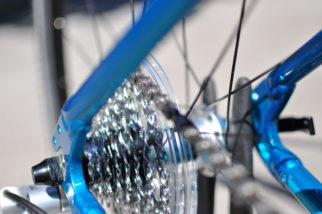 Lap 5: "Wow – it went straight to gear 8, with no delay. And when I say "No delay" I mean NO DELAY" – messing around rather ferociously with the Sram grip shifter.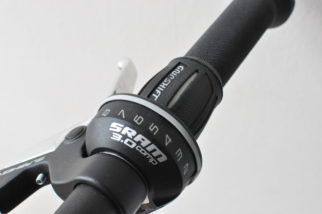 Lap 6: "It's got a really even weight balance – it's really well made." Long pause……… "It's just perfect" – riding steady and with much more confidence.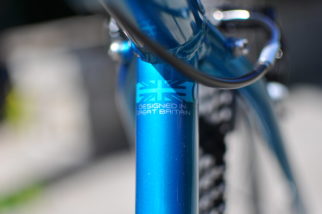 Lap 7: "This bike is LIGHT! It's got such an even weight balance"
Lap 8: "I've just done the start of a wheelie on this bike!" – feeling really confident now.
Then followed a period of all the boys swapping bikes and seeing who could do the best wheelie or track stand. N quickly got his hands on the Beinn and was impressed at how easy it was to do wheelies and endos, proclaiming it to be really light and fun to ride. Finally, the realisation that they'd been outside in the sunlight getting fresh air and exercise for ages struck them – they just 'needed' to go inside and look at a screen!
However, S demanded a couple more laps on the Beinn before heading inside with the bike. "It amazes me how light this bike is. It's amazing as it has no carbon fibre on it!" he said as he carried it back up the steps inside. He stood looking pensively at the Islabikes 27 Beinn and said quietly "I've just realised how bad my bike is".
I asked him what was wrong with his bike in comparison, and his answer was very illuminating. "The back brake doesn't really work – it keeps on getting stuck on the wheel."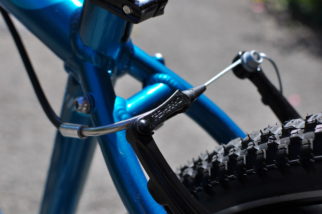 "The gears are so difficult to use and the chain keeps on coming off when I change gear."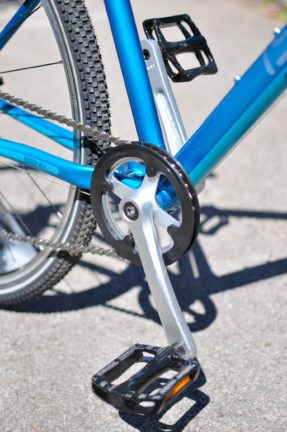 "And the suspension doesn't work".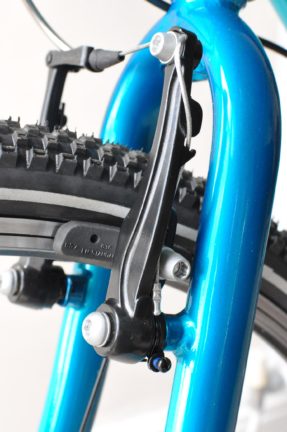 With that the boys disappeared upstairs to play. And there you have it dear readers. What it means to ride a quality child's bike, articulated far better than any adult could. If you've ever wondered why we go on and on about the need to make sure you're buying a bike and not a toy, this is it. And of course it applies to kids bikes of all ages – it's just that a 3 year old probably won't be able to explain about a 14" wheel bike quite as clearly as S has been able to with this one.
Thankfully the Islabikes Beinn comes in a range of sizes, from the Beinn 20 Small (£389.99) which is aimed at ages 5 years and over, through the Beinn 20 Large, the Beinn 24 and Beinn 26 to this, the new offering – the Beinn 27. It's worth noting that the Beinn 27 frame replaces the Beinn 26 Large.
Islabikes have designed an all-new frame (it's not just a rebadged Beinn 26 Large). The whole frame has been designed around the larger wheel size but they have adjusted the geometry to allow the stand over height to fall at the same as the old Beinn 26 Large.
The Islabikes Beinn 27 is suitable for kids with a minimum inside leg measurement of 68cm up to 80cm, with approximate minimum height of 146cm. Islabikes suggest that it's a bike suitable for those aged 10 years and over, although our rather leggy 9 year old was able to ride it with the saddle in the lowest position.
Where to buy the Islabikes Beinn 27
The Islabikes Beinn 27 is available in a choice of red, green or teal and costs £439.99. It's available exclusively from Islabikes, either via their website or you can arrange to pick up from their Ludlow showroom (although you must order in advance either online or by phone.).
You can read our full review of the Islabikes Beinn 27 here.
Other articles you may like:
Cycle Sprog have been loaned the Beinn 27 to review by Islabikes. We were not paid to write this review.