Giant are the world's largest bike manufacturer, and at long last they've caught up with the rest of the kids bike market – which for over a decade has been offering parents premium specification, gender neutral, lightweight kids bike ranges.  The new Giant ARX range comes in three sizes – 16″, 20″ and 24″ wheels, and Giant have loaned us the ARX 20 to review.
Cycle Sprog is an family run, reader supported, website. We belong to several affiliate schemes so may receive a small commission from sales made from links on our site. We do our best to be impartial and recommend products on their quality not whether they are in a scheme.
The Giant ARX 20 is a multi-purpose hybrid bike with flat handlebars, 20″ wheels, no suspension and 8 gears.
It is aimed at children aged between about 6 and 8 years of age. The height recommendation is 120cm to 140cm and the bike retails for £299,
Here's our thoughts on the bike, before we handed it over to our reviewer for a number of months to put through its paces.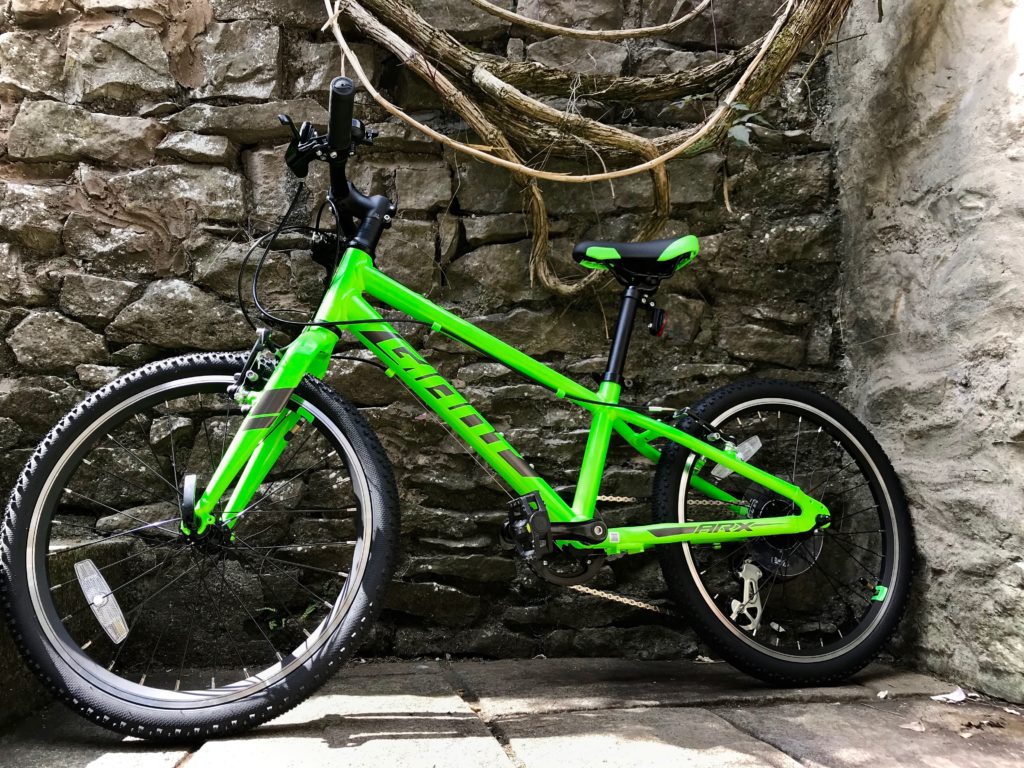 First impressions of the Giant ARX 20
The first thing to say about the Giant ARX 20 that we've been sent to review is that it's very green!  The paintwork is glossy and in this colour is verging on neon which is great for ensuring your child is visible, especially if they're cycling to school during the winter months. It looks great in the sunshine, especially with the metallic charcoal accent colour that really pops in the sun.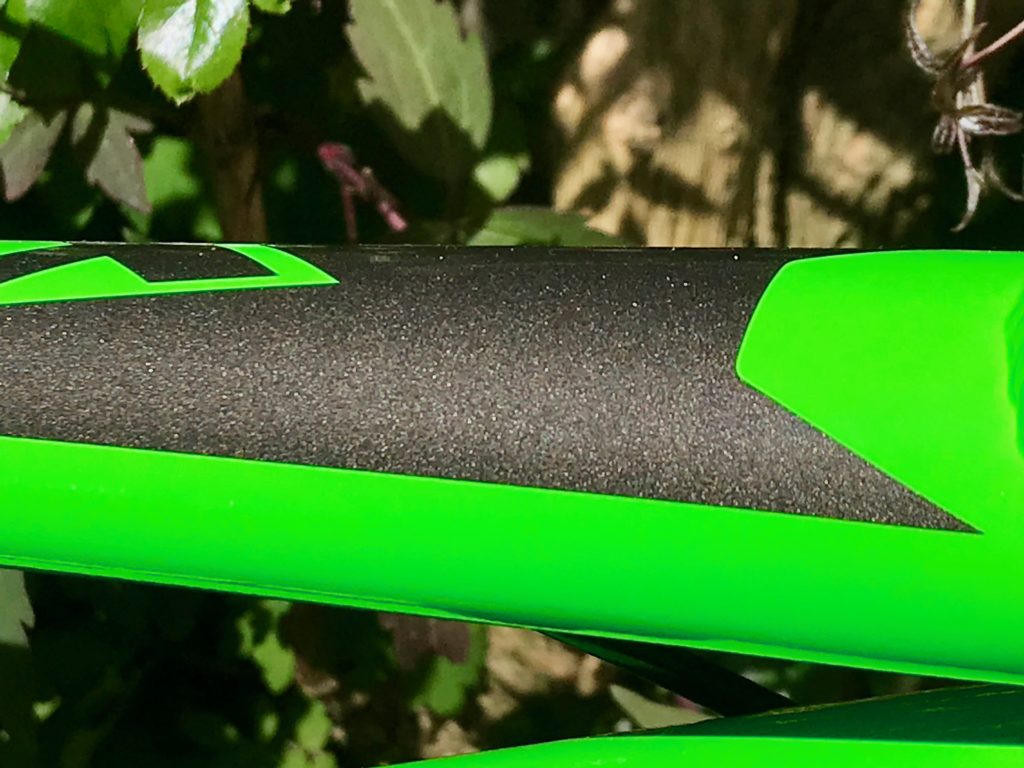 However, if you're looking for something slightly more subtle, the ARX range also comes in red, blue, yellow and orange. I've seen these bikes in our local Giant store and can confirm they're not quite as startling as the green.  It's good that the bikes are being marketed as gender neutral so well done to Giant for that.
The second thing we noticed about this bike is the weight. Whilst it's not the lightest 20″ wheel bike we've ever lifted out of a box, it's certainly lighter than the kids bikes Giant have made previously, and significantly lighter than the majority of mass produced children's bikes. This is mainly because the frame and forks are aluminium rather than steel. When buying a kids bike it's very important to consider the weight as some models available (particularly from discount stores and catalogues) are so heavy children can barely manoeuvre them and will get very frustrated (and tired) riding them.
How much does the Giant ARX 20 weigh?
We weighed the Giant ARX 20 at 8.76kg with pedals, which is quite a respectable weight for a bike of this price.
Giant claim it's the lightest weight bike in its category, but unfortunately don't specify what category that is! We know there are quite a few lighter 20″ wheel kids bikes (Hoy Bonaly 20, Woom 4,  Islabikes Beinn 20 to name but three). However, we're talking very small differences in weight, so unless your child is going to be riding up some really steep hills or you need to carry the bike up and down flights of stairs on a regular basis, then this is unlikely to make much difference.
Components on the Giant ARX 20 kids bike
The ARX 20 has all the features that we've come to expect from a quality kids bike range. This is to be expected, as other brands have been refining the finer details of kids bike specifications over the past decade.
The brake levers are sized for children's hands and can be adjusted to get the perfect fit if your Cycle Sprog has particularly small or large hands.   The brakes are standard V-brakes and will do a good job of stopping your child.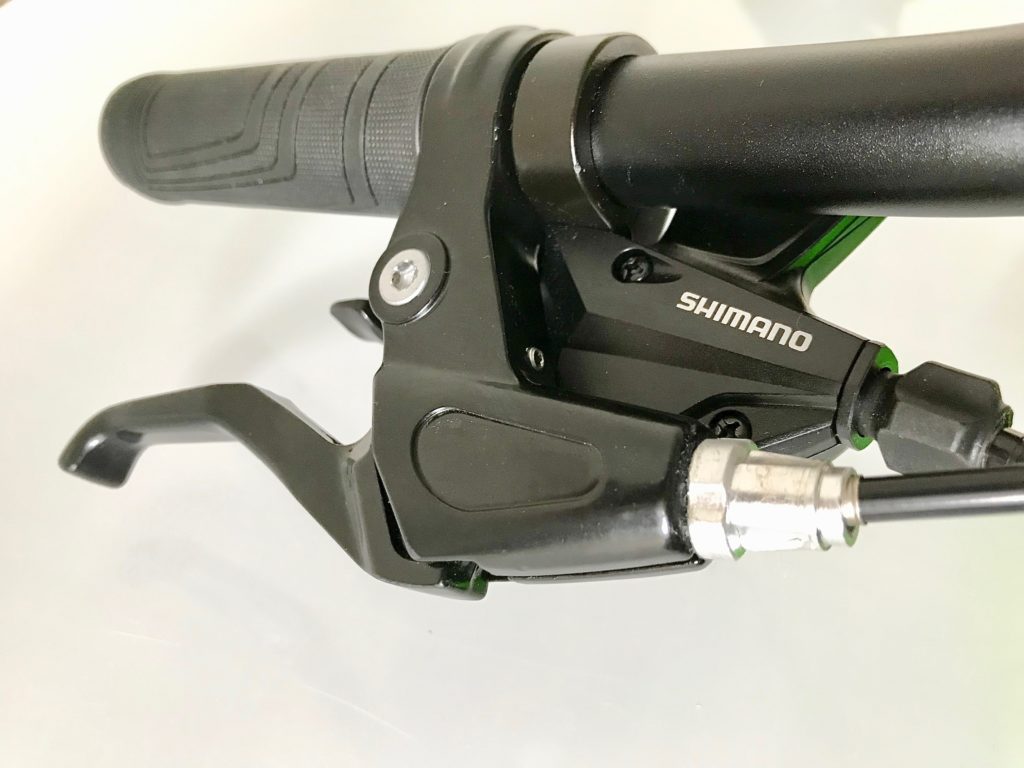 The handlebars are 480mm wide, which are the correct size for a 6 year old rider and there are fixings to fit a bottle cage if required (we've not tested this, so can't comment on how easy / difficult it will be to get the bottle in and out around the frame).
The saddle is sized for a small bottom and feels like a good mix of supportive and flexible. There's a nice continuation of the colour theme too.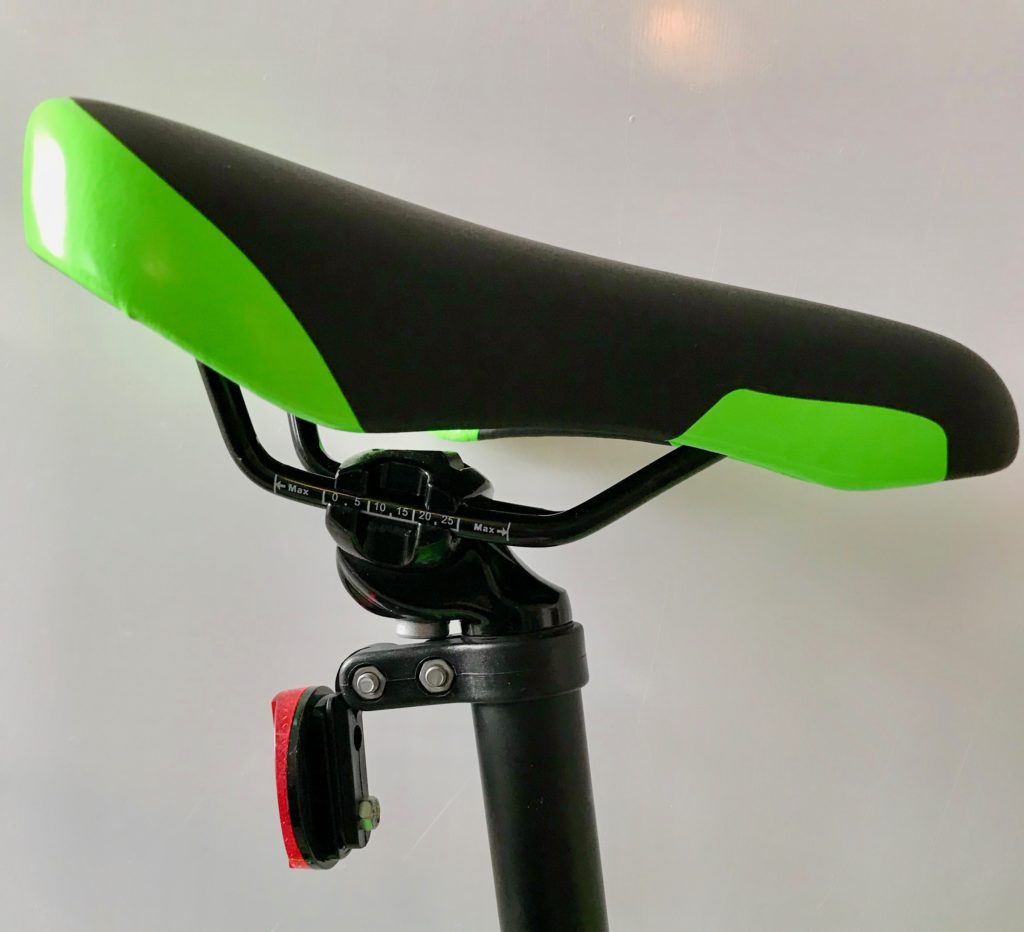 The seat post is quick release meaning you don't need to fiddle around with an Allen (Hex) key every time your child has a growth spurt.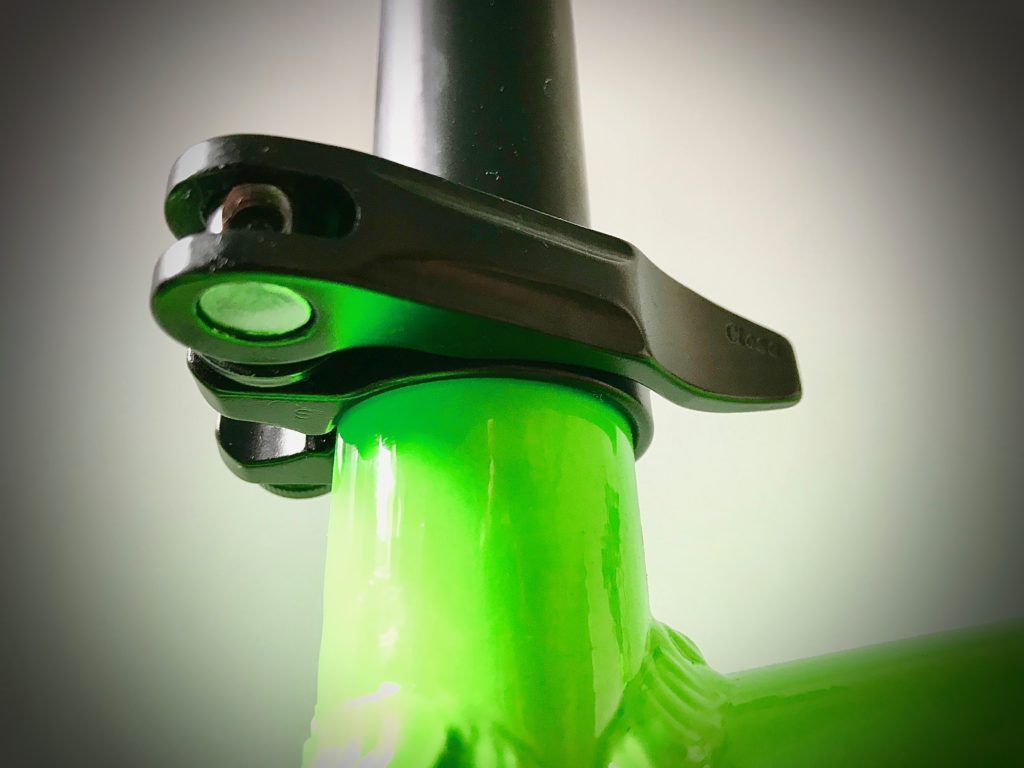 The ARX 20 comes supplied with 1.5″ wide multi-purpose tyres which are a good all round choice, allowing them to ride on tarmac, gravel and grass whatever the weather.  The front wheel is quick release (handy for removing to get in a car boot), whilst the rear is not so you'll need the correct size spanner with you to fix a rear wheel puncture.   The valve on the tyres is Schrader, which is the same as for car tyres so it's worth checking your pump works with this if you're usually a road bike rider who uses Presta valves.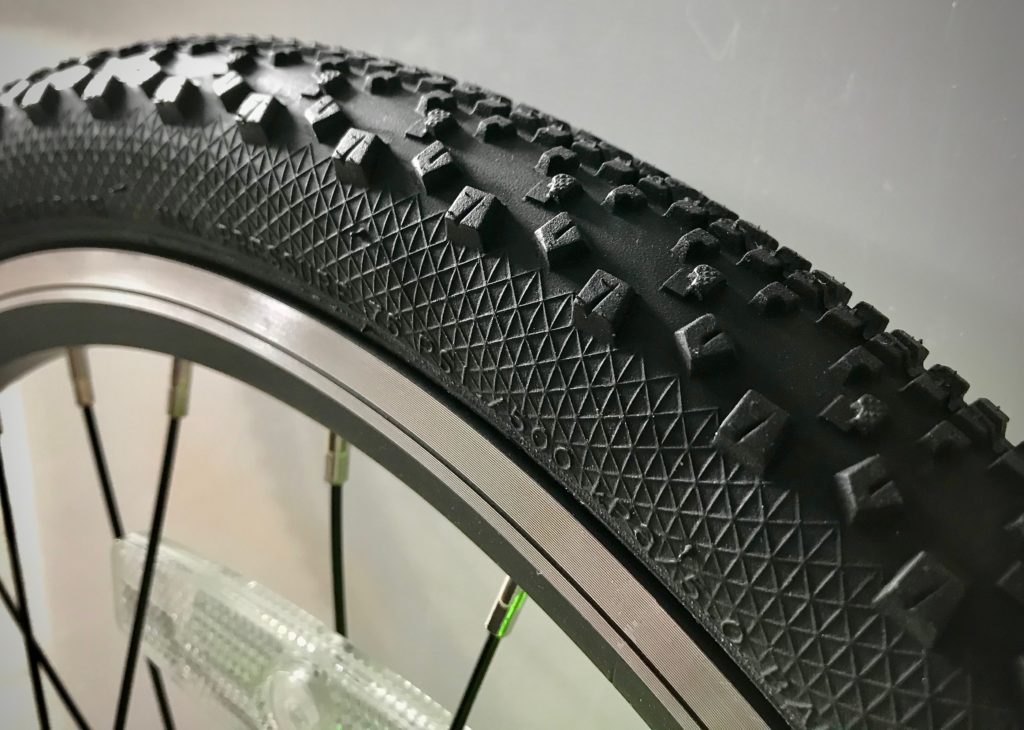 Gearing on the Giant ARX 20
For the majority of children the ARX 20 will be their first experience of using gears, and it's great that Giant have made this nice and simple.  There is a single 32 tooth chainwheel (the front gear by the pedals), which means your child doesn't have to worry about changing gear with their left hand.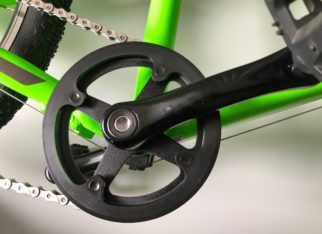 Their right hand moves through the 8 gears using a thumb operated trigger shifter, which moves smoothly and easily. There's also a handy visual display showing which of the 8 gears they're in.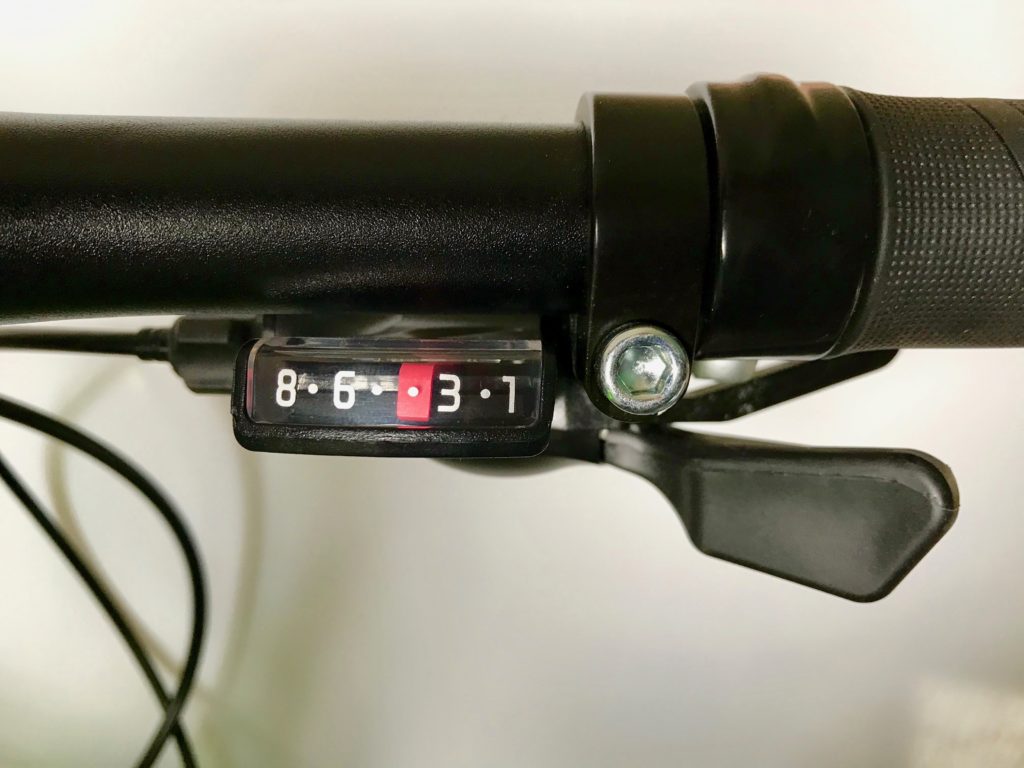 The range of gears is from 12 teeth to 32 teeth which is wide enough to tackle most hills a 6 year old is likely to encounter.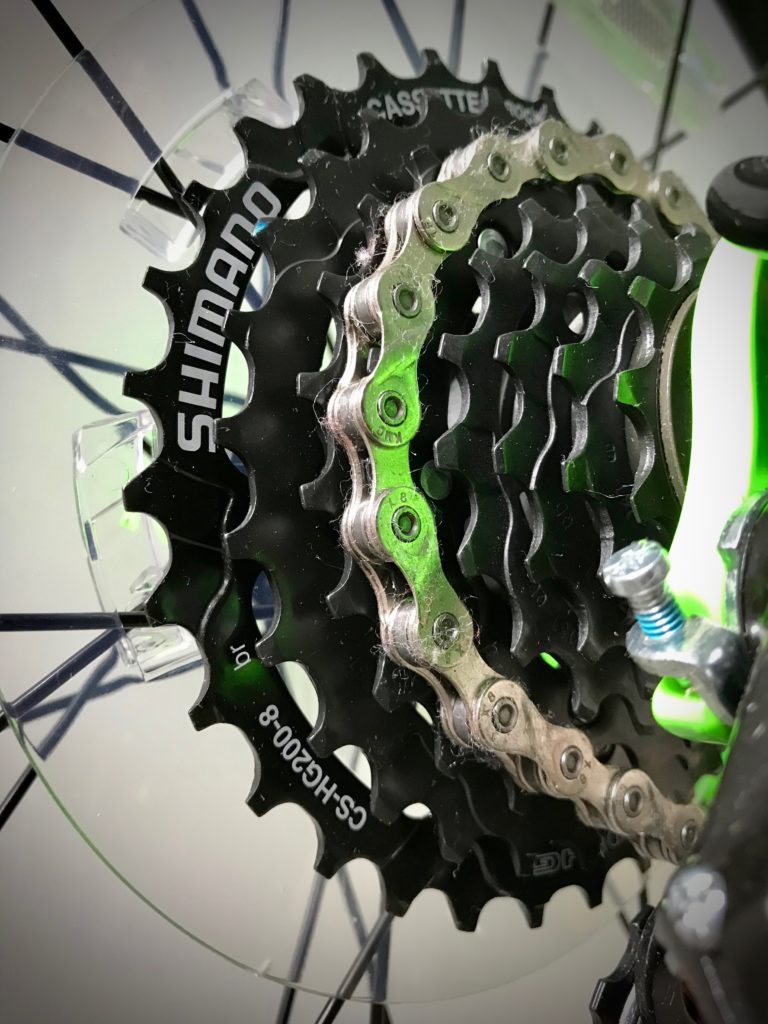 The review bike came fitted with a rear derailleur protector, which is quite useful for stopping damage to the Shimano Altus RD-310 derailleur whilst in transit, plus will be useful if your child has a habit of dropping their bike on the ground wrong side up. If you've not taught them to always put their bike gearing side up, now is the time (with a matter of urgency, as you don't want to be paying out to fix gears!)   If you're using the bike off road on trails you may find the protector gets snagged on roots and branches, but not to worry as it can easily be removed.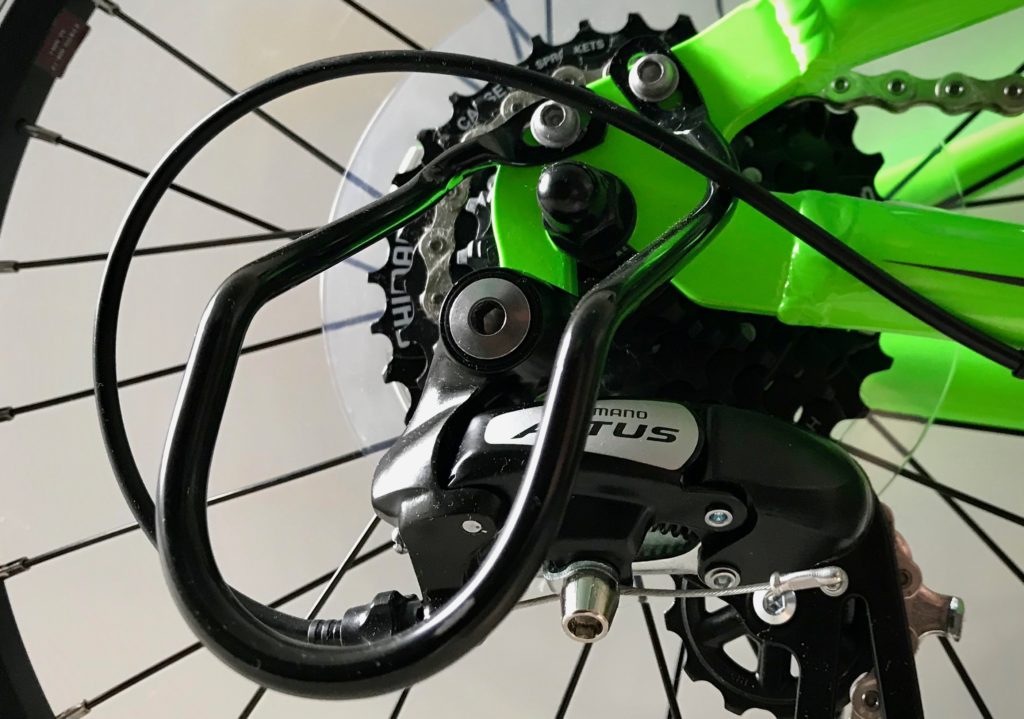 Overall first impressions of the Giant ARX 20
Giant are one of the world's leading adult bike manufacturers, so it's really encouraging that they've finally woken up to the fact that the kids bike market has changed massively in recent years and come on board with the release of the new ARX range.  The Giant ARX 20 is a well specified, lightweight kids bike that should put a grin on the face of any child who rides it.   It ticks all the correct boxes in terms of weight, child sized components and gender neutral colour schemes, which isn't a surprise as plenty of other brands have been making similar kids bikes for years.  There's only three bikes in the new ARX range, so Giant still have some way to go before they'll be rivalling the likes of Islabikes (16 bikes) and Frog (21 bikes) as a leading quality kids bike manufacturer. However, it looks as though they've made a good start.
We're now going to pass the bike over to one of our review panel to ride, ride and ride some more. We'll be bringing you another review later in the year with a follow up view on how the ARX 20 performs over this extended review period.  Follow Cycle Sprog on Facebook or subscribe to our newsletter to find out our final verdict.
Giant also have a network of local bike stores around the world, and you can find your local dealer here.
Disclosures:  Cycle Sprog have been sent the Giant ARX 20 to review by Giant Bikes UK.  We have not been paid to write this review, and all opinions are our own.  We are affiliates of a number of retailers, which mean that if you may a purchase via the links to them on this page we may get a small commission. This doesn't negatively impact what you pay and allows us to keep the Cycle Sprog website going. 
Other articles you may find of use:
If you are not making a purchase via our affiliate links but have found this review helpful in choosing your child's next bike, then you can buy us a "virtual coffee" to say thanks!