Where has the year gone??? It's almost Christmas and the winter weather is well and truly here (we had snow the other day!!) For me, autumn flew by in a total blur. One minute it was the summer hols and we were out every day riding our mountain bikes and then reality kicked in again.  A mix of a ridiculously overcommitted diary, coughs and colds, horrendous weather and the rugby world cup meant we barely went out on our mountain bikes all autumn.
Suddenly the cold weather is here!  It's so easy to look outside and think how much nicer it is inside and hunker down for the winter.   However, last weekend we finally had that perfect combination – no poorly persons, the sun was shining plus we had no visitors, events or parties to worry about.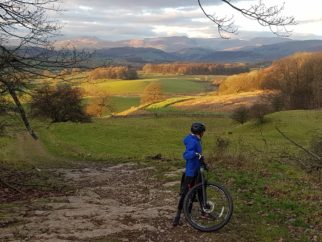 Living in Cumbria we're incredibly lucky to have some great mountain biking on our doorstep, and at this time of year, it's great not to have to worry about loading the bikes onto the van and driving miles, coupled with all the associated hassles that tends to bring! It's cold, the daylight hours are short, and we're ridiculously fortunate that we can just get out riding from our front door.
We didn't go far – just up to our local bridleway to find a bit of mud and some rocks.  Not having ridden for ages we didn't want to push ourselves too much, plus there was a risk of ice.  However, the youngest Sprog (11-year old T), was desperate to take the new Islabikes Creig 27 we've been sent to review out on its first ride. It's been sitting in our house looking accusingly at us for a couple of very busy weeks – it's certainly a bike that needs to be ridden!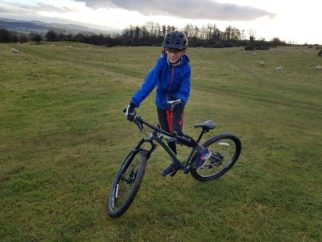 I wanted to make sure he felt comfortable on it before trying anything too challenging, so on the Saturday we set out for a short ride after lunch. We had so much fun we were cursing the fact we'd left it late and that the light was fading. So the Sunday saw us up bright and early for a longer ride to put ourselves and the Creig 27 through a bit more of a challenge.
Here are a few random thoughts on what I've been reminded of this weekend.
1) There isn't much better in life than being out on your bike on a crisp winter's day in a stunning part of the country.  Even our short ride on the Saturday left us grinning from ear to ear.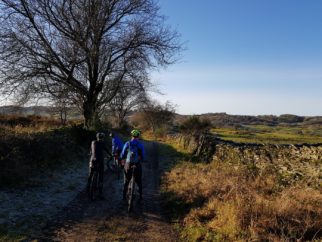 2) Mountain biking is a skill that you need to practise.  T goes to weekly sessions with our cycle club, so was able to show off his continually evolving skillset. I, however, was desperately trying to remember the fundamental MTB skills I'd been working so hard on over the summer!
3) There was no need to worry about T getting used to the Islabikes Creig 27 – after a quick stop to adjust the saddle height he was away (annoyingly there's no quick release on the seat post which is a pain, especially in the cold weather). I can report that he had no issues with handling the Creig and it definitely got the thumbs up on its first two rides out.  I was desperately trying to keep up as he flew up and down the hills – a combination of the 27.5″ wheels and the range of gears (the Creig 27 is an 8 speed with a wide range comprised of a 26t chainring and an 11-40t cassette) meaning he didn't struggle once on our rides.
He's ridden the 24″ and 26″ wheel versions of the Creig in the past and certainly enjoyed being on the larger wheel size.  We now need to get it out on a variety of rides to find out how it handles on different terrains and in different weather conditions, but it certainly handled well on muddy, undulating bridleways in Cumbria during December.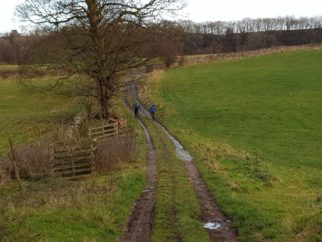 4) Layers are so important this time of year – thermal base layer and windproof top layers being crucial (and having somewhere to store them all when you get too hot).  Buffs, skull caps, thermal socks and winter gloves make a real difference.
5) You can attempt to MTB in icy weather if you know what you're doing and have the proper tyres for it – it's certainly far preferable to being on a road bike and looks to be lots of fun when you slide!  However, I found that if you know you've got to go to work to pay the mortgage on Monday morning this isn't quite so appealing!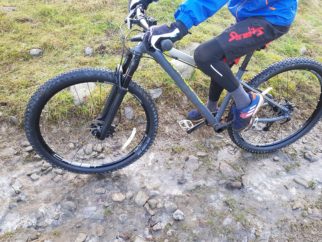 6) There are numerous ways a brilliant descent can be ruined.  T was sweeping round a corner on a fast descent only to find the path blocked. At least we know the brakes on the Islabikes Creig work well!!! Remember – don't annoy the locals!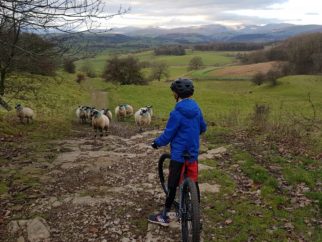 7) It's fine to keep it short and sweet this time of year and consider the fading light if you're heading out in the afternoon. This isn't the time of year to be setting off on challenging distances or new routes unless you're incredibly experienced and very well equipped.  On the Sunday we somewhat foolishly decided to add a short loop we'd not done before – bad idea! We didn't have enough snacks, had to keep stopping in the cold to read the map, took a wrong turning at one point and in general turned what could have been a lovely adventure in warmer weather into a moan fest until we got back onto our tried and tested route and everyone was relaxed again!
8) Be prepared for terrain that's easy to ride in the summer months being a bit more challenging at this time of year.  To the Sprogs disappointment, the ice on this wasn't strong enough to take the weight of their bikes!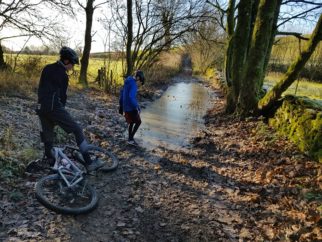 9) The clearing up after a muddy winter mountain bike ride is a real faff – we were only out for 90 minutes on the Saturday and it took almost as long to clean the muddy bikes and do the laundry afterwards (only for us to need to do it all over again the next day!)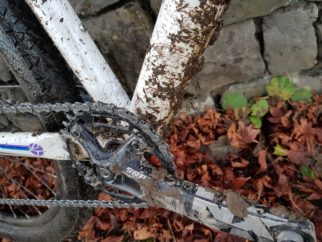 10) BUT – getting out is really worth it!!! Gone are the feelings of cabin fever, and you get a glow of satisfaction on having been out and active on such a brilliant day. Fingers crossed we get lots of sunny, dry days over the Christmas holiday……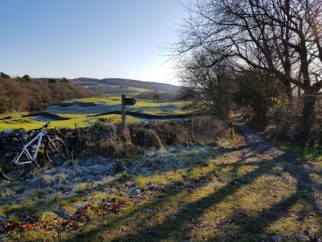 Where to buy the Creig 27:
Buy Now
Advert:  If you've got an outgrown Islabike that you haven't got round to selling on, why not get a quotation today from The Bike Club? They'll even send a courier with a bike box to come and collect it from you. 
Do you ride all year round?  Or are you a warm weather cycling family?  Do drop a message in the comments box at the bottom of this article and let me know your thoughts on the highs and lows of cycling with your Sprogs at this time of year.
Disclosures: A big thank you to Islabikes who have loaned us the Creig 27 to review. We have not been paid to write this article, and receive no commission if you make a purchase.  If you've enjoyed reading this and want to support us you can buy us a coffee here. 
Other posts you may want to read whilst you're here: