Ok – this may be a bit geeky, but I always get really excited when an email arrives in my inbox telling me that a brand is launching their very first kids bike. And particularly so when it's someone already doing exciting things in the family cycling space.  As you can imagine, I was rather interested when I heard Hornit had just launched their first kids bike – a balance bike called the Hornit AIRO (and yes – it does come with capital letters!)
I was even more pleased when they asked if they could send one over to Cycle Sprog HQ for us to do a first impressions review, and to help them spread the word about this new bike (and yes, full disclaimer, Hornit are paying me for my time in writing this. Thank you Hornit – the Sprogs can eat this week!)
AFFILIATE DISCLOSURE:   When you buy through links on our page we may get a small commission if the retailer has an affiliate scheme. You can find out how this works in our affiliate policy. Thanks for supporting us in this way!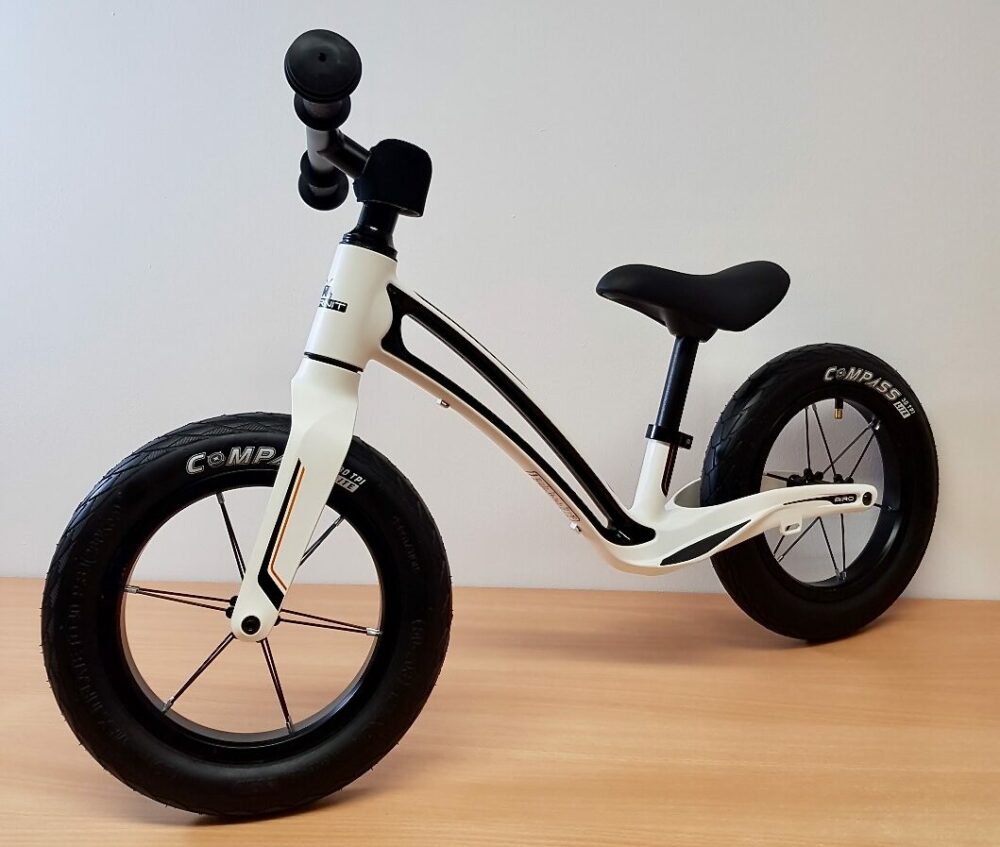 If you've not heard of Hornit before, they started out making a VERY loud horn for adults bikes so that cyclists can be heard on a busy city street.  They then went on to develop the Mini Hornit – a light and horn combo for kids – which was great news for kids everywhere and bad news for their neighbours!
This was followed by their Mini Hornit helmets, which come in such a fun range of designs that they'll prove popular with even the most reluctant of helmet wearers.  Our reviewers loved them too.
And now, just in time for Christmas, Hornit is branching out to launch their very first lightweight balance bike – the Hornit AIRO.
Given all this, you can probably tell I was really looking forward to getting my hands on this particular balance bike.
First impressions review of the Hornit AIRO balance bike
When the AIRO arrived the first surprise was the weight of the box. It was so light, I did wonder if they'd remembered to put the bike inside! Thankfully they had and opening it up revealed the Orca White version of the Hornit AIRO.
As well as Orca white you can also choose the colour Hammer Yellow.
Editor update April 2021 – Hornit has just released 4 new colours – Flamingo Pink, Magma Red, Tuvalu Turquoise and Mavericks Blue.
After pulling the bike out of the box and removing the protective packaging it was time to put it together. Assembly of the AIRO is simplicity itself, as it arrived in the box with everything already in place. The only work on our part was to align the handlebars into the correct position and set the height of the saddle. We also checked the tyre pressures were correct and used the supplied hex key to ensure that the wheel bolts on the bike were sufficiently tight. And that was it – ready to ride!
First thoughts on the Hornit AIRO balance bike
Firstly, let's not beat about the bush with this.  At £139, Hornit is going head to head with the premium balance bike brands – this is not some cheap, throwaway toy.  Quite the reverse actually, as it comes with a lifetime warranty which you activate on the Hornit website once you've got your AIRO.  There are very few other brands who provide this level of warranty, so Hornit is clearly laying down the gauntlet with this balance bike.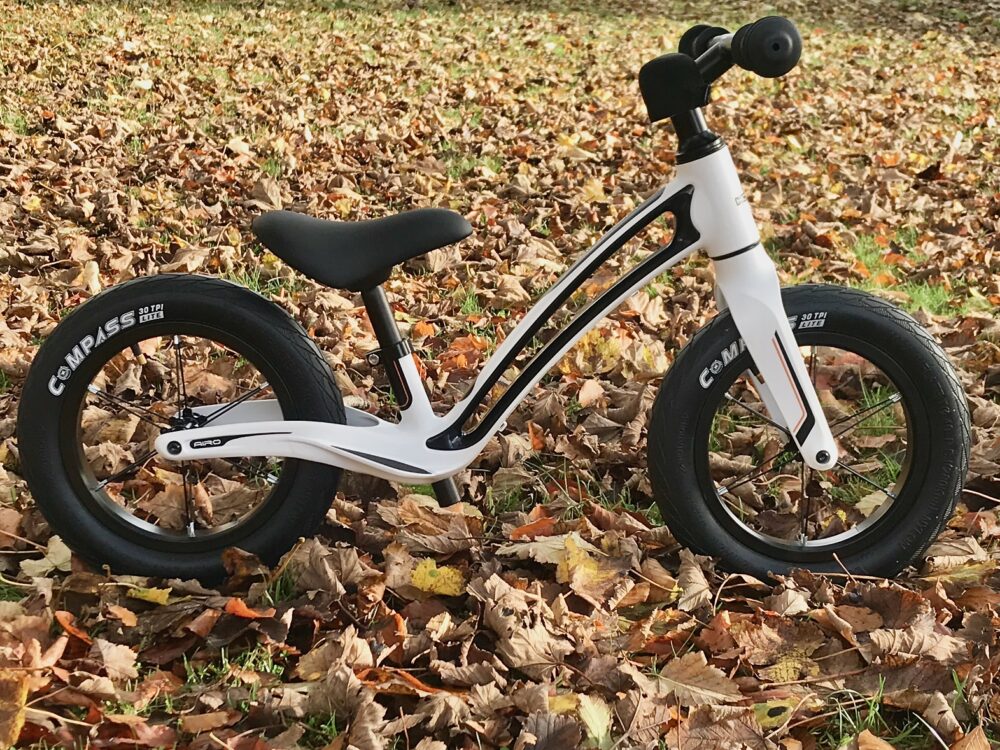 Secondly, I have to mention the weight.  Hornit claims that the AIRO tips the scales at just 2.95kg, making this one seriously lightweight balance bike.  So much so that I had to immediately refer back to our various articles on balance bikes to see if I could find anything comparable that is as lightweight as the AIRO.  Only several brands have managed to get a lower weight, but they have solid tyres which will compromise on the comfort of the ride, especially when using it outside. We gave the AIRO a quick check on the scales we use to weigh all bikes and it was within a few grams of 2.95kg. Yep – it's light!
Thirdly – the design.  I've seen a lot of balance bikes in my life, but it seems there's always room for innovation. The Hornit AIRO is made from a magnesium alloy, a lightweight material that is increasing in popularity for creating bicycle frames as it's a more environmentally friendly, fully recyclable alternative to aluminium.  Another plus point is it uses a casting process that allows for the creation of really funky designs.
The end result is a frame with lovely flowing lines and a handy gap within the main part of the frame that allows a hand to slot through, a thumb to rest on the top of the tube and the bike to be carried in comfort. Not only an attractive aesthetic feature but a functional element too!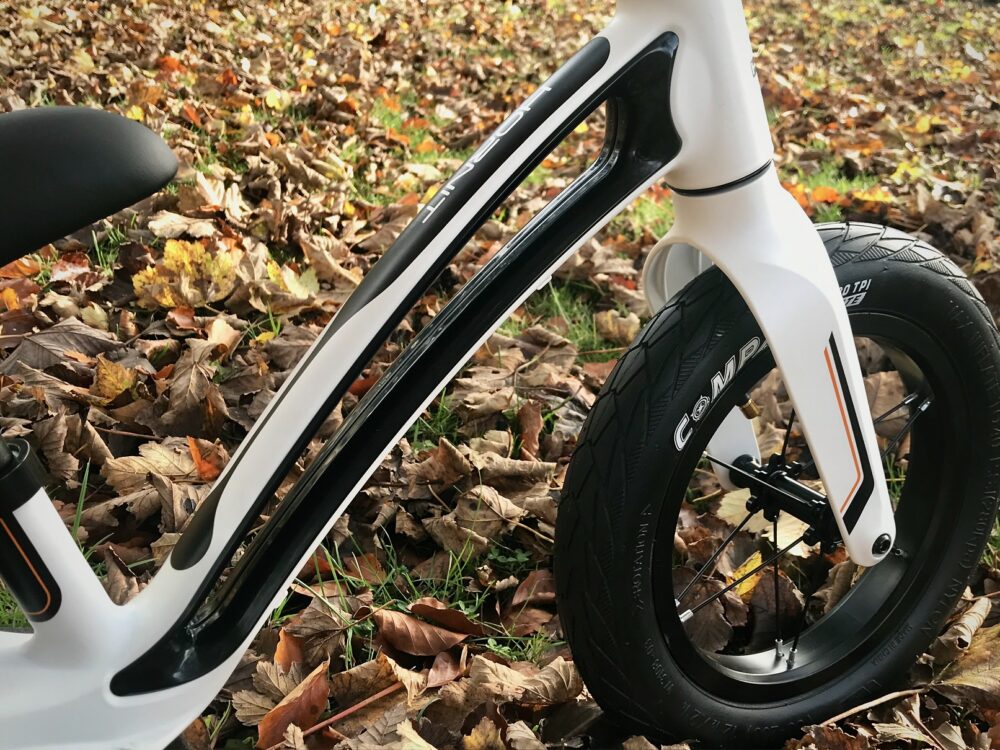 All in all, this is a balance bike that looks stylish, fun and fast. It even comes with grip taped footrests on either side for when you pick up speed and just want to freewheel.  Oh to be 3 years old again!
Tyres and wheels on the Hornit AIRO balance bike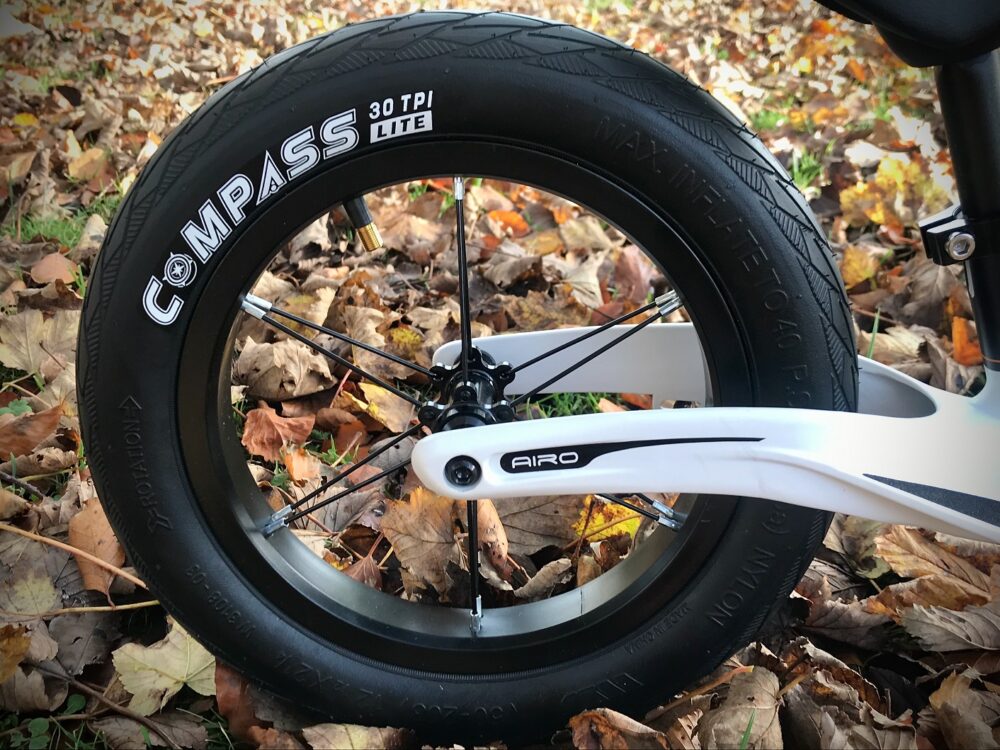 To get moving, the AIRO rolls on 12.5″ diameter wheels. These are built using aluminium rims and have sealed bearing hubs to help keep out debris that tends to shorten bearing life and lead to that nasty grating sensation you can get with cheap bikes.
Wheels on kids bikes don't need as many spokes as on adults because children don't weigh much. So the AIRO has a low spoke count (12 per wheel) that should be plenty strong enough for intended use but will also keep the weight down. The "proper" air-filled rubber tyres mean comfort shouldn't be a problem either. Hornit really has put a lot of thought into the AIRO and it's interesting to see that in order to comply with EN71 testing for toys the Hornit AIRO does not come with valve caps on the tyres 'because they are a choking hazard for young children'.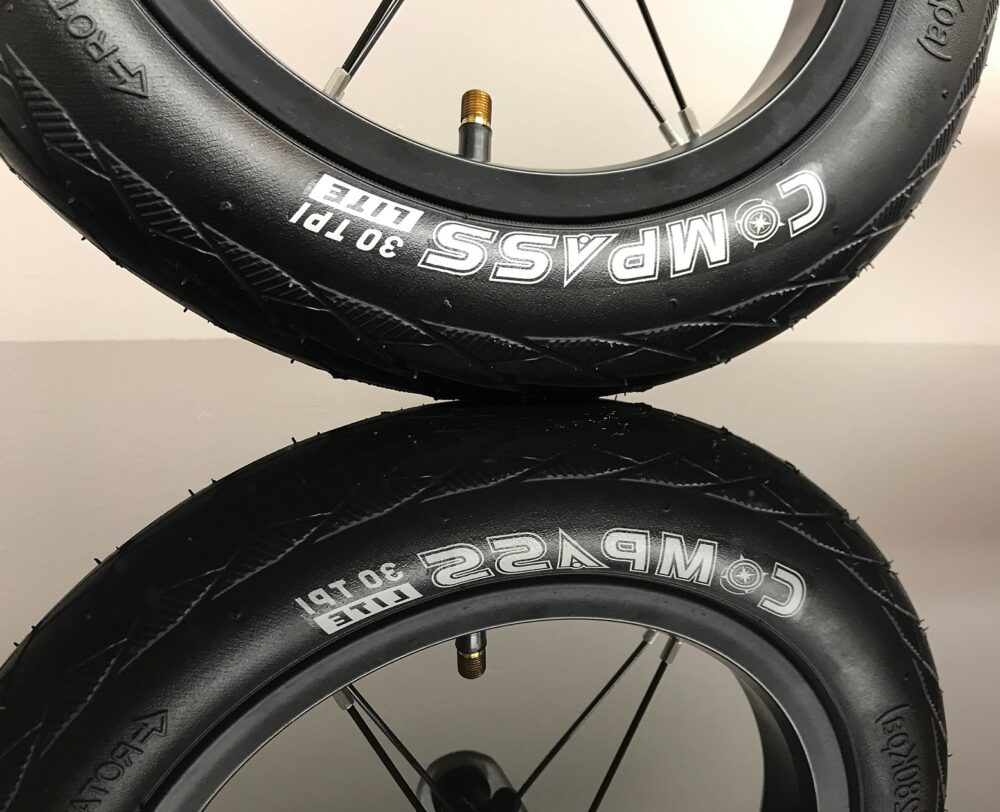 Our own Cycle Sprog had a good time putting the AIRO through its paces. He's much older than the target market, but with his years of experience of testing kids bikes can very quickly tell a well-made bike. He was impressed with the quality of the steering and how smoothly the wheels rotated and managed to get up a good turn of speed!
Just like adults, kids want to be comfy and the contact points on the AIRO appear to have been well thought out with both saddle and grips feeling comfortable to the touch.
Safety is at the heart of everything that Hornit do (after all they make helmets and horns) so they've also added in a padded protector for the stem, so if your child happens to have an incident where they come off their bike, then they get some cushioning.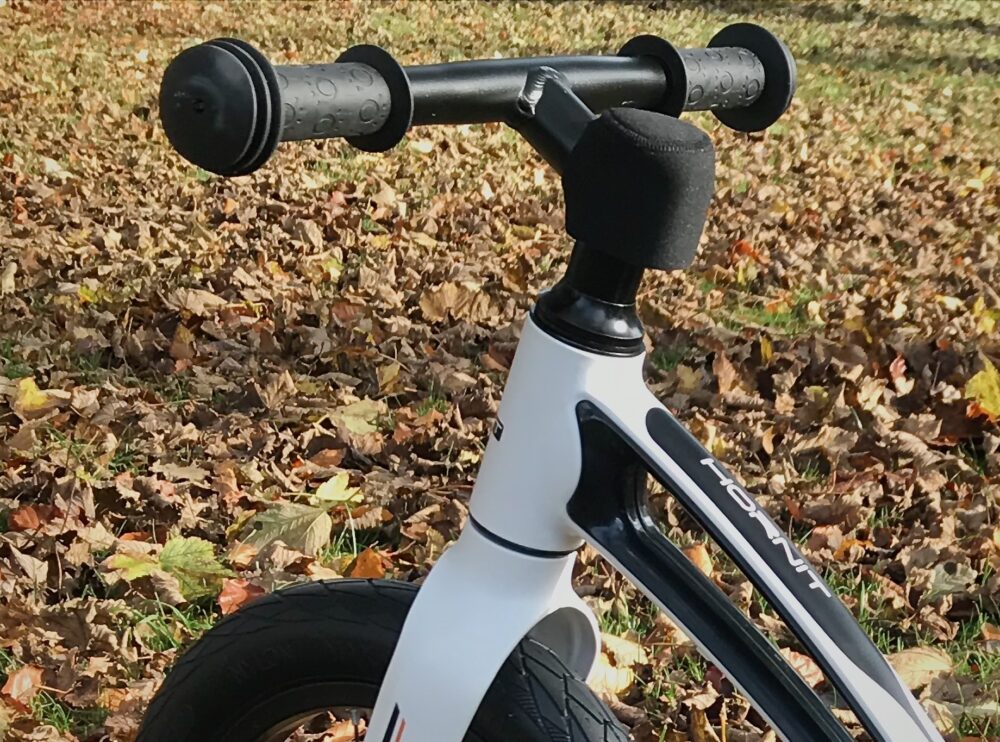 As children this age seem to grow in the blink of an eye, it's great to see that the Hornit AIRO comes with a decent length seatpost. This should give enough adjustment to span roughly 18 months to 5 years, depending on how tall / short your child is. In terms of numbers, this equates to a measurement to the top of the saddle of  29 cm at its lowest setting and 44cm at the highest.   Hornit recommends an inside leg measurement of 30-48 cm.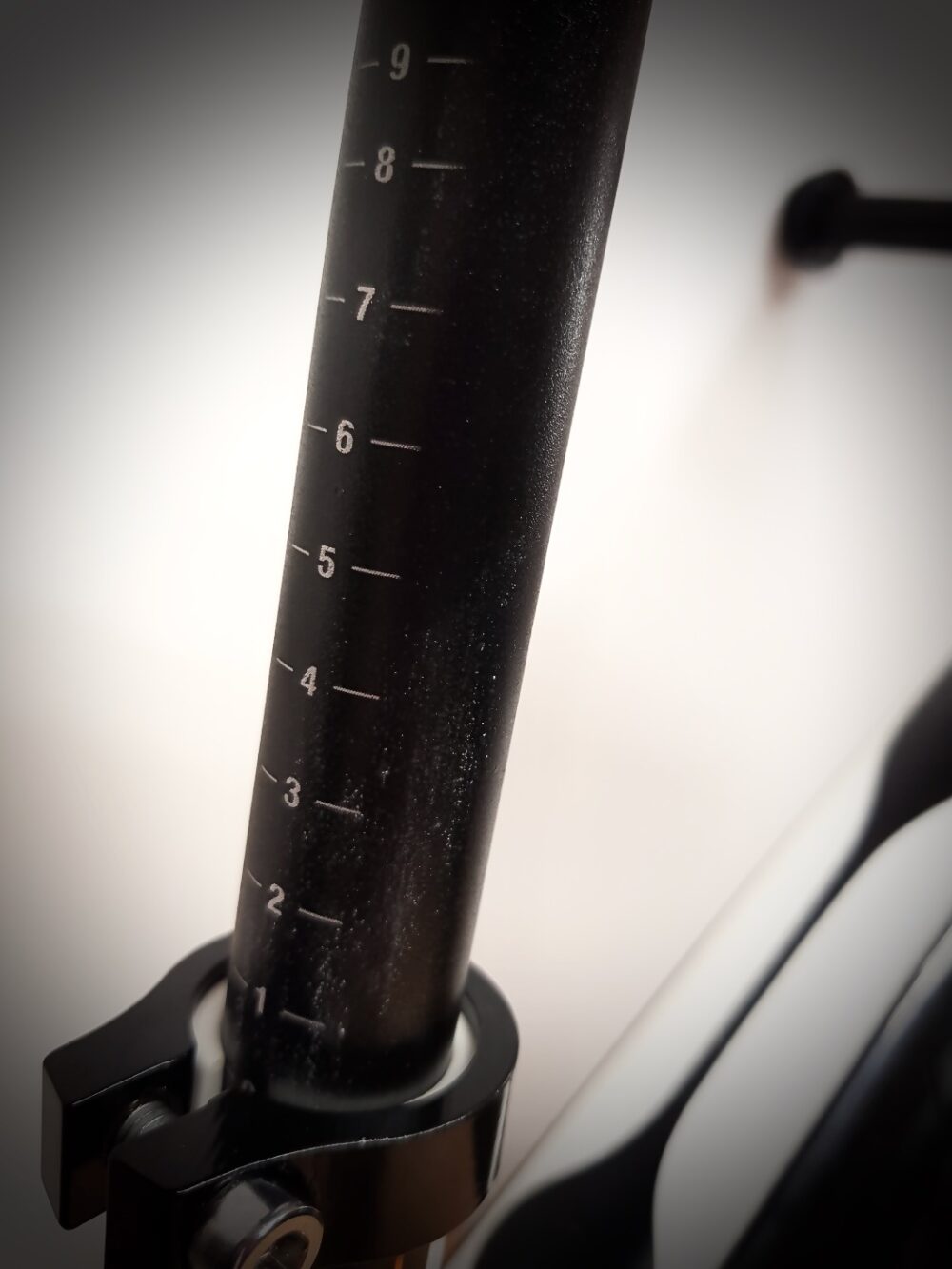 It's clear that the designers of this balance bike have spent time considering the needs of budding balance bikers and developed a product that is built to last.  Hornit also has a stock of spare parts for the AIRO and are happy for you to get in touch with them if you ever need assistance.
Why aren't there any brakes on the AIRO balance bike?
One thing to note is that there aren't any brakes on the Hornit AIRO. There are two schools of thought about whether you should put brakes on a balance bike.  Some brands do add in one or two brakes to give children the opportunity to learn to use them before transitioning to a pedal bike.  They certainly aren't essential and younger children won't be able to use them. This is because the way to stop when riding a balance bike is to use your feet – very simple!
As expected, Hornit also told me they spent a lot of time considering this from a safety aspect:
"We debated at length whether to fit a brake (essentially to make the parents feel better), but resisted because it gives parents a false sense of security, ironically making the child less safe. Much better for parents to supervise children closely knowing they don't have brakes (especially on pavements) than to hope the child would use the brake correctly when appropriate. Ideally balance bikes should not be used anywhere where brakes are needed and not having a brake makes that more likely."
Overall verdict of the Hornit AIRO balance bike review
The Hornit AIRO is the lightest balance bike with pneumatic tyres we've seen. If you've yet to enter this stage of your child's development, it's easy to underestimate how difficult it is to try and carry a balance bike along with everything else you've got with you when you're out and about. For me, this really is a selling feature of this bike.
Whilst at £139 the AIRO certainly isn't the cheapest balance bike out there, there's plenty more to choose from that are a lot more expensive.
Hornit has hit a sweet spot in terms of price, style, functionality and weight and then topped it off by adding in a lifetime guarantee too.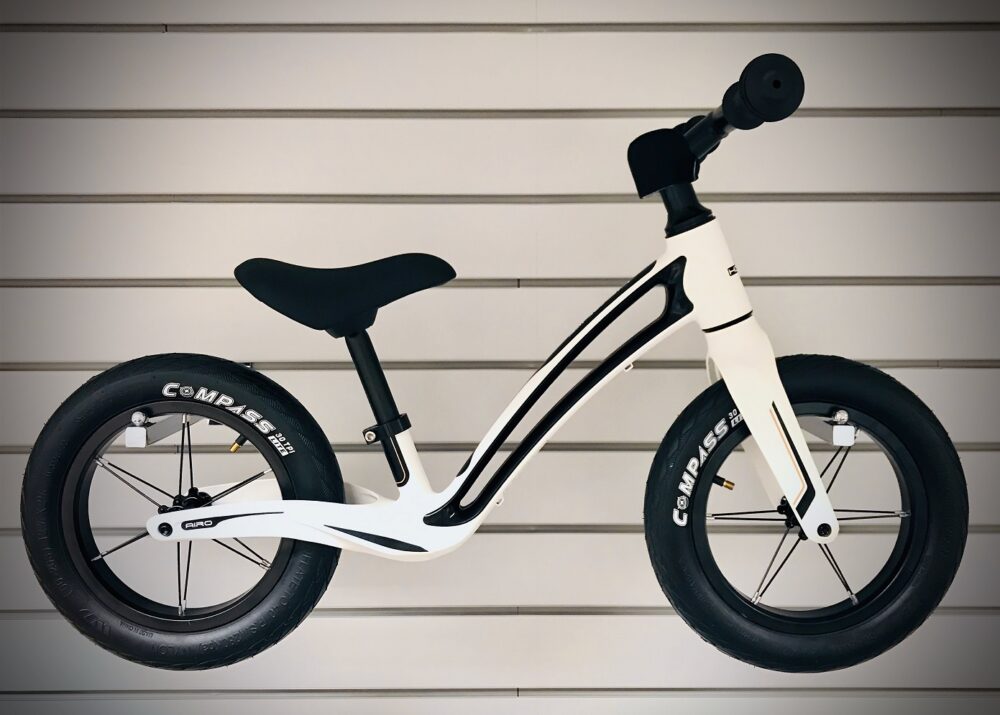 If you've enjoyed reading this article, please do sign up for our newsletter - we'll keep up updated when we have new articles which may be of interest. Thanks! 
Other articles you may find useful: