Woom Bikes are an Austrian company who specialise in making quality kids bikes, and for the first time they're available to purchase in the UK.
Who are Woom Bikes?
Woom was co-founded by bike designer Christian Bezdeka and marketer Marcus Ihlenfeld. As is increasingly common, Christian and Marcus found themselves thinking about children's bikes and the lack of high quality, lightweight options, when they began looking at bikes for their own children. They built their first Woom bikes in Marcus's garage in Vienna and they sold out almost immediately. That was back in 2013, and since then they've grown into a company manufacturing all sizes of kids bikes, from balance bikes through to 26″ wheel bikes.

The Woom bike range
WOOM bikes are available in six different sizes, one through six. The bikes are designed to have a low centre of gravity frame, higher handlebar position and age appropriate components, such as a "small hand reach" brake, which enable even the smallest of hands to brake safely and with minimum effort. The longer wheelbase and the low standover height make them stable and easy to ride.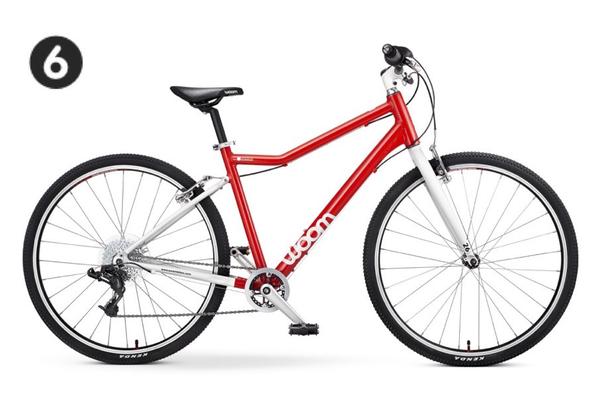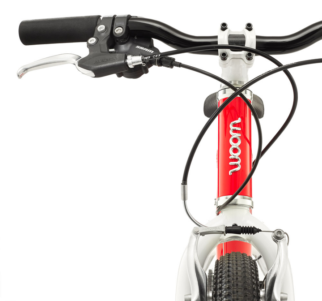 Because the geometry is designed so as to bring the bottom bracket a bit lower than other brands the Woom bikes tend to fit slightly smaller riders at the younger end.
All the Woom saddles are age specific and ergonomically designed and molded. An added bonus is they're all manufactured free of pollutant and toxins. Larger models come with a side safeguard to lean against wall.
The bikes are made of very light aluminium tubing, come with a kickstand and all are fitted with Kendra tyres. The bikes are available in three colours – red, green or blue.
The WOOM 1, is a balance bike for kids aged roughly one and a half through to three and a half. It has a low step through height, meaning it can be used as soon as your child starts to walk. The Woom1 also comes with Special "small hands reach" brake levers, to teach braking from an early age and a steering limiter to keep the front wheel aligned and prevent over steering. The WOOM 1 retails at £155.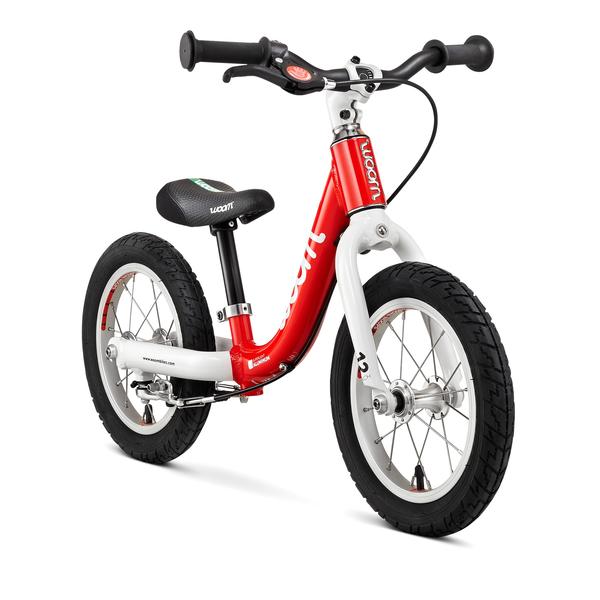 The WOOM 2 is a 14″ wheel first pedal bike which suits children with an inside leg measurement between 38-49cm aged between 3 and 5 years old. The Woom 2 is lightweight – indeed at 5.2kg it is one of the lightest bikes of this size available (compared to 6kg for the Islabikes Cnoc 14 small and 6.3kg for the Frog 43). It retails at £260.
We've been sent a WOOM2 for review, and you can see our video of our first impressions of it here.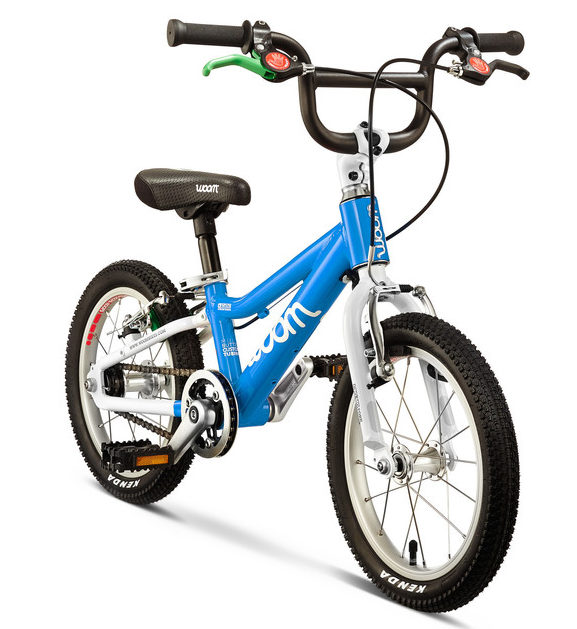 The WOOM 3 is a 16″ wheel, single speed bike suitable for riders with an inside leg measurement between 46 and 54cm. The Woom 3 would suit riders aged around 4 to 6 years old. It weighs in at only 5.6kg and costs £290.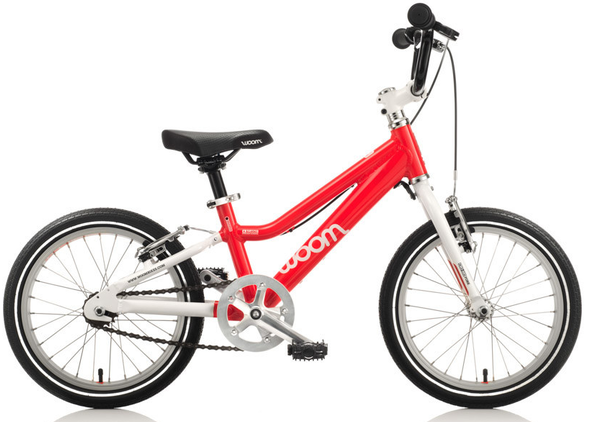 The WOOM 4 is an 8 speed 20″ wheel bike, suitable for a rider with an inside leg measurement of 52 to 70cm, with a weight of 7.9kg. The Woom 4 has 8 speed SRAM twist grip gears and comes in at £350.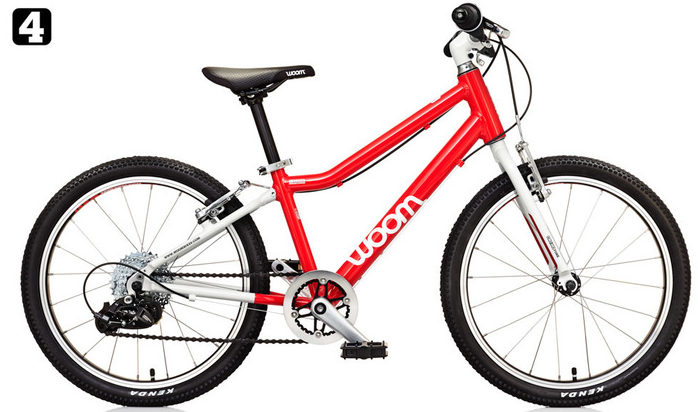 The WOOM 5 is a 24″ bike, for kids aged about 7 to 11 years old. Fitted with an 8- Speed SRAM X4 twister shifter, the bike again has a low standover height and a minimum seat height of 607mm. The continuous seatpost means you can continue to raise the saddle as your child grows. The Woom 5 retails at £400.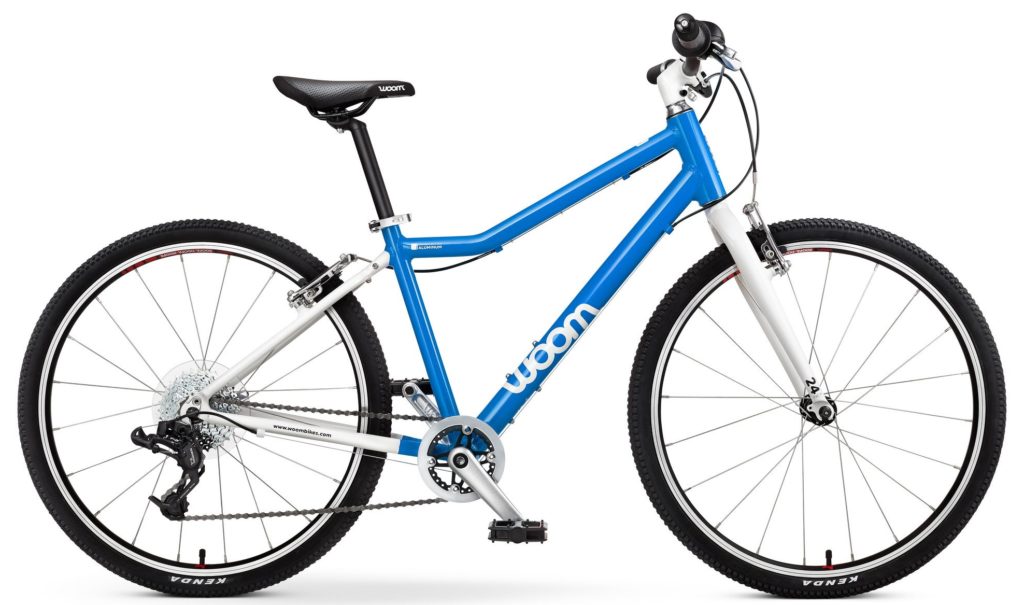 The largest bike in the Woom range is (drum roll….) the Woom 6. A 26″ wheel bike, this is for older kids (perhaps aged between 10 and 14 depending on height). Specifications are very similar to the Woom5, and the weight is 9.4kg. The Woom 6 costs £445.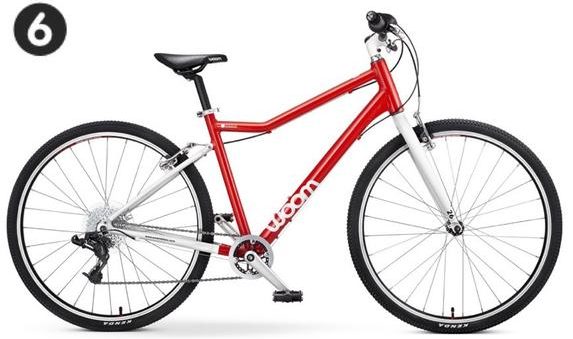 Where to buy WOOM bikes in the UK
The exclusive distributor of Woom bikes in the UK is The Little Bike Company. They are based in Berkhamsted and sell nationwide. They have stock ready to dispatch of the Woom 2, 3 and 4 and are able to order the Woom 1 balance bike, Woom 5 and 6. Give Simon or Beth a call (01442 872123) and talk through your requirements if you're interested in any of these bikes.
Other articles you may find useful: