Enjoying family mountain biking in North Wales

North Wales has a lot to offer mountain bikers; purpose built trails, long winding forest paths, rolling hills and one or two mountains! But what if you're not that experienced or want to take young children with you and cycle together as a Family. Are mountain bike trails still an option?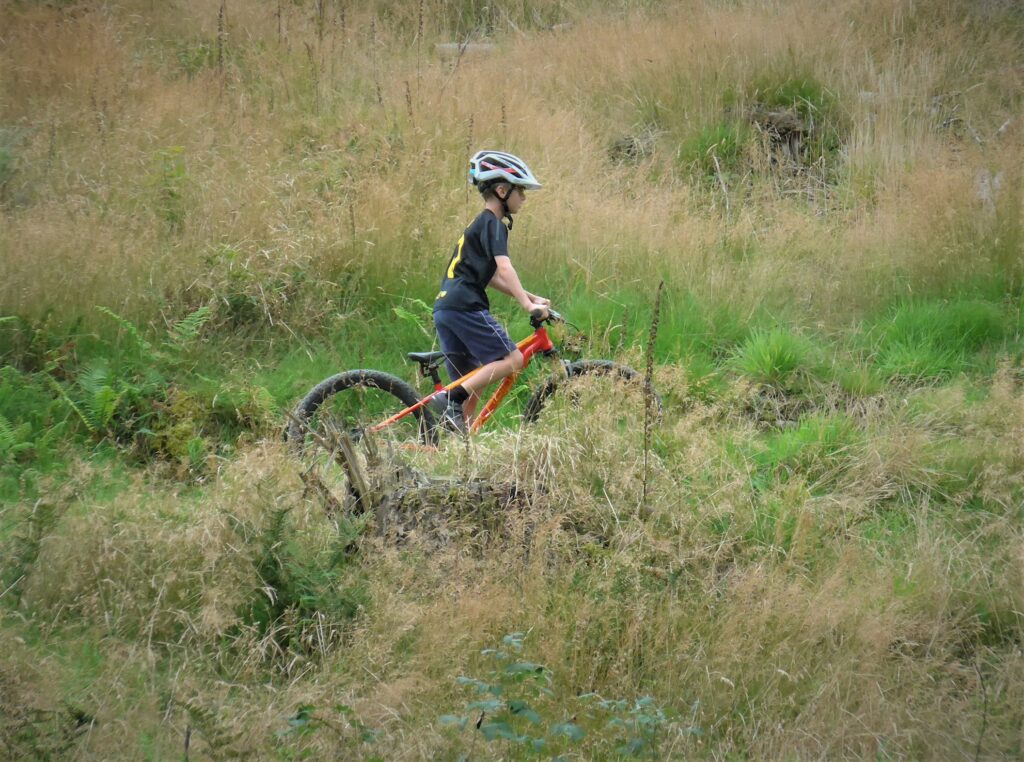 In short, yes! The Llandegla mountain bike trail in North Wales is a great place to take the family. For younger cyclists and less experienced mountain bikers, there are the Green and Blue routes. For the more experienced, there's the Red route, and for the most experienced, looking for more technical challenges, there is the Black route. For today, we're just going to concentrate on the Green and Blue routes.
This is a clearly marked route, which has been designed specifically for families with young children. It's about 3 miles (5km) long which you may feel is too long for young children but it's easily doable for children from around 6-7 years old. Once they get going, the fun and excitement of being in the midst of trees and an occasional puddle, they'll keep pedalling and probably will want to do it all over again.
This route is generally flat and avoids the hills and technical elements of the red route. It's a fun and safe way for families to experience off-road cycling for the first time. Unlike the Blue route, cyclists who want to ride on the Red and Black routes, do not travel along the Green route, and as such, this path is ridden solely by Families, making it even safer.
The route allows riders to ascend gently from the car park, through the forest and on to the reservoir. With views of the Clwydian Range and surrounding forest, this is both an enjoyable and beautiful cycling adventure. It's perfect for families wanting to enjoy their first mountain bike trail.
The Blue route is more challenging, and whilst it's perfect for Families to cycle it together, it does require a good level of fitness and you should not consider it with children unless they have good control of their bike, balance and braking specifically.
The beauty of this route is that its part of the Llandegla family of routes, an extension of the learning cycle (pun intended, sorry). For example, if you start with the Green route and your children are competent on it, the natural progression for them is the Llandegla Blue route. They will, of course, be familiar with Llandegla and it will, therefore, give them a good level of familiarity in their surroundings and knowledge of what to expect on this so-called new route. This is an important transition for children and one that will help to give them confidence when trying this new route for the first time.
The route itself is approx 7.5 miles (12km) long, around twice the length of the Green route, but is likely to take more than double the time due to the more challenging terrain.
It starts with a gradual climb up through the forest until it splits with the Intermediate Route at the top of the forest. If the climb is too much, simply get off and push, many have (including myself!) and many others will. After the climb, comes the essence of what mountain biking is all about – you are rewarded for your uphill climb with a downhill of equal size. After all, what goes up, must come down!
There is a great route to be enjoyed back to the Centre, mostly comprised of gradual downhills, but interspersed with a few gentle uphill sections, just to keep you on your toes! This route also has a selection of small humps and other features to add a degree of challenge! As with most places in the UK, the route can at times be wet and muddy but for many of us, this is all part of off-road cycling.
Llandegla Trail
Both the Green and Blue routes are seen as a safe trail because it's a managed path, checked regularly by the UMP team, clearly sign-posted and the direction of travel is one-way – ensuring no-one appears in the opposite direction.
The trail itself is through the lower part of the forest, the path is hard-packed so cycling is free-running and children should find it easy to pedal. Some sections can be loose and uneven, and at certain times of the year, can be a little muddy but you know what children are like, they love playing in puddles and cycling through them is even more fun.
I should perhaps have admitted earlier but this is my favourite mountain bike trail. Why? Several reasons cause me to give it that accolade. First, it's close to the North-West (I live on the Wirral), it's well-managed thanks to UPM and it's clearly marked with easy-to-follow routes. Second, it allows me to enjoy cycling with my family and then go for a more challenging ride along the Red and Black routes whilst they enjoy a cup of tea and a slice of cake. Finally, probably the best bacon butties in Wales.
I hope you enjoy Llandegla as much as I do.
Author Bio: Mark Taylor writes on a wide range of bike related topics on his cycling blog at Bikes.org.uk
Llandegla Mountain Bike Trail
Trail Name: Llandegla Trail
Location: Llandegla Forest, North Wales
Distance (Green): 5km – 3 miles
Distance (Blue): 12km – 7.5 miles
Distance (Red): 18km – 11 miles
Distance (Black): 21km – 13 miles
Time: 1 hr – 4hrs, depending on the route
Bike Trail Grade: – Something for everyone; green, blue red, black
Suitable For: Beginners and Families to more experienced mountain bikers, black route is not too technical.
Trail Map: Map of Llandegla Trail
Llandegla is located 7 miles from Wrexham and 14 miles from Chester. It is situated just off the Ruthin Road, A525, and is easily accessible from both the M6 and the M56. The Coed Llandegla Forest is clearly sign-posted so there's no excuse for missing the entrance.
The car park costs just a few quid for a full day's parking and there is plenty of space. The site is open 7 days a week, and bike hire is available for those wanting to see what all this mountain bike stuff is about.
Other posts you might like;